Tofu is also known as bean curd and is an ingredient widely used in East Asian, Southeast Asian, and West African cuisines. Many vegan and vegetarian dishes contain it, and the truth is that not everyone will like it, but many do love tofu. #tofu #lunch
In this article, we share ten recipes with tofu that can be prepared for lunch or even for dinner. They are easy, and most of them don't require much of your time or budget. Scroll along and tell us which of these recipes is something you would love to try!
1. Peanut Tofu Buddha Bowl
One of the best ways to eat tofu is with sauce. There are plenty of tofu sauces, and this one is something that we really recommend, especially if you're a peanut butter lover. To prepare it, you need the following ingredients – 1-2 tablespoons toasted sesame oil, 1/4 cup low sodium soy sauce, 1/4 cup 100% pure maple syrup, 2 teaspoons chili garlic sauce, and 1/4 cup creamy or crunchy peanut butter.
2. Crispy Glazed Tofu with Bok Choy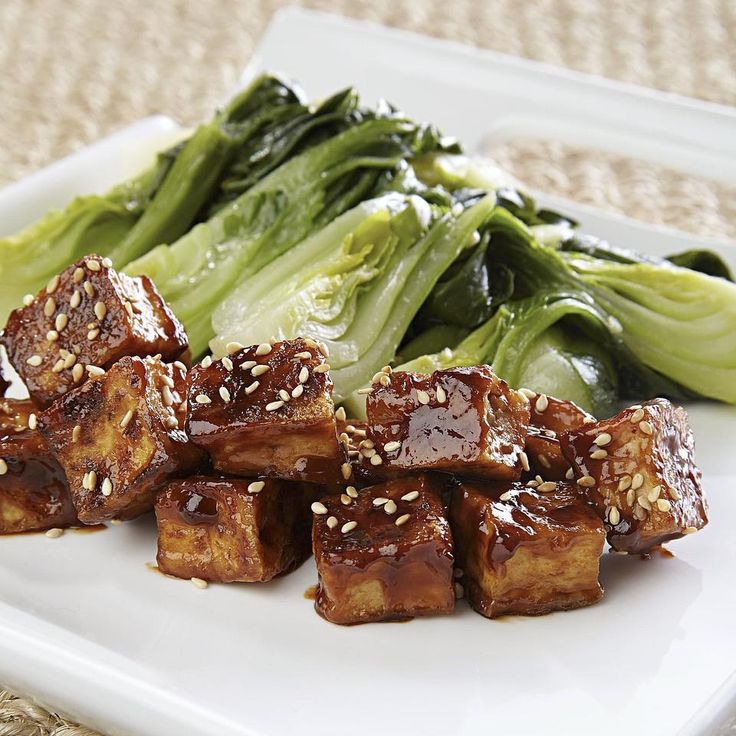 via eatingwell.com
Ready in 35 minutes, this recipe is ideal for those days when you don't feel like cooking or just simply don't have the time to do so. It's a vegan and vegetarian dish, but even meat lovers can enjoy it. You need these ingredients – 1 14-ounce package extra-firm water-packed tofu, ¼ cup plum sauce, 3 tablespoons ketchup, 2 tablespoons reduced-sodium soy sauce, 1 tablespoon rice wine, 2 teaspoons canola oil plus 1 tablespoon, 3 scallions, 1 teaspoon garlic, 1 teaspoon minced fresh ginger, 4 babies bok choy, ¼ cup water, and 1 teaspoon toasted sesame seeds.
3. Kale and Couscous Tofu Bowls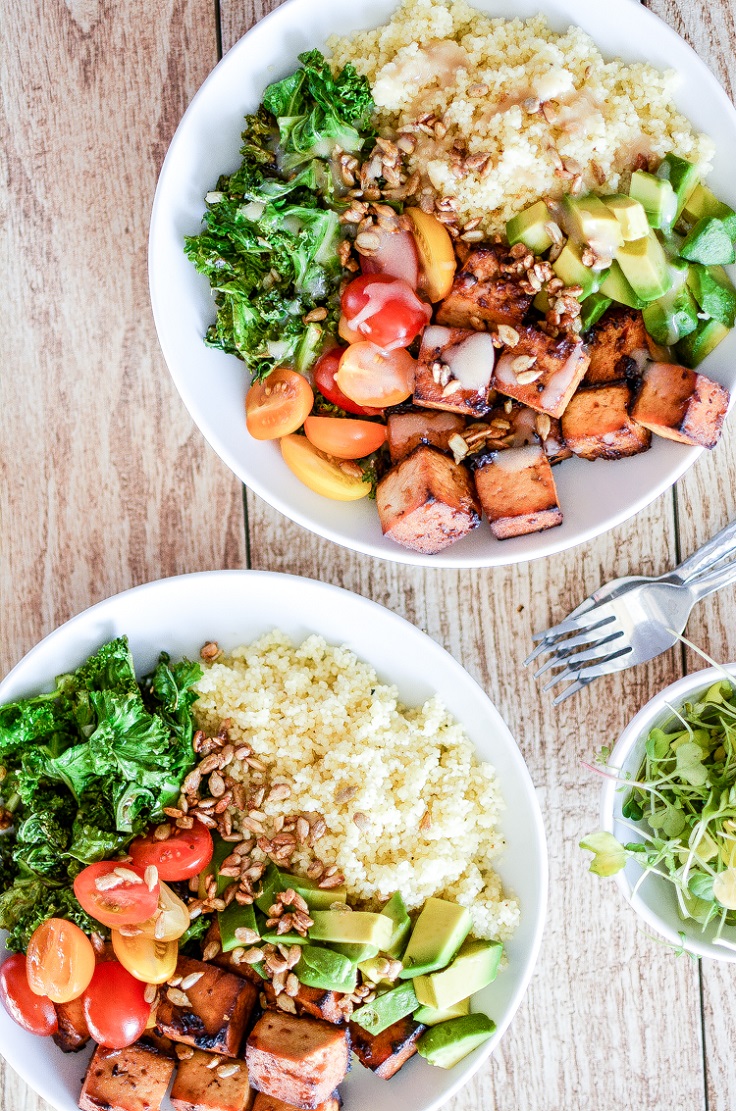 Kale, couscous, and tofu are very healthy ingredients, so when you have all three in one meal, consider it as a healthy one! The health benefits they have are numerous, but they will also help you maintain a healthy weight. The meal contains orange tahini sauce that adds so much to the flavor. It will take you five hours to prepare this meal, so it's something that you might want to do over the weekends.
4. Pan-Fried Orange Tofu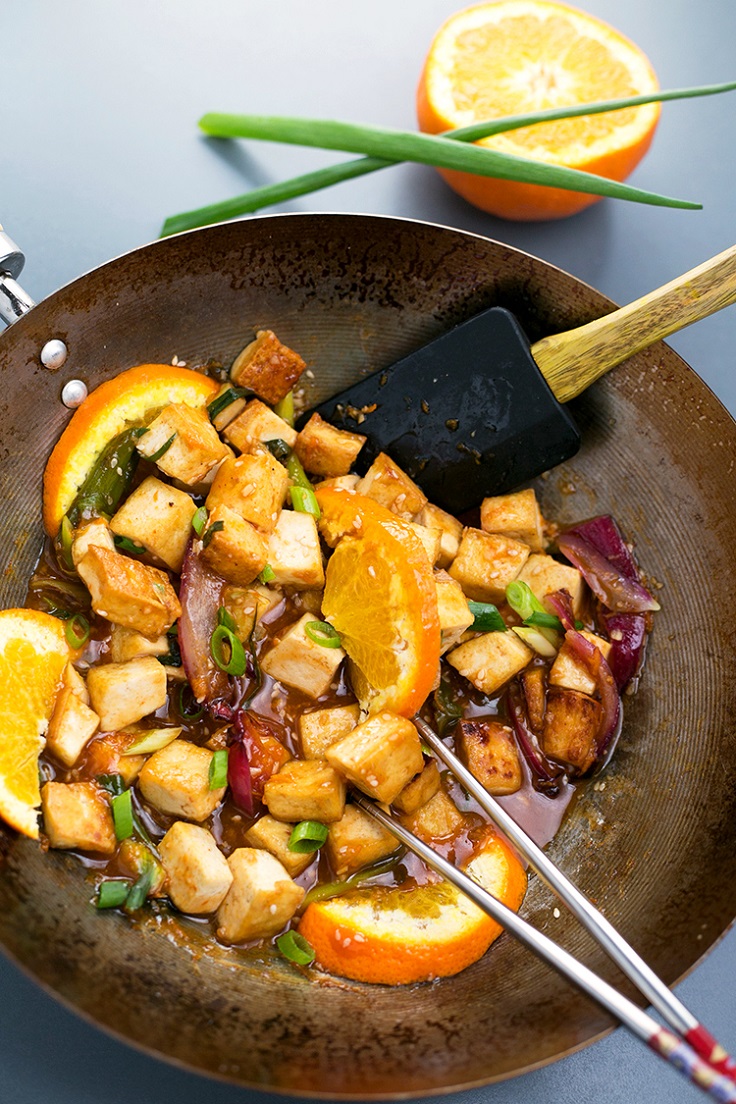 What makes this recipe so unique is the orange flavor that it has. It's such an interesting mix of tastes, so we definitely recommend you try it out. To prepare the orange sauce, you need these ingredients – zest and juice of 1 large orange, 1 tablespoon sriracha, 4 teaspoons sugar, 1 teaspoon cornstarch, 1 1/2 teaspoons apple cider vinegar, 1 tablespoon white wine, 1/2 teaspoon white pepper, 4 teaspoons tamari and 1 teaspoon sesame seeds.
5. Sheet Pan Tofu & Veggie Dinner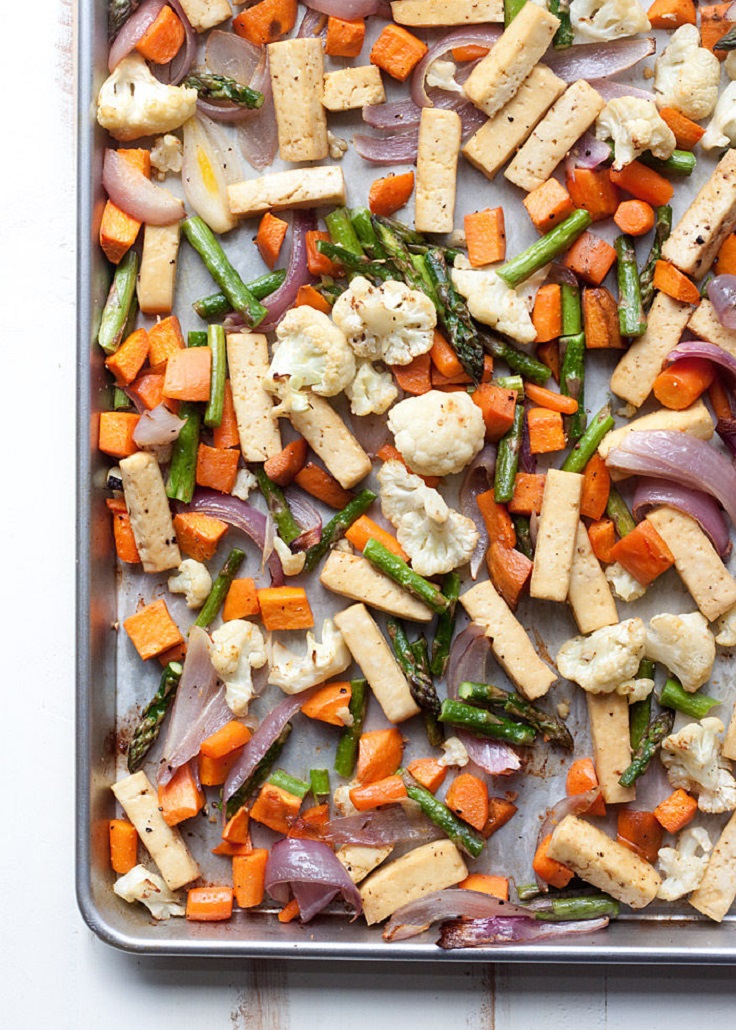 This recipe is really easy to prepare, and it is also very healthy. You might want to save it, especially if you want to lose some weight. You just need to toss all the ingredients on a baking sheet and bake them. Besides the tofu, add vegetables, such as red onion, sweet potatoes, cauliflower, carrots… the choice is yours! For better taste, drizzle with olive oil and add salt and ground pepper.
6. Breaded Tofu Strips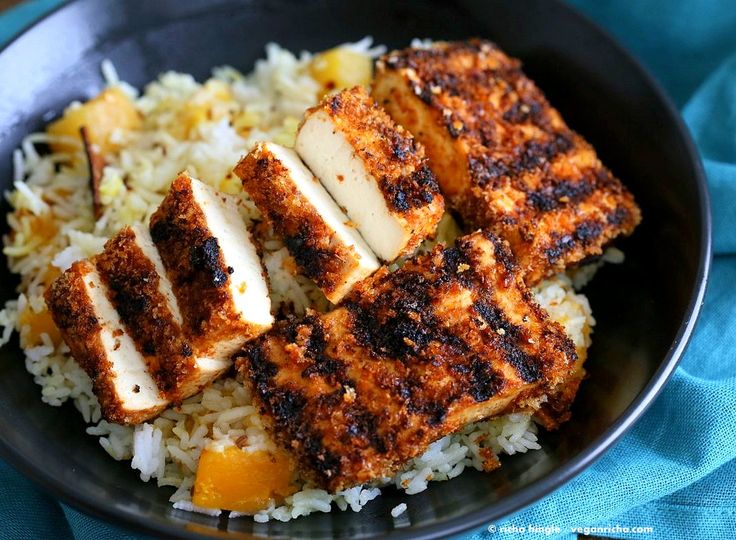 via veganricha.com
They're not just breaded, but they're spicy and crispy at the same time too. You can serve this dish with sauces or use it for other meals, such as wraps, bowls, or sandwiches. You will need to prepare a marinade, and for that, you need the following ingredients – 14 oz extra firm or firm tofu, 1 tbsp low sodium tamari/soy sauce, 2 tbsp ketchup, 1 tsp maple syrup or another sweetener, ½ tsp hot sauce, 2 tsp oil, ½ tsp garam masala, ½ tsp garlic, and ¼ tsp salt.
7. Seared Tofu with Sweet Chili Sauce and Broccoli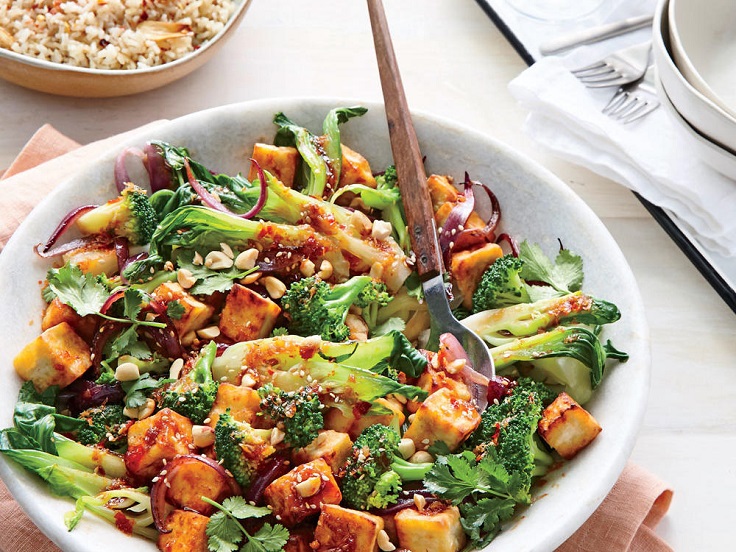 via myrecipes.com
This recipe is ideal for you if you want a lighter lunch, which will make you feel full but won't make you feel bad after eating it! To prepare this recipe, you need these ingredients – 1 (14-oz.) pkg. extra-firm tofu, 5 tbs sweet chili sauce, 3 tbs rice vinegar, 2 tbs lower-sodium soy sauce, 2 tsp grated peeled ginger, 2 garlic cloves, 2 heads baby bok choy, 2 cups broccoli florets, 2 ounces all-purpose flour, 1/2 cup cornstarch, 2 1/2 tbs dark sesame oil, 1 red onion, 2 tbsp peanuts, 2 tbs chopped fresh cilantro and 2 tbs toasted sesame seeds
8. Sesame Eggplant & Almond Butter Tofu Bowl
Have you ever tried tofu with an almond butter sauce? This might be your new favorite tofu sauce, just so you know – besides the butter (which can be cashew or peanut), you will also need tamari, sesame oil, lime juice, maple syrup, or coconut sugar, and chili. Serve the tofu and cooked eggplants, and you can serve it with cooked white rice or cauliflower rice or kimchi.
9. Lunch Sandwich with Sizzling Skillet Tofu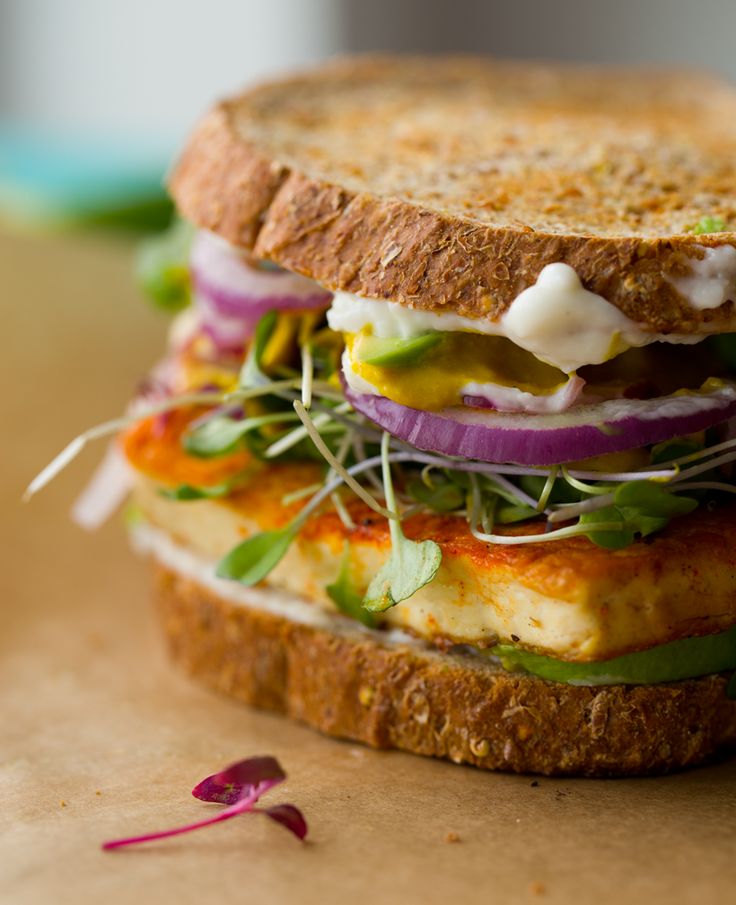 We get it – there are days when preparing lunch is the last thing we want to do. In those cases, what will really help you is knowing a recipe that will give you what you need in a short time, and let's face it – is there anything better than sandwiches that are quick to make? For this one, you just need to prepare the tofu; the rest is just tossing ingredients, such as avocado, greens, vegan mayo, spices – whatever you like.
10. Tofu and Pumpkin Curry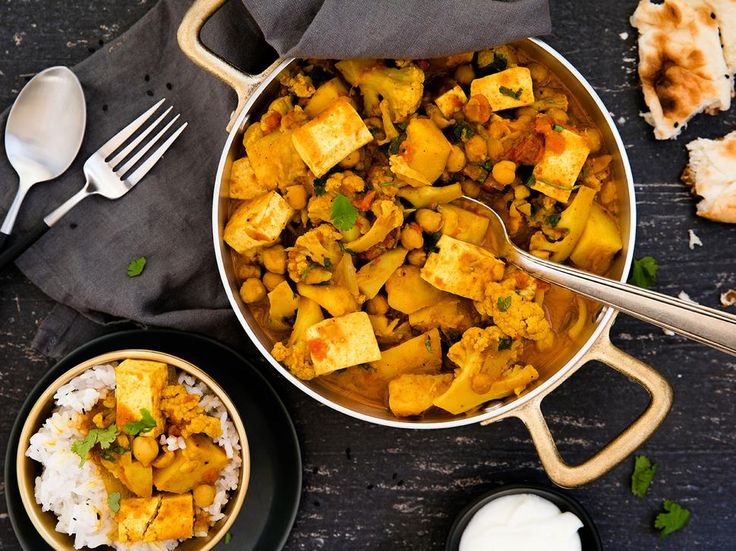 via viva.co.NZ
Inspired by the Indian kitchen, we have three great ingredients – curry, tofu, and pumpkin in this recipe. These three make a wonderful lunch, especially when combined with other side dishes, such as brown rice. What you're supposed to do here is to just toss all the ingredients together into a casserole dish and bake until the vegetables are soft and the sauce is thickened. In the meantime, you can fry the tofu and prepare the rice.