Living a plant – based diet doesn't have to mean that all the tasty meals in the world are left behind. The thought of not eating dairy products or meat may be scary, but you shouldn't worry because the vegan life is offering many recipes to keep you full and that are going to satisfy your food needs and cravings. Lunch plays an important part of the day and it shouldn't be skipped.
We may not always have plenty of time to spend in kitchen and that's why there are many meals meant for these kind of days. Then there are the others that will require some time in the kitchen and these are perfect for a Sunday lunch with our friends, family or simply with ourselves. No matter your position, it's time for lunch! Check out the ten recipes below and see yourself that vegan also means delicious.
1. Teriyaki Tofu Kebabs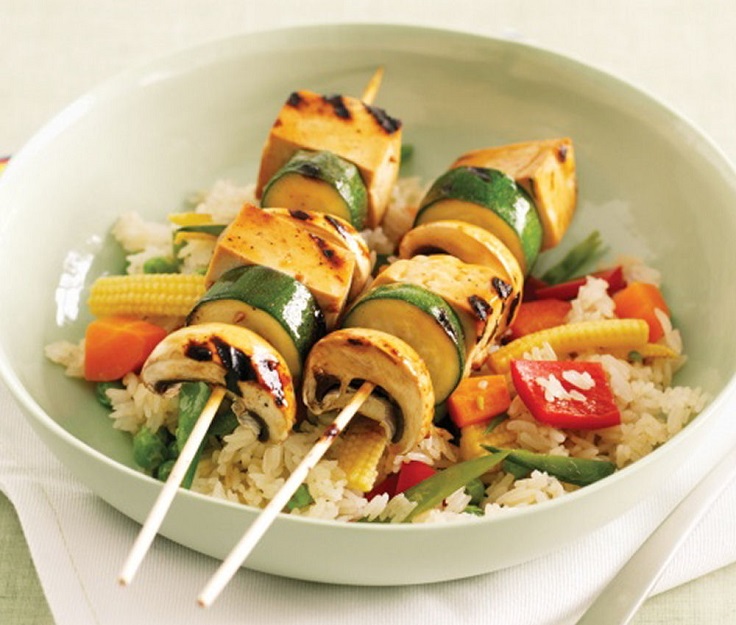 A barbecue on a sunny Sunday is a very great idea. While you're friends are having the meat option, here's your vegan one: you need mushrooms, zucchini, tofu and teriyaki and roasted garlic marinade. Grilled vegetables with a tofu is a very good combination, but if you prefer you can add rice or potatoes. Adding corn to the skewer would taste great too.
2. Salad For Lunch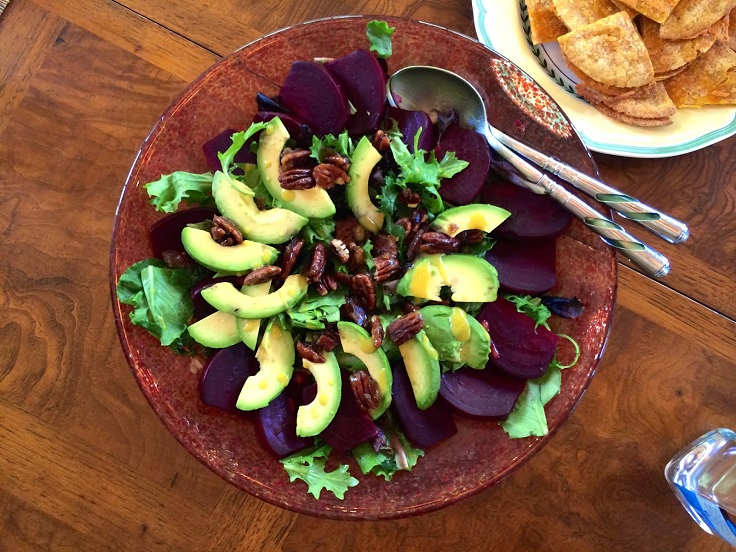 via sueshealth.com
Even though the recipe is meant for dinner, there's no reason you can't eat it for lunch too. What you need to get this super tasty and healthy salad is avocado, pecan, mixed greens, walnut oil, maple syrup and beetroots, preferably small because they cook quicker. If this salad doesn't have enough ingredients for you, then you can also add chia or flax seeds and some lettuce.
3. Quinoa Wrap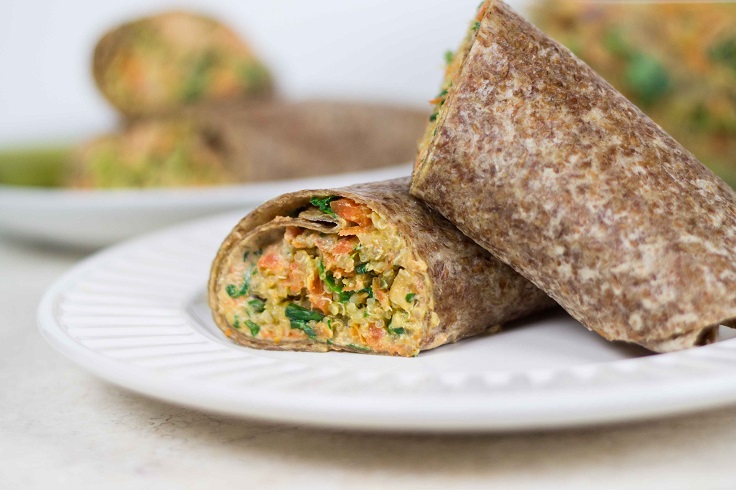 via veggieandthebeastfeast.com
Wraps are great without meat and dairy too and this recipe proves that. The wraps are really easy to make and in thirty minutes you are going to enjoy their wonderful taste, thanks to tofu, quinoa, basil, spinach, cashews, carrots, sprouts and so much more. The sun – dried tomato aioli matters too, so spread some on your tortillas.
4. Soy Bacon and Spaghetti Carbonara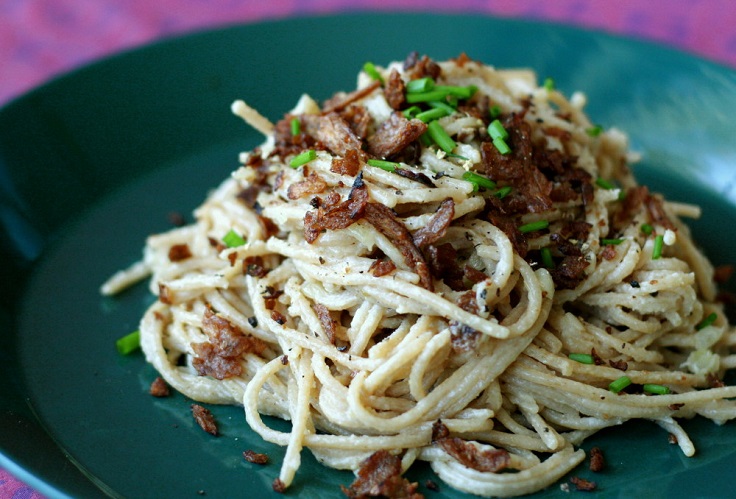 via tofufortwo.net
Mediterranean food fans, there are few recipes you especially are going to love and this one is the first of them. Especially if you ever were a bacon lover too! The soy bacon is a good alternative and it perfectly fits in the vegan version of the carbonara. The sauce is very tasty too, it's made from soy cream with some salt, black pepper and lemon juice. If you want to you can add more spices to the cream. Enjoy your pasta!
5. Veggie Burger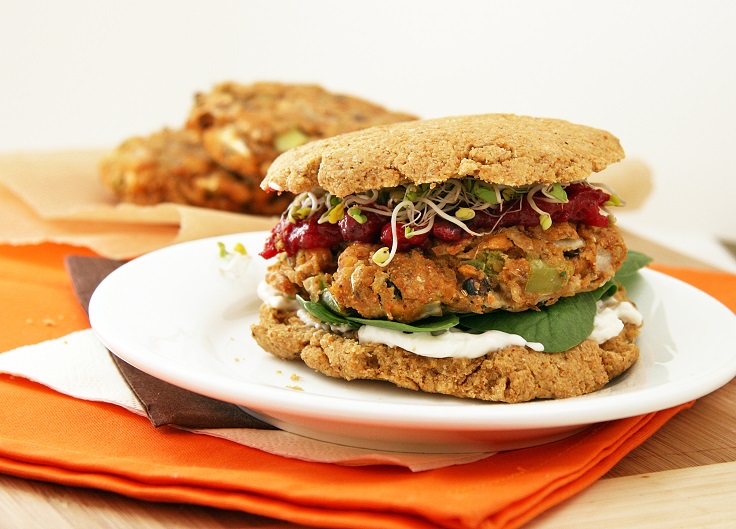 via naturalnoshing.wordpress.com
Another proof that burgers can taste amazing without the meat too. This veggie burger requiers some time in the kitchen, but after eating it you won't regret a second spent preparing in the kitchen. When eating it, you will notice that is spicy and that's what makes it very delicious, especially the spice binding mixture containing parsley, cumin, paprika and flax seed.
6. Tandori Tofu Pizza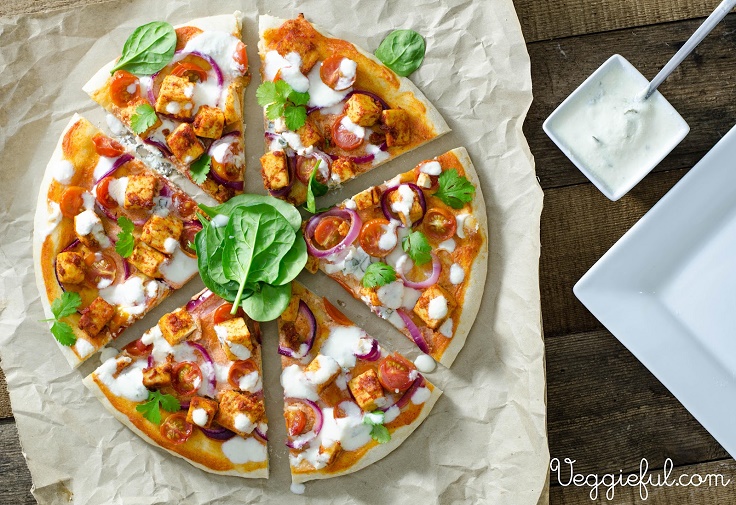 via veggieful.com
Yes, vegans have their own version of pizza and it's amazing. The tandori tofu pizza is a perfect food choice to make during weekends when you not only will have more time in order to prepare it, but also more time to enjoy it. You can experiment with the topping. If you prefer you can put only vegetables, but you can also add tofu too. Anyway you make it, it's still a pizza and every piece of it will be taken in a minute.
7. Creamy Chickpea Casserole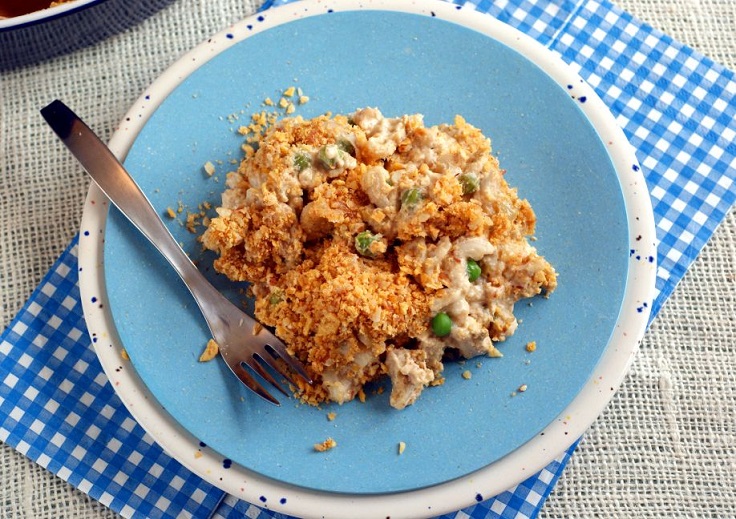 via attunefoods.com
In less then hour, you can prepare this delicious, protein – packed meal. It's easy to make because you put everything together and then you put a crunchy topping, if you want some at all. It's creamy, it's vegan, it's pasta and it's amazing. This casserole is the perfect combination of pasta, nuts, soy milk, chickpeas, onion and other ingredients that help in making you crave for another plate.
9. Burrito Bowl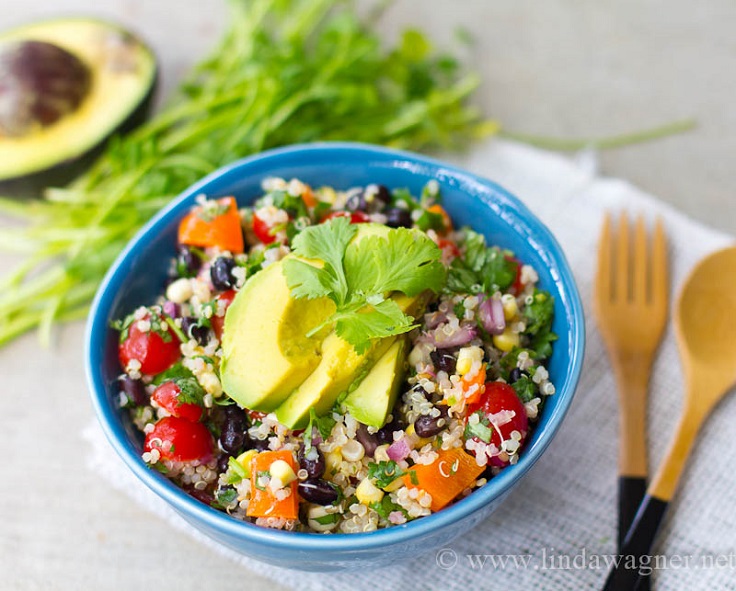 via lindawagner.net
This burrito bowl is the meal you need when you don't have much time and your stomach is craving for some food. It's really easy to make, first you boil the quinoa, and while doing it you can prepare the other ingredients for the bowl. Mix onions, tomatoes, cilantro, corn and other ingredients you want to eat, and then add salt and lime juice. Leave it to marinate in order to absorb the flavor. When the quinoa is ready, mix it together with the veggies and if you prefer, add some avocado and flax seed.
10. Mediterranean Baked Sweet Potatoes
It may look complicated to prepare, but it's not and it actually takes thirty minutes. Plus, it's a tasty Mediterranean dish, so if not visiting this wonderful European area, then bring the atmosphere in your kitchen by preparing the sweet potatoes in a Mediterranean way. What you'll get with this recipe is baked sweet potatoes with amazing topping with lots of spices and veggies.