Like pizza's second cousin, Flatbread can be prepared with so many delicious toppings. It can be made gluten-free or vegan as well. Even though that many doubt there is a difference between pizza and a flatbread, the only small difference that can be made is that flatbread is usually prepared without yeast – but not necessarily.
However, it doesn't really matter when there is a baked dough with cheese, vegetables, meat, or anything that you would like on top of it right in front of us. In this article, we are going to give you ten ideas on how to prepare flatbread pizza. There are so many toppings to try!
The dough is simple to make; just prepare the regular pizza dough and if you would like, try it without yeast. Bon appetit!
1. Salmon Flatbread Pizza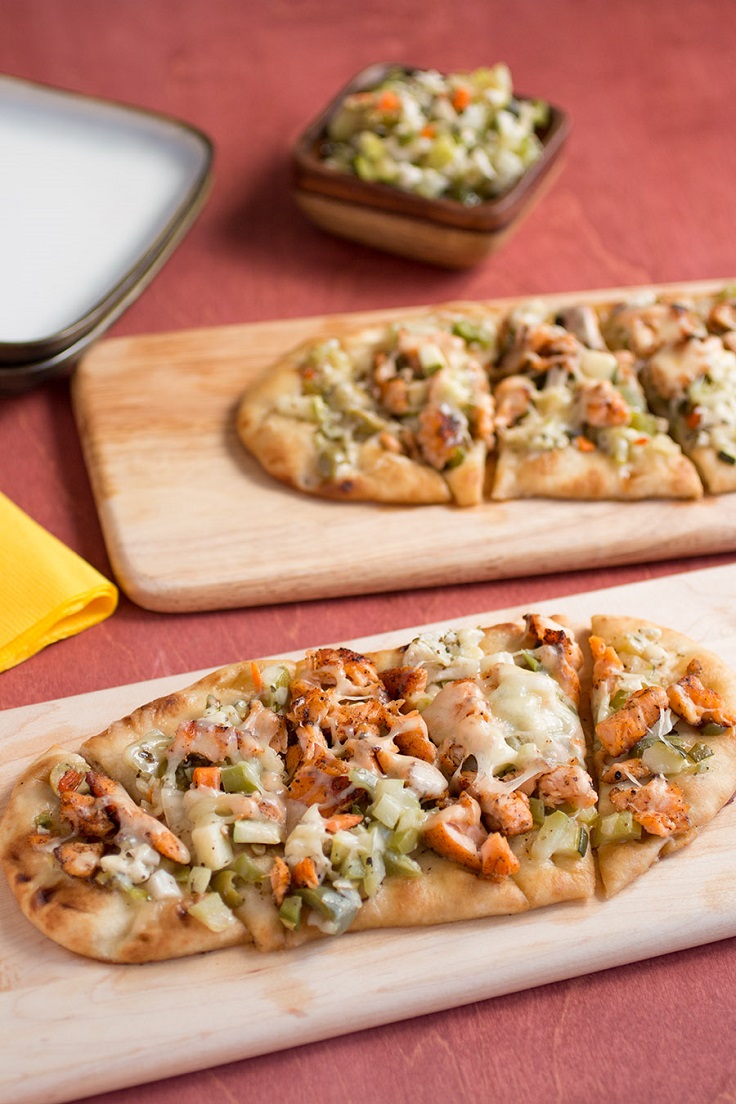 Salmon is one of the healthiest foods you can eat. It is rich in omega 3 fatty acids and vitamin D, and vitamin B12. It can help you increase your cardiovascular health! The flatbread as a whole may not be the healthiest meal around, but including salmon in it can make this guilty pleasure not so guilty. To prepare this flatbread, you will need a 6-ounce salmon fillet, 1 tablespoon olive oil, 1 teaspoon Cajun seasonings, or your favorite chili powder, 8 tablespoons giardiniera, salt, and pepper to taste, and 4 ounces of shredded gruyere cheese.
2. Crimini Mushroom Flatbread Pizza Recipe with Grilled Green Onions and Tuscan Herbs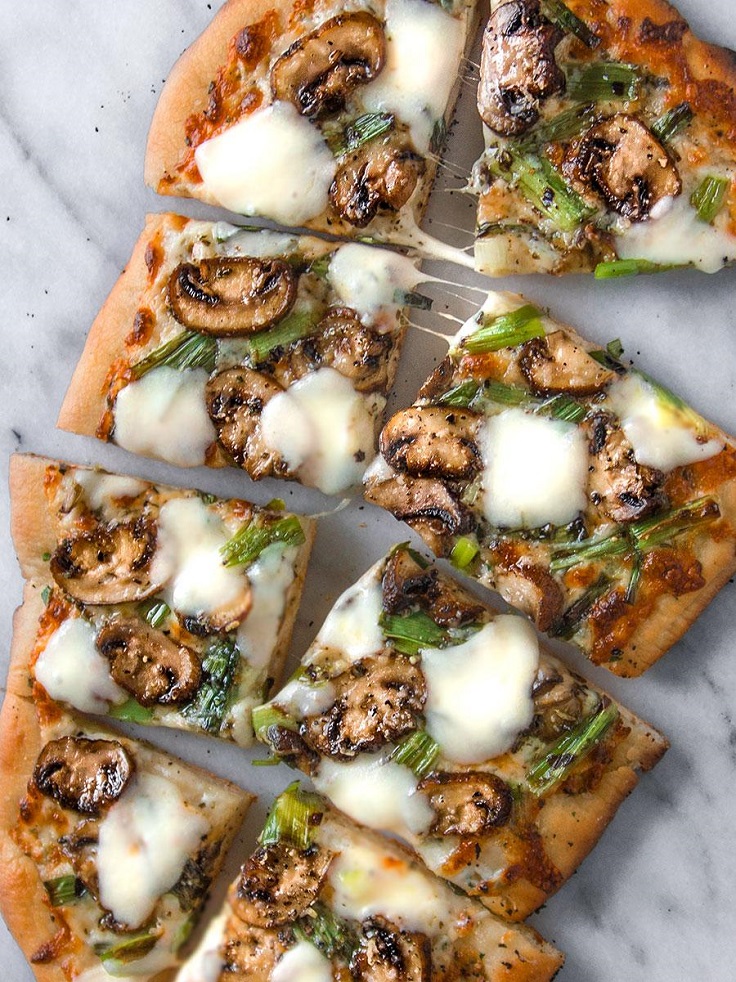 via weddbook.com
Cheesy mushroom experiences are one of the best when it comes to food. What we really like about this flatbread besides the mushrooms is that it has three types of cheese! These are the toppings you need: 2 tablespoons plus 1 1/2 teaspoons finely minced fresh rosemary, 2 tablespoons plus 2 1/2 teaspoons finely minced fresh flat-leaf parsley, 1/4 cup plus 1 teaspoon extra-virgin olive oil, 1 bunch of green onions, 2 tablespoons finely minced fresh thyme, Kosher salt, freshly ground black pepper, 1 pound crimini mushrooms, 2 tablespoons roasted garlic oil, 4 ounces mild provolone cheese, 4 ounces mozzarella cheese, 2 ounces parmesan cheese and 2 ounces taleggio cheese.
3. Hawaiian BBQ Chicken Flatbread Pizza
Adding BBQ sauce to a flatbread can be quite delicious! You can prepare these flatbreads for your next backyard party. To prepare them, make sure you have 3/4 cup barbecue sauce and more for drizzling, 2 cups leftover chopped turkey, 1 cup shredded mozzarella, 1 thinly sliced small red onion, 1 cup diced pineapple, and 2 tablespoons chopped fresh cilantro for garnish. This flatbread has it all – it has the mozzarella, which will make the flatbread one super cheesy meal; it has turkey, which is great if you are a meat person who likes turkey and it has a BBQ sauce and a pineapple, that can add more flavor to the flatbread.
4. Grilled Greek Flatbread Pizza
Suppose you can't go and taste the Greek cuisine, then invite it to your kitchen! This flatbread will definitely make you feel as if you're eating straight from the Greek restaurant. The Mediterranean kitchen always has something more for us to try, and this flatbread definitely deserves a try. Top this flatbread with ground lamb, sliced kalamata olives, capers, lettuce, tomatoes, fresh oregano, and feta cheese. The feta cheese isn't very good at melting, so if you crave more cheesy flatbread, you can pulse crumbled feta in a food processor to make smaller crumbs out of it.
5. Grilled Bacon, Artichoke, Arugula, and Goat Cheese Flatbread Pizza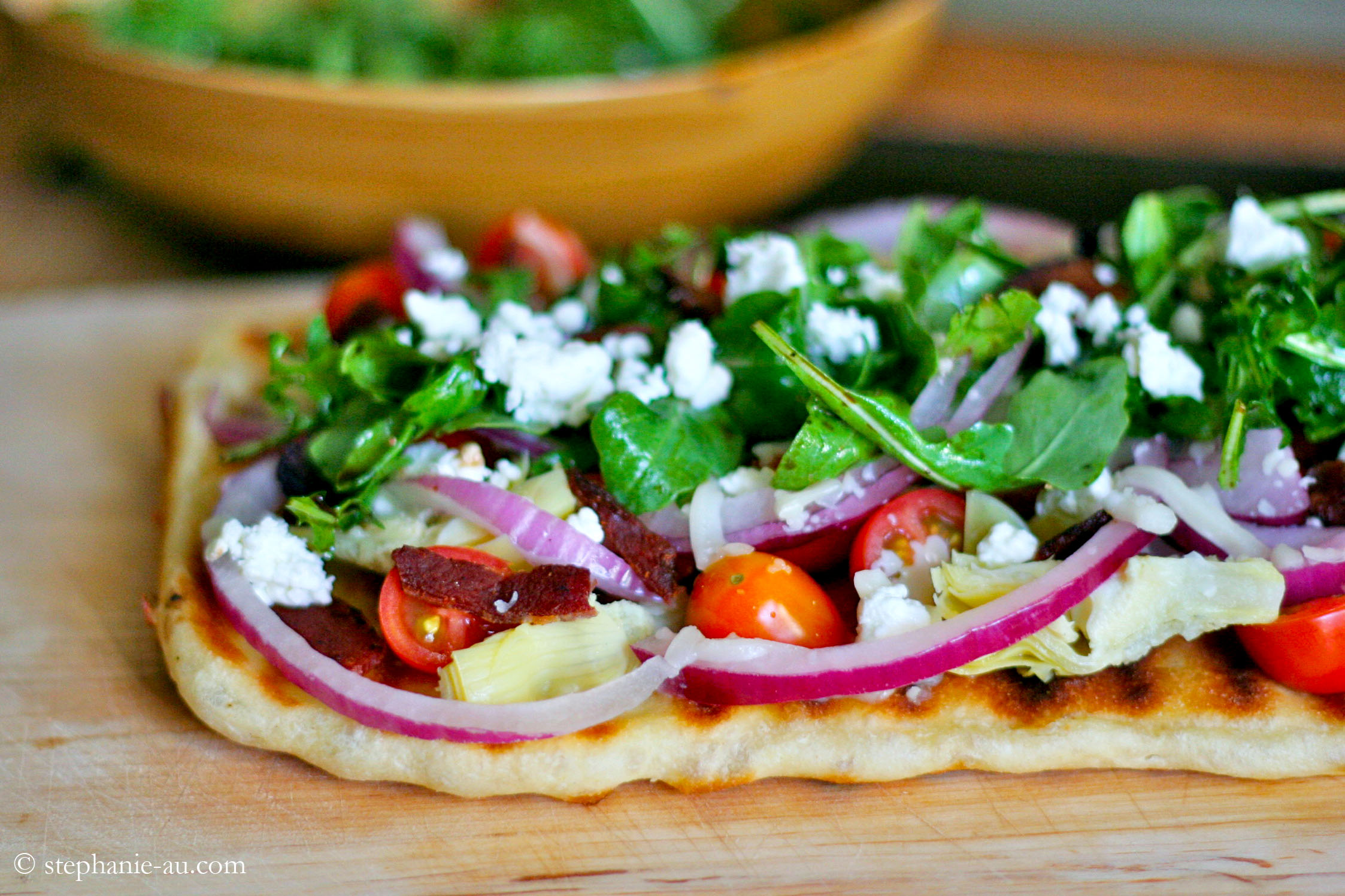 This flatbread has such a nice contrast of flavors. It has crisply, fried bacon, soft goat cheese, cheesy mozzarella, and greens. The flatbread is a mixture of all things that you can find in your fridge and just put them on top of the flatbread. Leftovers or not, it will turn out great. The ingredients you need for the flatbread are the following: a handful of halved grape tomatoes, quartered artichoke hearts,  1/2 sliced thinly red onion, 6 strips of fried extra crispy and crumbled smoked bacon, 1 cup of arugula, 1/2 cup of mozzarella, crumbled goat cheese 1 1/2 teaspoon of olive oil + extra for grilling, 1  1/2 teaspoon of balsamic vinaigrette and salt and pepper.
6. Sesame Flatbread Pizza with Onions, Mushrooms, and Tempeh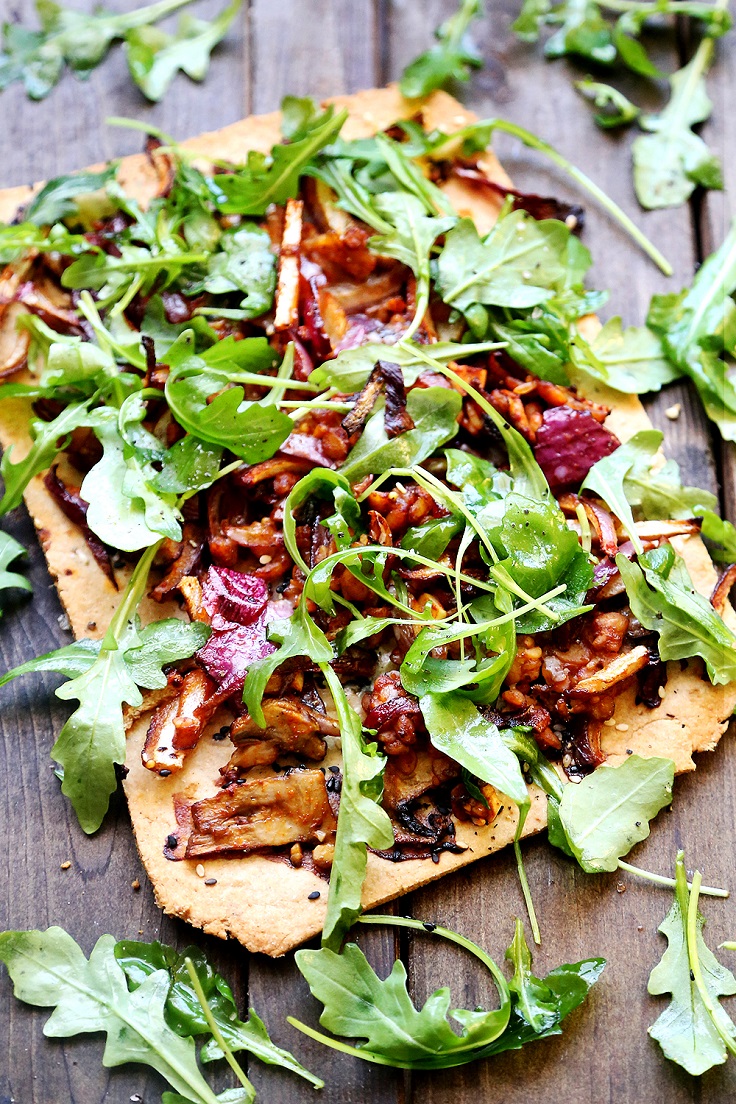 This flatbread is a really flat piece of vegan food paradise. But, even if you're not a vegan, we're pretty sure you are going to like it! It has many vegetable ingredients, and other toppings, such as 1 small red onion, 2 white mushrooms, 1 clove garlic, 1/7 block tempeh, 2 teaspoons extra light olive oil, 1 teaspoon smoked paprika, 1 teaspoon low sodium soy sauce, 1 teaspoon molasses, 1/2 teaspoon red wine vinegar, 1/8 teaspoon Himalayan/sea salt, a small handful vegan cheese, 1 cup arugula and 1 tablespoon extra virgin olive oil. Before serving, you can sprinkle with pepper and salt.
7. BBQ Chicken Flatbread Pizza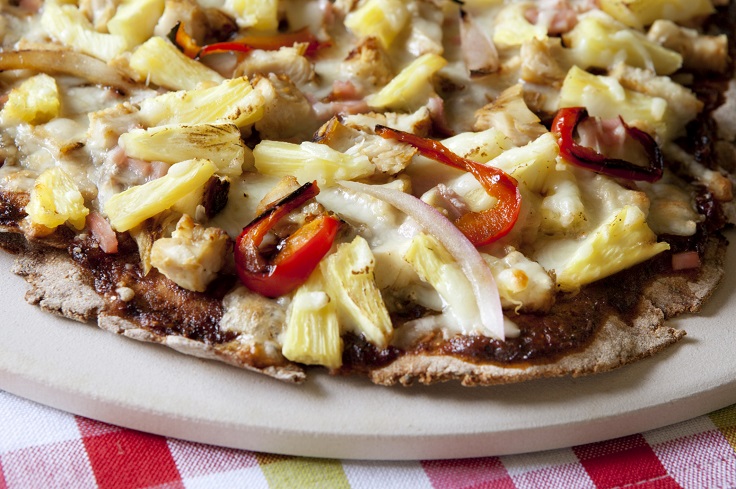 We're back to the barbecue flavor, but this time it's a chicken version. For this flatbread, you need just a couple of ingredients: 8 ounces of cooked and cut in pieces chicken, 1 large and sliced red onion, 1 tablespoon oil, 4 tablespoons boursin cheese (cream cheese with herb or garlic seasoning), 4 ounces of shredded gruyere cheese and 1 cup barbecue sauce – choose your favorite brand. Prepare the dough yourself or buy it, then just top it with all these tasty ingredients! It's really simple, easy to make, and ready in a short time.
8. Spinach Pesto and Tomato Flatbread Pizza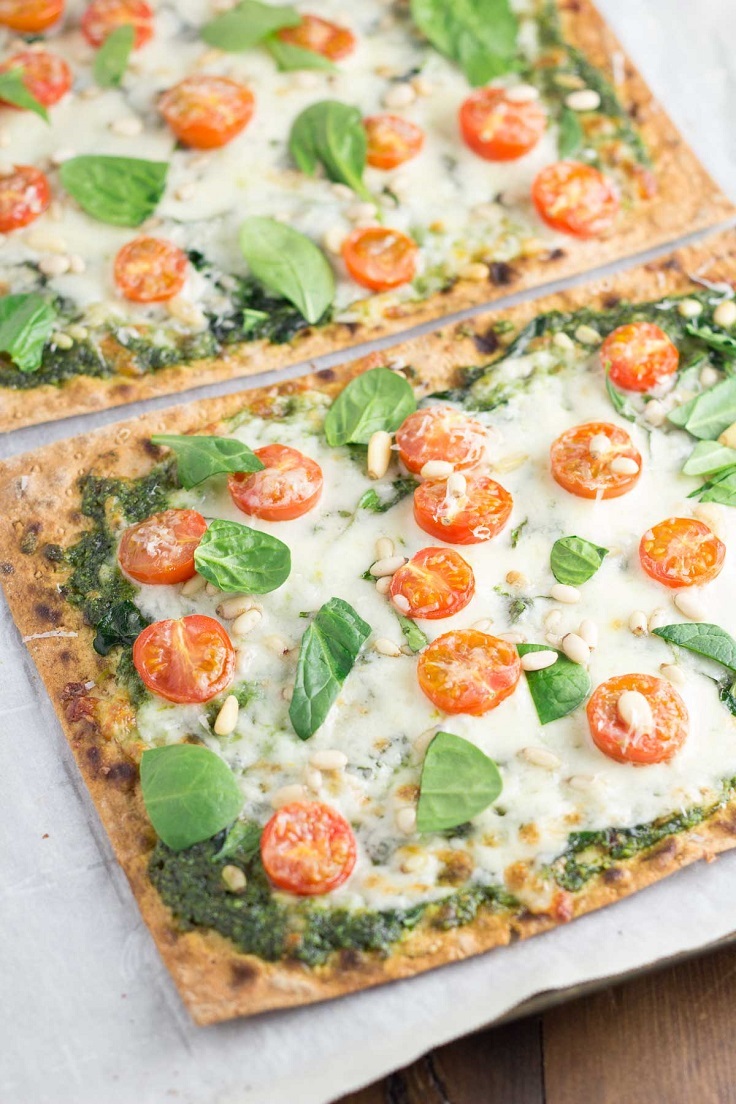 Spinach and pesto are a really nice combination, and if you haven't tried it, for now, this flatbread is a good way to go. You don't have to use store-bought pesto when you can make one at home. You need 3 cups loosely packed spinach, 1 clove garlic, ½ cup walnuts or pine nuts, ⅓ cup freshly grated Parmesan cheese, ¼ teaspoon Kosher salt, ⅛ teaspoon black pepper, and ¼ cup extra virgin olive oil. Besides the pesto, other ingredients you need for this flatbread are: 1 cup fresh baby spinach, 1½ cups grated mozzarella cheese, 8 ounces halved cherry tomatoes, ¼ cup grated Parmesan cheese, and 2 tablespoons pine nuts. So, so delicious and not to mention the spinach benefits!
9. Mediterranean Flatbread Pizza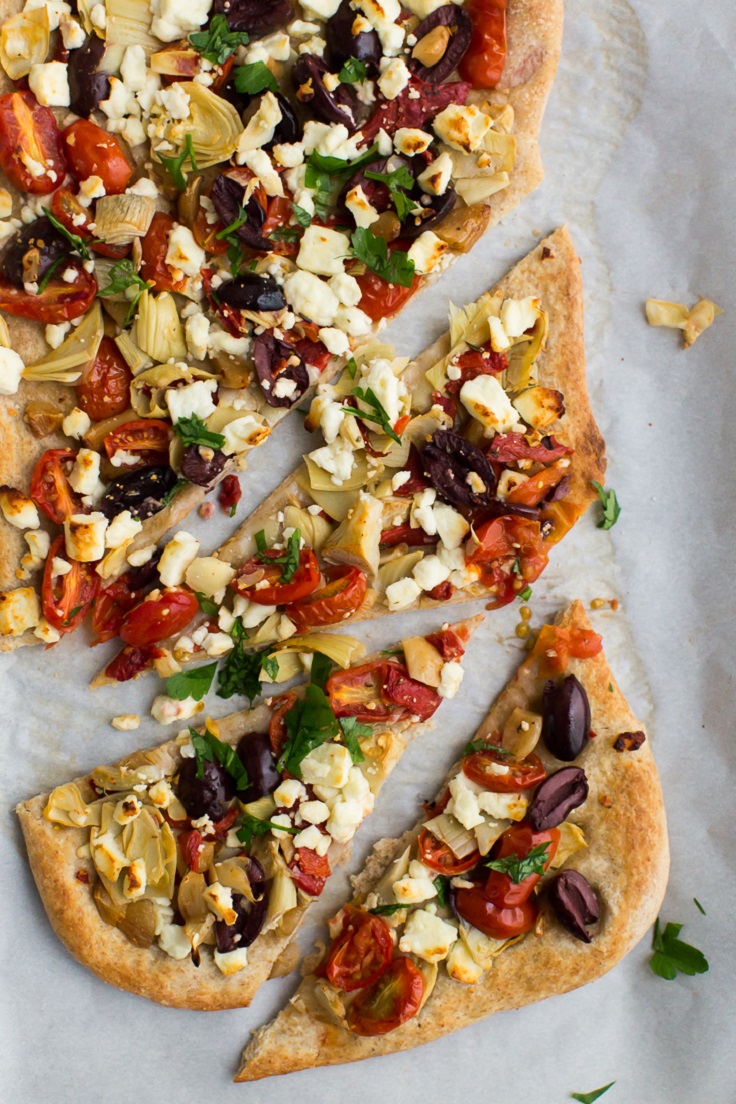 This flatbread is all done in less than 30 minutes, to all the waiting and effort you put in will pay off. When it comes to the Mediterranean kitchen – never say no. This flatbread has it all when it comes to all things the Mediterranean. It tastes awesome, and to prepare it, you need 1/3 cup of halved grape tomatoes, 1/4 cup of halved kalamata olives, 1/4 cup marinated and chopped artichokes hearts, 1/4 cup of roasted and chopped red peppers, 4-5 cloves minced roasted garlic, 1 teaspoon lime juice, 2 teaspoons fresh parsley, 1 tablespoon olive oil and 1 to 2 ounces feta.
10. Homemade Caramelised Red Onion, Goat's Cheese, and Rocket Flatbread Pizza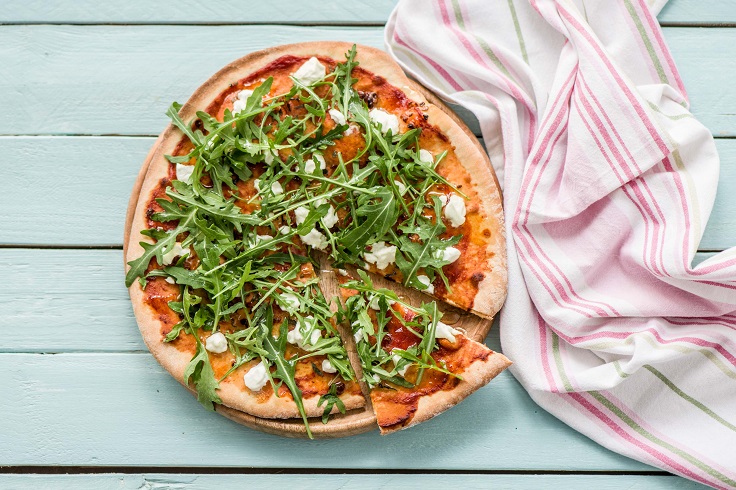 via hellofresh.co.uk
Ready in 45 minutes, this flatbread pizza has nothing you haven't seen here before, yet it tastes so well that you won't regret it if you take another slice of it! You just need these few ingredients: red onion, honey, yeast, flour, goat's cheese, fresh oregano, and tomato puree. What makes this flatbread really special is that it has caramelized onions. The taste of honey, onions, cheese, and tomato puree really makes one special meal. Share it with your beloved ones at your next gathering or party.