When it comes to summer, it's our never-ending inspiration – from food to drinks, clothes to nail art. You can use it as your inspiration for just about everything! There's a reason why everyone loves it – it gives great vibes and uses bright colors that make everything seem so joyful.
In this article, we took the fruit as our nail art inspiration – these ten ideas will perfectly fit the summer theme, and we're sure that you will find a few that you can easily copy. Scroll along and have fun!
1. Watermelon Slice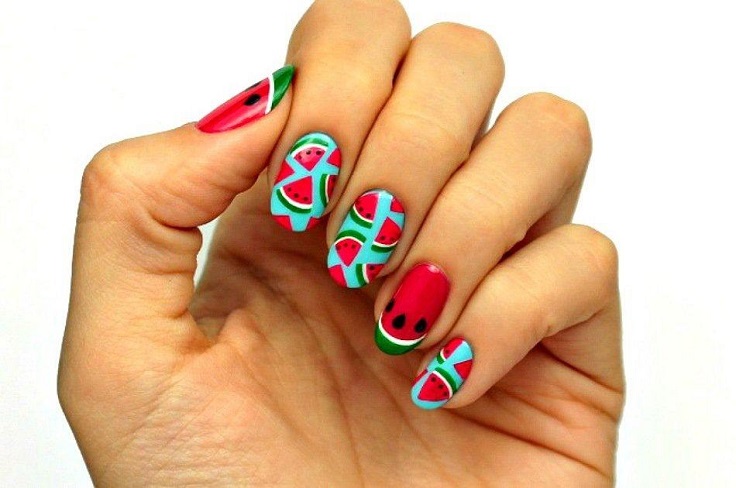 If you should say the fruits that remind you of summer, we bet that watermelon would be in your first three! This delicious fruit can be your nail art inspiration, thanks to its exotic look and great colors. One way you can make a watermelon-inspired nail art is this one – you can paint tiny watermelon slices on each finger and choose just one that will represent the slice itself.
2. Avocados All the Way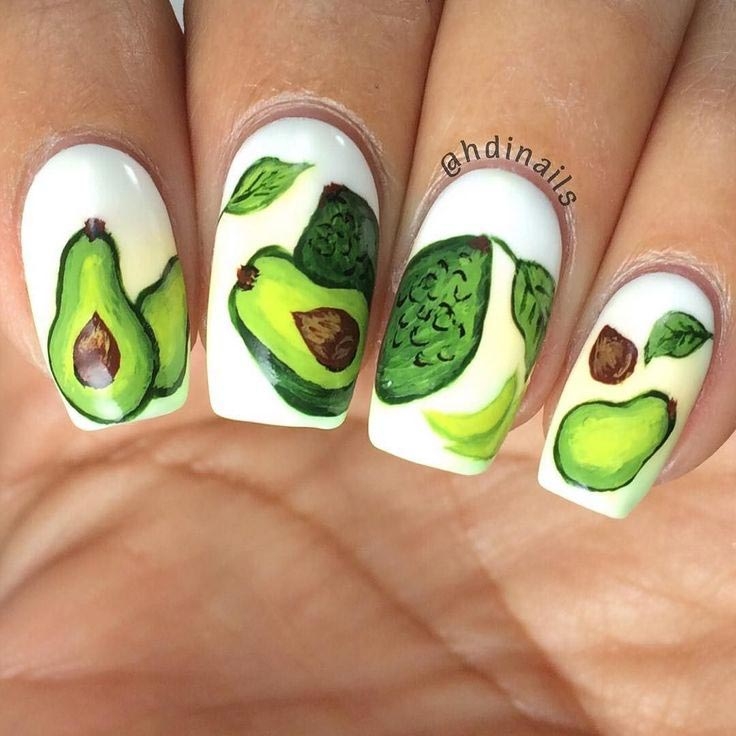 via ko-te.com
We have them more and more on the menus, and it's time even to include them in your newest nail art ideas. If you're an avocado lover, then you just found yourself the perfect look. It's nothing complicated – with practice, you'll make it look perfect, and you can even experiment with it. Take a look at this idea, for example – it has multiple avocados, some cut in half. Get those green nail polishes and start painting your avocados.
3. Perfect Pineapples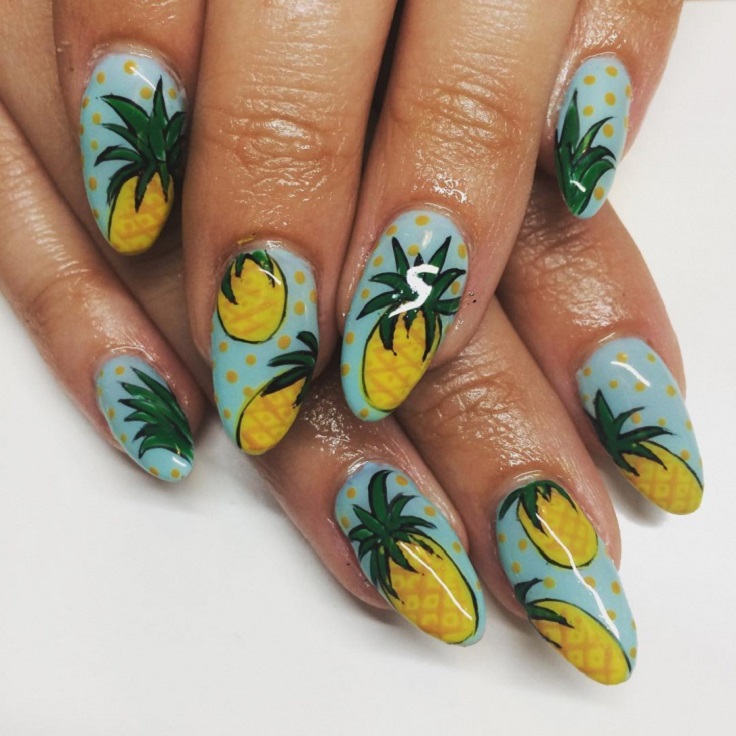 via designtrends.com
Here's another summer idea – don't you love pineapples? They have the perfect summer colors, so it's no wonder why many take them as their nail art inspiration. It might be tricky to paint the fruit because of its complex texture, but try few times aside, and you're going to make it. Make your nail polish base blue or another color that would compliment the yellow of the pineapple.
4. Sweet Strawberries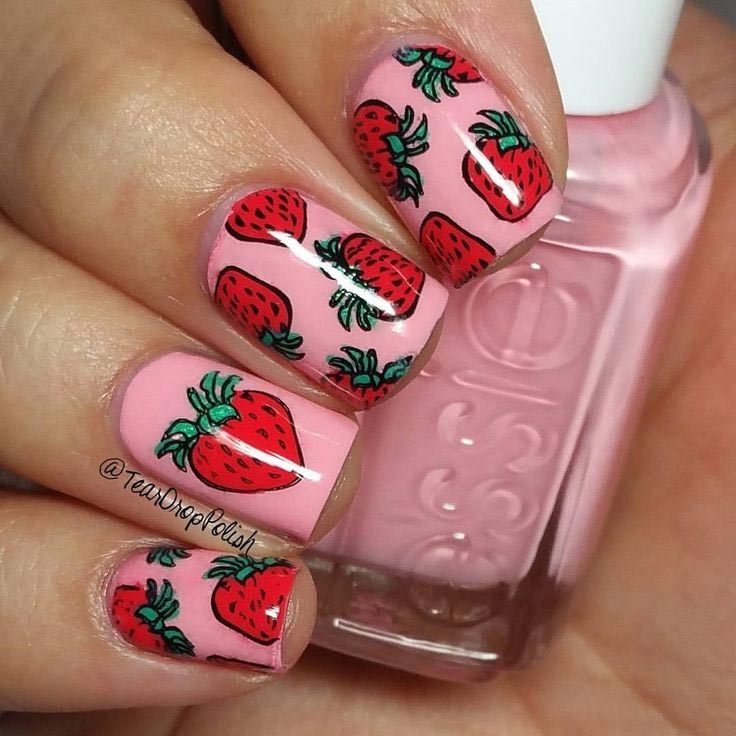 via fmsvolg.ru
Red and pink – this is a combination worth having not just for a week but also for the whole summer. It's romantic and very easy to make – you need red for the strawberries, black for the contour to add some bold edge, green for the leaves, and pink for the base. All these colors go really well together, and the results you'll have are breathtaking – take a look at the picture, and you'll know what we think!
5. Cute Kiwi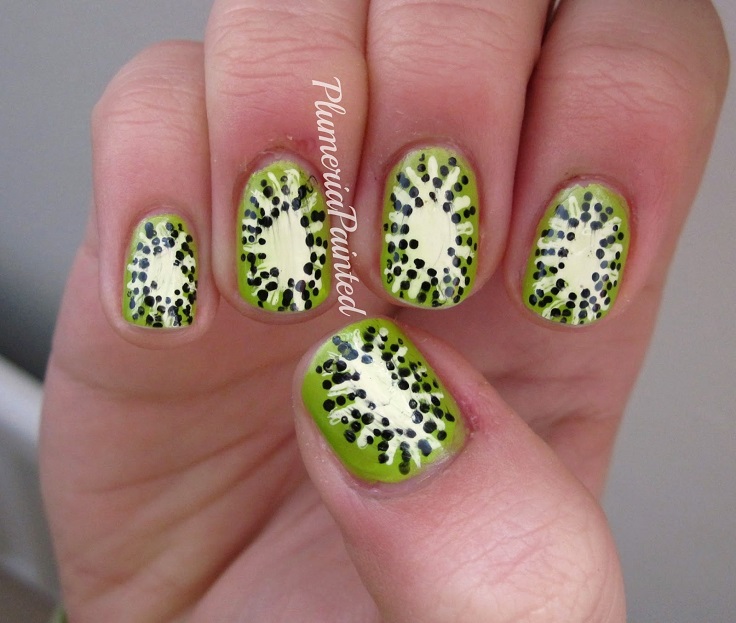 via plumeriapainted.blogspot.com
It may look like it's very hard to achieve the kiwi look, but it's actually easier than most of the ideas presented here! It will almost look like some abstract art. For this, you'll need three nail polishes – white, green, and black. First, paint the base of the nails green. Wait for some time to dry, and then paint the white part of the kiwi. Wait some more, and then just with the tip of the black nail polish brush, make dots, and you're done.
6. Lovely Lemon
via nehmaah.com
Yellow is such a happy, bright color that would totally fit the whole summer inspiration thing. That's why using lemons as your inspiration is such a good idea – not only because they will make good nail art, but because it's such an easy thing to do! This will work to your advantage if you don't have any good nail art skills. Get some yellow and white polish for the lemons, and choose the base color – mint looks amazing, doesn't it?
7. Beautiful Bananas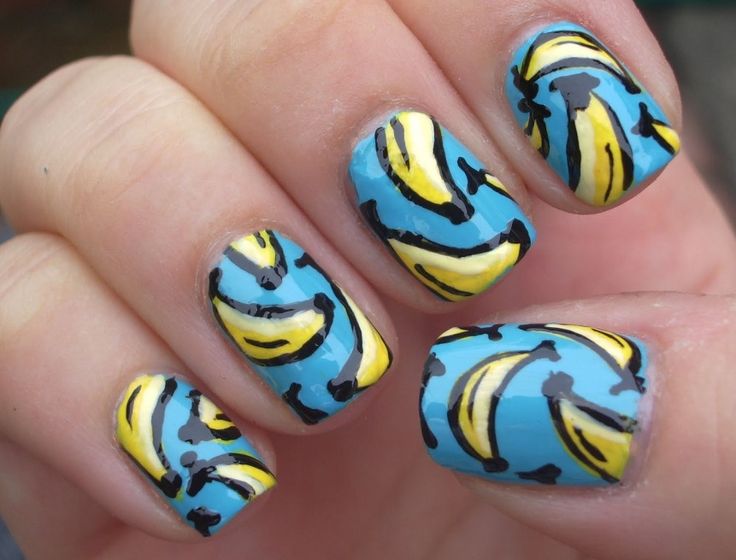 via picsmine.com
Here's another super easy idea that you're going to love – bananas are so easy to paint, even on your nails. With just a few moves, you can easily come up with this nail art idea. The blue definitely looks really nice together with the yellow, but you can also choose another color as the base if you prefer. Make sure to use black nail polish to make things look bolder!
8. Red Cherry Nails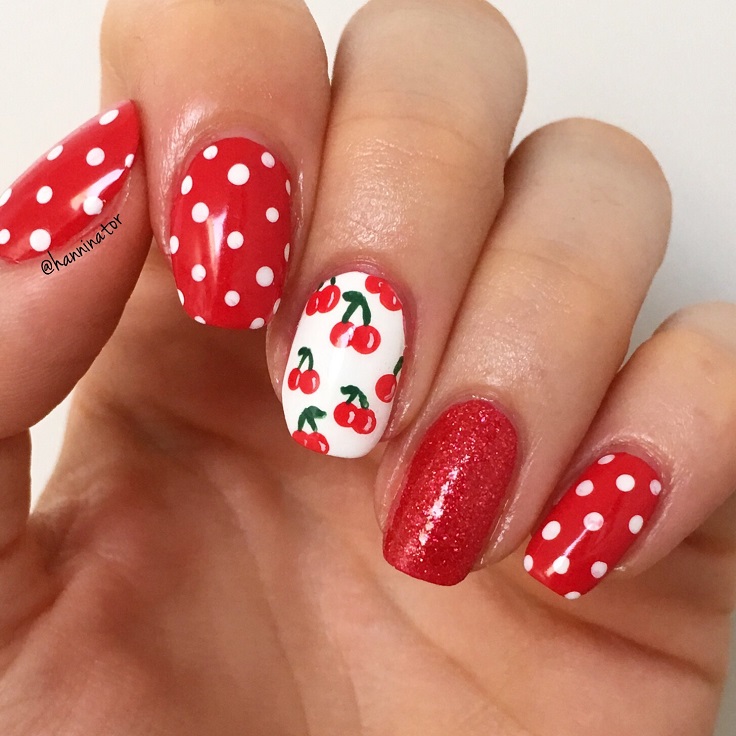 via hanninator.com
We can never have enough romantic nail art ideas! This time, it's not just a fruit we're talking about – we have polka dots and glitter as well, which means that if you find it hard to paint the cherries, you can just switch to those two. Make a great combination with these three elements, and you'll have amazing nails. Take a look at the photo, for example – you have just one nail with cherries, another one with polka dots, and the rest are glittery.
9. Simple Apple Tips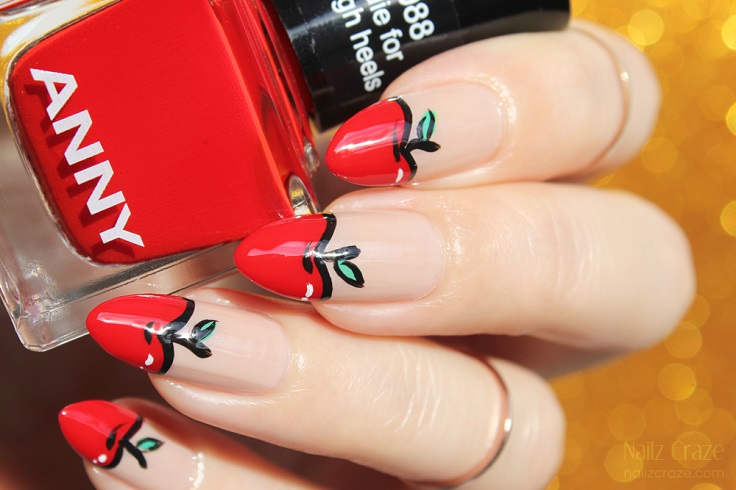 via nailzcraze.com
What we have here is a nude base with apples on the nail tips. It looks creative, and the longer your nails are, the better it will look. It's nothing complicated, as all you need are three nail polishes. Painting the apples is so easy; you just need to paint the upper shape at the nails' tip, add the contour with black, and that's it.
10. Orange Slices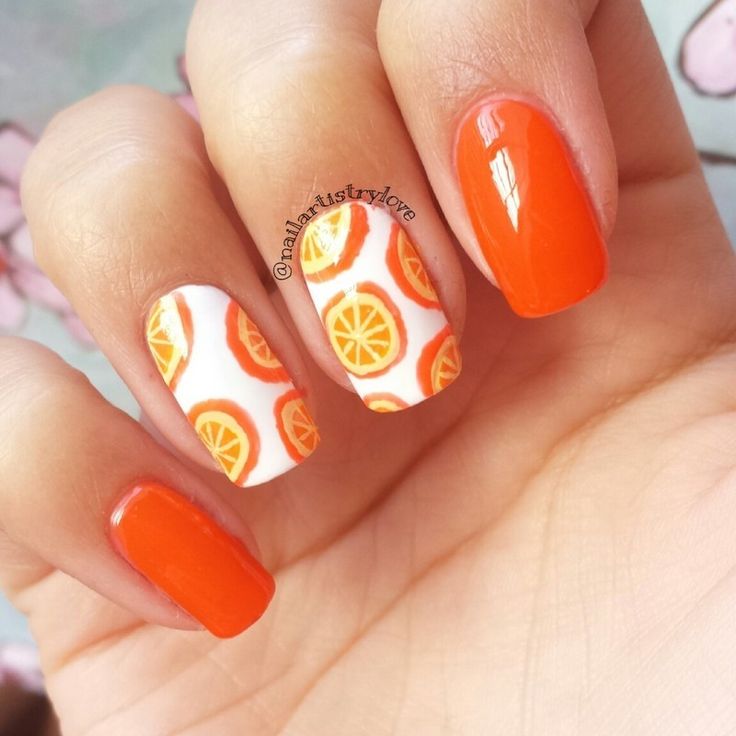 via askideas.com
And last but not least, we must share one idea with oranges – they're round, which means easy to paint and have one of the most joyful colors you can imagine. If orange is too much for your taste, you can balance the colors a bit by using white nail polish as the base for some of the nails and paint the orange slices exactly on these. The rest of the fingers paint in orange, and voila, you got amazing nail art.