Polishing our nails can be one of the most fun ways to use your creativity. It's a girl thing that we can never have enough from. There's always something that steals our attention and make us experiment with the polishing. Sometime it is a color, other times is a special nail polish we have to try.
In a sea full of ideas and creative possibilities, floral art is something you really need to try. It looks so wonderful and there will always be an idea to test, no matter if you are a beginner or already have advanced skills. We picked ten floral nail art ideas and we hope you are going to love them as much as we do. Have fun!
1. Floral on Black
It's all about the colors! With a black base, the best thing to do is to pick bold colors, like coral, fuchsia and a bit green for the ferns. It's a color palette that really steals the attentions. Even if you are beginner, you are going to find these flowers really easy, at least with few tries you can make them look awesome.
2. Teeny Tiny Floral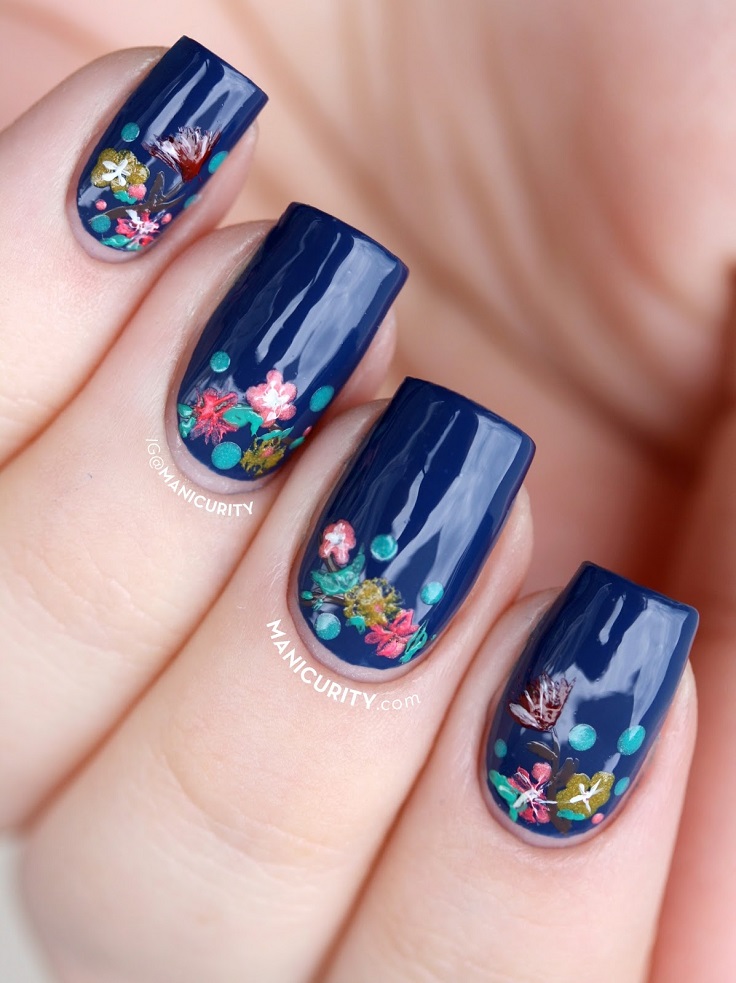 via manicurity.com
It's a simply nail art with amazing details – teeny, tiny flowers that go along very well on a navy blue basis. The flowers don't have any particular shape, so it's up to you to make them however you want them to look. Pick colors that will stand out from the dark base. Pink and aquamarine are good colors to start with.
3. Yellow Petals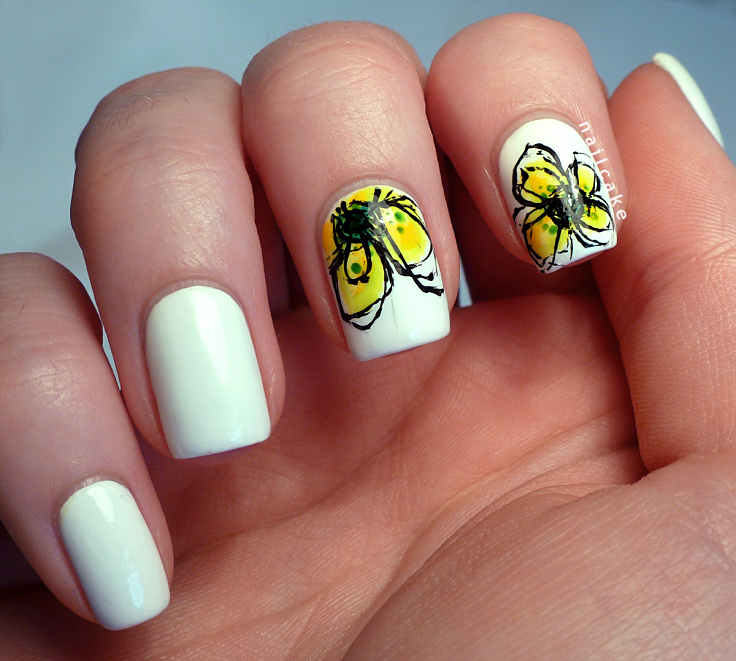 Can it be more simple than this? You just use your polishing art skills on only few nails, but you can always decide whether it's going to be the five of them or just one. Polish your nails with a acrylic white and thanks to the neutrality of the white, you are left with lots of options. In this case, the flower is yellow with some black lines to make it a bit bold.
4. Floral on Green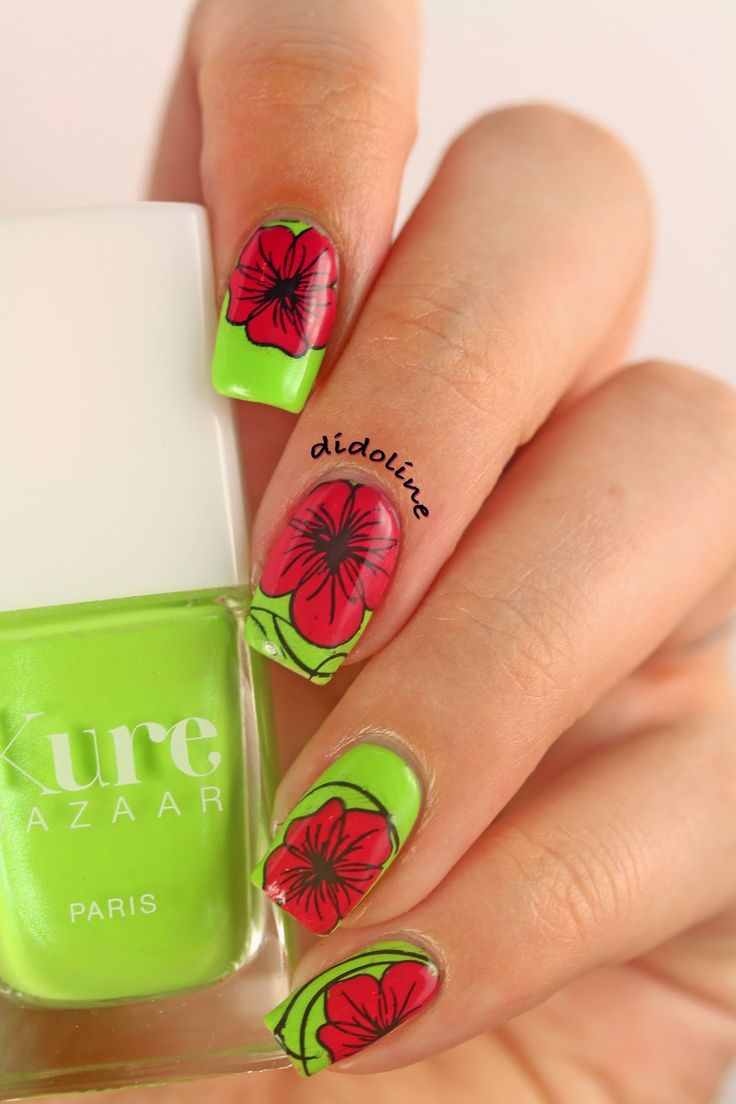 Who would say that green can be such a good base for a floral nail art? This example really proves how great it looks! What makes this nail art so special are the flowers as well. Paint some flowers and petals in red or burgundy and for the ferns use a dark color, like brown, in this case.
5. Watercolor Roses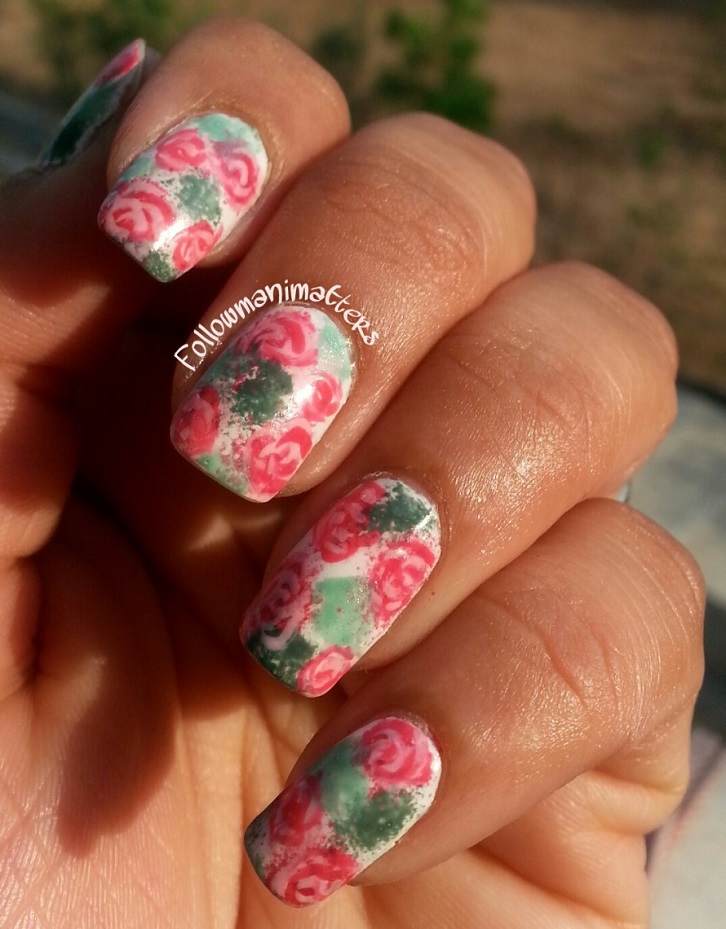 via followmanimatters.blogspot.in
There's something really artistic in watercolors that make us try that technique on our nails as well. The base is white and for this nail art are used three different pink polishes and two different green for the ferns. With a little help of acetone and sponge (and patience!), the result of your effort is going to look so good you will want it to last forever.
6. Purple Floral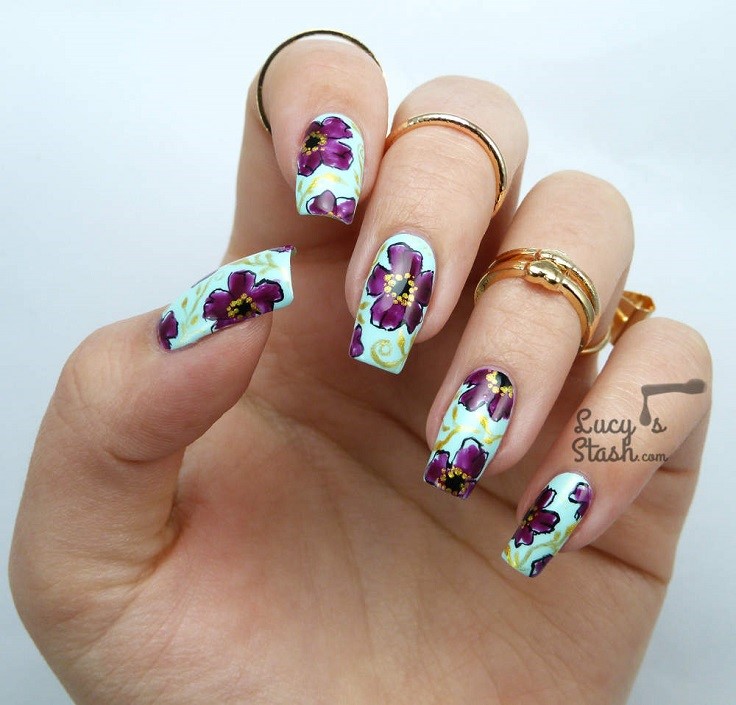 via lucysstash.com
Purple is the type of color that can really be "partners in crime" with flowers. These two really go very well together, and this nail art just proves it. The flowers are simply wonderful with the color, the yellow dots and the black lines. They really stand out from the white base and look like a flower proudly standing in the garden. The golden ferns also stand out from the green cliche, if we can call it so.
7. Dots and Ferns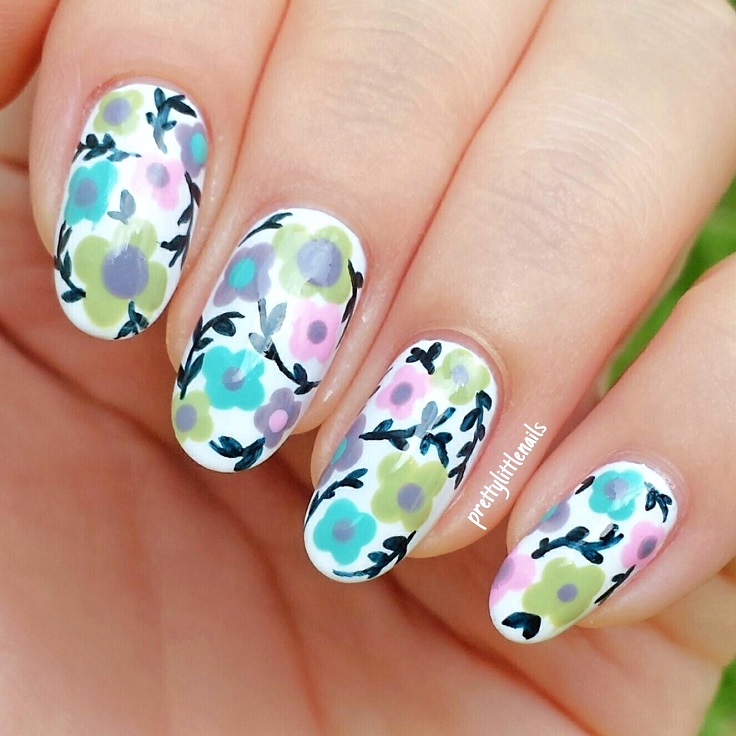 via beautemaniere.wordpress.com
If you are a beginner, maybe you should start with this one. It's really simple and it doesn't require any advanced skills. Polish your nails with white and on that base paint flowers just by making little dots. Make it colorful like on the picture and for more bold look, paint the ferns in black.
8. Touch of Gold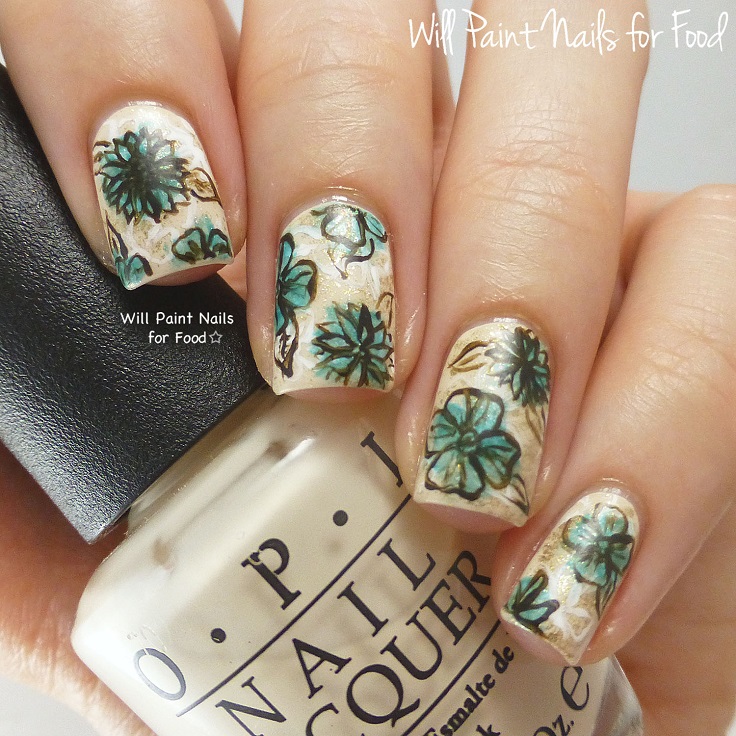 Shimmery, gold, flowers… What more to ask for? Simple looking, but yet so creative and wonderful. Use white nail polish or other cream color base on which you paint blue dots (or something similar to them) and with the help of a black nail polish shape them into flowers. Then, you can add the gold polish, as the "cherry on top".
9. Floral Stamping
Here we meet the process of floral nail stamping. It's nothing big, all you have to do is just follow the given instructions. But before that, have fun while choosing the colors you would like to see on your nails. As you can see, shimmery purple goes great with blue shades in a flower. Must try!
10. Shimmer
And last on the list we have something shimmery, something vintage. We have to admit that we love how to floral is combined with the shimmery part. It looks really amazing. Start by making a white basis and then do your nail art magic. Use different color shades to get the perfect vintage roses.