White nail polish is a classic and always looks good when you are going for clear and simple nails. But, if you want to spice up the white-nails look, we have the best 10 ideas that will blow your mind! They are so easy to do by yourself and will match every outfit that you choose.
No matter what is the length of your nails, short or long, there is no way that white nails can look bad on someone! Look below for our suggestions and tell us which one is your favorite. Have fun!
Moon Shape and Golden Zircons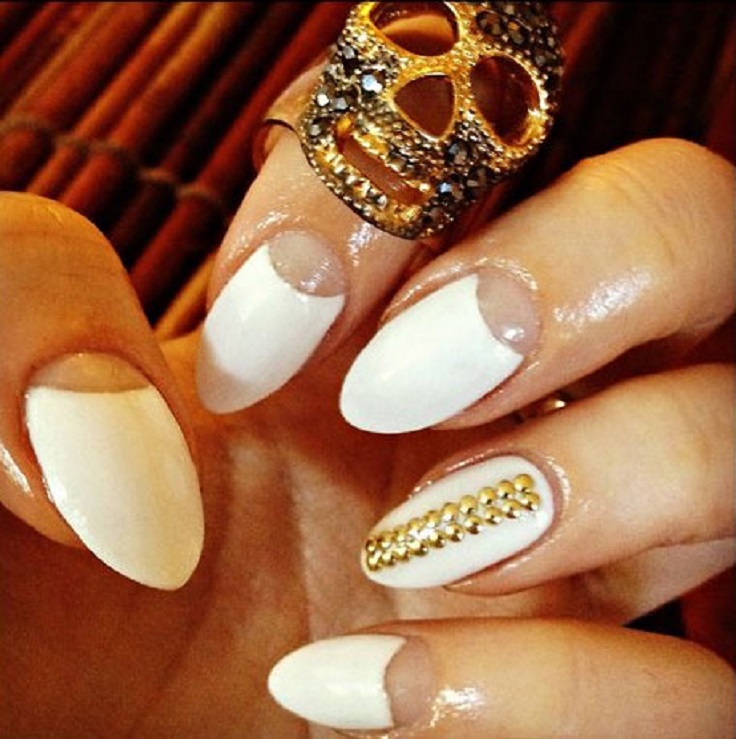 via naildesigny.com
Moon shape is a great way to avoid monotony, and these golden dots only help complete this look perfectly. It is your choice whether you will put them only on one nail or on all.
Feather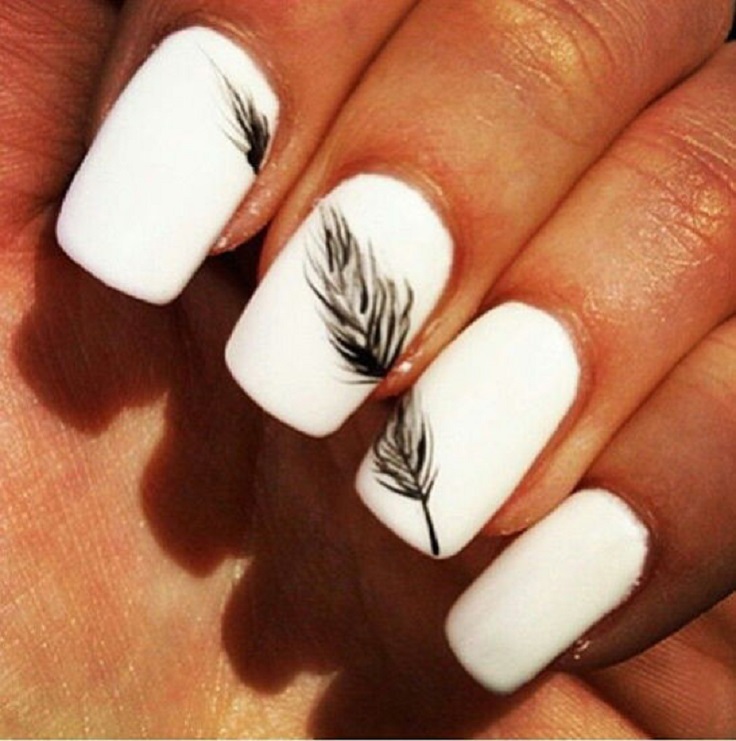 via hairstylefs.com
This is such a great idea that the feather continues to few nails; it looks so realistic and unique. It is straightforward to create, with just a few strokes with a thin brush and black nail polish; this look will be completed.
Reverse French Manicure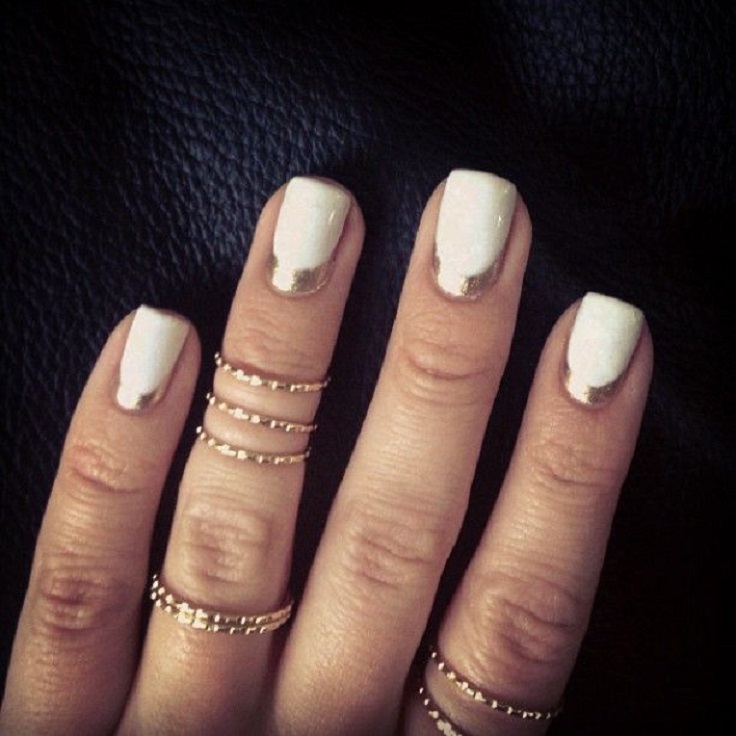 With the help of two nail colors – gold and white you get this amazing result! Apply the gold color and let it dry, then above that, apply the white nail polish leaving the nail's bottom.
Outlined White Nails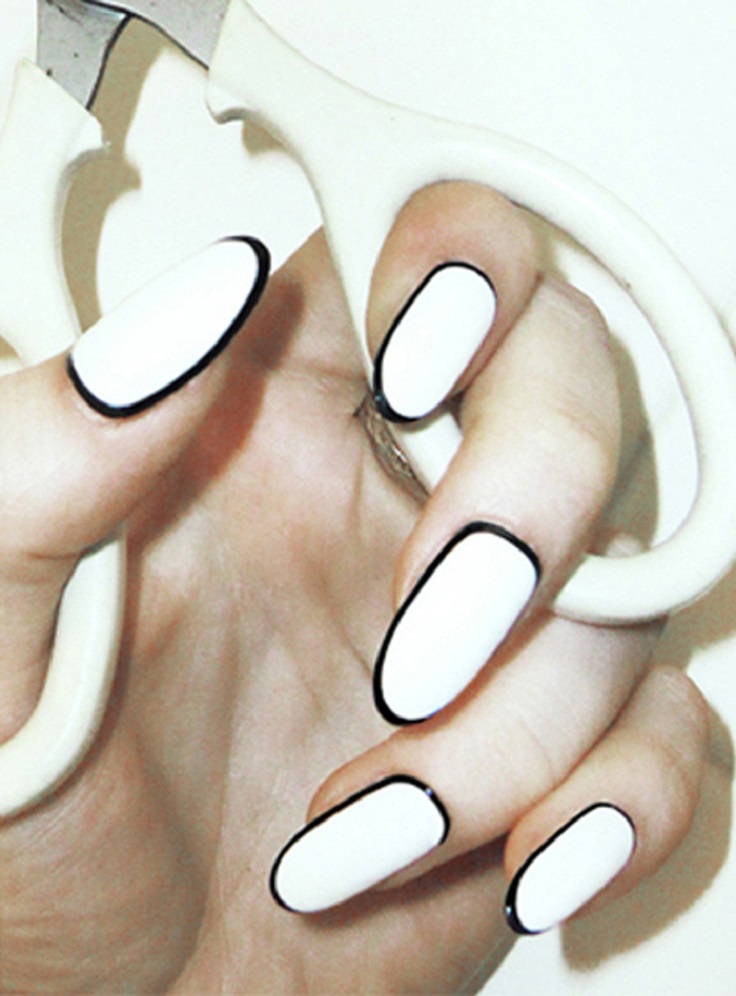 via chicmuse.com
The more simple the look is, the more beautiful it looks! This 5-minute nail look is amazing, yet nothing about it is not hard or impossible if you are not a professional. Just outline the nails' outer corners with the color that you think will fit the most (our suggestion is black).
White, Gray and Black
via waolady.com
This gorgeous look is achieved with three colors: white, black, and grey. The basis is white, and the gray and black are applied the same way you will apply normal french. Between the colors are little silver patches that are completing the look perfectly.
Yin Yang Nails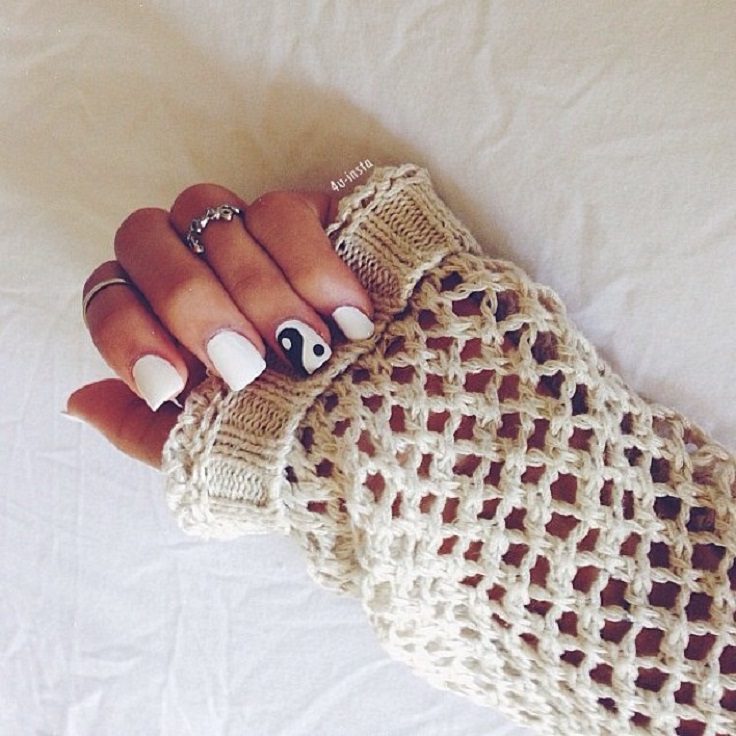 via stylishboard.com
The philosophy behind the Yin-Yang sign is enormous and beautiful, so wouldn't it be great to wear that special sign on your nails? It is so easy to create, half black and half white with two little dots on the sides. And there you have the philosophy of the world on your nails.
White Nails With Black Streaks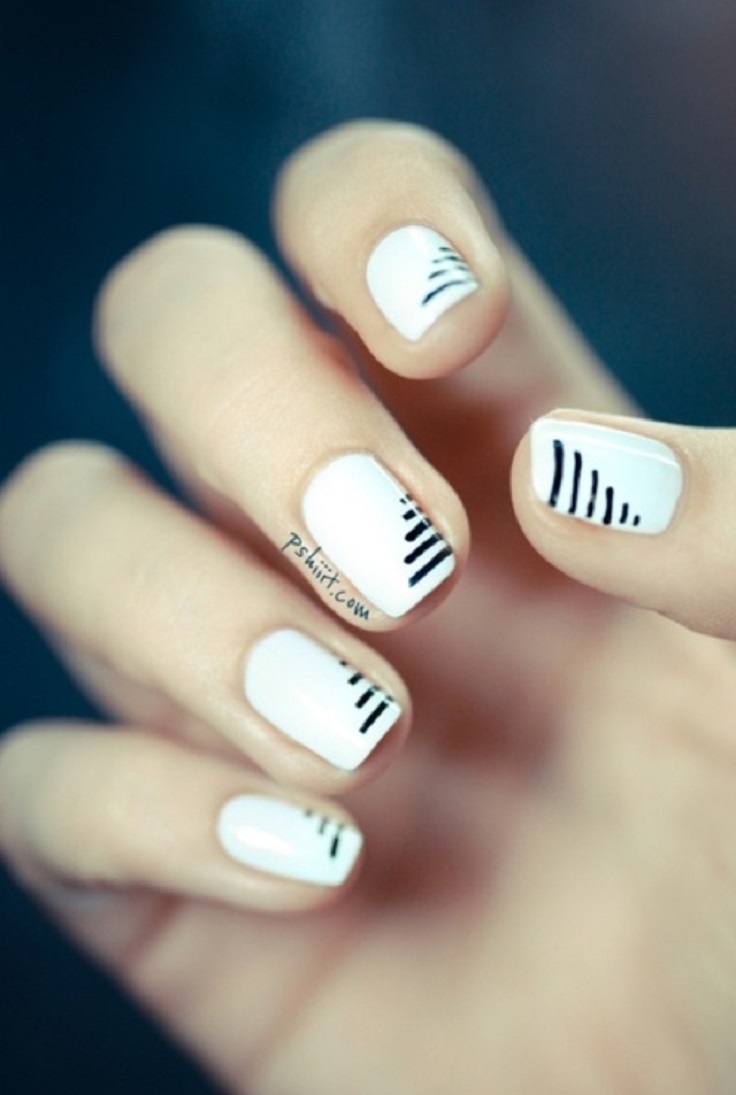 via books.pl
As simple as it can be and looking amazing. This is the power of the black streaks ordered properly. They can be done in no time and make your white nails instantly look more alive and fun.
Crispy White Glitter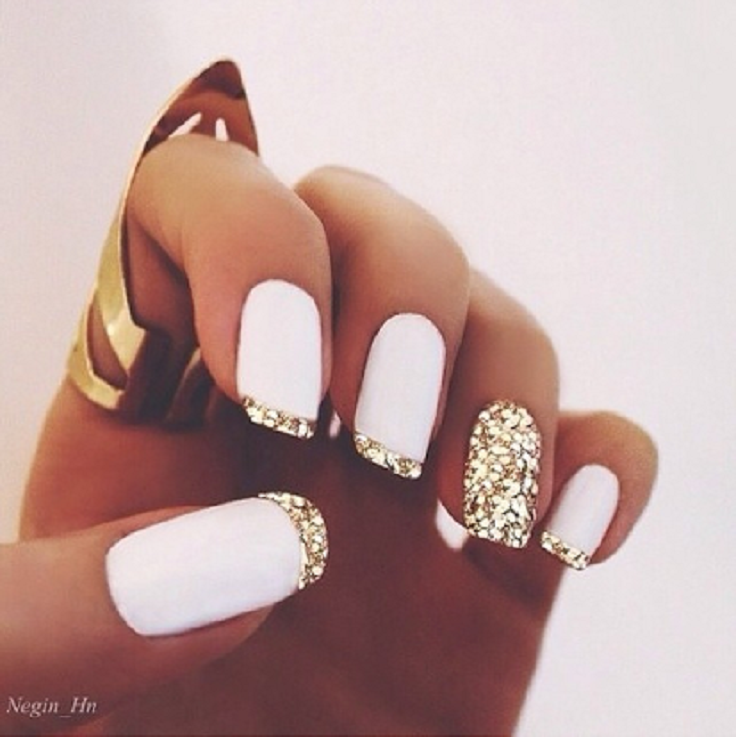 via hudabeauty.com
A little glitter never harms anyone. The perfect combination – white and gold, will make you look priceless, and you will capture everyone's looks, just because these two colors together are irresistible!
Fading Cubes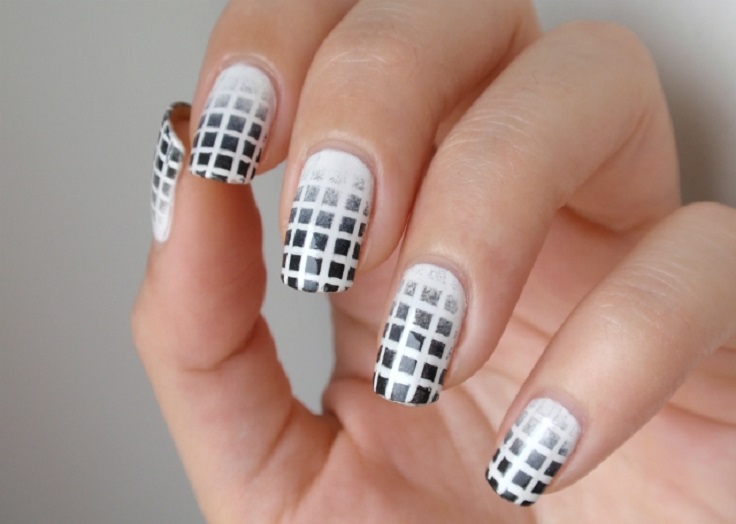 via nhave.com
Put strips horizontally and vertically on the nails, and with a little sponge covered with black color, apply it all over the nails. After it dries, take off the strips, and you will get these beautiful small fading cubes.
Polka Dots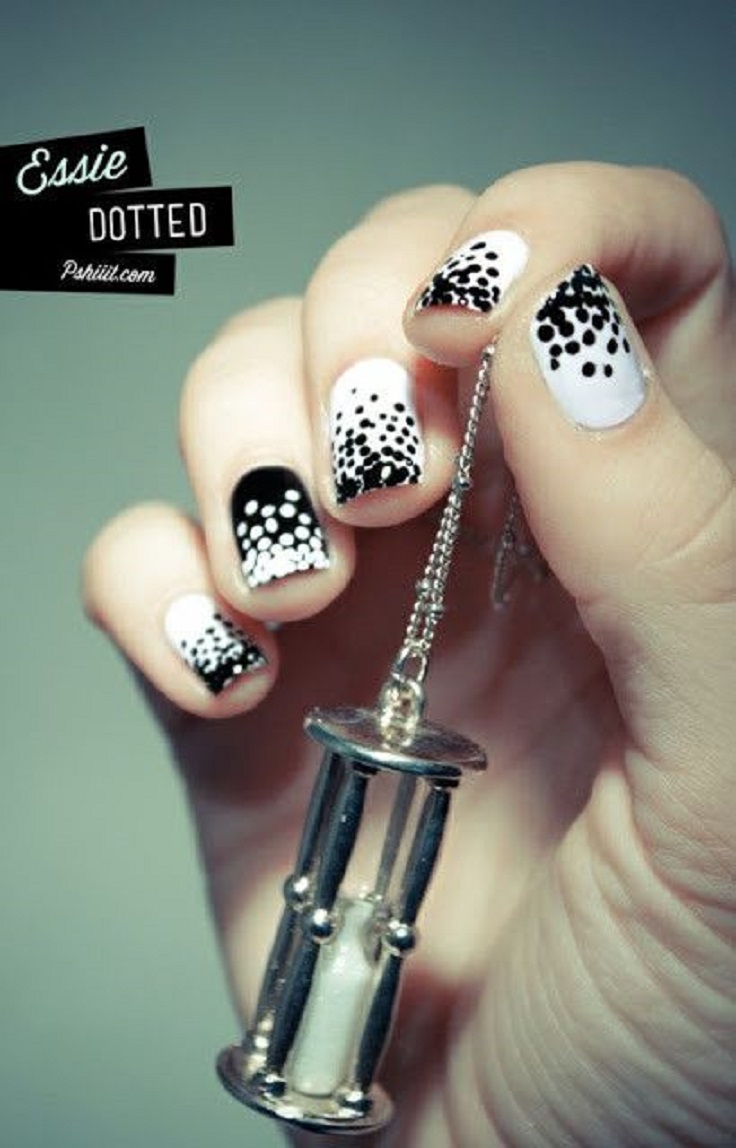 via pakifashion.com
Playful choice, again the two contrast – black and white in combination. With a special tool, make tiny dots on the nails' top, from big to smaller. The picture above is the result that you will get.