Looking for some inspiration for new DIY projects? In that case, we like to share with you what took our breath away last: galaxy-inspired projects! You might have already seen some of them on social media, but there's plenty that you can DIY.
We picked different things, from jars to scarves, so that there's something for everybody! Some of these projects will take less than an hour, others longer – it's up to you to find out which one is the best for you. Have fun!
1. Constellation Jar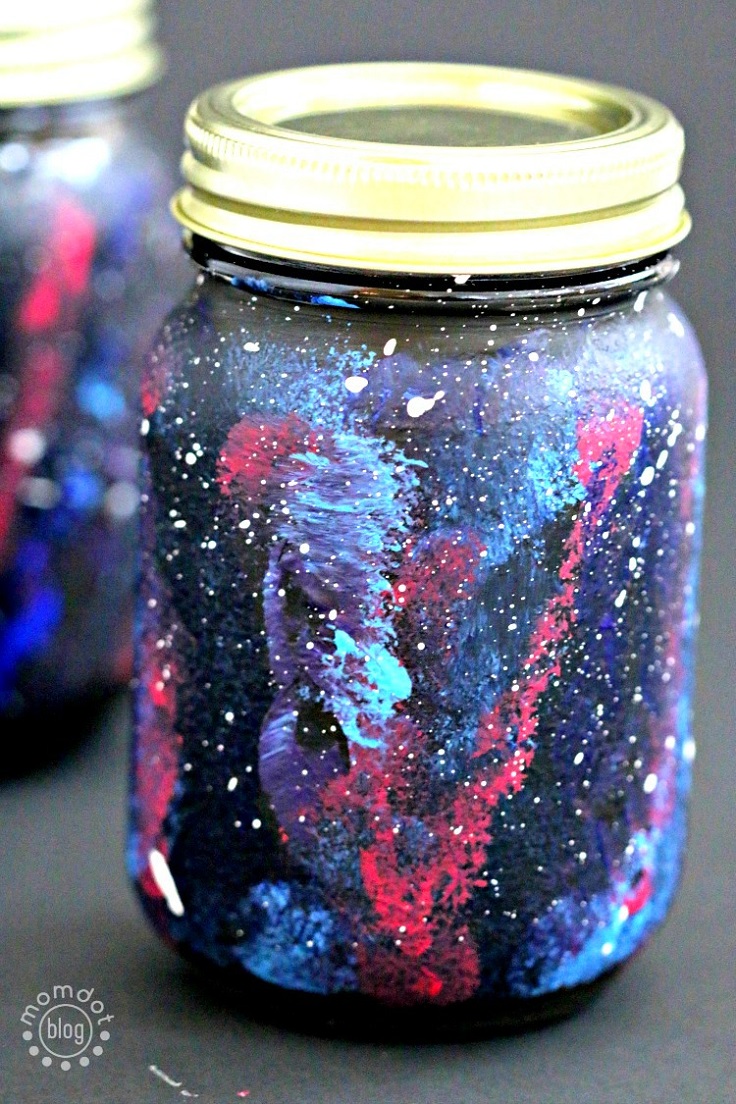 via momdot.com
So far, we've seen many ideas on reusing old jars – from how to make them a candle holder to storing a salad inside. Now it's all about the galaxy, so there is a way to make them your own personal galaxy stored inside a jar. For this project, you need paints (use black, dark blue, purple, deep pink, white with sparkles), Glow in the Dark Paint
(this one is optional, and use similar if you can't find the same product), a paintbrush, paint sponges
 and of course, a mason jar
.
2. Constellation Dishes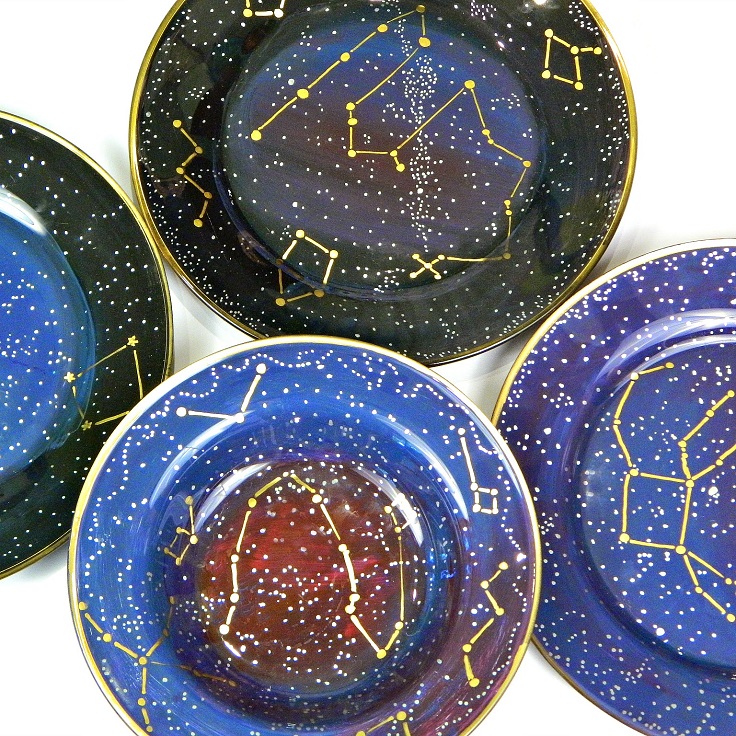 via markmontano.com
The old white dishes no longer need to be dull and one-colored. You can decorate and paint so many ways, so why not use the galaxy again for your inspiration? First, you need to print out of constellations and use Americana Gloss Enamels in Napa Red, Deep Midnight Blue, and Dioxazine Purple, paintbrush, Krylon Short Cuts metallic silver and gold, rubbing alcohol, and glass dishes. The products you're not able to find in your hometown, just switch them for other alternatives.
3. Galaxy Notebooks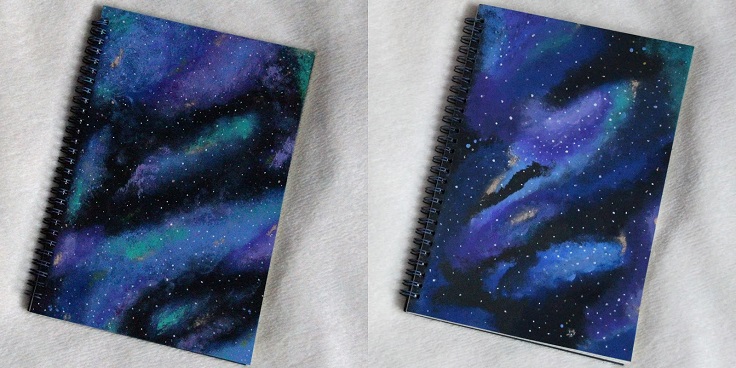 After we finish with our school, we barely need notebooks, but when you have such an adorable, galaxy-inspired notebook, you will want to write down stuff just because it looks nice! If you have children, they might like this idea as well. Use a black plain notebook (the bigger, the better), paints (use black, navy, white, blue, violet, green, yellow, orange, pink, and every other you know will match), sponges (few sizes), and transparent spray. You might also need a brush to paint small white dots and a palette to mix colors.
4. Galaxy Print Blouse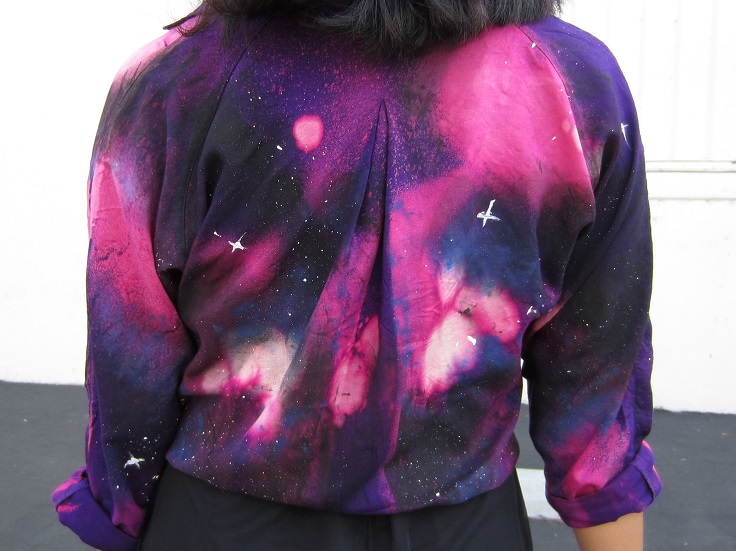 via letsgetthrifty.wordpress.com
If you were looking for ideas on how to upgrade a shirt, then you definitely have to give this one a try. It's really interesting – looking, and you can wear it with jeans, a skirt, pants, whatever you want the most. It might look like many jobs to do, but it's a really easy project and won't cost a lot.
5. Watercolor Wall Art
Art makes every room look better, no matter if it's a masterpiece of DIY painting. However, we must admit that having our own art hanged it's a really good feeling, so why not give it a try? You need a paint tray, watercolors (solid or liquid), masking fluid, paintbrushes, watercolor paper, art tape or painter's tape, pencils (light and dark lead – depending on what process you use to transfer your image), eraser, and hard surface to tape your watercolor paper too.
6. Galaxy Pumpkin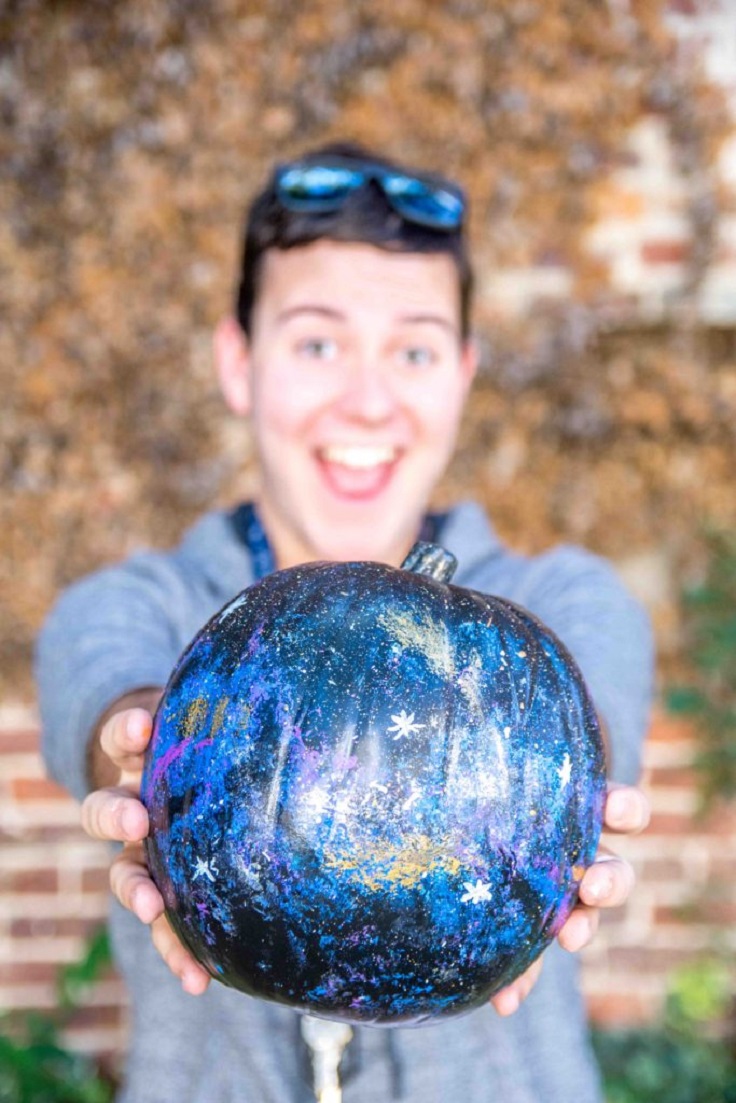 The pumpkin season will soon come to an end, so let's use the most out of it while we can. There are so many inspirational ideas on decorating a pumpkin – it can be a vase, a candle holder, you can write down stuff – there are so many decorations that can come out of it! To make it look like it was dropped in the galaxy itself, you'll need different textured sponges, paintbrushes, black foam pumpkin, and paints (you can use Americana Decor Multi-Surface Paints: Pewter, Blue Bird, Purple Sunset, Silver, Black Tie, Champagne, and Flamingo).
7. Galaxy Pendant Necklace
Wow, how nice would it be to have at least one galaxy-inspired pendant necklace? These all look so good that it's hard to tell if they're homemade or store-bought. The best part is that you can make them yourself. For that, you need triangle (or round, or any shape you fancy) charms, chain necklace, nail polish or acrylic paint, a dark color (like navy blue), a light color (preferably white), two or more other colors (like hot pink and lilac), glitter nail polish, clear topcoat nail polish or acrylic varnish and a cosmetic sponge.
8. Galaxy Scarf
via scarves.net
Here's another way you can upgrade your wardrobe. We already show you a nice shirt idea, so here's one for a scarf. If you are a scarf fan or know someone, don't hesitate to make a galaxy scarf and give it away as a gift for a friend or even for you! You need a black scarf (most likely cotton works best because painting on linen leaves the fabric super stiff!), soft fabric paint, simply spray fabric paint, and a small paintbrush.
9. Galaxy Slime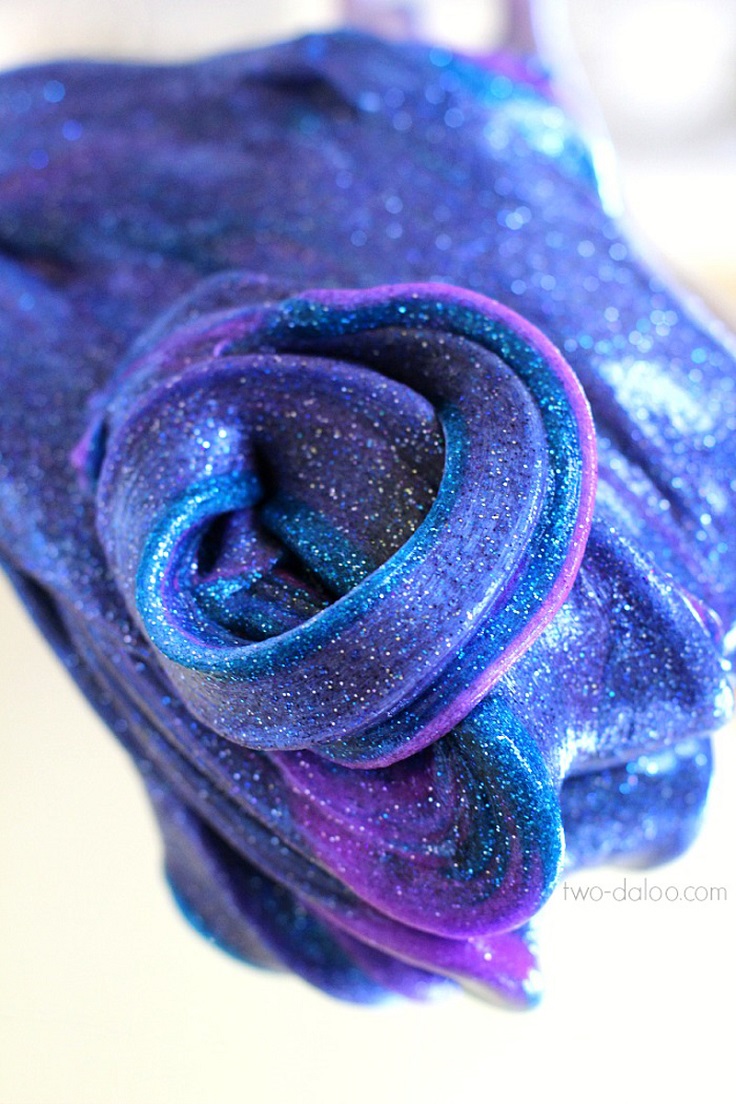 via handimania.com
If you think that slime is just for children, you didn't play with the right one. The slime is fun to play with and can get you really addicted to it, especially when it has such magical galaxy colors and glitter. To make your own slime, you need a bottle of Elmer's Clear School Glue, Sta-Flo Liquid Starch, Liquid watercolors, and glitter in a variety of colors. If you don't have the same products in your hometown, just pick an alternative.
10. Galaxy Geoboards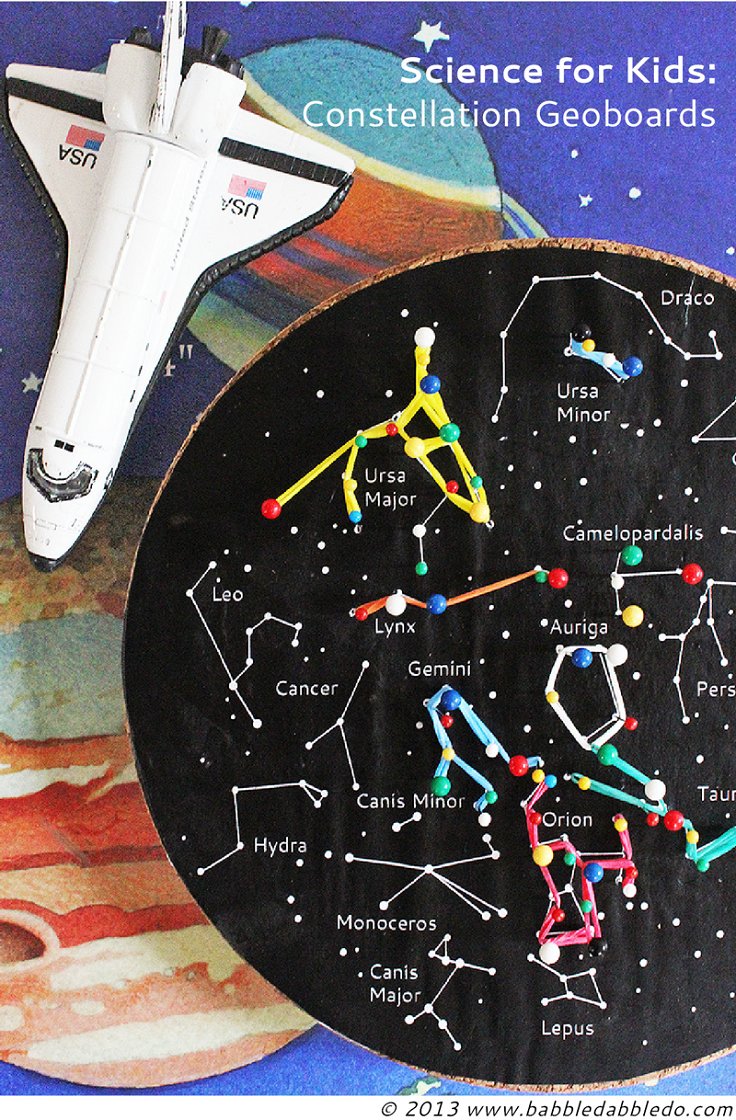 Science for kids, or maybe even for everybody! Let's be real; this geoboard is so great that no matter if you're 7 or 35, it's still going to be fun to look at. But, it is especially helpful if you have children who need some geo reminder. Geoboard Template, (2) 7" Round Cork Trivets
, Ball Head Straight Pins
, Mod Podge Matte Finish
, Scissors, Hot Glue, and Hot Glue Gun, Cosmetic Wedges and Small Rubber Bands.