Eating breakfast wakes up your digestive system, fuels you up, and gets you ready for the day. It is important for adults but perhaps even more for kids. Children do better in school and have more energy if they start the day with breakfast.
We all know that weekdays can get hectic, and we struggle to find time to prepare breakfast in the mornings. However, with make-ahead recipes, you can improve your breakfast habits.
Make any one of these quick grab-and-go breakfast recipes ahead, and you will have one less thing to worry about when you wake up in the morning.
1. Sausage, Egg and Cheese Doughnut Breakfast Sandwich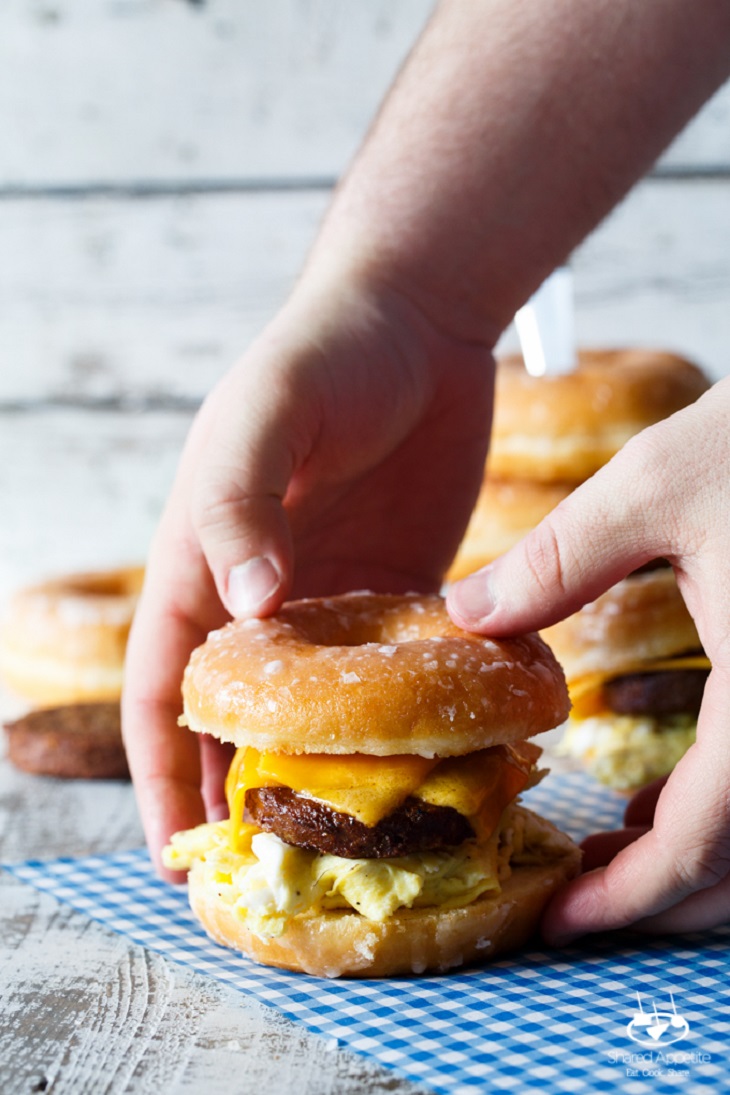 Recipe via sharedappetite.com
These Sausage, Egg, and Cheese Doughnut Breakfast Sandwiches are totally delicious and ready in less than 15 minutes. All you have to do is to grab some of your favorite doughnuts from the store (or if you have leftover doughnuts, even better), cook up some scrambled eggs and sausage, add some cheese, and done!
2. Oatmeal Cookie Overnight Oats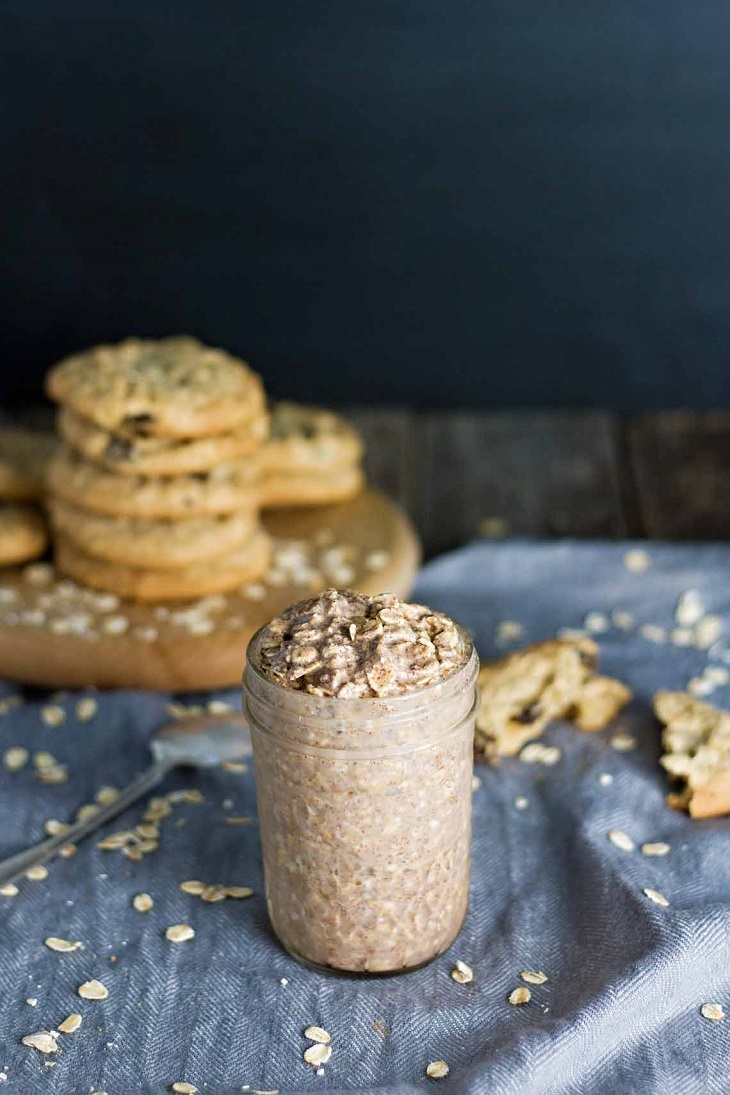 Recipe via www.jaroflemons.com
This is one of the easiest and healthiest breakfasts you can have! This Oatmeal Cookie Overnight Oats recipe tastes like dessert, and it is a great source of protein and healthy carbs. You only have to combine all of the ingredients in the evening and enjoy it in the morning.
3. Bacon & Egg Breakfast Muffins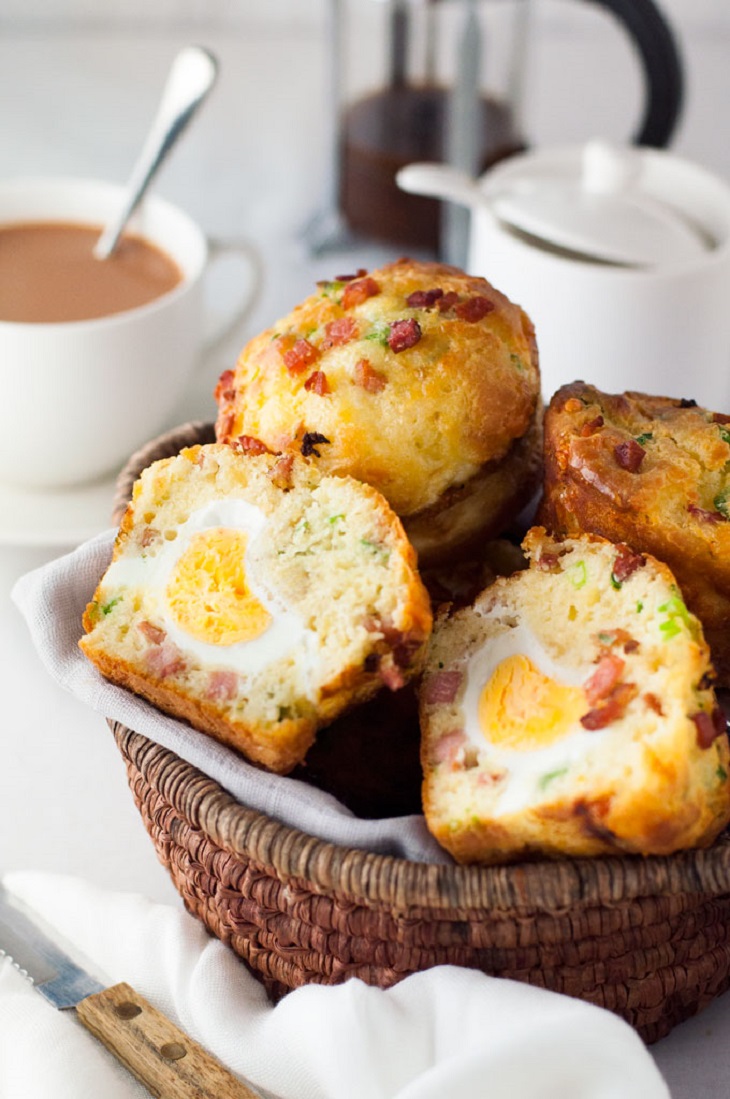 Recipe via www.recipetineats.com
Did you know that you can actually bake eggs in muffins? Try this Bacon & Egg Muffin recipe, and you will see! It is the perfect grab-and-go option; just pop them in the microwave for 40 seconds to warm up and be done. They last for around 4 days; just make sure to keep them in the fridge because of the egg.
4. Slow Cooker Overnight Steel Cut Oats with Banana and Walnuts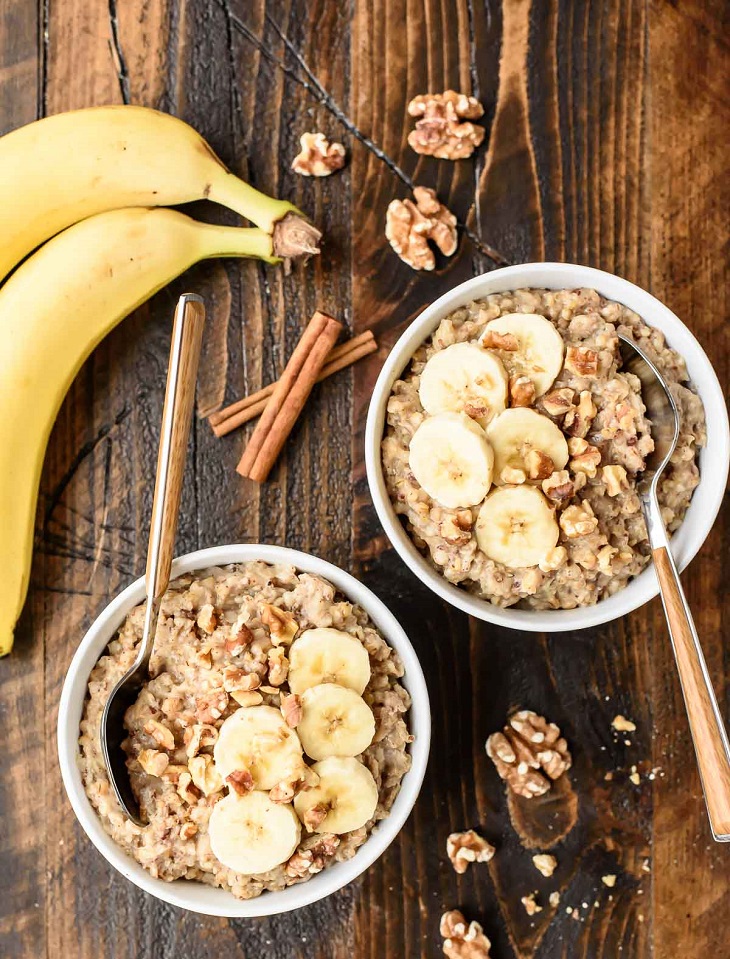 Recipe via www.wellplated.com
There are two reasons why you need to try this recipe asap! One, it requires close to zero amount of preparation, and it cooks entirely in the crockpot while you sleep. Two, it has a delicious flavor of freshly baked banana bread, and you will have your kitchen filled with cinnamon and sweet banana scent in the morning!
5. Savory Kugelhopf With Italian Herbs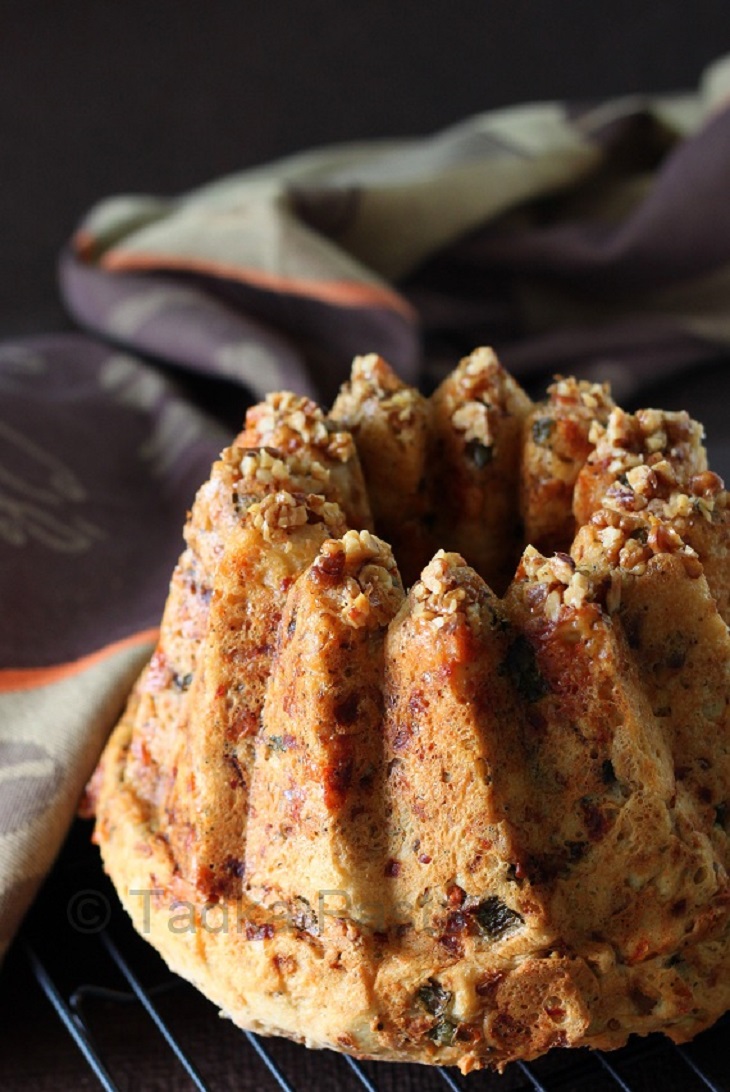 Recipe via tadkapasta.wordpress.com
Kugelhopf or Gugelhopf is basically the European version of Bundt cake. This beautiful bread is full of Italian flavors – cheese, tomatoes, peppers, herbs -, the dough is made rich with eggs and salted yellow butter, and it has a perfect golden crust. Have it with a cup of soup for lunch and save the leftovers from toasting for breakfast.
6. Beetroot Hummus and Broccolini Baguette Slices
Recipe via greenevi.com
This funky-looking Beetroot hummus and roasted lemony broccolini baguette are perfect for parties, picnics, grab-and-goes. If you don't have time for the roasted broccoli, simply spread the hummus on a slice of heavy wholemeal bread and top it with fresh vegetables.
7. Oven Toasted Almond Granola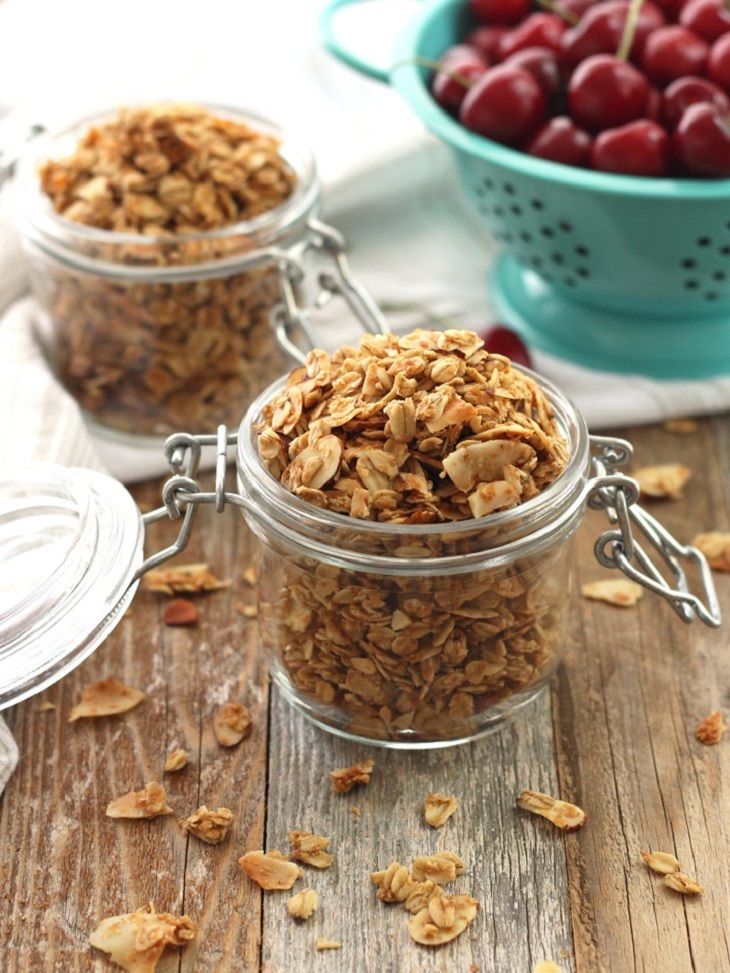 Recipe via toasterovenlove.com
This is a simple recipe for two cups of Small Batch Almond Granola filled with sweet golden oats, sliced almonds, and toasted coconut. Perfect for making in your toaster oven! You can add your favorite dried fruits to the recipe; just make sure to add them after the granola is baked.
8. Chickpea, Sweet Potato & Avocado Freezer Wraps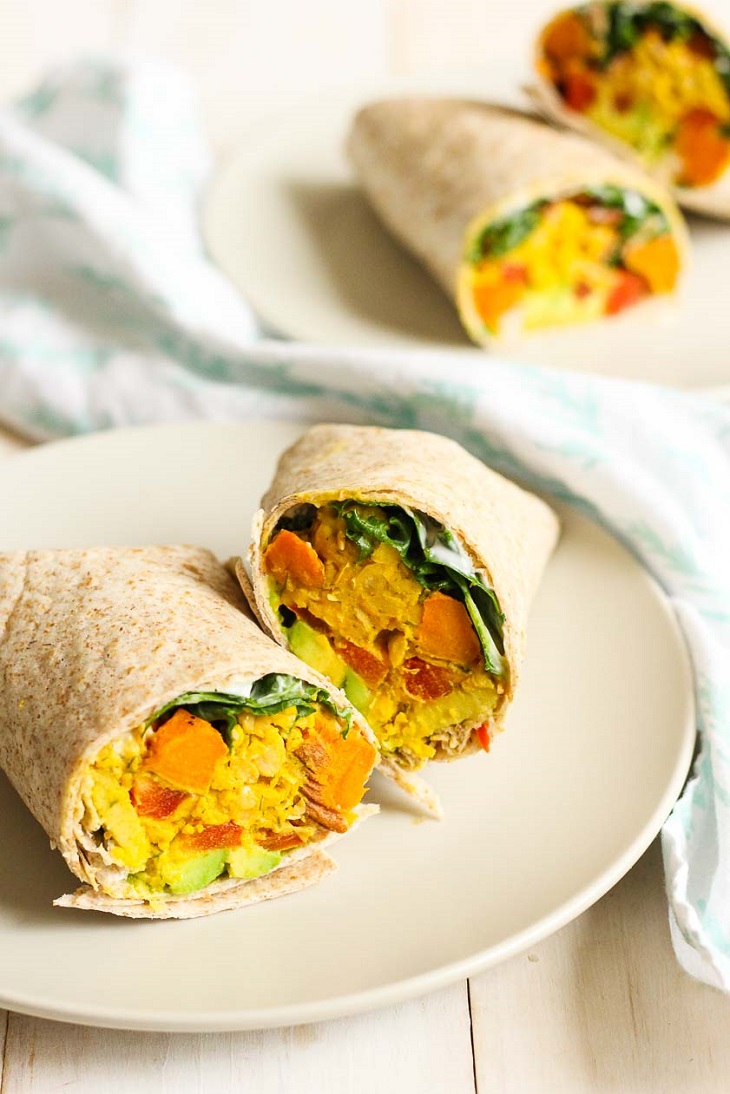 Recipe via thegirlonbloor.com
This Chickpea, Sweet Potato & Avocado Freezer Wraps make a perfect grab-and-go breakfast and lunch as well. They are easily made vegetarian or gluten-free. Chickpeas are incredibly nutritious, and the roasted sweet potato adds a new level of flavor to these wraps.
9. No-Bake Double Chocolate Chip Granola Bars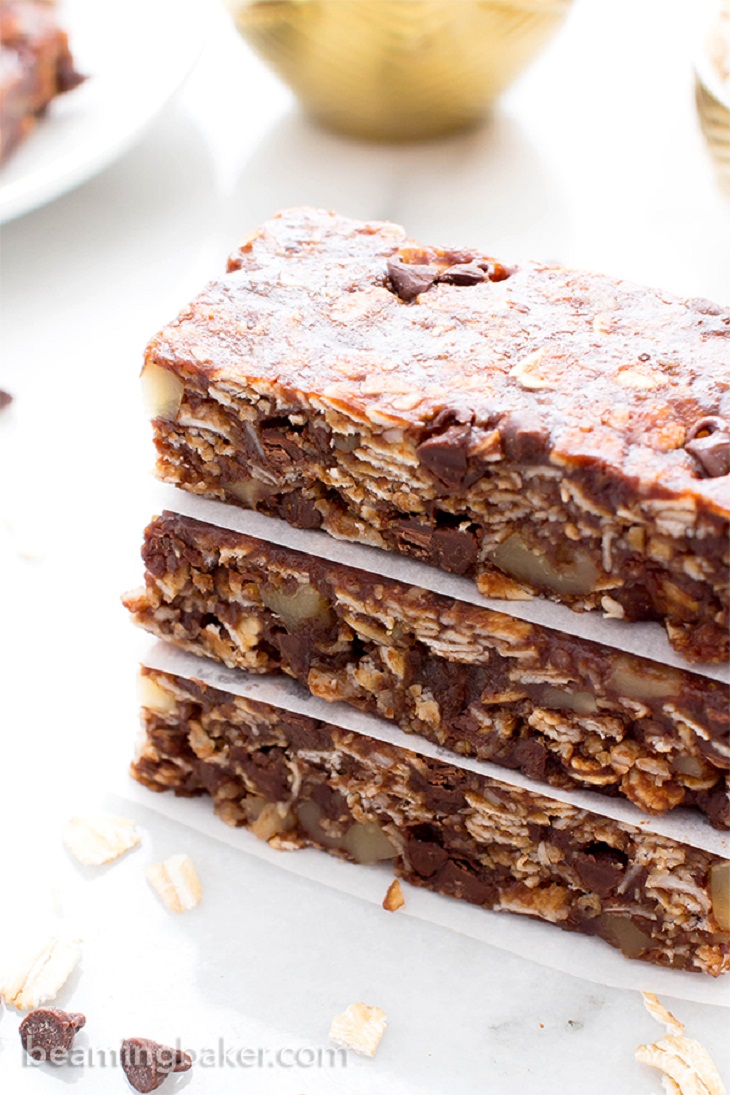 Recipe via beamingbaker.com
We just love these no-bake granola bars! They are ready in no time, and they are Vegan, Gluten-Free, and Dairy Free. The Double Chocolate Chip Granola Bars are as delicious as they look, satisfyingly chewy and amazingly chocolaty!
10. Salad In Jars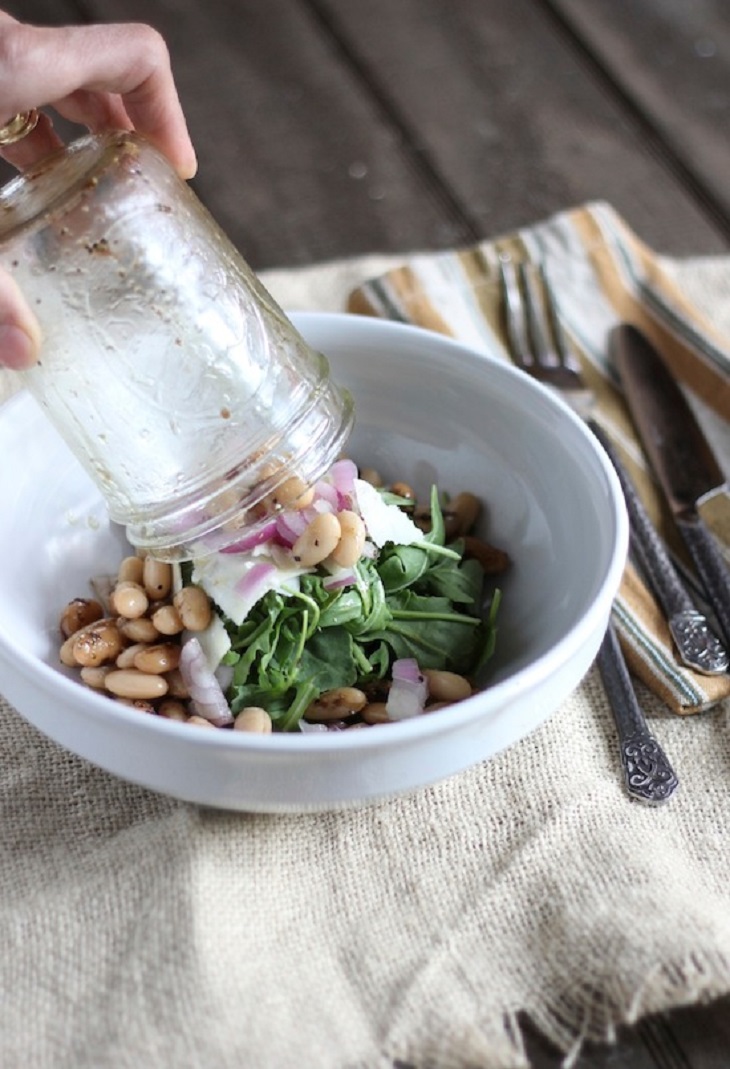 Recipe via theitaliandishblog.com
Salad in jars is a perfect solution for the problem when all the salad's goodies fall to the bottom of the bowl. Simply take individual pint-sized canning jars and layer the individual salads. Put the dressing and seasoning first, then add the sturdier components and finish with the greens go on top. You can make up a few jarred salads at the beginning of the week and have them in your fridge all week.