Want to insert some difference in your eating? This is the right thing to do! Try any of these amazing kiwi salad recipes, and you will be amazed at all the different ways you can use the kiwifruit. There are many ways to combine it with other vegetables and fruits to make something different and unique.
You will definitely love any of these salads' taste because they are a perfect mix of delicious flavors and vitamins.
If you're on a diet or planning to put yourself on one, these are some ideas of lighter food you can make as your meal. A salad is never out of style, and you can eat it as an appetizer or eat it with another, bigger meal. It can even replace a meal, and you won't feel hungry very soon.
Kiwi is a perfect fruit for any season, especially winter, because our body needs more vitamin protection and energy. Find your kind of salad and enjoy!
Shrimp and Kiwi Salad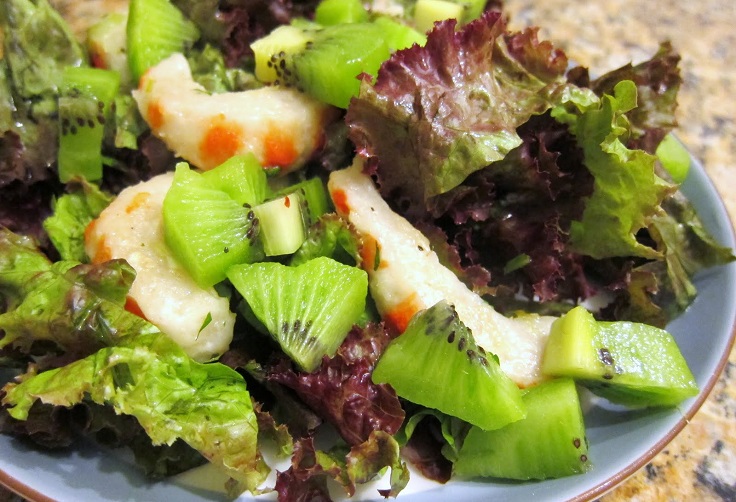 via 99superfoods.com
An unusual salad recipe, but also very healthy and delicious. It contains lots of vitamins. Also, it has a characteristic flavor and leaves a fresh taste on the roof of your mouth. You should definitely try this recipe!
Kiwi Spinach Salad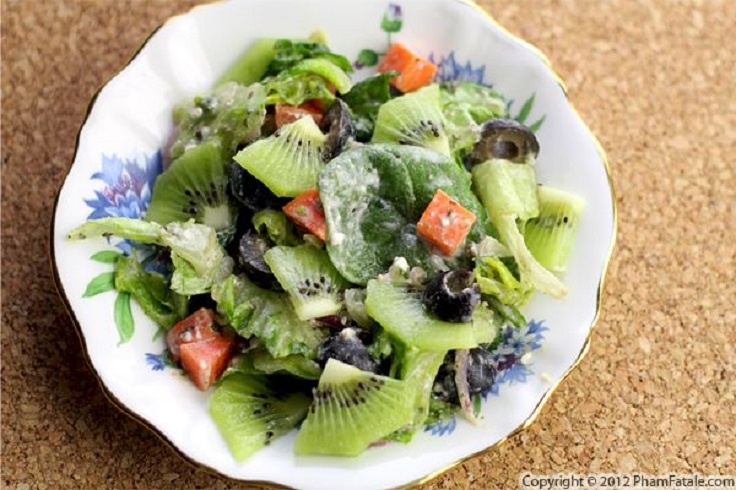 via phamfatale.com
This is an interesting, colorful mix of fruit and vegetables. You can add something extra if you want, it depends on your taste. This salad makes a perfect light meal, and you will benefit a lot. Enjoy!
Strawberry Kiwi Chicken Salad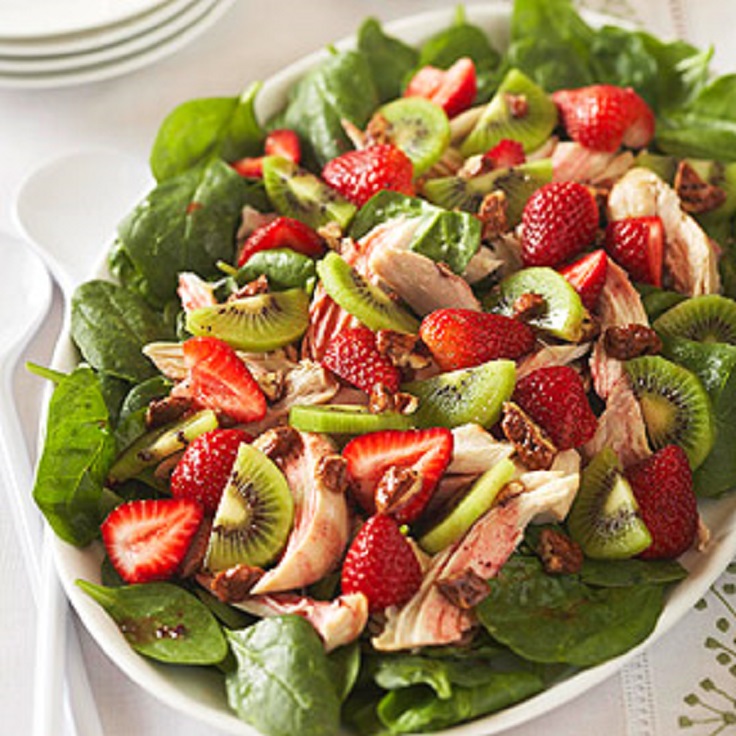 via recipe.com
A bit unusual but still very good. This salad has its own special flavor, which is a bit strange, but it's still tasty and really healthy. It's good to eat it if you're on a diet too. Definitely worth trying!
Holiday Orange & Kiwi Fruit Salad with Honey-Ginger Dressing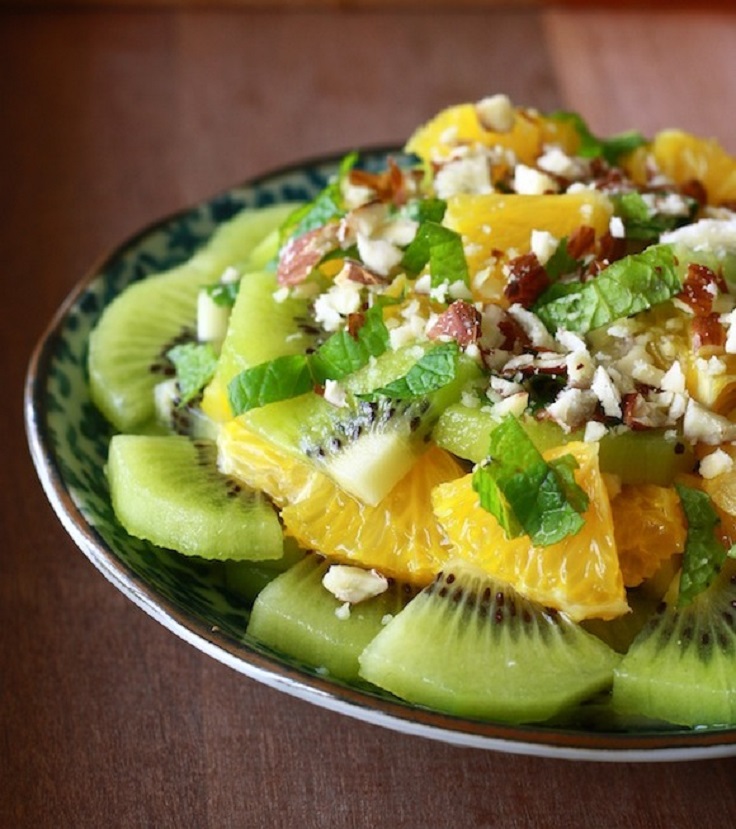 During the holidays, we enjoy a lot of snacking inclination. This salad is a good way to, kind of, detox our bodies. It's perfect for health and delicious. Keep up in good shape for the holidays, and enjoy!
Pomegranate, Orange, Papaya, and Kiwi Green Salad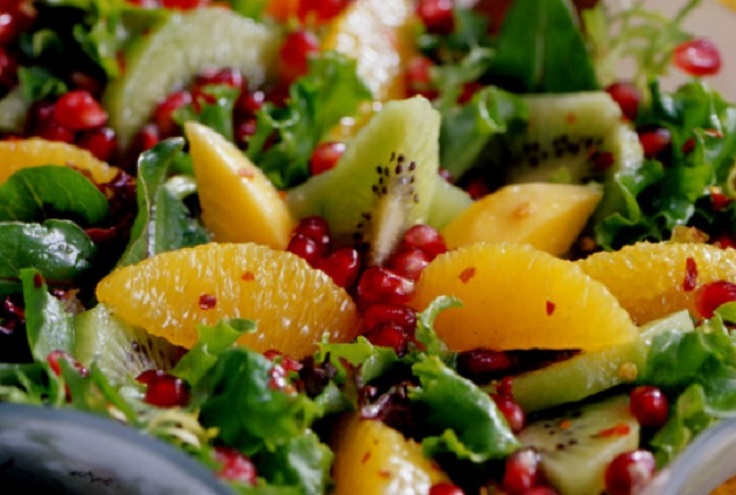 via joyofkosher.com
A real vitamin explosion! This is an everyday salad, very healthy and delicious. You can make it with other seasonal fruits and vegetables; it makes a perfect appetizer or meal. Definitely worth trying!
Kiwi Mango Quinoa Salad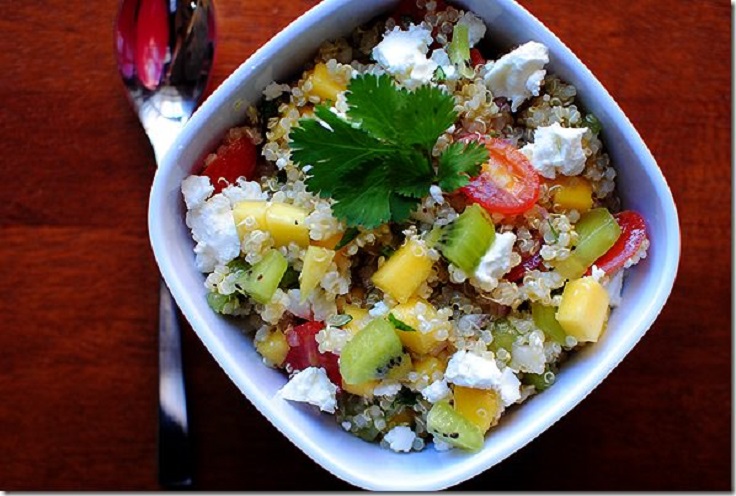 via iowagirleats.com
Another interesting, healthy salad with kiwi fruit. It has a specific taste and will leave you a good impression, so you'll start eating it more often. You won't make a mistake if you try something new and unusual. Tasty!
Pear, Kiwi Fruit, and Cheese Salad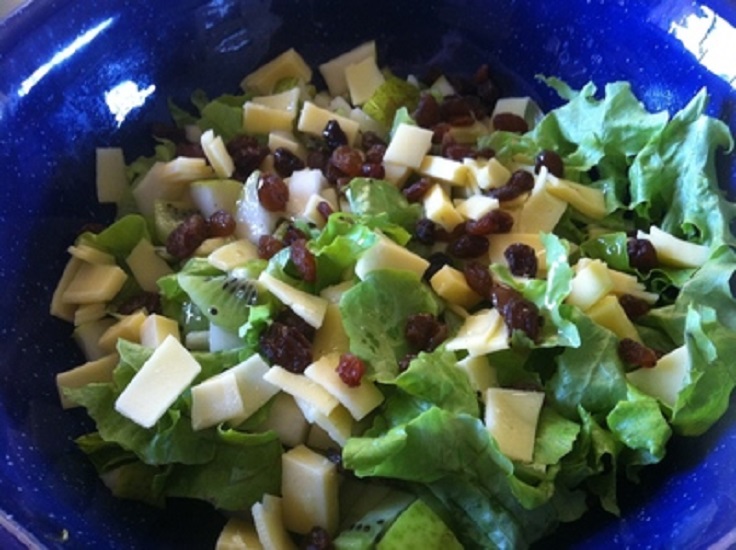 via recipeyum.com.au
The kiwi is a rich source of vitamin C, and also it contains other vitamins. Mixed with different fruits and vegetables, it makes a perfect meal and energy booster. This salad can be eaten when on a diet too. Delicious!
Turkey Kiwi and Apple Salad with a Cranberry Poppyseed Dressing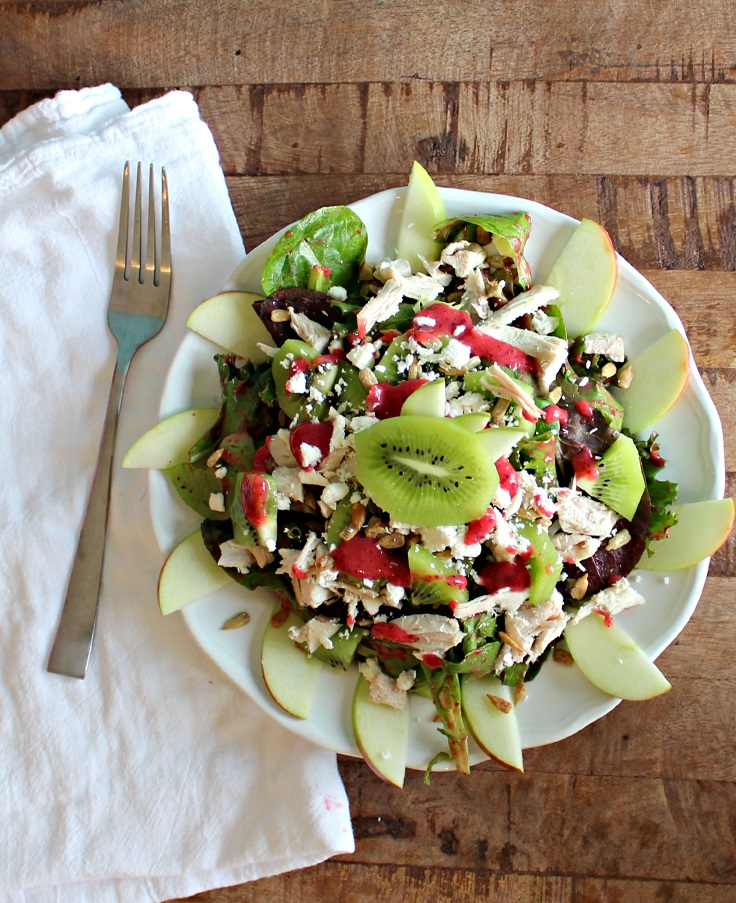 This is definitely a must-try salad. Meat, fruits, and vegetables, all together make an amazing meal. If you don't have a turkey, you can leave the meat out or add some shredded chicken. You will absolutely love it!
Roast Tomato and Goat Cheese Salad with Maldon Smoked Salt and Kiwi Fruit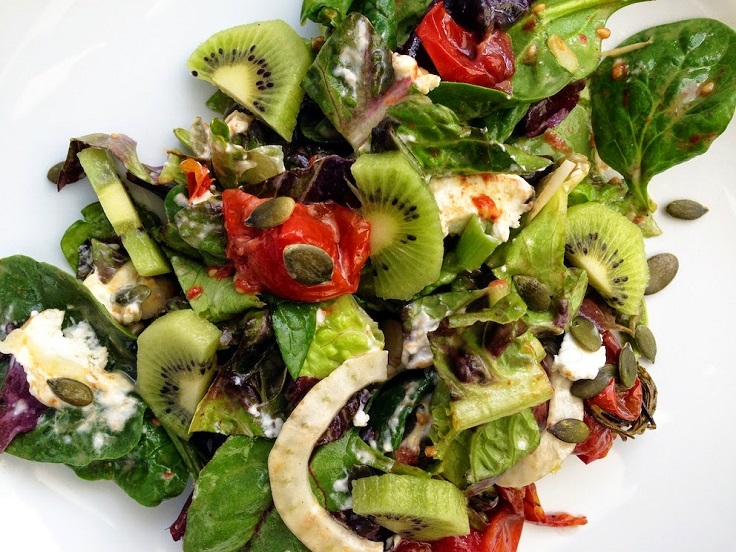 Roasted tomato, yummy! This roast tomato salad is a refreshing change, and it's very simple to make. You will love the taste of all the ingredients mixed. Also, you can add something depending on your taste; it will be delightful in any way!
Spinach Salad with Berries, Kiwi, and Goat Cheese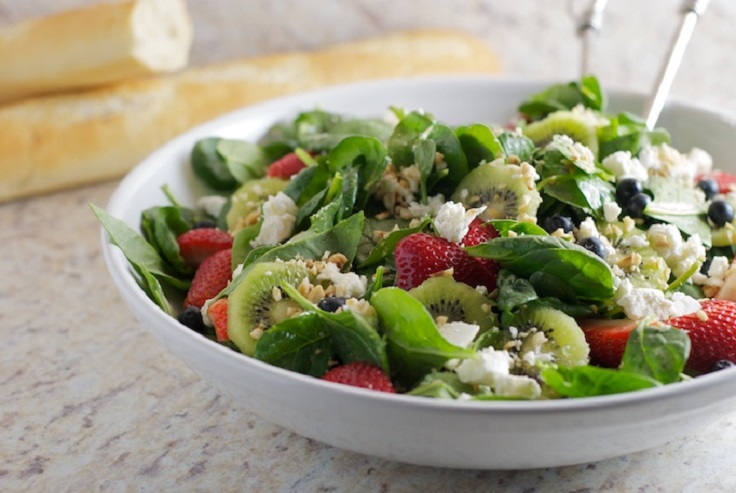 A perfect mix of different flavors and vitamins, really good for health and delicious too. It will give you some energy, and you will love it. It's a good idea for you to try it and taste the delight of healthy eating. Yummy!