Seafood salads are a fresh, irresistible, and splendid meal that is far from cheap to make. These salads are a triple-win recipe because they are healthier than other salads, full of omega 3, and fresh at the same time.
They are currently one of the most ordered meals at restaurants. That doesn't bound you always to go there, especially when you can make an amazing homemade seafood salad. The mix with the seafood can be made with every fresh veggie that can be found during this season.
We offer ten fantastic seafood recipes which you can show you how to make a great brunch or a light dinner. Choose the best for yourself and have a good appetite!
Thai Oyster Salad
Recipe via linsfood.com
If you're one of those who is all about impressing people when you invite them around and it's your turn to cook, then this is for you! It's one of the most creative, colorful, taste-challenging recipes you'll ever find. A hot, sweet, and sour Thai salad that will blow your taste buds into a different dimension. A truly winning dish for those seeking to challenge their mouthfeel. We think of Thai cuisine mainly for their warm dishes but their salads are genuinely exquisite. This recipe uses oysters, but prawns could also be replaced.
Grilled Salmon Salad with Raspberry Vinaigrette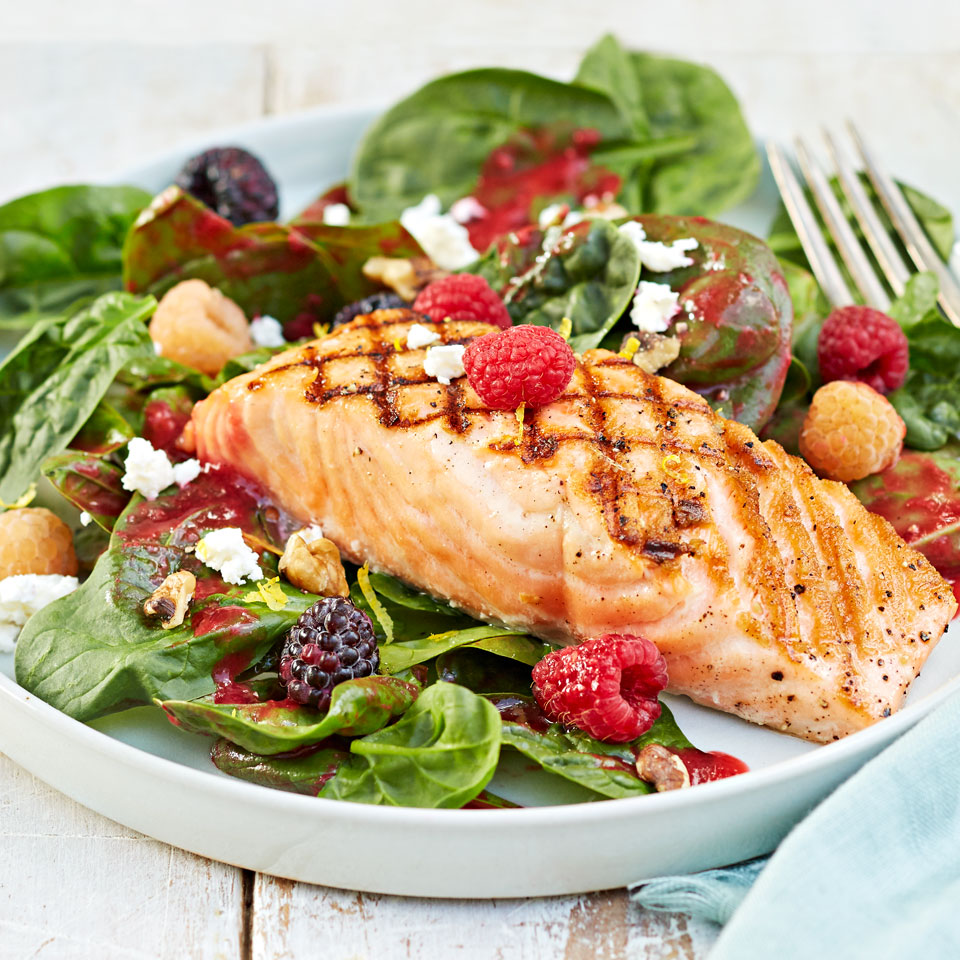 Recipe via eatingwell.com
We love salmon, but presumably, we use it the same every time. This is a great way to use this high in omega 3 oily fish differently and perfect for those seeking a truly healthy lifestyle mixed with sport on the side. The raspberry vinegar has to be the star of the show and why not also, use fresh raspberries within the salad. Perfect for a summer's light lunch.
Nicoise Salad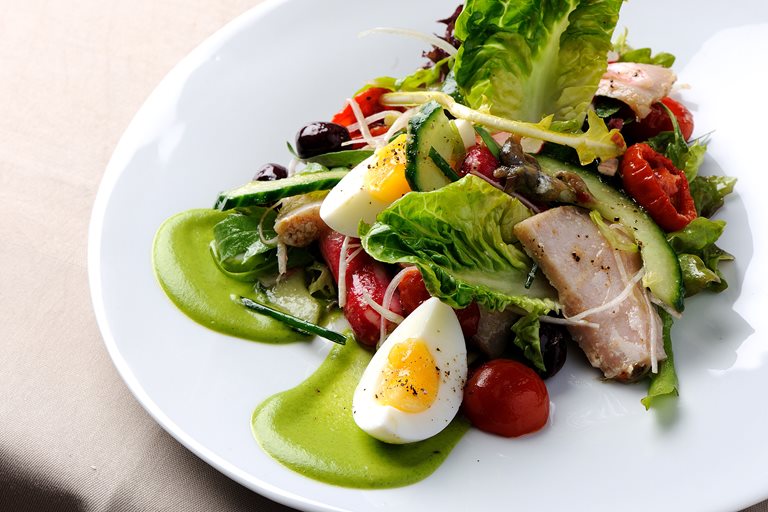 Recipe via greatbritishchefs.com
One can have so much fun with a salad; but not just a salad. You will always read about how good ingredients must be but ever so important especially when you cannot really disguise it with something else. Both canned or fresh tuna can be used for this recipe. We enjoy both with a slight penchant for fresh tuna if you can get hold of it cooked medium; no more. Close your eyes and you'll even hear the seagulls and feel the sunshine even on a rainy day. Super healthy and super tasty. An absolute must.
Crab Salad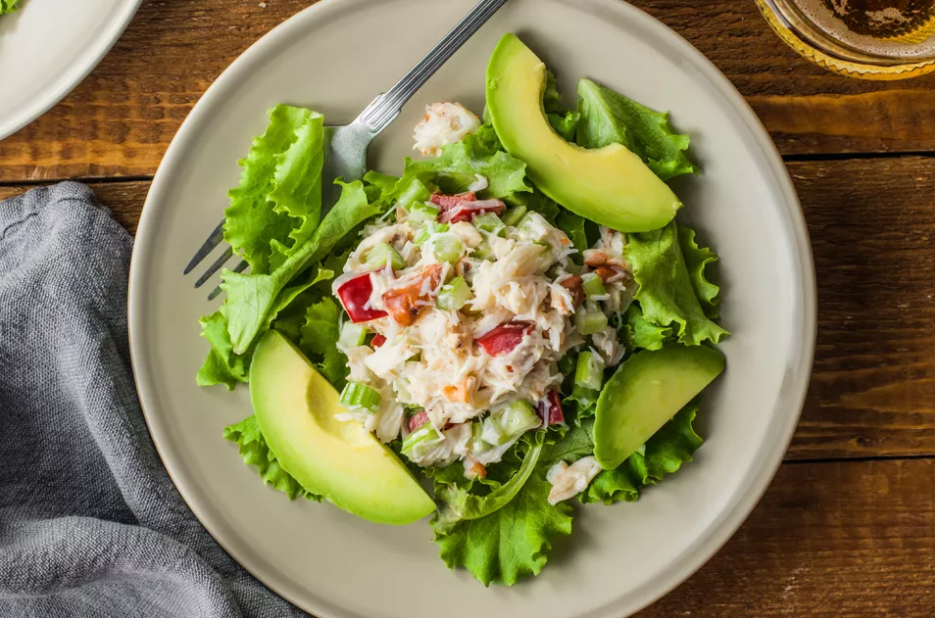 Recipe via thespruceeats.com
Lightly refreshing with subtle flavors, crab salads are a wonderful idea for a summer lunch. Both the light white rich brown crab meat work well in salads, whether combined together or used separately to maximize the different flavors and textures. For an even healthier midday meal, skip the mayonnaise and use the lemon juice as seasoning. Serve on top of a lightly seasoned green salad instead.
Warm Shrimp Salad with Kamut Red Chili and Tarragon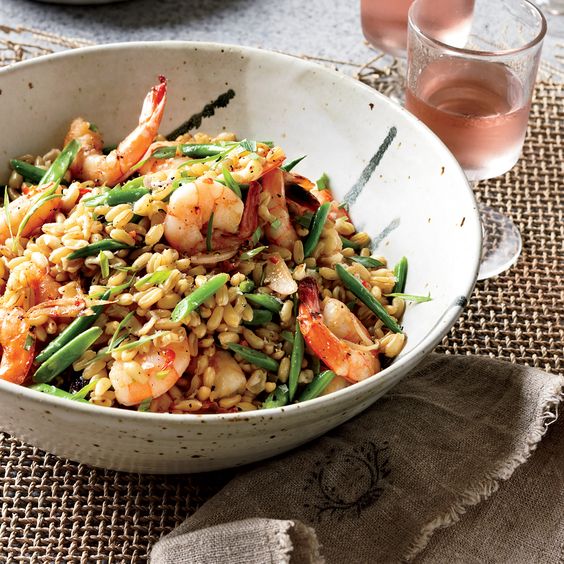 Recipe via foodandwine.com
Tarragon on this occasion is the star of the show. Well known for tasting like licorice, it works so well with the natural sweetness of the prawns. High in vitamin and in protein, this is a dish not to miss out on. The Kamut brings out a little nuttiness to the salad, ancient, oriental wheat. A dish with big textures and flavors. Perfect for lunch or a light dinner.
Crispy Shrimp Ceaser Salad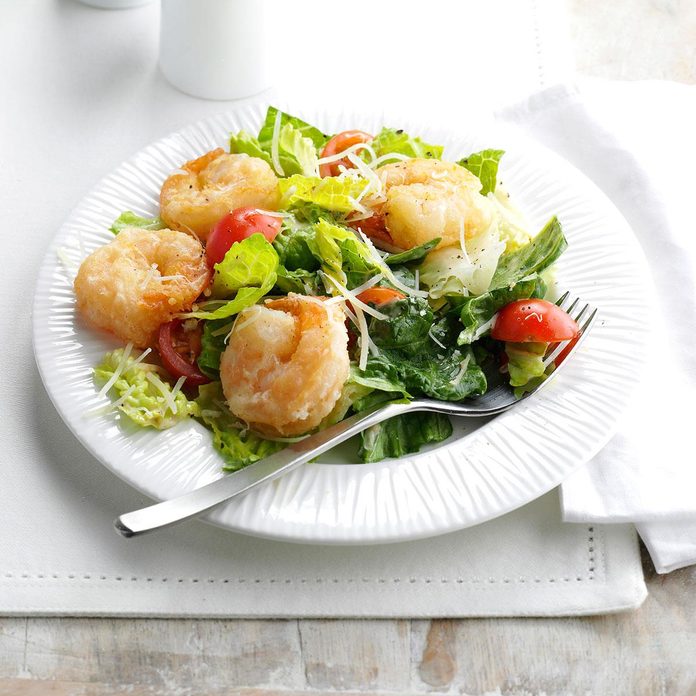 Recipe via tasteofhome.com
Caesar salad is well known throughout the world and chances are you have the chicken or vegetarian version. However, in this recipe, crispy shrimps add healthy proteins and create a lovely texture. Quick and easy to do in 15 minutes flat. Even time to enjoy a glass of something refreshing on the side. Add crispy bacon to it for an ultimate experience.
Calamari Salad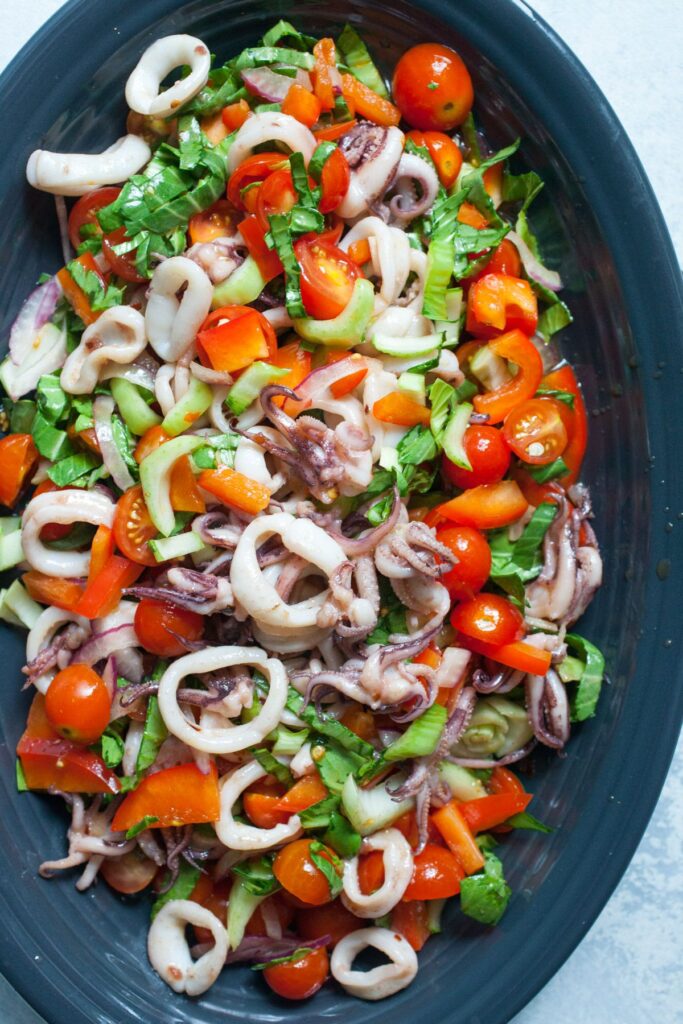 Recipe via macheesmo.com
We usually think of calamari being deep-fried and somewhat not super healthy, but this recipe brings a little lightness to delightful seafood and makes this super healthy. Relatively inexpensive, this Thai-inspired salad will have your taste buds bouncing back and forth. So fresh and perfect on a sunny day. Even a rainy one, 'll sure add sunshine to your day.
Smoked Salmon and Spinach Salad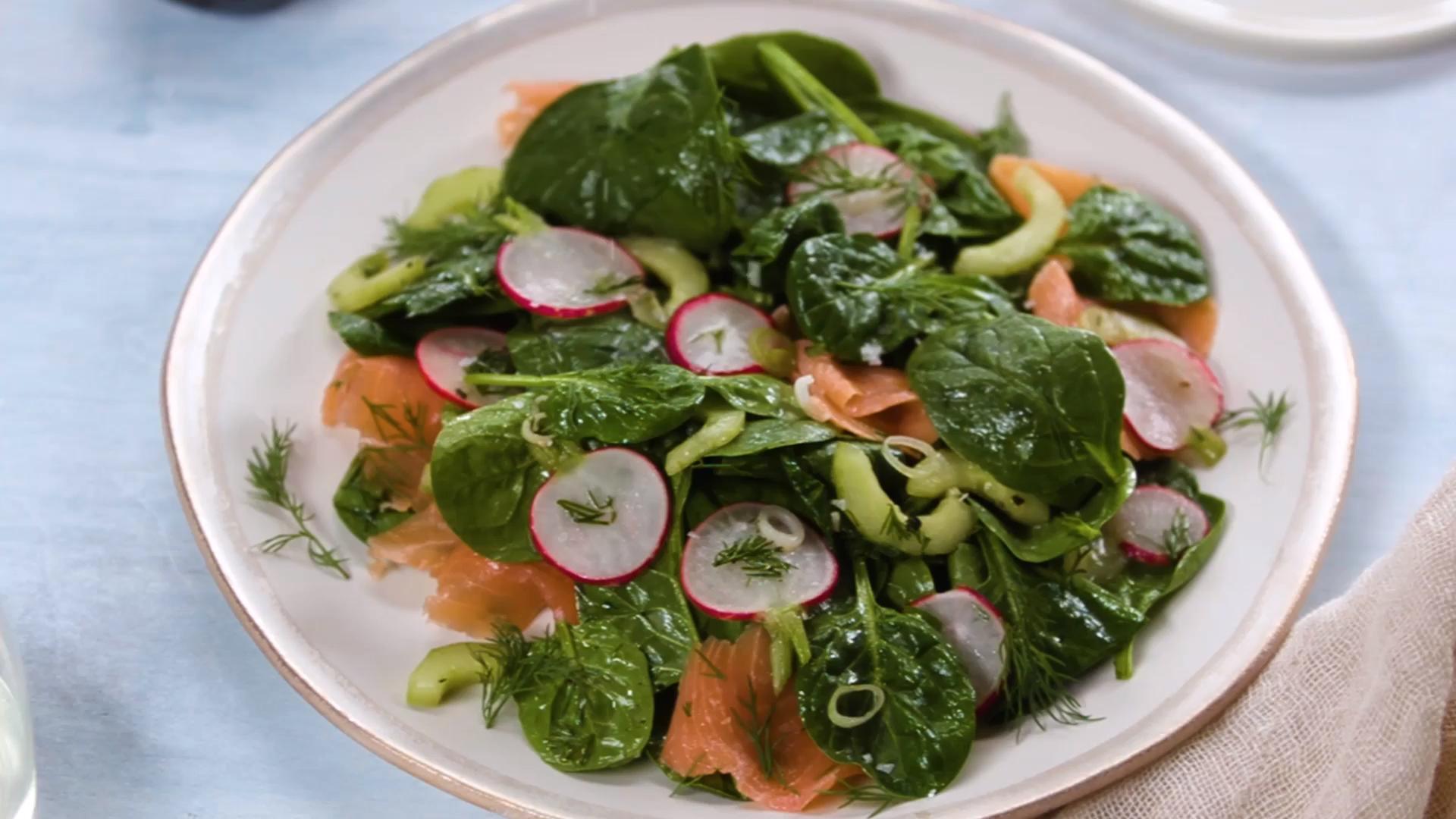 Recipe via foodandwine.com
One would be surprised if this recipe does not end up being a weekly treat in your household. Freshness from the lemon, high in iron thanks to the spinach and full of omega thanks to the salmon. An incredible dish served with wonderful fresh pomegranate adding a lovely crunch which we would highly recommend. Quick to put together and will make you feel very cheffy in the kitchen. One could also add segments of oranges or grapefruit.
Barbequed Seafood and Watermelon Salad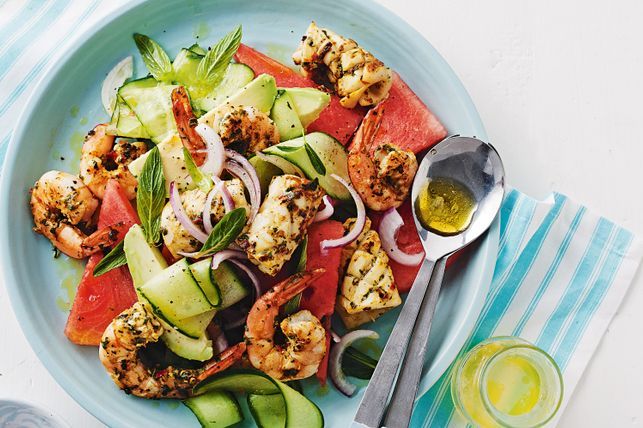 Recipe via taste.com.au
Nothing else says summertime like a nice big fresh watermelon. And also who could forget, nothing else says sunshine without having a barbecue. Hence, we found the ultimate summer recipe mixing everything we love about being in the garden amongst friends and family! This recipe will fill you with all the vitamins, potassium, and antioxidants you'd ever need.
Lobster Salad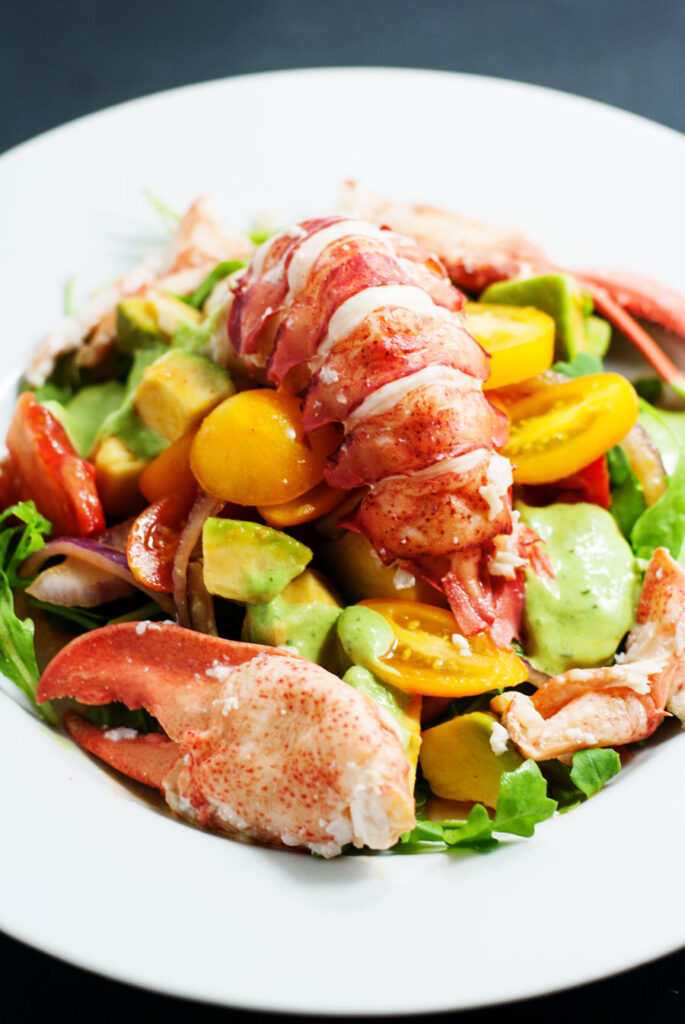 Recipe via whiteplateblankslate.com
The diamond of the sea. We love lobster for its sweet meat and texture and we have learned many ways to enjoy it especially during festive seasons. This salad will ensure to really impress the people around the dinner table and without forgetting, yourself too! You'll be amazed at how simple it is to put together. A lovely recipe that isn't full of carbs so perfect if you fancy something a little decadent without having to break a sweat the following day.