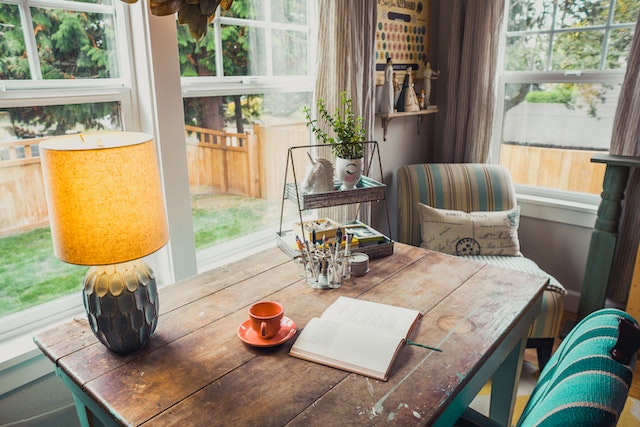 It can be hard to be excited about your home's décor, if it has a dull feel to it. While many modern decorating trends like Scandi and Minimalism have generally been positive for home decoration just simply following these trends can leave you with rooms that feel dull and un-exciting.
So, how you can get excited for your home's décor once again? Read on and discover some easy tips for how you can reinvigorate a dull room and make it exciting once more.
Add In Blocks Of Bright Colours To Defeat Dull Colours
Oftentimes, what causes rooms to feel dull is an overreliance on neutral colours like beiges and greys, while these colours have a place in modern décor when used without complimenting colours they can make a room feel boring.
So, a quick way to brighten up a dull room with neutral colours is to add big blocks of bold colour, this will add a splash of life to the room and help spread focus. Using a big set of bold yellow blinds, painting a feature wall or hanging some vivid art up will inject enough colour to make any room feel lively!
Incorporate Nature And Add Life To The Room
Another way you can add excitement to a dull space in your home is to use nature and natural elements in your décor. Utilising nature will help in many ways, adding colours, textures and even scents to your boring room and creating a sense of depth.
Simple ways to add nature into a boring room could include having colourful houseplants to add colour and life to a room, using natural materials such as wood to add texture and a nice woody smell to the room, or by putting some fresh plants in a vase to add colour and the delightful scent of fresh flowers to the room.
Use Modern Lighting To Add Vibrancy
The feeling of 'dullness' in your home may come from issues with your lighting, lighting is incredibly important for the presentation of a room and poor lighting can make even the most perfectly decorated spaces feel flat and uninteresting.
So you should experiment with the room's lighting, perhaps simply adding some extra light sources may brighten the room up enough, or you could use fancy modern multi-coloured lighting to add additional light to the room and allow you to soak the room in a soft coloured glow.
Add Small Details To Bring A Room To Life & Add Texture
Sometimes dullness in a room can come from a lack of depth to the decoration, without accent pieces and small details you can have a room that feels two-dimensional and flat, which can suck the life and energy out of the room.
This can be resolves by adding small details and touches to accentuate your room's existing décor and add some extra texture to the room. These changes can range from small things, like painting skirting boards and window sills, to bigger changes like hanging art, engraving wooden furniture or using soft furnishings.