Fashion is magic, and magic consists of illusions. Real fashion choices can instantly improve the overall appearance and hide extra pounds that undermine women's confidence. Ditch the baggy look. You're not hiding your body with that extra fabric, you're making it look bigger.
Instead of that, wear clothes that fit you well. First thing is to stand up straight and wear proper fitting underwear. With slim high heels visually lengthen legs, wear clothes with slash and angled pockets, dresses, shirts, pants, and shoes with vertical stripes, because the horizontal stripes make you shorter and bigger, dress in the same color top to toe is a quick way to "lose" weight too, also dresses that fall down from beneath your bustline make you look taller and thinner and focuses attention on your chest. Visually delete several pounds that afflict you by also following these tips and tricks:
Wear Long Necklaces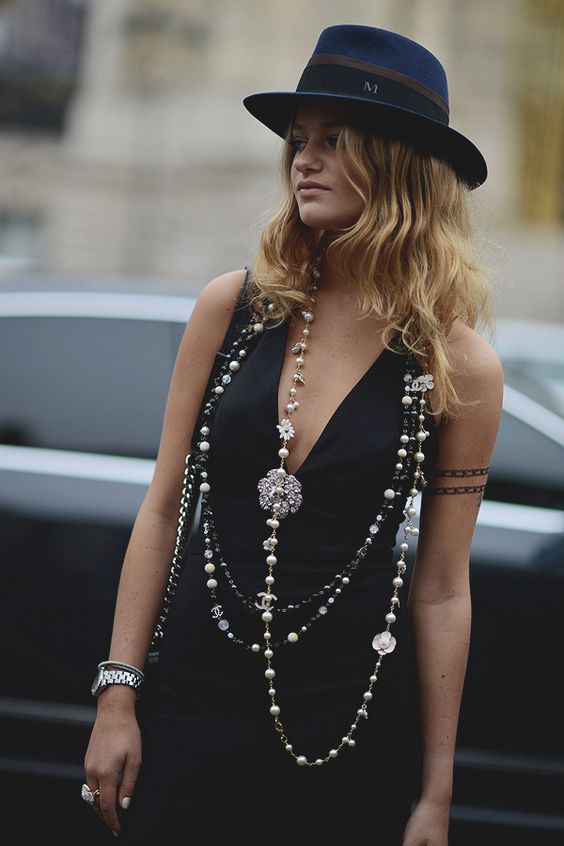 via pinterest.com
Certain accessories can create an illusion that your body might look thinner and taller than you actually are. Wearing vertical and long necklaces can definitely create a long and slim look into how your body looks into another person's eyes. The same rule applies with earrings too. Also, if you wear brighter colored accessories you will empathize attention which creates your whole body smaller.
Wear Nude And Pointed Shoes
via pinterest.com
If you want to look taller and give an extra length to your legs, consider wearing heels with a pointy front and nude color that matches your skin color. Wearing heel your body posture changes. Your shoulder and back are straight and by doing so you will end up looking taller. Colors close to your skin tone will help your legs look longer, while back heels the opposite, and shorter instead.
Wear V-Cleavage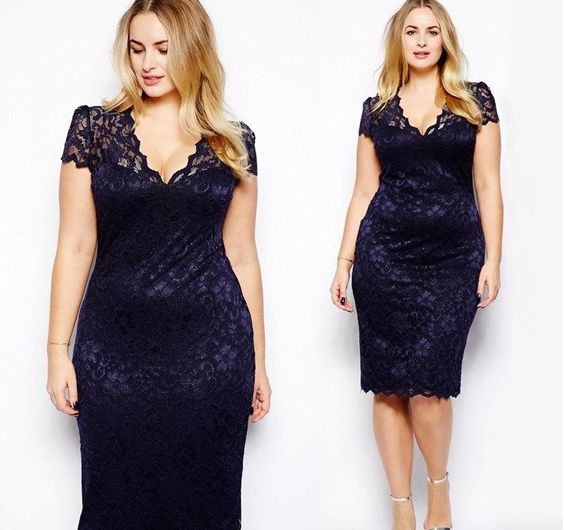 via pinterest.com
T-shirts, dresses, and tops in general that have a v-cleavage are creating an illusion of height. Thus, it will slim you down in a larger frame, however, mainly will create an impression of a slimmer neckline. V-cleavage especially works well for those with a double chin. This trick works for both men and women. The colors or design of the pattern is another crucial trick you should not forget.
Same Color Tights And Shoes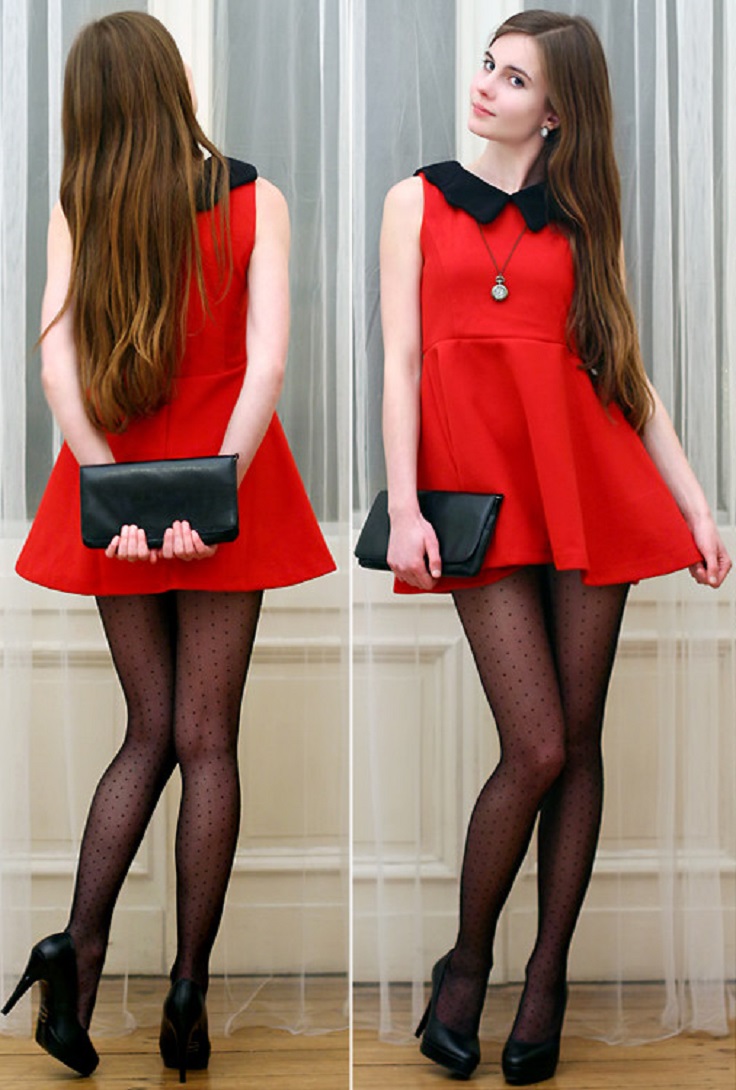 Tutorial via lookbook.nu
The best is when your tights match both your skin and shoes. However, in the winter days, women love wearing tights with different patterns or darker tones. So ideally your tights at least should match your shoe color. This trick creates a long and lean leg line that will create a taller and thinner look. Different color shoes will crop you at the ankle and therefore you will look shorter. Darker tights will illustrate slimmer legs and if you go for design or pattened tights, choose vertical lines.
Middle Or Big Size Handbags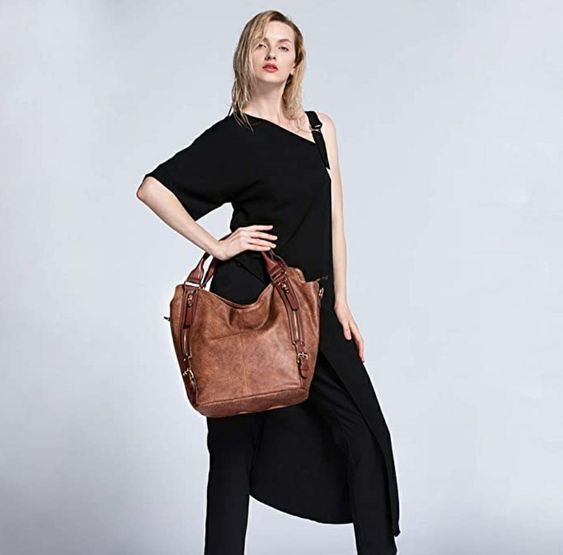 via pinterest.com
The rule of optical illustration, wearing a small pouch will make you look wider, and caring a large bag will make you look thinner. However, knowing this, do not go for oversized and extremely large proportion bags but get a nice structured medium to big size handbag. A medium stripe for the bag is best. Bags with a long stripe will draw the eye down and make you look shorter. Black never fails to create a slim look, but dark shades of blue, purple, and brown for your bag can also do the trick.
Wear Small Prints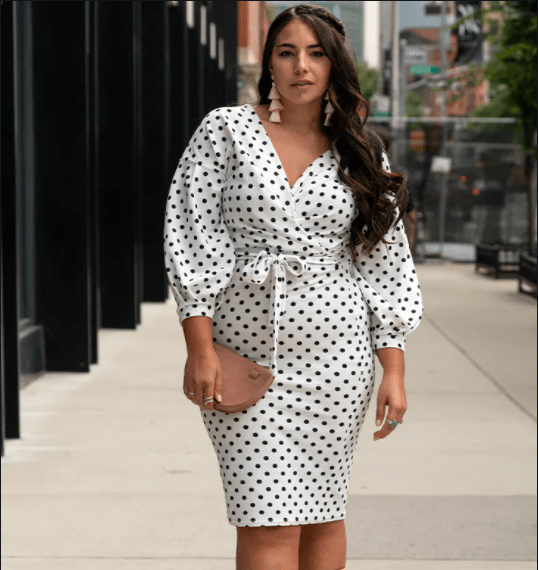 via purewow.com
Polka dots patterns which are so fashionable will indeed give you a thinner look. Here a simple rule applies: smaller prints will make you look thinner and bigger prints will make you look wider. With that said, the illusion of apparent contrast plays another important part while choosing the correct clothes. And again, black is your friend, because it will reduce the number of shadows on your body. Small prints and vertical stripes are best, making your two parts of the body appearing to be closer together.
Avoid Horizontal Straps Shoes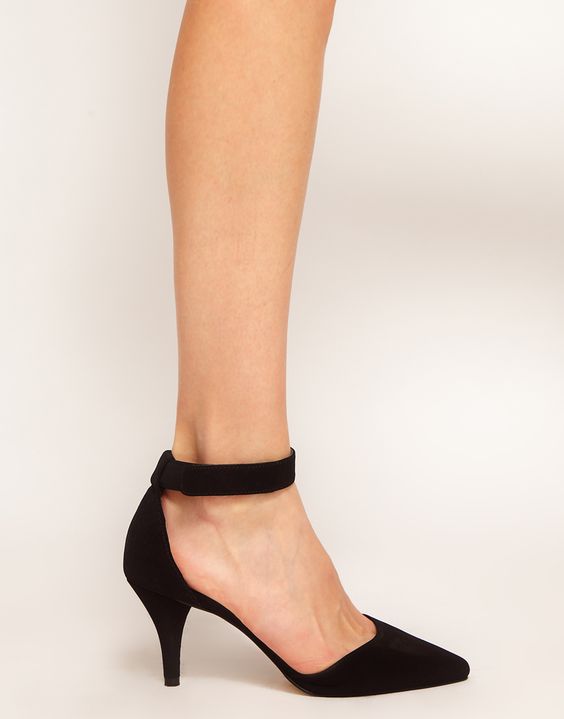 via pinterest.com
Shoes composed of horizontal straps will not only give you cropped legs and make you look shorter; they will also make your legs look heavier. The is no secret that women look wearing heels with straps to emphasize their legs and ankles by making them look sexier. But unfortunately, if you have large ankles or carves and thick legs, this might not be your type of shoes. Be cautious and choose strapless shoes to accompany your outfit.
Wear Flattering Colors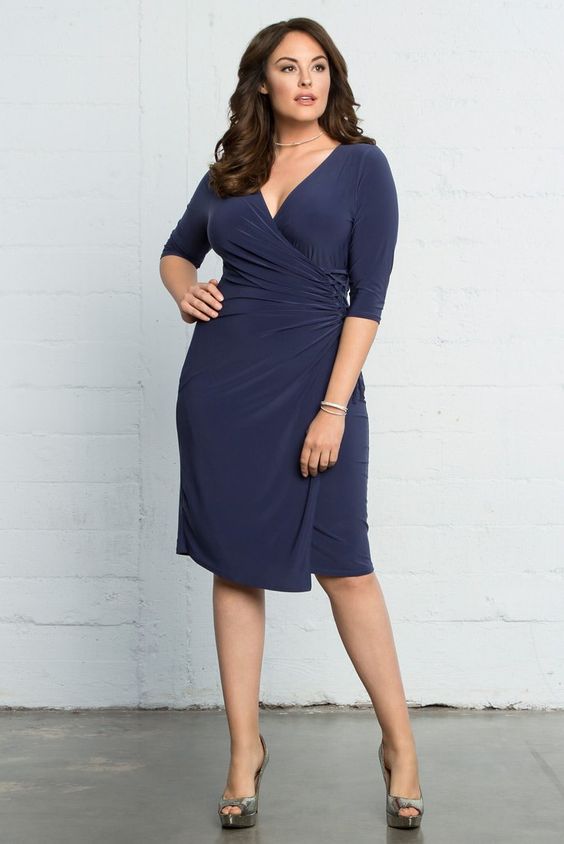 via pinterest.com
As already mentioned, black is your friend. Black is the most flattering color that defines the body shape, makes you look thinner, and is yet super elegant and classy. And all dark-shaded clothes will help you hide the flaws, give you confidence in your body and look good. On the other hand, bright and light colors can add weight and give you wider look. Bright colors attract attention to which part you are wearing, so do not wear a white shirt if you want to hide the belly.
Avoid Ankle Boots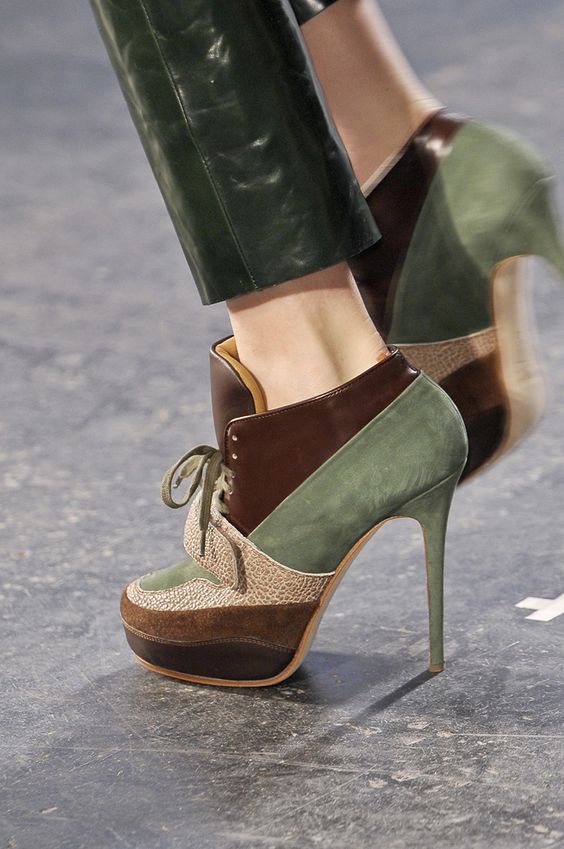 via pinterest.com
Booties in general can make you look hat regardless of your size. If you are curvy, finding the right booths can already be challenging. Wearing ankle boots you are cropping your legs and giving it a more expanded finish. Boots that will create the opposite look and make you tinner and taller and the knee-hight boots. By creating a vertical line you are adding length as well as elongating your entire body figure.
Don't Wear Ankle Or Low Pants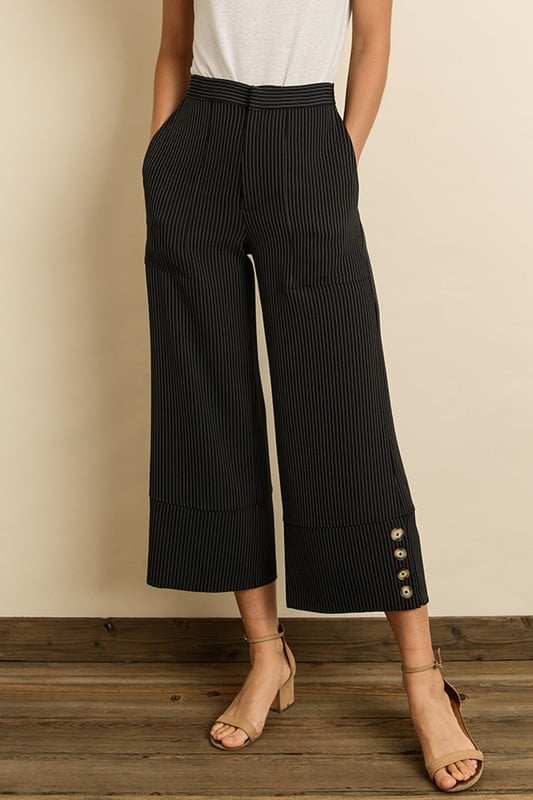 Another powerful way to make you look thinner is dark wash jeans. The length of the trousers or jeans plays an important role in your body figure. Ankle or low pants are having the same effect as wearing ankle boots. It is that simple; it cuts your shape, legs by creating a horizontal line that you want to avoid. The low pants will visually make you wider and shorter. Adding length to your clothes is an essential trick that plays the biggest role.