When we say Kim Kardashian, the first thing you think of is a fashionable and sexy style. Also, she is well known for her sex tape scandal, reality star performance, a quick marriage, and today she is known as Kanye West's better half.
Love her or hate her, there's no denying that Kim is a fashion icon to many people and when it comes to style, this reality star isn't afraid to show off her wild side. Although she usually wears black and white outfits, sometimes Kim wants to experiment with colors too.
Because many of you gladly follow her trends, we've made a collection of Top 10 Best Kim Kardashian's outfits. It was really hard to make a list that contains only 10 looks from this ultra-modern woman. Tell us, which one is your favorite?
Kim Wearing Stylish And Rather Sexy Orange Dress
via usmagazine.com
Summer is approaching and so are the beautiful days ahead. So naturally, Kim's outfit embraces this principle full on. She looks amazing with her oversized sunglasses and those heels elongating her legs. Naturally, her dress is tight to the body pronouncing every centimeter loud and clear. Confidence all around we say!
Kim Kardashian In A Trendy Leather Biker Jacket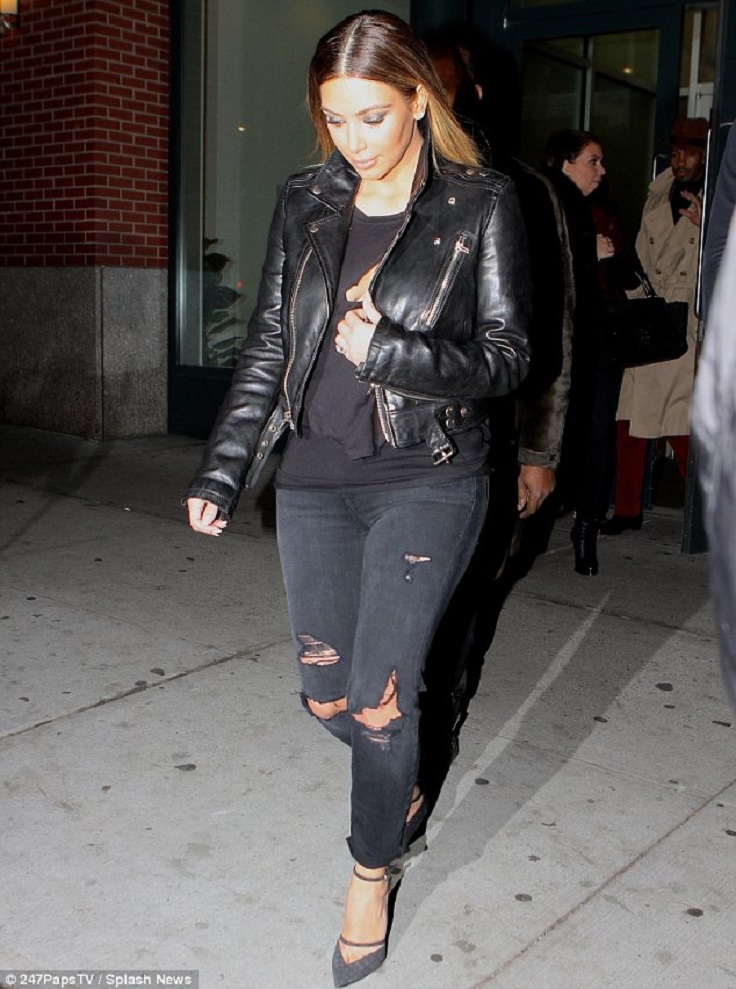 via dailymail.co.uk
The biker look will forever be in fashion. It has been since the day of time! She pulls it off effortlessly too alongside the black washed ripped jeans, matching eyeshadow to the suede heels. What a fantastic contrast of colors all blending perfectly into one. We are certain of her style of fashion. Leather jackets are looking great when combined with jeans and heels.
Kim Wearing Chic Black Dress With A Really Big Golden Belt
via stylebistro.com
Kim wore really big, and beautiful golden belt to celebrate Fashion's Night Out at NYC's Lord and Taylor in September. It emphasizes her figure like nothing else. Tiny stomach all tucked away nicely, and the big, voluptuous hips that "they cannot lie". Obviously by a mega confident woman all about style and fashion, expressing and showing off her assets to us all. The killer heels are simple but yet so fitting to her minimalist look. Her dark grey eyeshadow mixes really well with the entire attire and looking at her best.
Is She Even Wearing A Dress, Fabulous Dress
via vogue.com
Straight from the movies! This takes it to the next level. Very little else apart from the hair and makeup are worn with the dress; oh and yes, the shoes of course. We can comfortably say that she oozes with sex appeal. If you look closer, you will see all the details of the dress. And also, did you notice the matching scarf she is wearing? Took us a couple of minutes. Roberto Cavalli Couture stands behind this amazing dress.
Kim In A Midi White Dress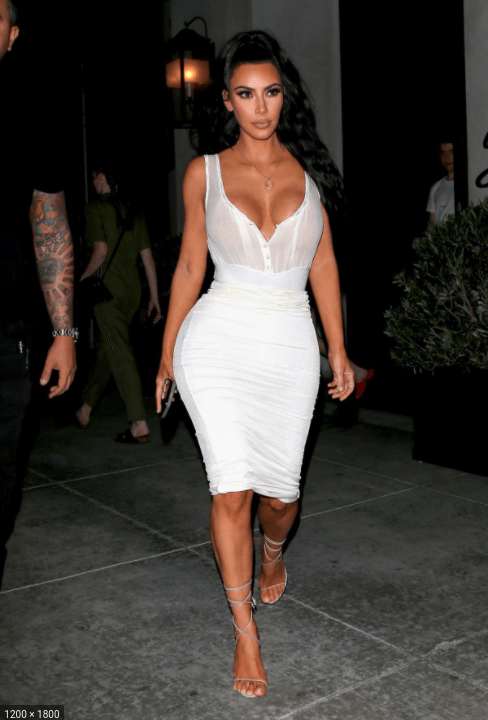 via pinterest.fr
There is something super stunning about a lady wearing white we believe. Especially alongside a little tint from the sun that ends up in an utterly beautiful combination. Again, this is personal. And Kim from this picture means that she doesn't always look to get too much eye attention and that she is also capable of taming things down still looking absolutely and utterly glamorous; without as much controversy. Super elegantly dressed and naturally stunning without too much faffing about.
Kim Kardashian In A Black Leather Skirt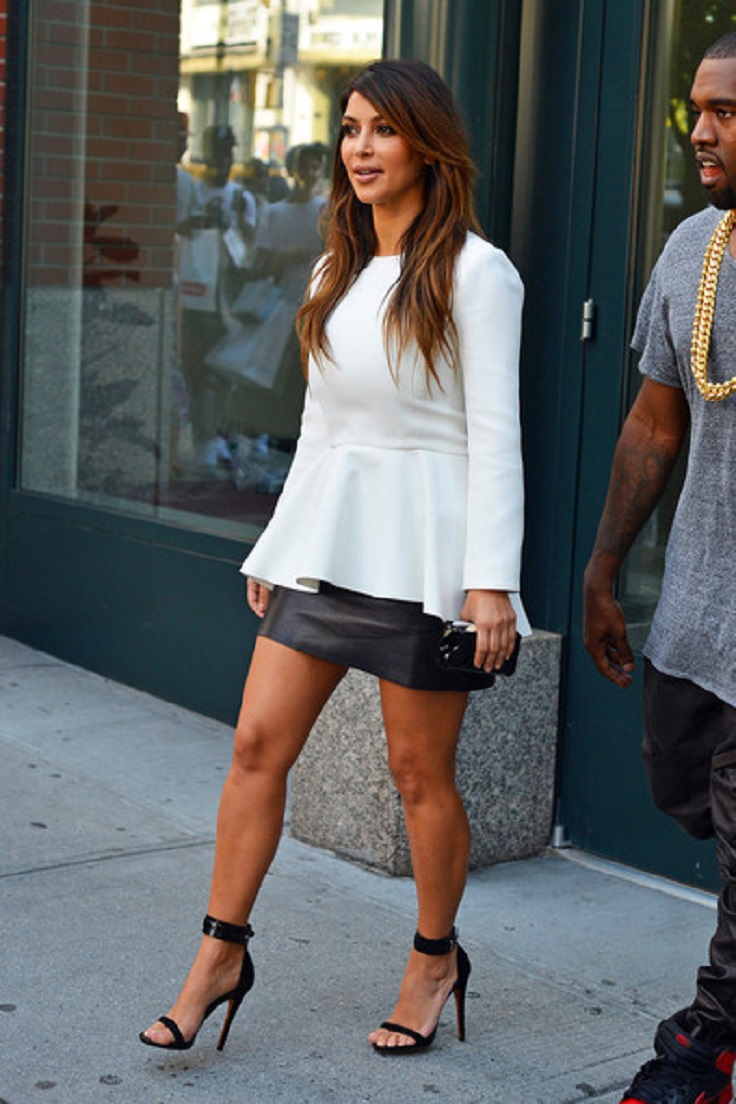 via stylebistro.com
Kim paired peplum with leather for a trendy stroll through Soho, in London England in September. First the leather jacket and now, the leather skirt. As we said, leather will never go out of fashion. Maybe faux leather will start hitting the bigger high street names but for now, let's enjoy the fact that Kim looks superb in this mini skirt showcasing her womanly pictured legs. Yes, she brought back the fact that having a smaller build is totally fine, but also to have shape and have curves is also perfectly fine and equally beautiful and sexy.
Gold Crucifix Dress and Accessories
How about gold? Not many could pull this off. She looks like the new age version of Cleopatra here minus the cross symbol. She looks stunning. Her skin-tight Atelier Versace chainmail floor-length gown is simply without words it fits her like a glove, like if she was the only one destined to wear it. Kim Kardashian is also showing off her golden metallic ankle-strap sandals to go alongside the whole thing and wears it all in spectacular fashion.
Chic Combination Of Tight Black Jeans And Black Boots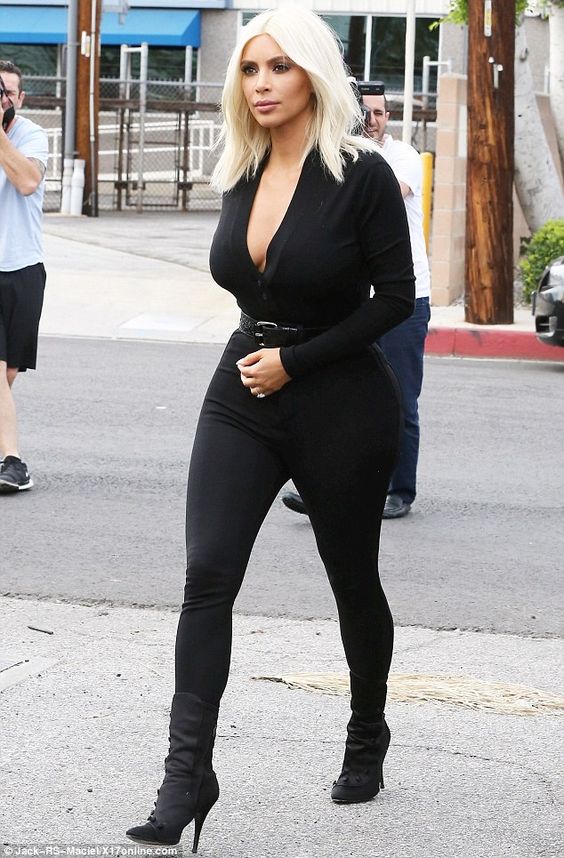 via dailymail.co.uk
She portrays a really simple yet very attractive allure wearing simple tight black jeans skin tight to the body, and killer black boots. A simple combination that most of us have in our wardrobe. She also looks stunning with super pearl white hair breaking the monotony of black. Simple yet very effective without showing much controversy, only to assure us that we could mimic her dress codes every so often!
A Sexy Black Leather Sheath Dress, Accessorized With A Black And Gold Belt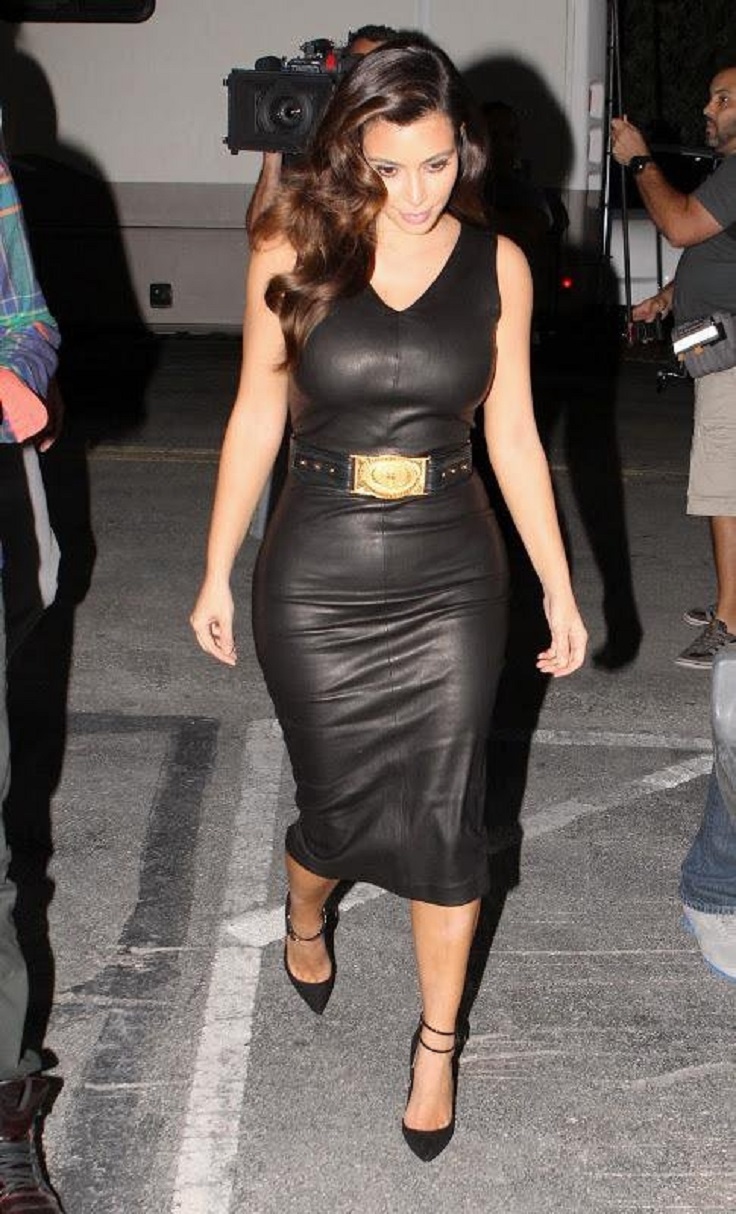 The leather sheath dress with the beautiful and subtle, yet powerful golden belt. A dress by Robert Rodriguez and one to remember as it highlights her silhouette elegantly and womanly well without much extreme. A perfect dress to wear down the street of Miami glamping up the city even more than ever before. We also love the wavy brunette natural floating hair. Why not get the same look!?
Denim Outfit With A Pale Coat
via pinterest.fr
Some might say this is how a woman should look with her womanly curvaceous nature. Some women are naturally slim, and some are naturally curvy, and some just add to the curviness. She really looks almost unrecognizable wearing something that we could all wear. And it is nice to see Kim wearing a denim shirt and jeans, simple yet elegant beige suede heels, and a pale coat offsetting the different shades of blues within her attire. You might not ever see her looking so natural in any other pictures. Kim almost looks like a girl next door. Chic and casual, we love it!