Iceland, a country rich with roaring volcanoes, monolithic glaciers, icy mountains, and deep fjords, has become a mecca for adventurers and photographers looking to capture the raw, mystical power of its natural northern beauty.
Its small population of roughly 325,000 means that the majority of its natural wonder remains nearly or completely untouched, allowing travelers to capture a world that seems empty and almost alien in nature.
These photos will instantly arouse a wish to visit this amazing Scandinavian country, placing it on your bucket list. Enjoy!
Milkyway Over The Road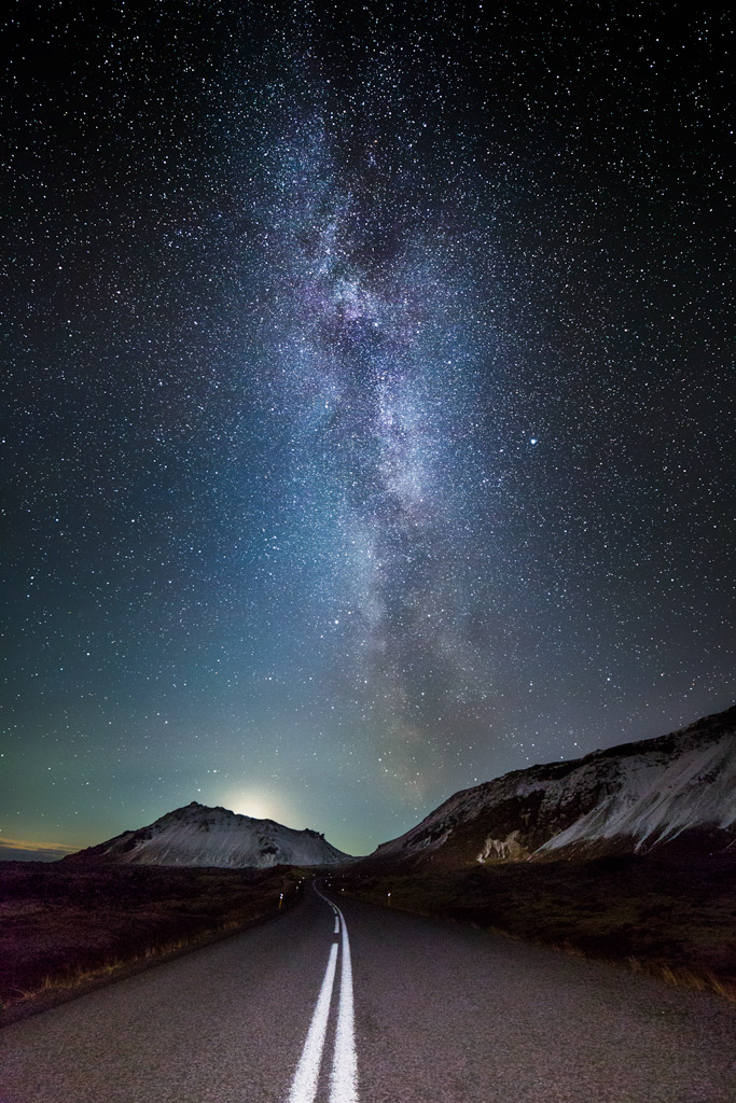 Also known as the Aurora Borealis, the Northern Lights are nothing spectacular. The best place on Earth to see them is indeed in Iceland although they are getting harder and harder to spot, with at times weeks in absence. The lack of artificial light pollution in Iceland means that it is the best place in the world to observe them, and once you do, you might wish to become an astronaut. After all, it is part of what's out there. Beyond the walls of our planet. And it is breathtaking no matter how many times you've seen them.
Valley Of Tears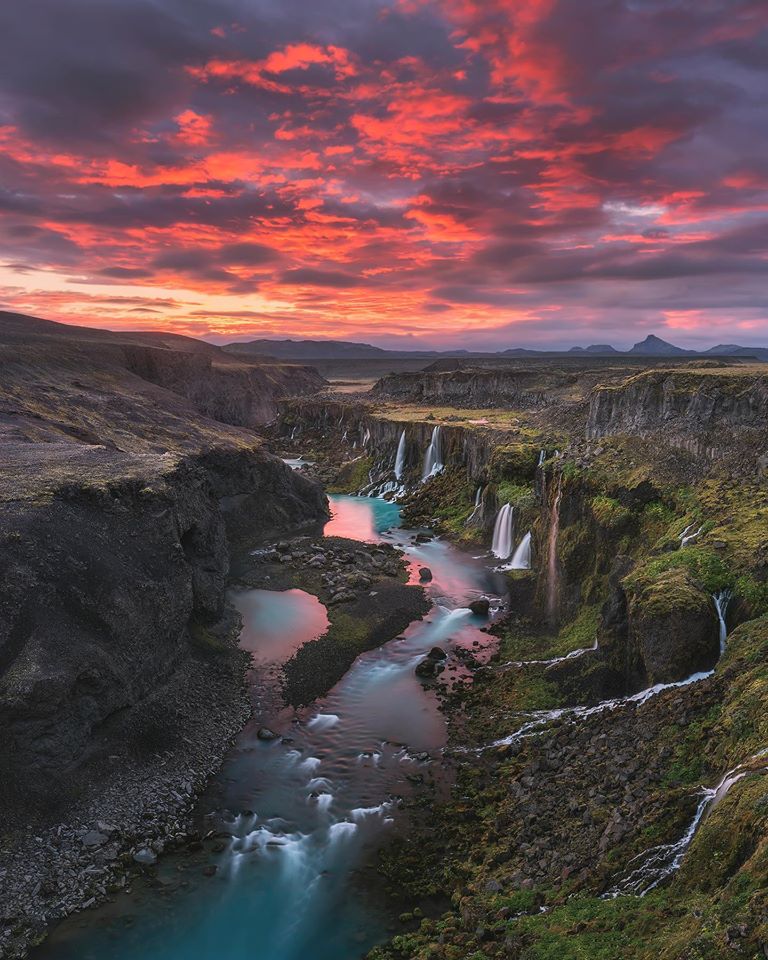 via reddit.com
The Valley holds its name due to the fact that it has so many waterfalls mimicking tears from the valley. This is considered to be one of Iceland's hidden gems and is the canyon of the country. One might have heard the rather tongue twister of a name, better known as the Sigoldugljufur Canyon. Canyons might not be on your bucket list or the must-do activities you might have had in mind, but there are plenty of other things than simply looking at a glacier; no matter how forever spectacular they are. These gullies and ravines are beginning to get discovered too. Just be careful, there is nothing to protect you from the top to the waterfalls.
Iceland Cruises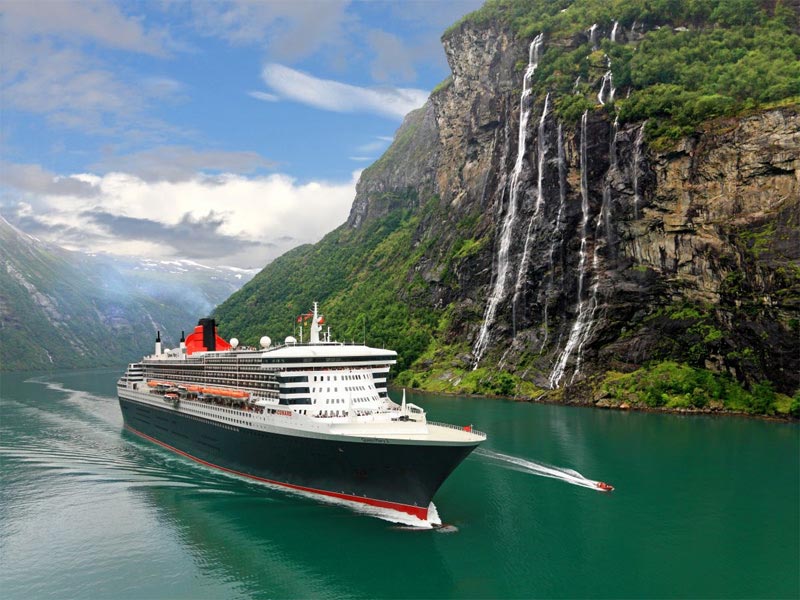 A cruise ship does seem like an ideal when it comes to wishing to explore Iceland to the fullest without being a professional tracker or glacier junky. One can enjoy the sights of nature in all its glory, interact with its culture, history, and its people. In no particular order, they are all terrific! Being on a cruise ship in Iceland is like the difference between being on stage, and being the audience. Being on stage, you are in the middle of everything, but missing the bigger picture. Being the audience, you are not in the middle of everything, but you see everything from your seat. It is one of the preferred transport to date to visit Iceland.
Turquoise River, Brúárfoss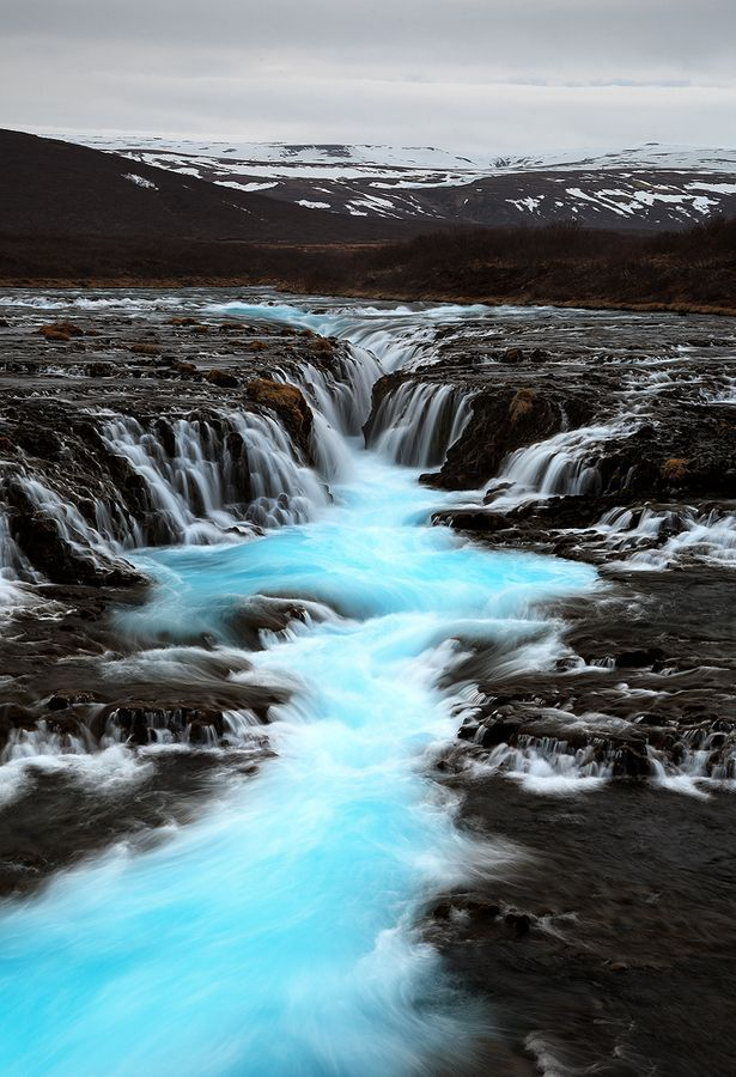 via Dennis Polkläser
Both locals and seasoned travelers will tell you that this is yet another hidden gem they've been quietly exploring without telling too many people, keeping this to themselves. And rightly so! This has been named by the people, the bluest waterfall of Iceland. The glacial river Brúará falls 2-3m, ending in a U-turn at the base of the waterfall, where the river is concentrated into a deep crevice that runs through the center of dark volcanic rock formations. This creates sky-blue rapids that almost defy the imagination. The lush green flora in and around finishes all the drama very well indeed.
Litlanesfoss Waterfalls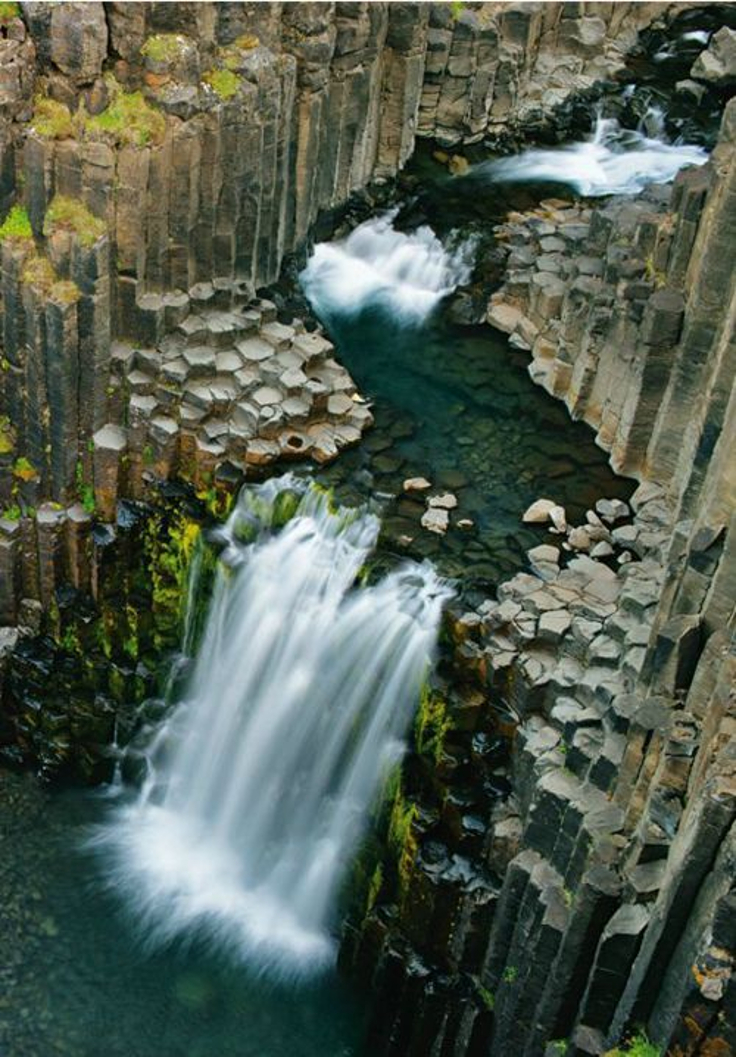 Litlanesfoss is a two-tier waterfall that overall, stands at over 30 meters high. This feature is also called Stuolabergsfoss, which translates to Basalt Column Falls due to the impressive hexagonal basalt columns that the waterfall pours over. These columns are very rare features around the world, and those located here are some of the tallest in the country; up to twenty meters each. You will be surrounded by nature and nature only in a rather remote location. If you are after stunningly beautiful landscapes, this is a definite overnight trip.
Vesturhorn Mountain and Sea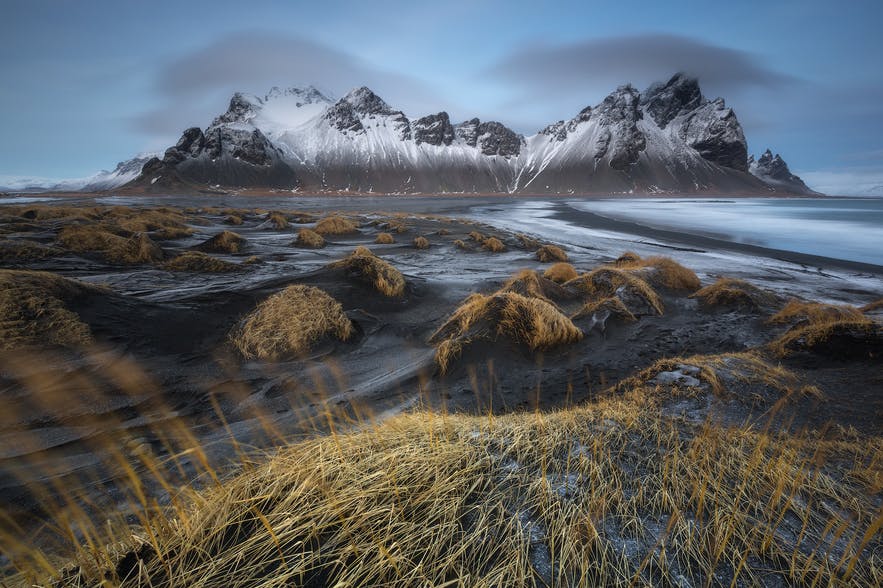 The area dates back to between 8 to 11 million years ago. The site was first used by Irish settlers before they were enslaved by the Viking Invaders in circa 860. Vestrahorn is a perfect place for photography or quiet contemplation while enjoying the vast beauty of this unspoiled natural site. The shore features stunning lava dunes that are constantly being shaped by the natural forces of water and wind. The most amazing and incredible photographs can be taken from the wet sand, having an almost perfect mirror image.
Blue Lagoon
via whenonearth.net
It is with no surprise, that this site has been voted by National Geography the top 25 Wonders of the World. The average temperature one can experience is above 35 degrees celsius and all year round. You can even enjoy your spa looking above and beyond the Northern Light skies. Picture yourself with a glass of something delicious, while being in a super warm and natural volcanic water enjoying the picturesque nature all around you. The warm seawater is also rich in minerals such as silica which does absolutely wonders for your skin.
Dettifoss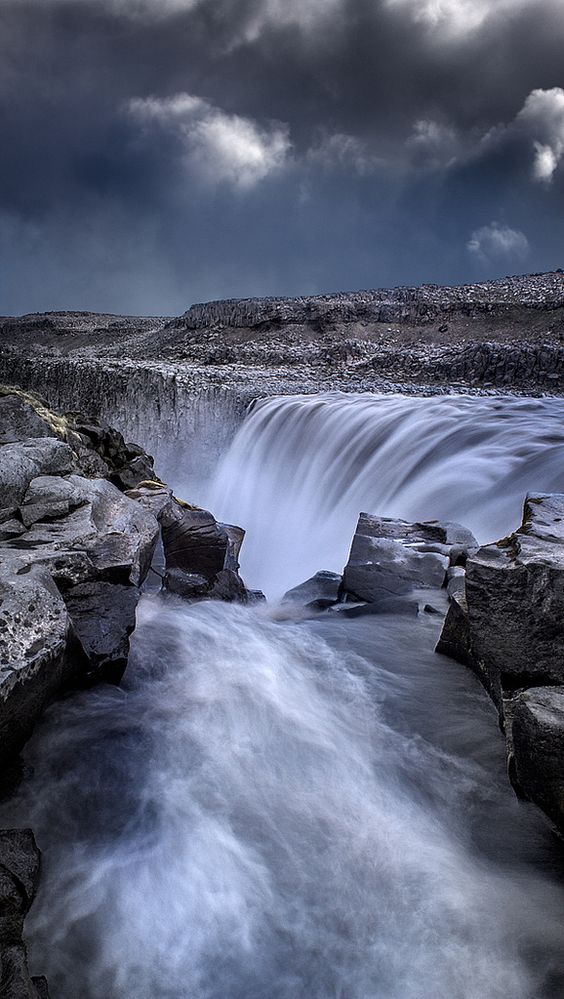 Dettifoss is a waterfall in Vatnajokull National Park in Northeast Iceland, and it is reputed to be the second most powerful waterfall in Europe after the Rhine Falls. Dettifoss is situated on the Jokulsa a Fjollum river, which flows from the Vatnajokull glacier and collects water from a large area in Northeast Iceland. Dettifoss is located north of the Ring Road that encircles Iceland, bypassing only the Westfjords and Snæfellsnes Peninsula in the west. There are two routes that connect the Ring Road to Dettifoss.
Moss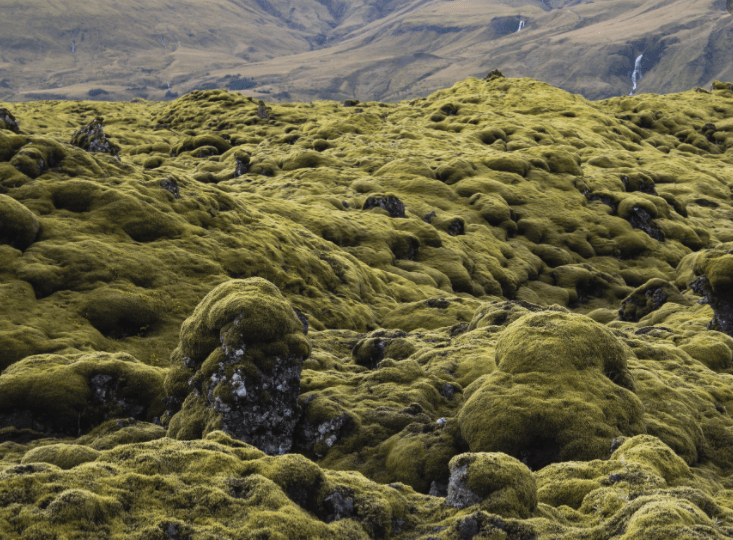 via reddit.com
Moss in Iceland is one of the most protected natural common plants that grow abundantly in the mountainous regions and is a special characteristic of Iceland's lava fields. Highly protected due to the fact that one should not ever walk on it, as the damage cause will without a doubt be irrefutable and irreversible. The most spectacular moss fields can be found on the south coast of the country, over the Eldhraun Lava field.
Kirkjufell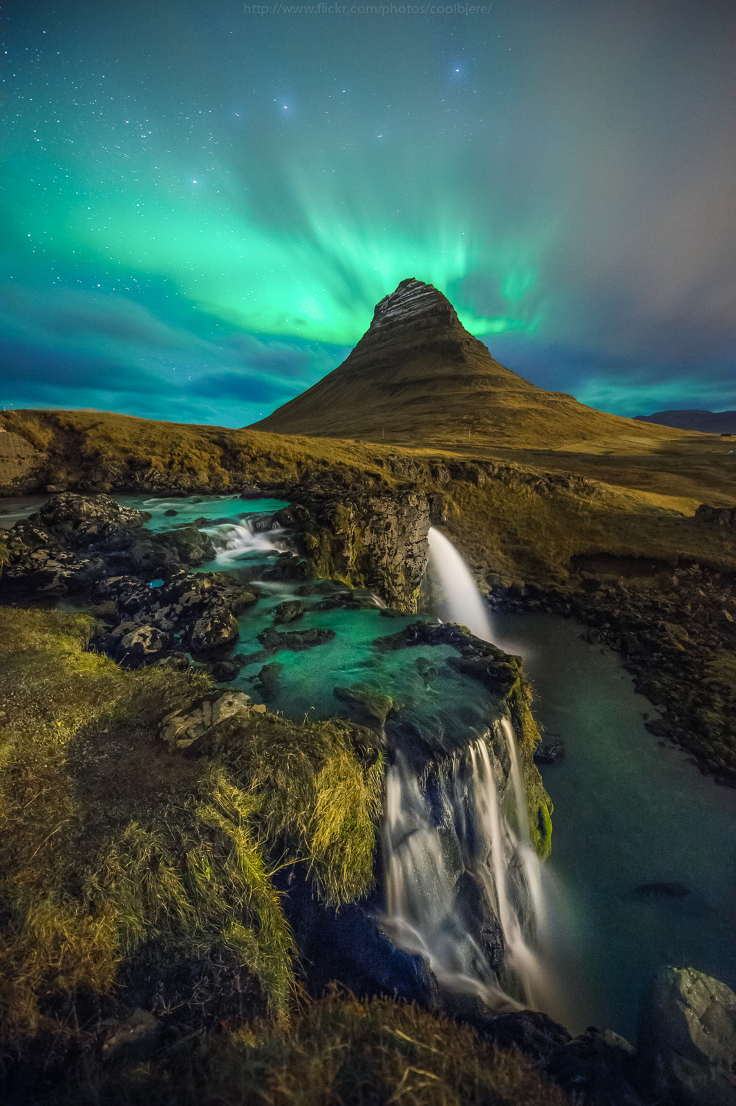 via CoolbieRe
This is perhaps one of the most photographed mountains in Iceland, featuring breathtaking views from high above if you can get there. From the ground, it's nothing short of spectacular. The mountain was located in between two glaciers that shaped the mountain millions of years ago. The mountain also could be mistaken for a volcano as it does have traces of volcanic eruptions nearby. Also known as Church Mountain, due to its dramatic formation and perfect coastal location.