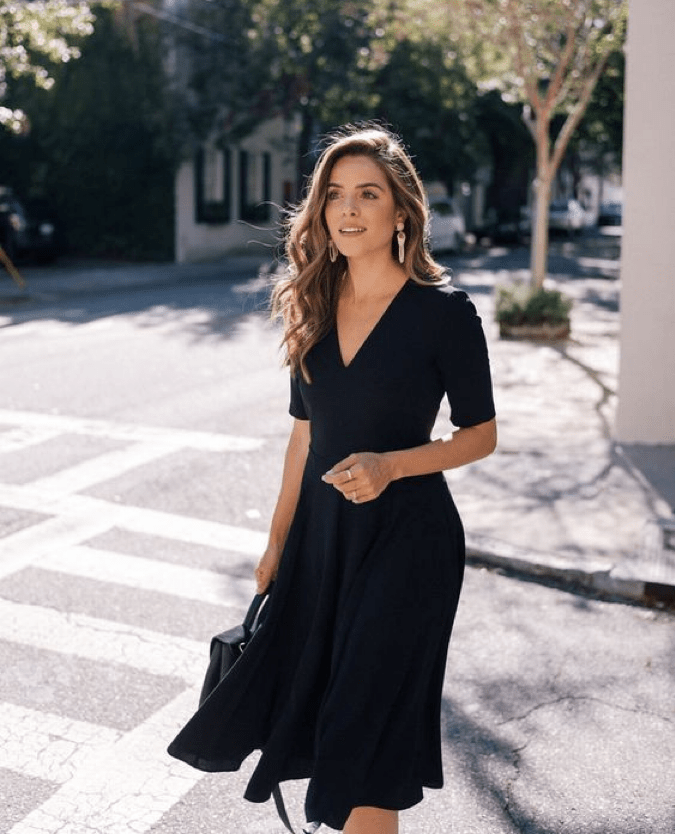 Mastering the Art of Accessorizing Your Little Black Dress
The little black dress (LBD) is an iconic garment that has stood the test of time in fashion's ever-evolving world. First popularized by Coco Chanel during her 1920s fashion reign and still beloved today by fashionistas and runway models alike, its presence serves as the epitome of elegance, versatility, and understated glamour. One of the secrets to maximizing the potential of this fashion staple lies in the art of accessorizing it the right way.
In this comprehensive guide, we will delve into the intricacies of accessorizing your LBD, from jewelry to shoes, helping you create show-stopping looks for any occasion.
Understanding and Choosing Your LBD
The appeal of the LBD lies in its simplicity. Its neutral hue provides a blank canvas upon which you can create an array of captivating looks. Whether you're aiming for a sophisticated evening outfit or a chic daytime ensemble, the LBD's adaptability serves as the perfect backdrop for your accessorizing endeavors.
When selecting the perfect little black dress to adorn your wardrobe, the choice of brand extends beyond mere aesthetics. Opting for a brand that aligns with your values, such as sustainable brands like Cider, adds a layer of conscientiousness to your fashion choices.
If you wonder, 'Is Cider clothing ethical and sustainable?', the answer is yes. Cider prioritizes not only style and quality but also ethical and environmental considerations. From sourcing materials responsibly to embracing eco-friendly production processes, this brand ensures that your LBD not only looks exquisite but also carries a positive impact.
Choosing a sustainable brand like Cider signifies a commitment to a more sustainable fashion future where timeless elegance coexists harmoniously with ethical practices.
The Magic of Jewelry
Jewelry is a cornerstone of accessorizing, capable of elevating your LBD from simple to sensational. The key is to strike a balance between statement pieces and delicate accents. A classic pearl necklace or a simple pendant can evoke timeless beauty, while bold, chunky jewelry can infuse a contemporary edge. Experiment with different metals, gemstones, and textures to find pieces that resonate with your style.
Earrings: From Subtle to Statement
Earrings hold a special place in the realm of accessories. They frame your face and can dramatically influence your overall look. For a refined touch, opt for pearls. Pairing elegant pearl earrings with a classic little black dress creates a sophisticated ensemble that pays homage to timeless beauty. The combination exudes an understated charm, effortlessly blending the LBD's versatility with the enduring allure of pearls.
If you're feeling daring, consider chandelier earrings or dangly designs to add drama. Remember that your choice of hairstyle should complement your earrings, allowing them to shine without being overshadowed.
The Versatility of Necklaces
The type of necklace you choose can significantly impact the neckline of your LBD. For a high neckline, opt for a longer chain or pendant to create an elongating effect. A scoop-neck or V-neck LBD provides an opportunity to showcase a statement necklace that draws attention to your décolletage. Remember that balance is key; if your necklace is bold, consider subtler earrings to avoid overwhelming your look.
Belts: Defining Your Silhouette
Belts are an often-overlooked accessory that can work wonders with your LBD. They offer the chance to cinch your waist, emphasizing your natural curves and creating a flattering silhouette. A slim belt adds a touch of elegance, while a wide belt with embellishments or a unique buckle can make a striking fashion statement. Experiment with different belt styles to discover how they can transform the way you wear your little black dress.
Footwear: Strutting With Confidence
Your choice of footwear has the power to elevate your LBD ensemble to new heights. Strappy heels exude a sense of sophistication, while stilettoes add a touch of allure.
If comfort is your priority, opt for stylish ballet flats or elegant pointed-toe pumps. Consider the occasion and the overall tone of your outfit when selecting your shoes. A pop of color or metallic finish can add a playful twist to your look.
Bags and Clutches: A Functional Fashion Statement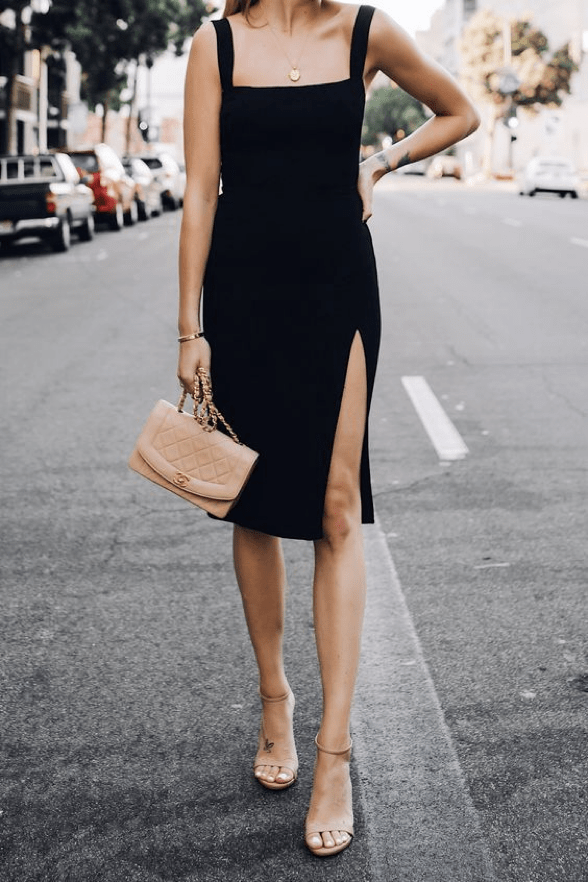 When it comes to bags, remember that less is more. A small clutch or compact crossbody bag complements the elegance of your LBD without overpowering it. Metallic finishes, sequins, and textures can add a dash of intrigue to your outfit. Ensure that your bag aligns with the formality of the event. Opt for embellished styles for evening occasions and sleek, minimalist designs for daytime affairs.
Layering and Outerwear
Layering and outerwear present an opportunity to infuse your style into your little black dress ensemble. A tailored blazer lends a polished touch to your look, making it ideal for office settings or business events. A luxurious shawl or scarf can add warmth and sophistication, while a leather jacket brings a touch of edginess. Remember to choose layers that complement your dress's silhouette and enhance its appeal.
Hair and Makeup
Your hair and makeup choices contribute to the overall cohesion of your LBD look. An updo showcases your neck and shoulders, providing an elegant backdrop for statement earrings. Loose waves or a tousled hairstyle complement a more relaxed vibe. Coordinate your makeup with your accessories. If you're wearing silver jewelry, consider cool-toned makeup, while gold accessories can be accentuated by warm-toned hues.
Final Words
The little black dress remains an enduring symbol of timeless elegance and versatility. Through skillful accessorizing, you have the power to transform this wardrobe staple into a captivating ensemble suitable for any occasion.
Remember to strike a balance between bold statements and subtle accents, allowing your accessories to complement your LBD without overpowering it. Embrace your style, experiment with different elements, and confidently create looks that leave a lasting impression because when it comes to accessorizing your LBD, the possibilities are limitless.