A home with multi-functional spaces such as the Open plan kitchen – living room combo is one of the best features an apartment can have. Instead of having a kitchen isolated from the home's social areas, open plan kitchens combined with dining and lounging areas are practical and draw people together. When executed well, this area functions as the heart of the house.
Making the public rooms – living room, kitchen, dining room – into one big space is a great idea for small apartments. An open-plan kitchen makes the living spaces feel much larger without unnecessary walls.
Small Kitchen Island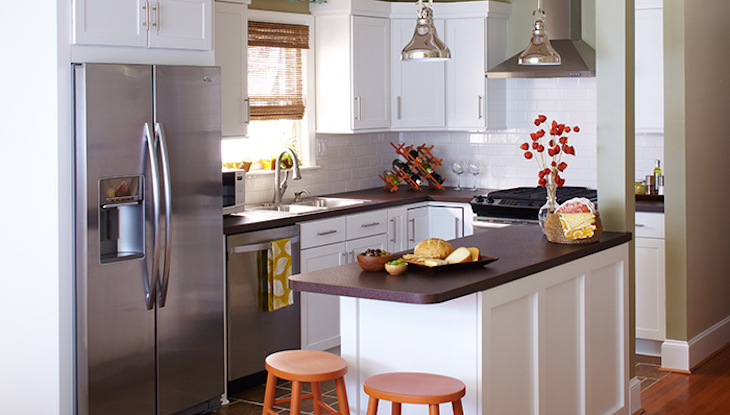 via www.lowes.com
A kitchen island adds workspace, storage, and seating to the kitchen. It is a perfect solution for apartments with limited space.
We love how the 'door' remained, and all other walls were knocked down, creating a spacious and bright area, and check-out those stylish nickel pendant lamps!
Dining Table with Bar Stools
In small apartments, the last thing you have space for is a big dining table. However, more than likely, you will want to have guests over for dinner every now and then. How about a dining table that separates the small space into the kitchen and living room? Built on the same space as a wall that has been knocked down, this is a fantastic space-saving idea.
Totally Open Concept
If you want to create a spacious living area, forget about the concept of compartmentalized living. This apartment here uses an open concept, placing the living room and kitchen very close to each other. When creating a new kitchen, several lovely and fashionable choices are available at https://todayscave.com/ for kitchens, so don't be concerned about the look. It might not work for everyone, but this will work perfectly for the ones who prefer eating out.
Open Concept with Dining Table
via www.comicink.net
This is another example of a completely open plan kitchen-living room concept without any wall or a kitchen island dividing the two rooms. If you think that a dining table would look weird right in the middle of open space, look at this solution. The key is the design. Find the matching table and the chairs that fit into your home most.
If you think that a dining table would look weird right in the middle of open space, look at this solution. The key is the design. Stay in any of the top luxury vacation rentals in London, and you'll see how the design makes all the difference. Find the matching table and the chairs that fit into your home most.
IKEA Hack Kitchen Island
If your budget is low, don't worry. Here is a DIY solution that can be done in a few days and in less than 100$. Buy the BEKVÄM Kitchen cart from IKEA and turn it into a beautiful rustic cart with a marble top (contact paper). It will give you more space for preparation and storage in your kitchen plus it will slightly separate the rooms.
Cool and Modern
via www.netinfoweb.com
This 'L' shaped dining table attached to the kitchen furniture separates the kitchen's living room. It can also function as an extra preparation area during cooking, a working space, or a dining area. This highly versatile piece the best option for kitchens with limited space. The light colors like here whites make space look larger.
While keeping in view the utility of cool and modern interior designing, the Park View City Islamabad has also incorporated modern architecture into its infrastructure development that makes it stand out among other housing societies. Thus, properties in Park View City are selling like a hot cake.
Brick Kitchen Island
via julietburns.com
This gorgeous red brick kitchen island can function as a dining table and as an extra preparation surface. Brick gives a rustic feel to the home and, combined with the metal bar stools, brings an elegant, minimalist atmosphere to this home. The best part is that you can actually chat with your guest while adding the last touches to the meal.
Small Space, Large Island
via www.brit.co
Usually, small spaces don't look great if we add large pieces to them. In this case, it is a little bit different. This full-size kitchen island placed in a small apartment serves as an anchor to the home. You can add large pieces but make sure to keep everything else minimal. Otherwise, space can look crowded and full.
Breakfast Bar Dining Table Combo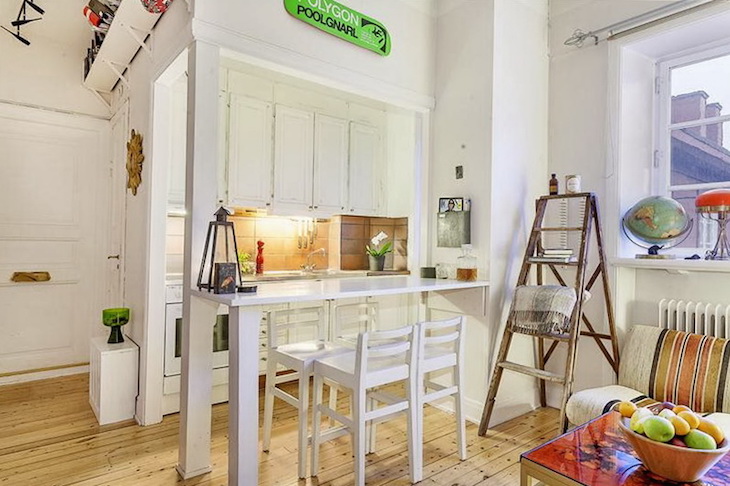 via aescadadepenrose.blogspot.com
This one is similar to our second example. However, here the dining table is not supported from below by a 'wall.' The designer left the below part completely open, thus creating a bright and spacious feel. The gorgeous white kitchen blends perfectly with the white higher table and the 4 bar stools placed around it.
DIY Kitchen Island
via designingdomesticity.blogspot.com
Since kitchen islands can be quite expensive, here is another idea of how to build your own. A sofa table brought to counter level with an added wooden countertop looks just as nice as the store-bought one. Placed on a beautiful Persian carpet, it perfectly separates the two rooms, kitchen and living room.