Pistachios – the wonderful, green nut that we can never have enough of. It's delicious, and you can find it in your supermarkets throughout the year. The pistachios are healthy too.
They are a good source when it comes to vitamin E, protein, fats, and minerals, especially to those who live in dry regions. But, like in almost every other case, everything that tastes incredibly good is high in calories, too – one cup of pistachios has almost 700 calories!
It's not that scary to spoil yourself with some pistachio sweet treat. The good thing about these nuts is that they are a great ingredient when it comes to desserts if you think that these two go perfectly well together, and even if you don't, check out the list below and see yourself that a pistachio dessert is an amazing dessert!
1. Matcha Chocolate Pistachio Cups
via andresthehomebaker.blogspot.com
How about trying pistachio butter cups instead of the peanut butter ones? For the filling, you need homemade pistachio butter, matcha powder, and a sweetener, which in this recipe is Natvia. Mix everything together until fully combined and divide the mixture into 12 balls.  For the chocolate shell, you need quality white chocolate and matcha powder. First, melt the chocolate and mix it with matcha powder in order to get the desired color. Add a tablespoon of the matcha chocolate in each cupcake liner, leave it in the fridge for 15 minutes and then add the pistachio filling on each chocolate cup. Pour more of the matcha chocolate to enclose the filling and put the cups in the fridge.
2. Pistachio Bundt Cake
Soft and moist bundt cake with pistachio flavor, now that's something worth indulging in! You need a yellow cake mix, instant pistachio pudding, almond extract, water, vegetable oil, crushed pistachios, and confectioner's sugar for this cake. In an electric mixer bowl, mix together the cake mix and the pudding mix. Add eggs, water, oil, and almond extract. Pour the mixture into a bundt cake pan and bake it for 40 – 55 minutes, depending on your oven's temperature. When ready, leave the bundt cake to cool for 5 minutes and take it out of the pan. Dust it with the confectioner's sugar and sprinkle crushed pistachios on top.
3. No Bake Pistachio Cream Pie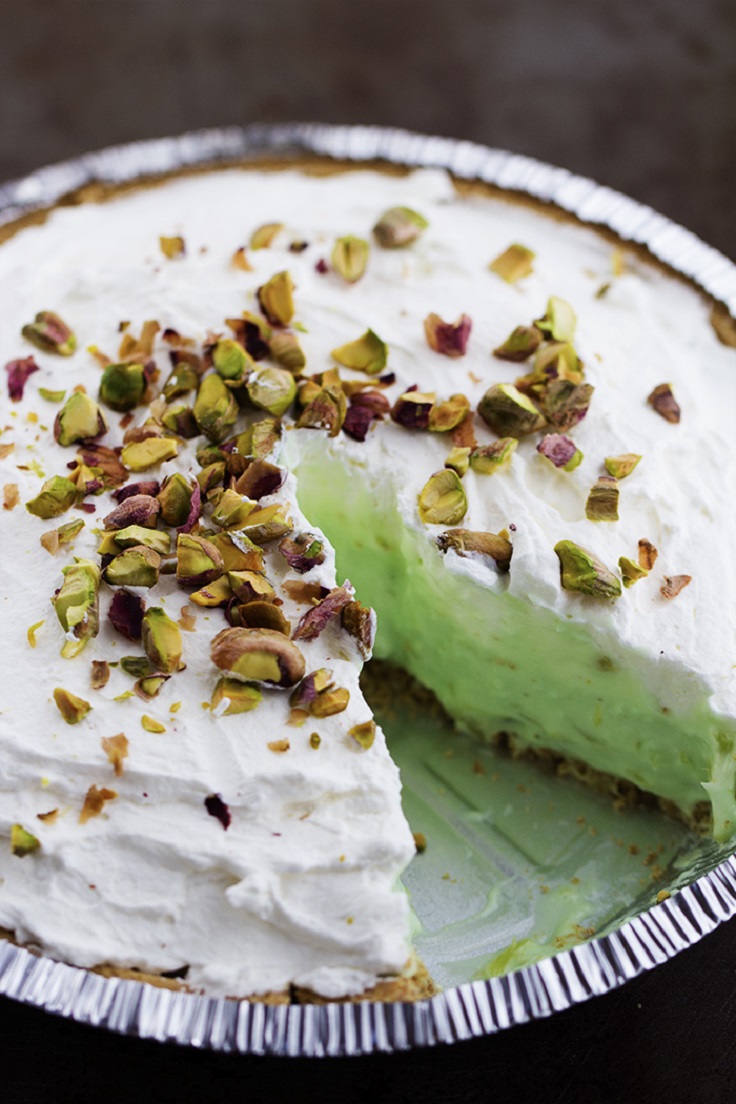 You should definitely add this recipe to the "ready to eat in less than 20 minutes" list. The creamy, no-bake pistachio cream pie is all done in 16 minutes, and it serves six. To prepare it, you need softened cream cheese, milk, instant pistachio pudding mix, drained and crushed pineapple, graham cracker crust, whipping cream, powdered sugar, and crushed pistachios for garnish. For the pie preparation, beat cream cheese, milk, and pistachio pudding mix until smooth and then fold in the pineapple. The next step is to beat the whipping cream and the powdered sugar. Add the pie mix on the graham cracker crust, add the whipping cream on top as well and use the crushed pistachios for garnish.
4. Pistachio Lemon Truffles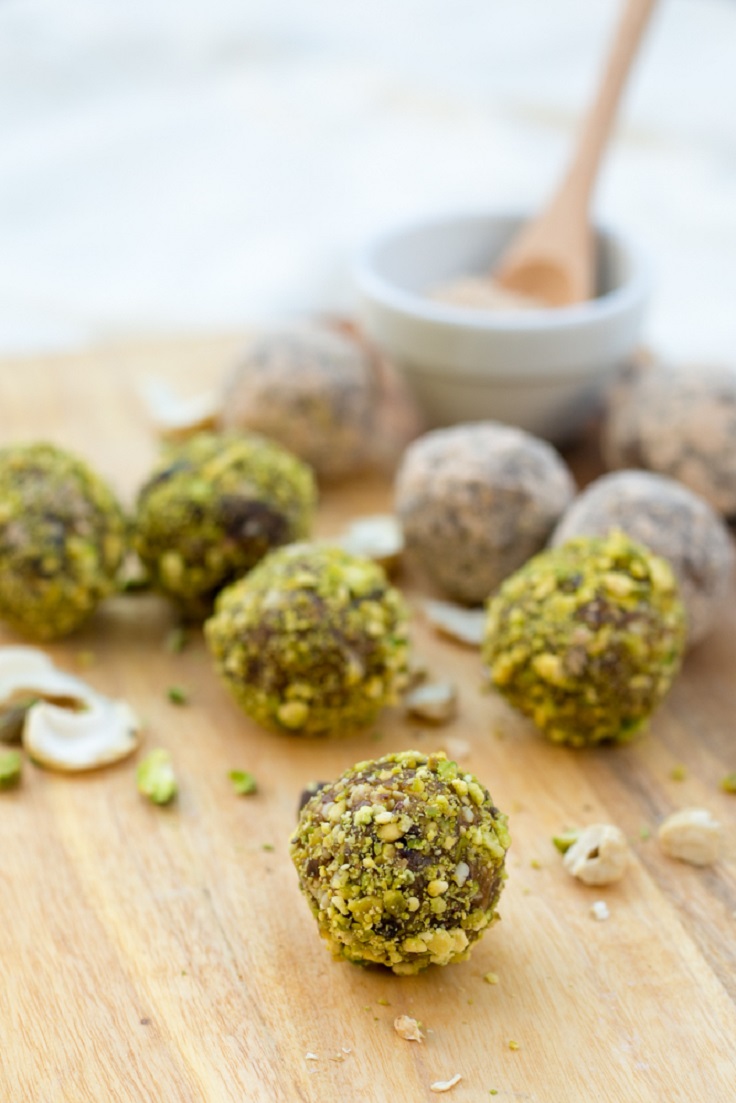 via mywifemakes.com
And here's another one on the "ready in less than 20 minutes" list. These raw, vegan pistachio lemon truffles are done in 15 minutes. In order to prepare them, make sure you have raw pistachios, raw cashews, lucuma powder, Himalayan sea salt, and a zest of lemon. Mix everything in a food processor, but be careful not to over-process them. Add pitted dates and water, and when you have a mixture that can easily be turned into balls, make them and sprinkle more pistachios or lucuma powder. Store the truffles in an airtight box and put them in the fridge.
5. Pistachio Eclair Cake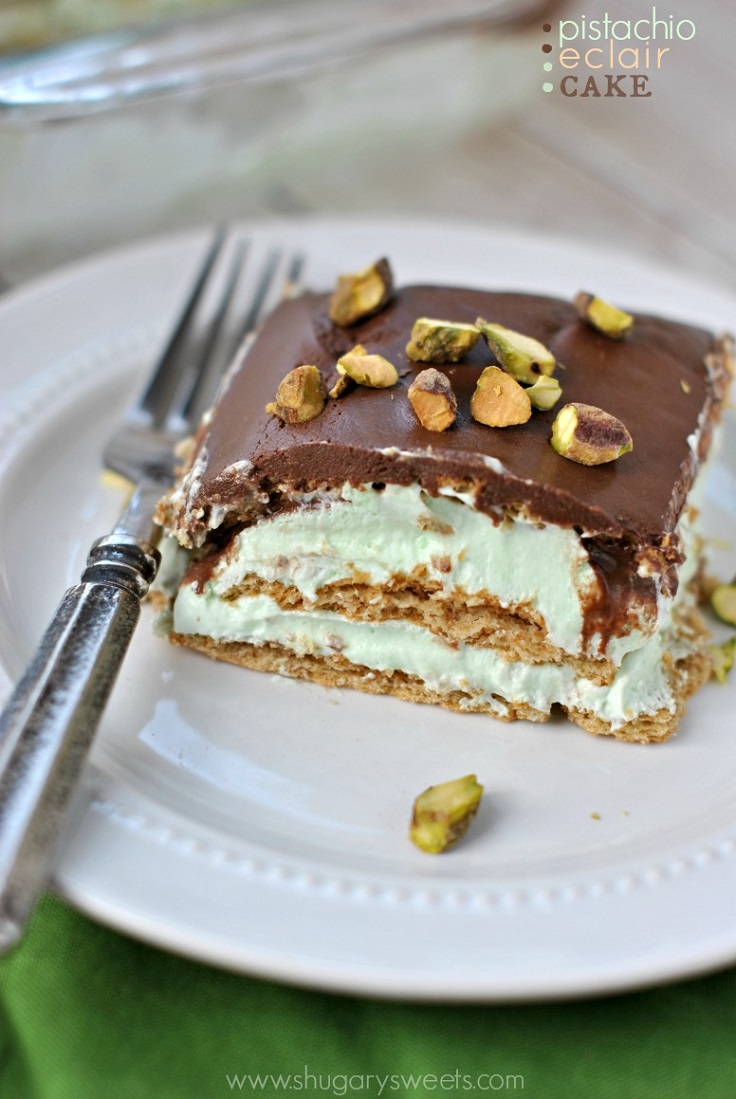 For this creamy pistachio chocolate eclairs, you need the following ingredients: honey graham crackers, instant pistachio pudding mix, milk, whipping cream, and (melted) milk chocolate. First, make a pudding mixture by combining the instant pudding mix, milk, and cool whip. In a pan, add a layer of the crackers and a layer of the pudding mixture. Repeat this once again. For the topping, you can use the remaining graham crackers and pour over the melted chocolate frosting.
6. Pistachio Sugar Cookie Bars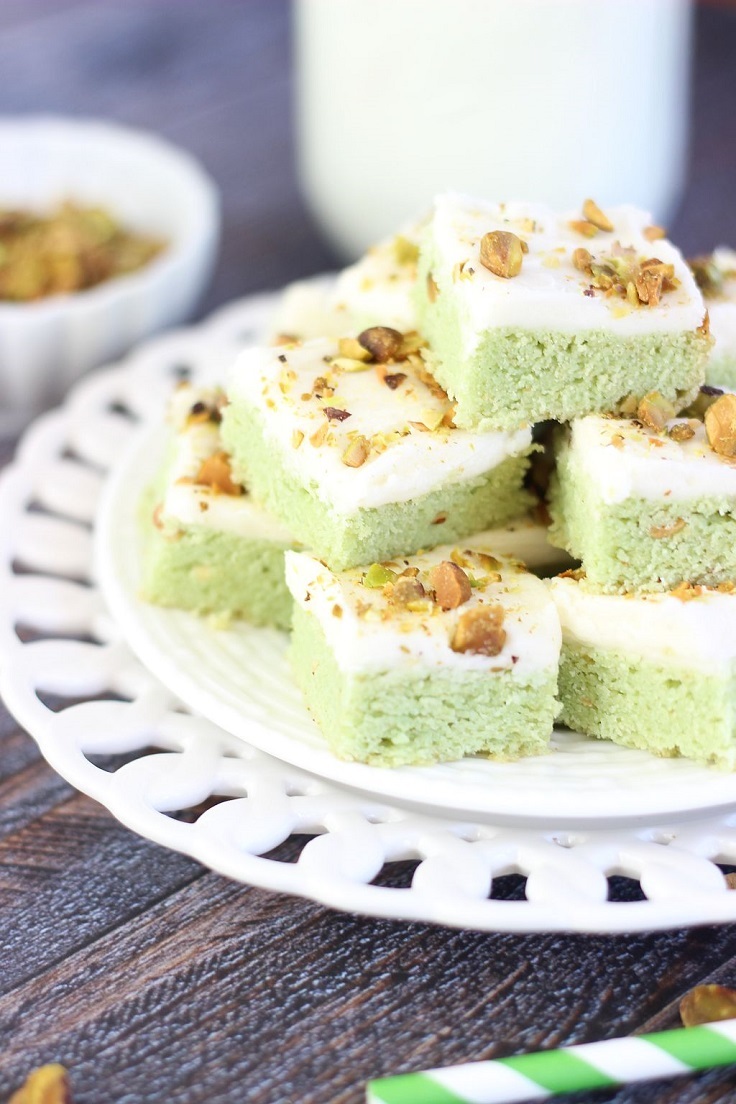 These pistachio sugar cookie bars with cream cheese frosting are a seriously amazing, soft, and creamy dessert that one can have. Preparing them is really easy, and they will be ready to be served in 30 minutes. First of all, combine flour, pudding mix, sugar, and baking powder, while in another bowl, combine egg, melted butter, oil, milk, and vanilla. Combine both mixtures and add the pistachios. Place the dough in a lightly greased pan and bake it for about 20 minutes until it gets brown edges. Cool the bars in the pan on a wire rack.
7. Pistachio Cupcakes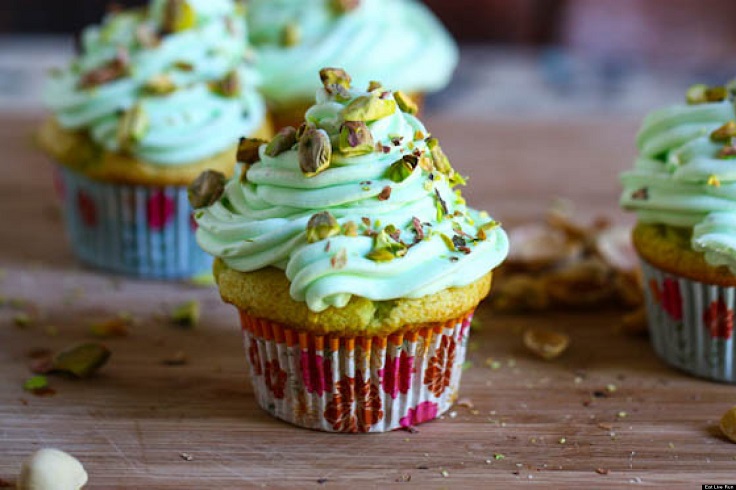 via eatliverun.com
The cupcakes are simply a must. Especially if they include pistachios! The cupcake dough is made of yellow cake mix, instant pistachio pudding mix, and cold milk, while the frosting is made of heavy cream, the pistachio pudding mix, cold milk, powdered sugar, and roughly chopped pistachios. After combining the dough ingredients, place the mixture in cupcake liners and bake them for 25 minutes. The recipe is enough for 12 – 13 cupcakes. Meanwhile, you can prepare the frosting, and when ready, pour it on top of the cupcakes and use the chopped pistachios for garnish.
8. Pistachio Cookies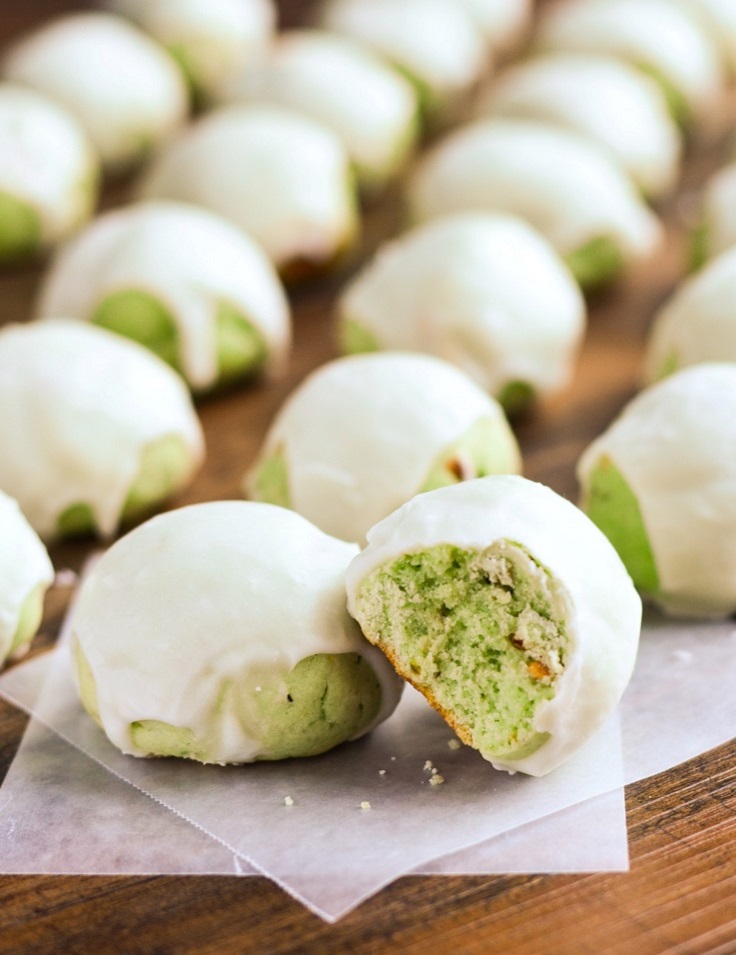 These small pistachio cookies really know how to satisfy a sweet craving. The recipe serves 50 cookies, which are ready in 40 minutes. You need flour, Crisco shortening, sugar, eggs, vanilla and almond extract, milk, instant pistachio pudding mix, baking powder, and chopped nuts of your choice, besides pistachios. For the green color, just add 10 drops of green food coloring. First, combine Crisco, sugar, and eggs and then add the remaining cookie ingredients, but add the nuts after the dough is formed. Form balls out of the dough and bake them on a nonstick cookie tray for 12 – 15 minutes. The final step is adding the glaze.
9. Raw Pistachio Pudding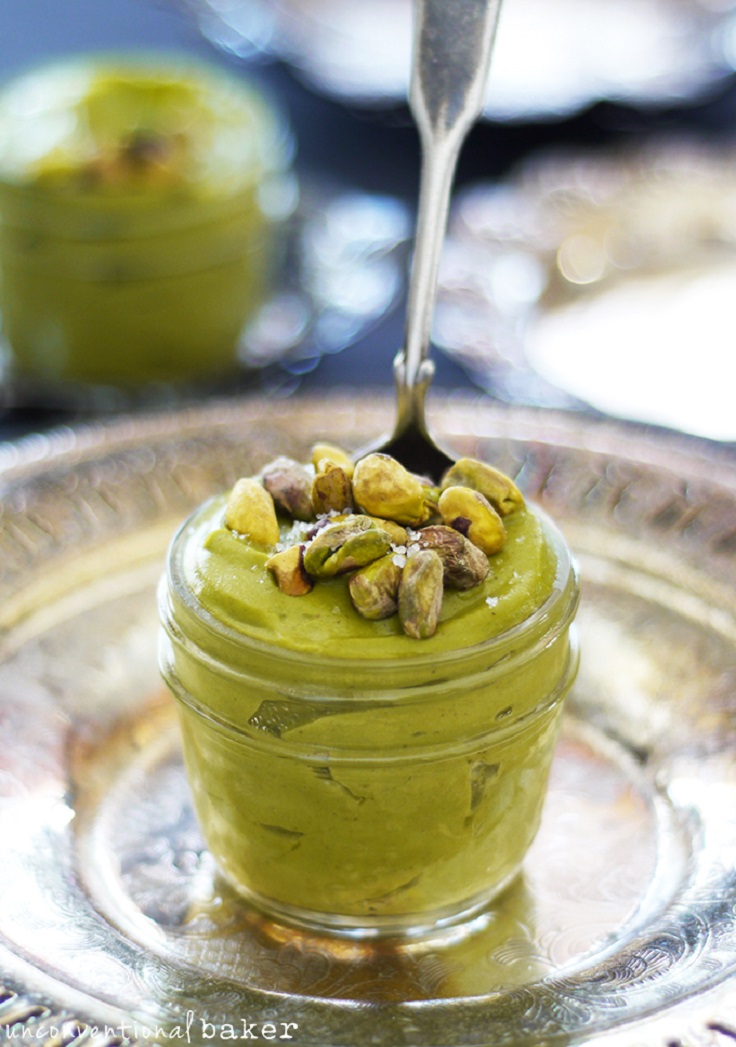 If you are into creamy desserts, here's the creamiest on the list. We're talking about raw, vegan, paleo, gluten-free, and refined sugar-free dessert. To make this pudding, you need a high power blender because you'll need to blend all the ingredients. When the mixture is smooth, place it in small jars or glasses, cover them and place them in the fridge. Later you can garnish them with extra pistachios. Because there's avocado in the pudding, it can get brown, but to avoid that, it's best to freeze the pudding and defrost it until you plan to serve it.
10. Pistachio Cream Whoopie Pies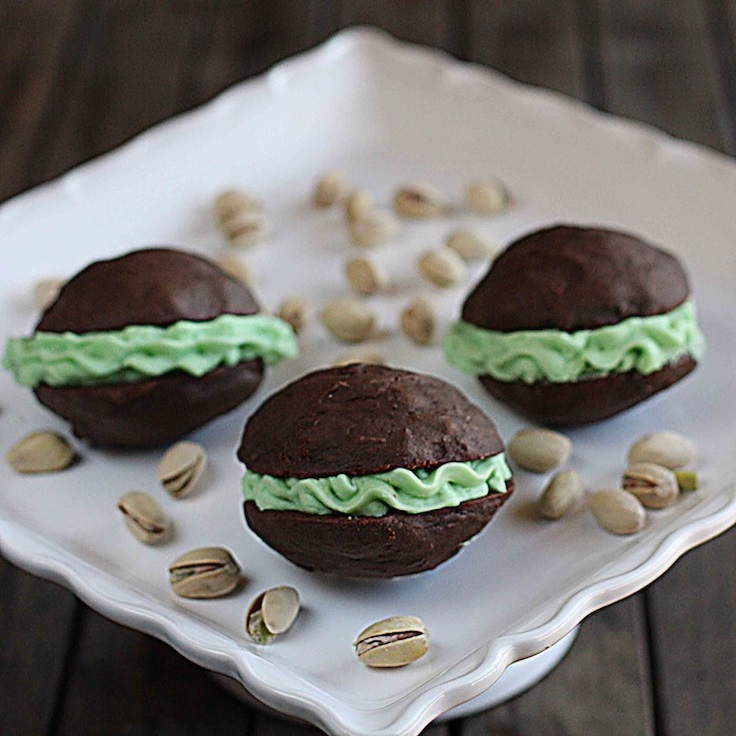 The whoopie pies are such a classic dessert. They come in different flavors: red velvet, chocolate, vanilla, and in this case, pistachio. Preparing them is very simple, and these pies are a good dessert choice when you can't or simply don't want to spend the whole evening in the kitchen. Not only are they great as after lunch or dinner sweet treat, but they can be good as a breakfast option, and they can even be easily packed in your children's lunch box. Pistachios go so well even with the whoopie pies!