A good meal deserves a good dessert afterwards, and when it comes to desserts we are all like little children, aren't we? Nobody can resist a good chocolate cake, or an ice-cream, but will you still think the same after you see the prices on the desserts in this list? When it comes to luxury desserts some people just don't know the limits. Made with edible gold, with diamonds and jewellery, or just with high quality ingredients, these delicious desserts are on this list with a reason. Enjoy!
1. David's Signature "Beyond Gourmet" Jelly Beans
via popsugar.com
In 1976 David Klein began selling a new kind of jelly bean that was different in a lot of ways than the jelly beans folks usually sold. It had many different sorts of flavors (like bacon, root bear, wasabi) and that got people interested, so it moved the bar on how much someone would pay for a pound of jelly beans. The beans are made with real fruit, flavorings and all natural colors. However this isn't a reason good enough for paying $500 for a jar of jelly beans, right? Well the thing is that they are encased in a jar made of crystal, and also what makes the jelly beans special is the addition of 24-karat gold-leaf confections as one of the main ingredients.
2. Golden Opulence Sundae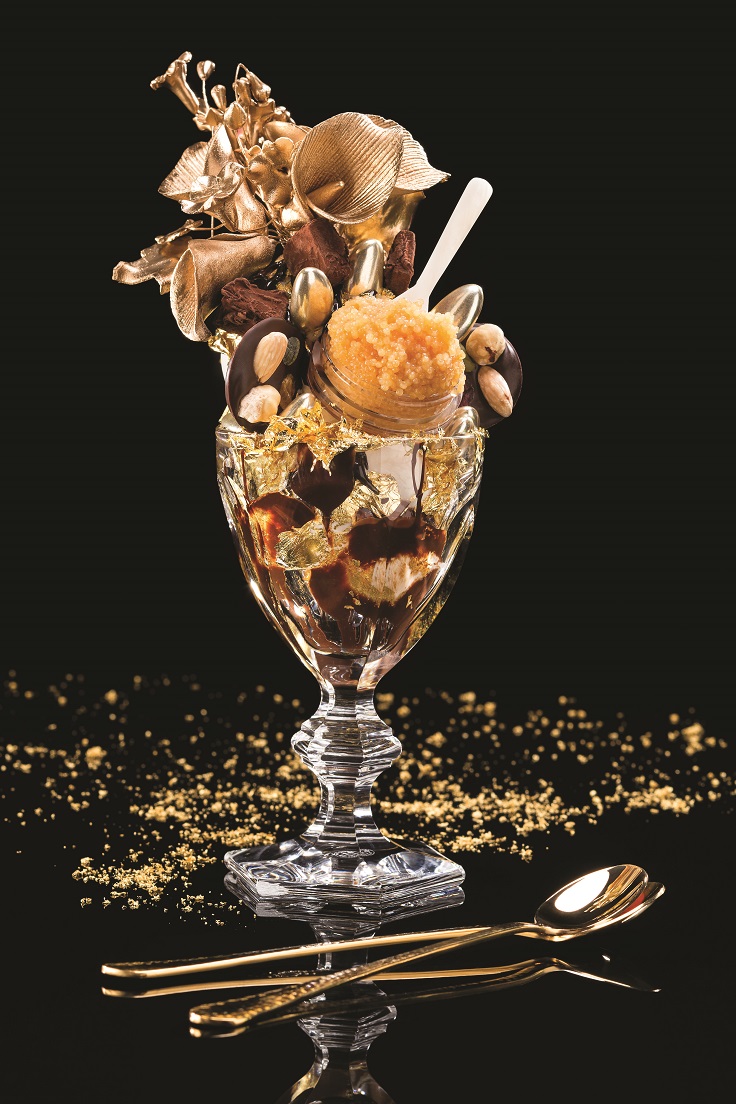 via blog.caesars.com
Covered in edible 23-carat gold leaf, this extravagant ice cream has even been listed as the Guinness Book of World Records' most expensive dessert, costing a staggering $1000.  It's made from the finest Tahitian Vanilla ice cream infused with Madagascar Vanilla to intensify the flavour, and of course the edible gold leaf. For such a precious treat, only an equally valuable serving dish will do, which is why the Opulence Sundae is presented in a $300 Baccarat Harcourt crystal goblet, and the goblet is the customer's to keep. This dessert is so special that customers must ring in their orders two days in advance to allow time for the rare ingredients to be flown in from around the world.
3. The Sultan's Golden Cake
via theupperdecklx.com
It takes 72 hours to prepare this dish once requested, a process that includes the infusion of rare French Polynesian vanilla, a topping of caramelized black truffles, and a coating of 24-karat edible gold flakes. The cake, which looks more like a bar of gold, is served in a sterling-silver box with a gold seal. For this sweet expensive pleasure you will pay $1000 and the only place where you can find this dessert is at the Ciragan Palace Kempinski Hotel in Istanbul.
4. Noka Chocolate
via flickr.com
For a $854 per pound you can buy Noka chocolate, which is a mixture of the finest dark chocolates, exclusively extracted from plantations in Venezuela, Trinidad, Cote d'Ivoire and Ecuador. The Vintages Collection of chocolate is 75% pure, single-origin cacao, with other ingredients that include cacao butter and sugar. The company takes great pride in the quality and purity of the chocolate. So it's up to you, whether you  want to spend so much money on this delicious dark chocolate.
5. Macaroons Haute Couture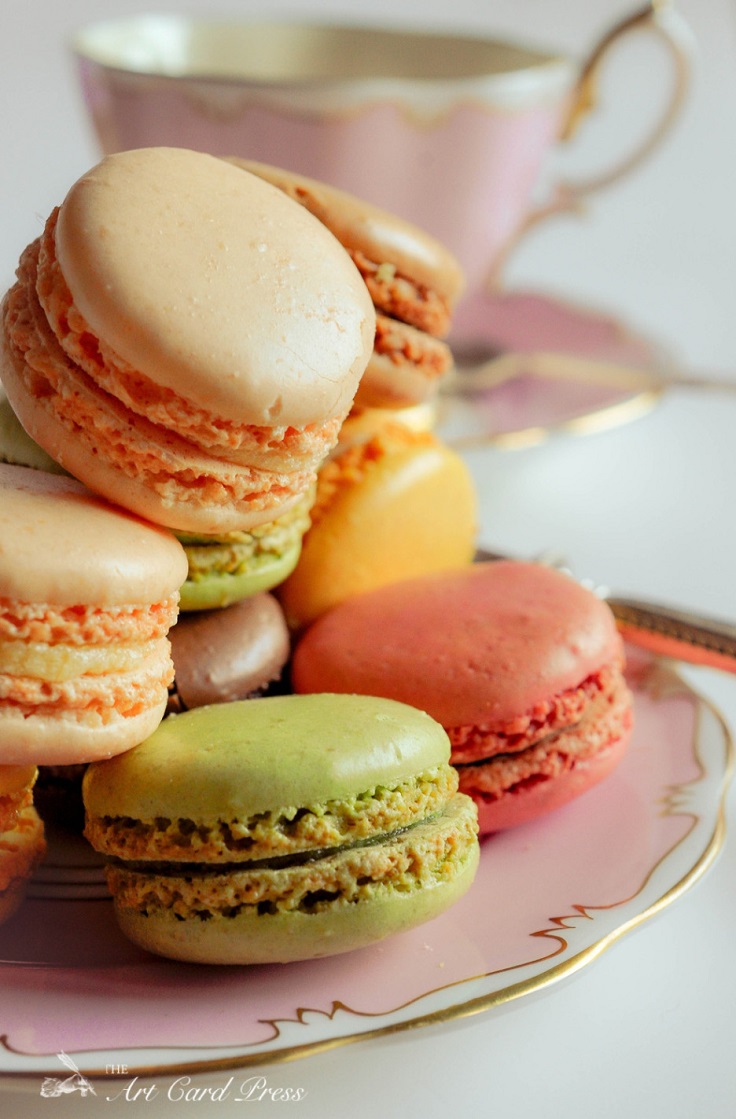 via viewfromafrenchhillside.com
Pierre Hermé, Parisian pastry chef,  makes nothing but haute couture macaroons, and they are considered to be the world's best and also the world's most expensive ones. Macaroons are most popular in France, and you can usually find them for a reasonable price, but Herme sells the most expensive macaroons that can cost up to a staggering $7400 a pound. These are special order varieties not found on the shelf in his bake shop. Herme says that he offers a large variety of ingredients that have elevated the costs. A customer is able to choose ingredients, but if you choose to do that be prepared to pay those $7400.
6. Frozen Chocolate Haute
via mostluxuriouslist.com
How do you feel about spending $25,000 on a hot chocolate? There is a dessert called the Frozen Haute Chocolate and was also declared the world's most expensive dessert in 2010 by Guinness World Records. The whole mass is served in a goblet surrounded with a crown made of gold and diamonds, and if that is not enough, the spoon is gold too. This dessert is a mix of cocoas and milk frozen to a slushy-like consistency. But it does not stop there. Five grams of 24-carat gold are mixed in and the chocolate is topped with whipped cream and more gold.
7. The Absurdity Sundae
via financesonline.com
First it was $25.000 hot chocolate and now a $60.000 ice-cream? Don't freak out, it's not just an ice-cream. This dessert actually offers a whole trip in the price. For $60.000 you will ravel to the summit of Africa's highest peak, Mount Kilimanjaro, where Three Twins Ice Cream's founder will hand-churn a batch of ice cream with glacial ice from the mountain's summit. The mountain's glaciers are predicted to disappear within the next 10-15 years due to climate change, so your purchase will help in raising awareness of this fact with a five-figure contribution to an African environmental non-profit. The sundae's price also includes first class airfare to Tanzania, five-star accommodations, a guided climb, as much ice cream as you can eat and a souvenir t-shirt made from organic cotton. A tasty offer, isn't it?
8. Platinum Cake
via almrsal.com
In 2007, Japanese pastry chef Nobue Ikara created this jaw-dropping creation to be showcased by Platinum Guild International, a company that at the time was encouraging more and more people, especially women, to buy platinum jewelry. Draped in platinum necklaces, pendants and pins, this white cake is worth over $130,000.  The cake itself is dedicated to several famous Japanese women, including actress Rinko Kikuchi  and model Chie Kumasawa. It's decorated with plain white frosting, fine jewellery, and edible platinum flakes.
9. Strawberries Arnaud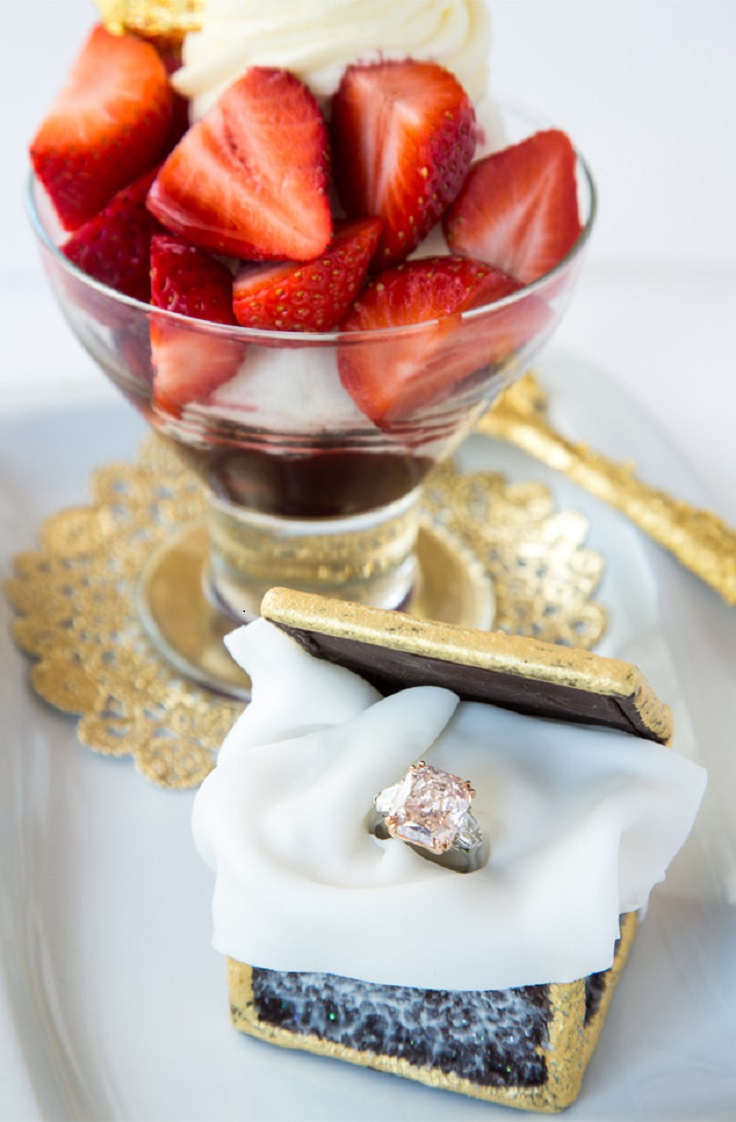 via uk.eonline.com
A $1.4 million dessert made from strawberries served with mint and cream? You have to be out of your mind to pay that much money for a dessert, even if you can afford it. But actually, the secret in this dessert is that the price includes a 4.7 carat pink diamond ring that once belonged to Sir Ernest Cassel, an English royal finance advisor. And that's not all. This one-of-a-kind luxury treat is served with the finest port wine out of a $25,000 Charles X crystal cave set.
10. Diamond Fruitcake
via theupperdecklx.com
Last on our list is the most expensive cake ever made. For a whopping $1.65 million you will get a delicious fruit cake covered in diamonds. It was created by a Japanese pastry chef Jeong Hong-Yong and it took him 6 months to develop, and a whole month to convert it from an idea to an edible luxury cake. It has over 200 small diamonds, and the other ingredients, besides the diamonds, remain a mystery. What we do know however is that this fruitcake, made in 2005, went on display in an exhibit called "Diamonds: Nature's Miracle" and was put up for sale during Christmas that year.