The red color is a timeless color for nails, it looks feminine and passionate. You will never go wrong with choosing classic red for your nails. But, if you want to make them even more interesting you can add different designs and shapes on them.
In this post you will find 10 amazing nail ideas that you can create when ever you want, wear them any time and for any occasion.
Have a good, manicured neat nails, and everything you need to do is to spice them up with the classic red color and look like a lady everywhere you go.
We hope you enjoy this gorgeous ideas, and don't forget to tell us which ones are your favorite!
Random Stripes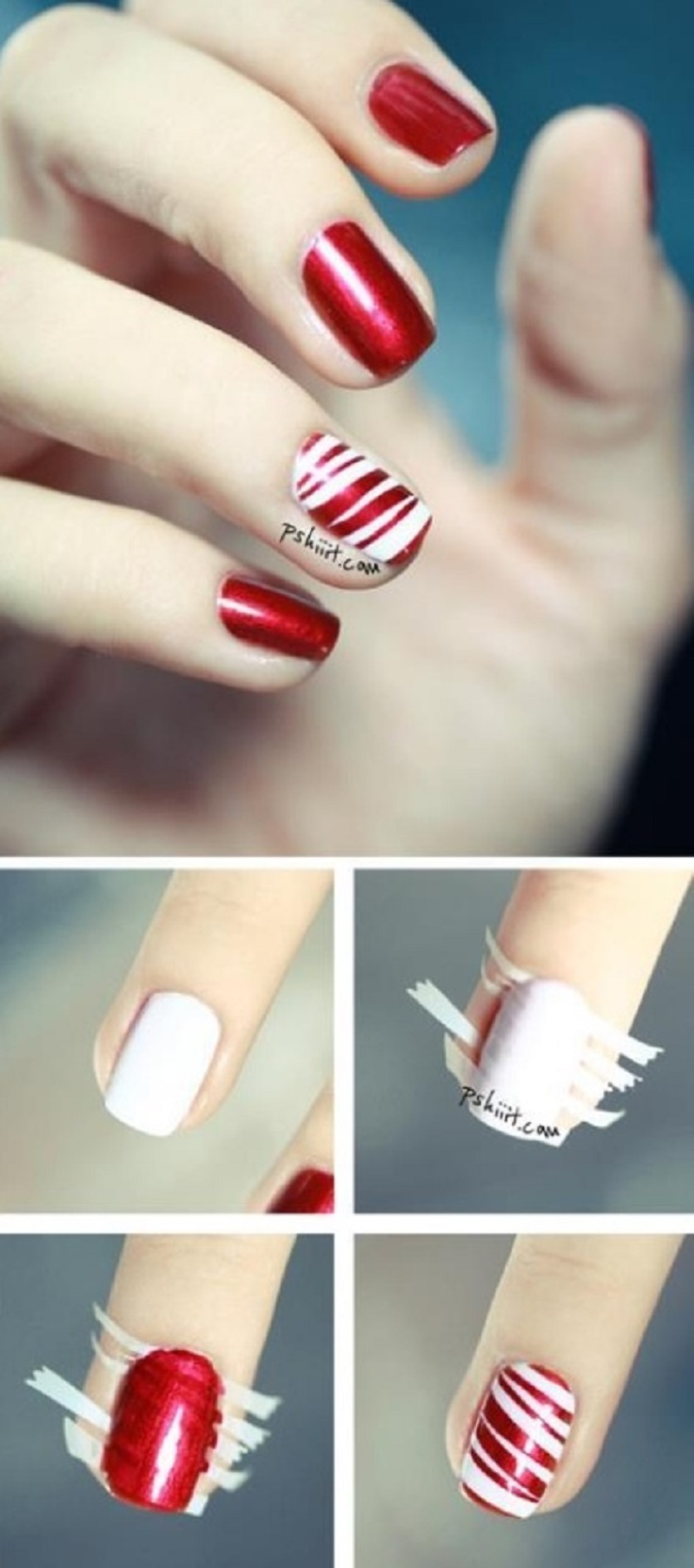 When you first see them you think that this design requires a lot effort and skills, but then you see the super easy tutorial. All you have to do is paint one nail white, wait for it to dry and stuck little randomly cut stripes, and then go with the red color above them.
Red Rhinestones on Feet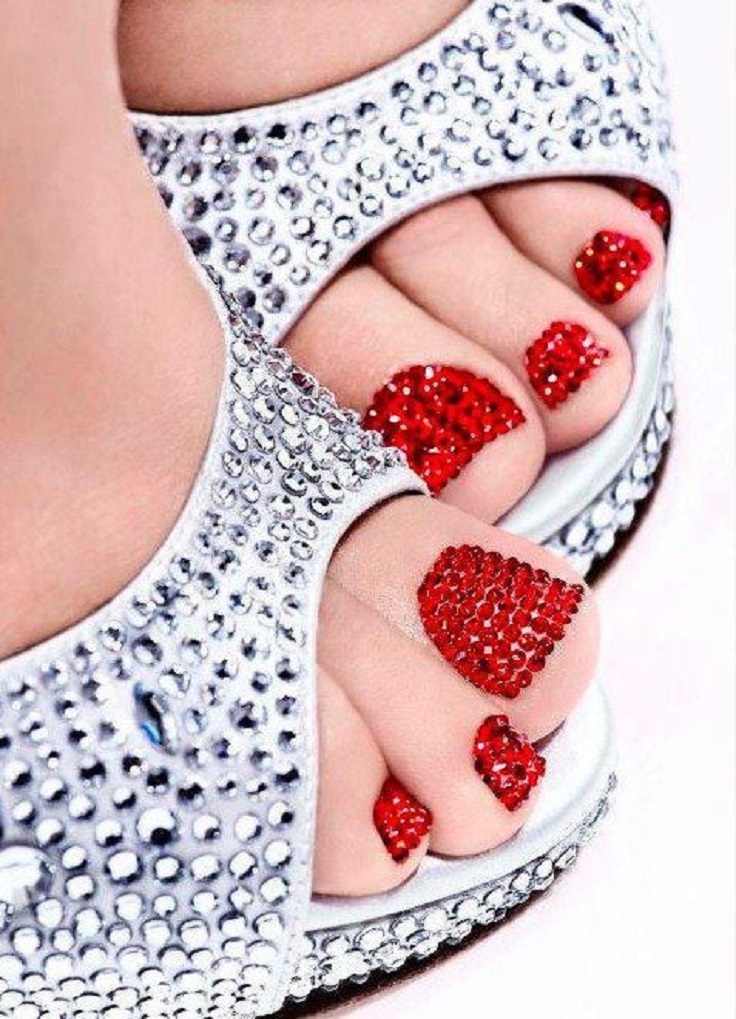 Rhinestones are always a good idea and they look glamorous and luxurious. You can add one, few, or make the whole nails with them, just like the picture. It depends only bu your taste. Before applying them we recommend polishing the nails red.
Red and Silver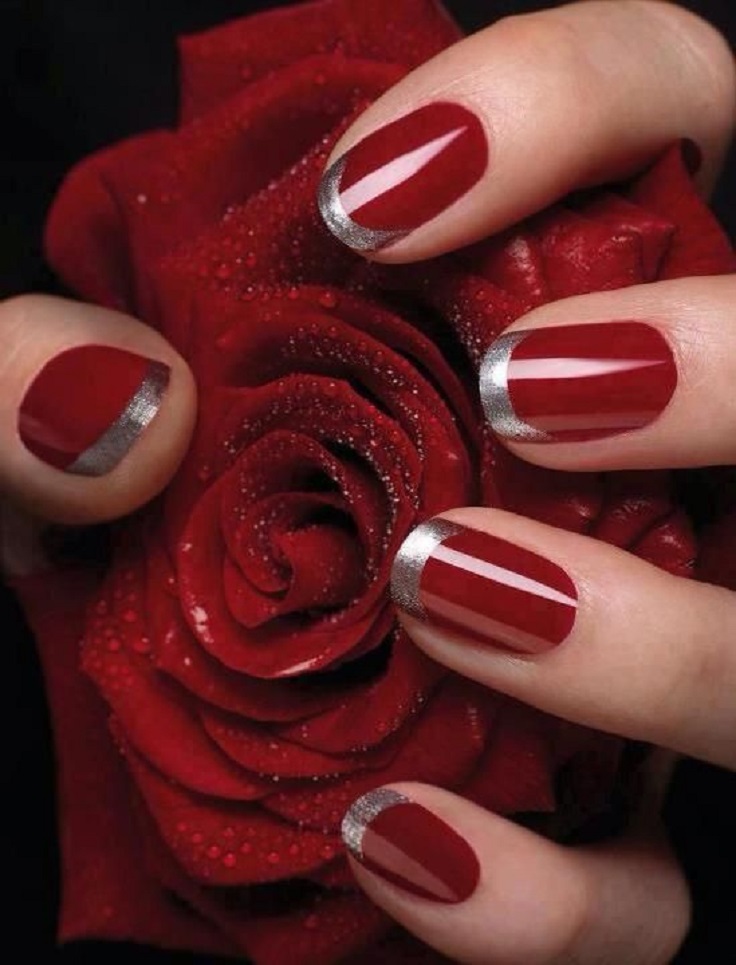 Although the red color screams fire and passion, this look above is so gentle and feminine. That is thanks to the medium short length and the silver that creates a french manicure design above the red.
Candy Design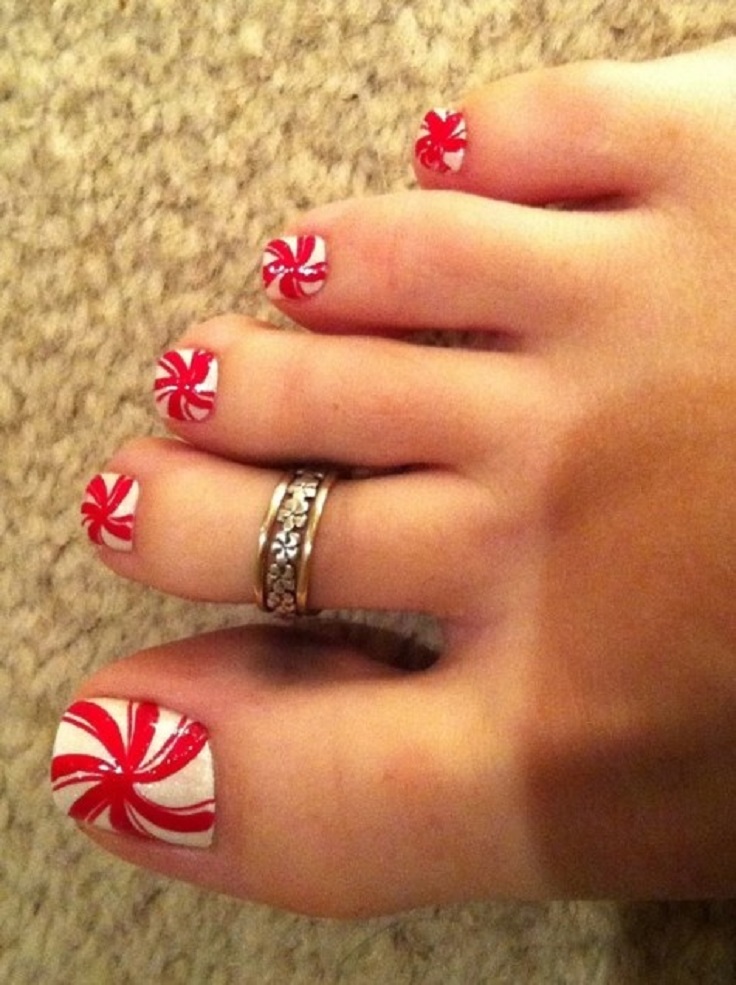 For all those candy lovers out there! Look at this delicious looking design that will make everyone stop for a while and look at your nails. As you know, the shape of the hypnotic circle is similar to this, so you better believe us!
Short Nails and Red Sparkles
Maybe if the nails were longer this look will be just too much, but at this length this looks perfect. Short, neat, feminine nails that scream confidence and passion.
Red French and Rhinestones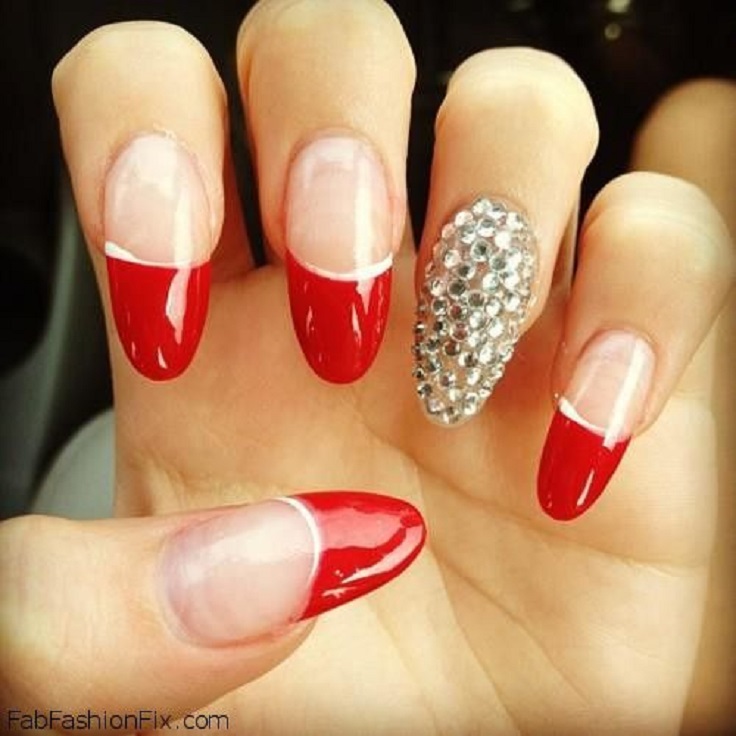 For the bold ladies, you should consider trying this look, red french with little white line below on 4 nails, and the last one to be completely covered with silver rhinestones. You will sure be noticed, and this design will make you unique.
Silver Moon Shape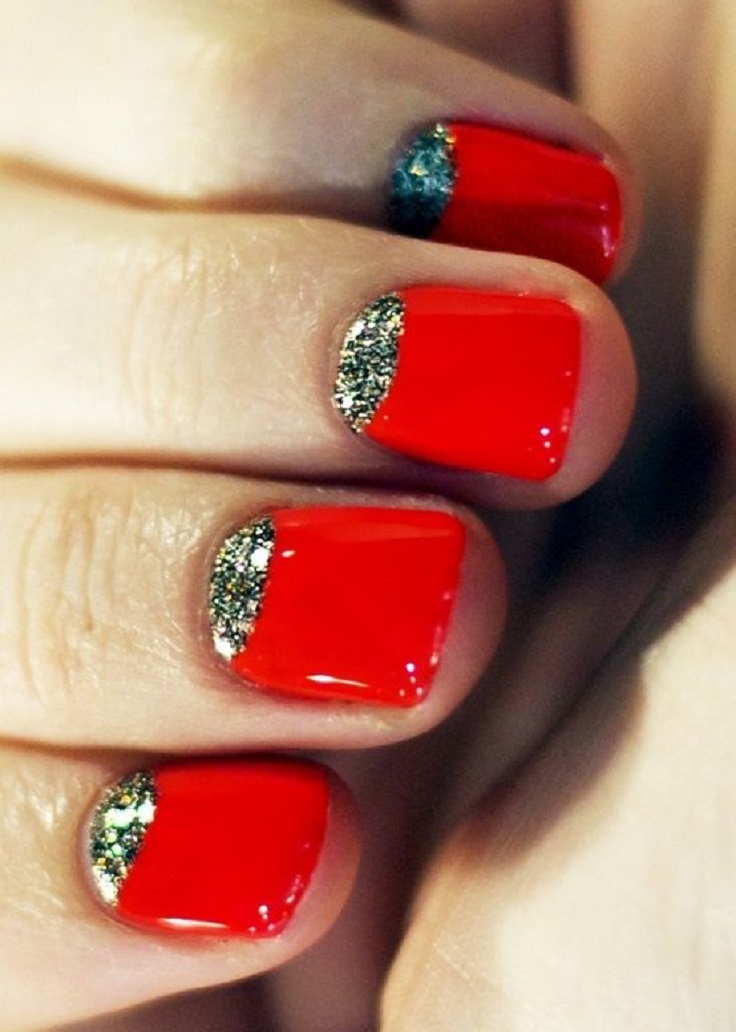 Another amazing look for the short-nail lovers. This silver sparkly nail polish looks amazing in combination with the red color and the short length. This is so easy look, and looks perfect in every aspect.
Contrast Between Red and Nude Color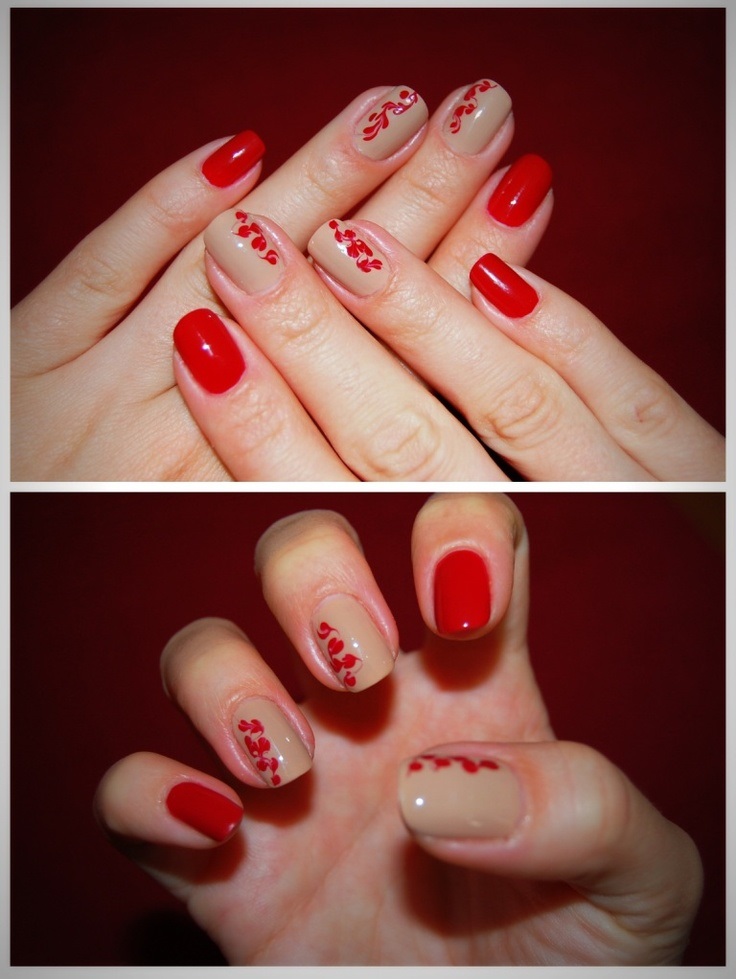 This is one great contrast. If you are not in all that sparkles and rhinestones, that this nude color is perfect for you. You will still have that passion we talked about that the red color brings, but in a more subtly and gentle way.
Red French Manicure and White Dots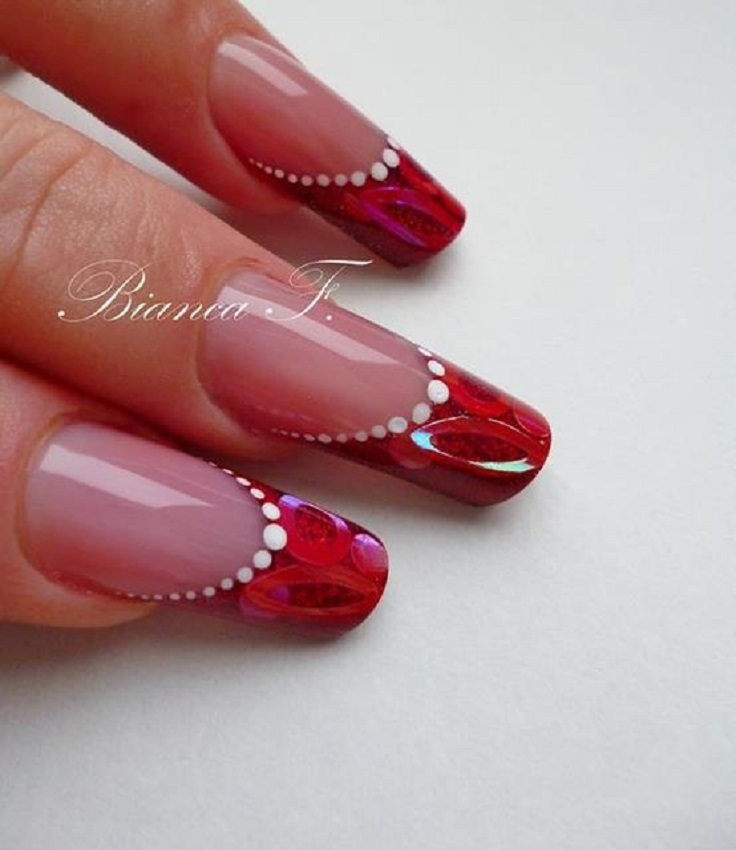 So beautiful design, we guess that you have heard that french manicure should not be worn on too long nails, but this red version looks amazing on any length. The white dots make the nails look complete and add dimension. This easy design is sure worth trying!