Gather some stones, check out these cool Rock Art Ideas, and unleash your inner artist!
It is possible to paint nearly everything and here is another new trend, rock art. Forget about painting on expensive canvas. Stones are cheap; you can even collect some on your next walk near the river or the beach. The smoother it is, the easier it will be to work with.
Pick some interesting shapes and turn them into a creative piece of art. It is an enjoyable craft that helps you to switch off your mind. And if you have kids, these rock art ideas can be a perfect DIY project for the chilly days.
We have selected ten different rock painting ideas that will inspire you to create a mini-masterpiece.
1. Mandala Stones
Canada-based artist Elspeth McLean creates these beautiful mandala stones. She uses average paintbrushes and many acrylic paint layers to get these beautiful colorful dots arranged in a radiating pattern. The result is a colorful treat for the eyes. The process is also fun; it is more like a meditative practice.
2. Spirit Animal
Artist Sehnaz Bac creates beautiful pebble art using vivid colors, animal motifs, geometric patterns, and many more. You can check out her art and get some more inspiration if you visit her Facebook profile. Make your very own pet rock or create unique gifts with a simple stone and some paint.
3. Fridge Magnet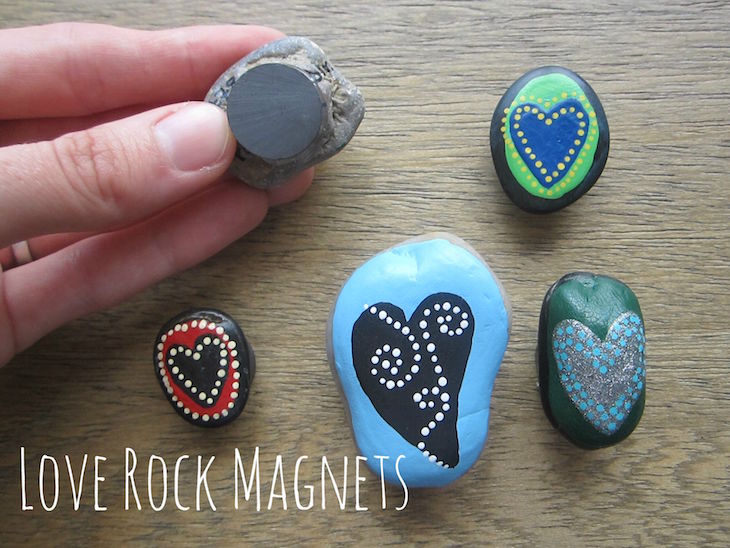 Once you have painted some pebbles, you can make them into fridge magnets. You can create unique designs or write inspirational messages on them. Paint more pebbles and stick them onto your fridge. The more, the better!
4. Colorful Trees – Coolest Rock Art Ideas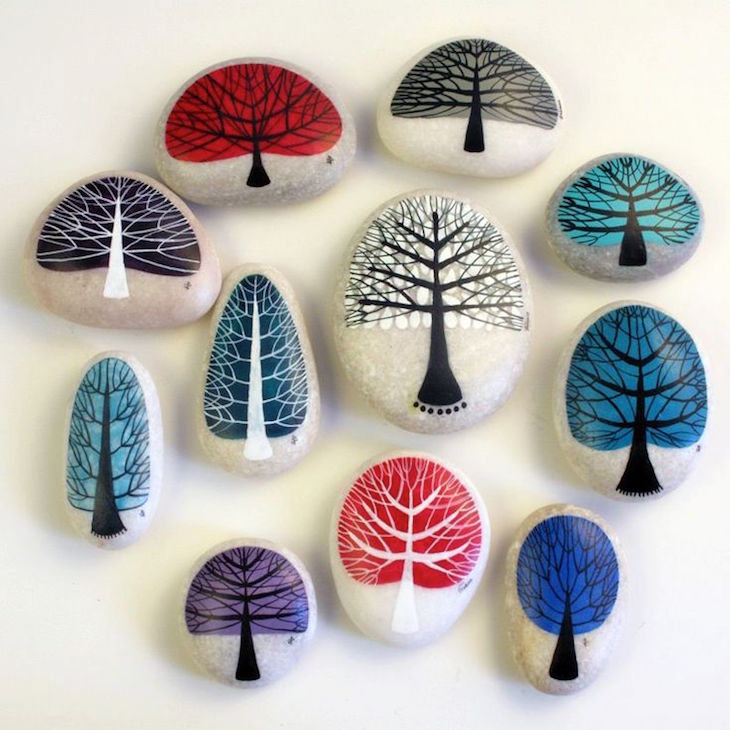 via www.rengezablog.blogspot.com.tr
Check out these beautiful trees; they are so simple and yet so decorative. Make a whole group of trees and decorate your flower pots or your garden with them. They would look cool in the bathroom as well if you arrange them nicely on the side of the bathtub.
5. Play With The Shape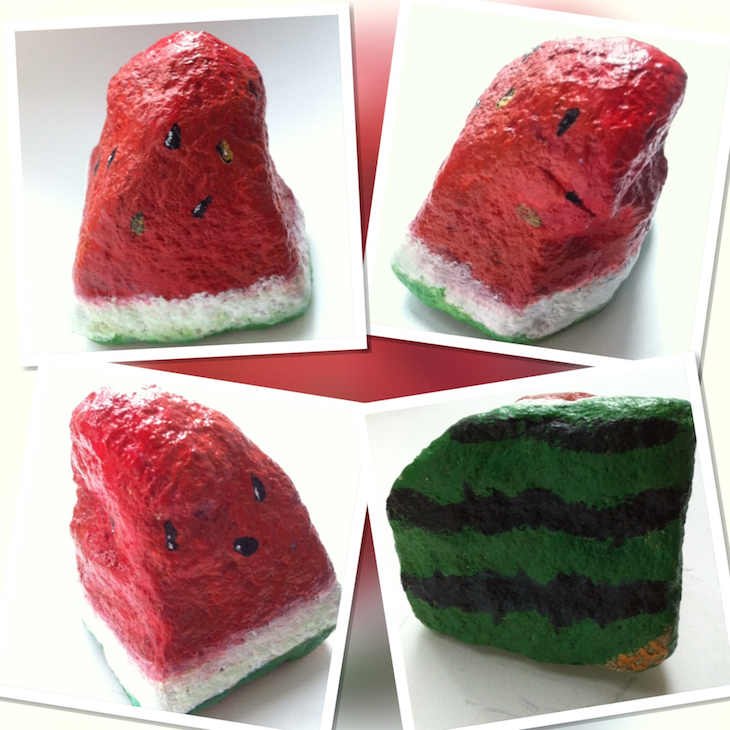 via Pinterest
Who said that only flat and smooth rocks could be painted? If you find a stone with a unique shape, you can paint it all, like this creative idea here. This watermelon stone can be used as a paperweight or as a bookholder in the kitchen for your cookbooks.
6. Cactus Stones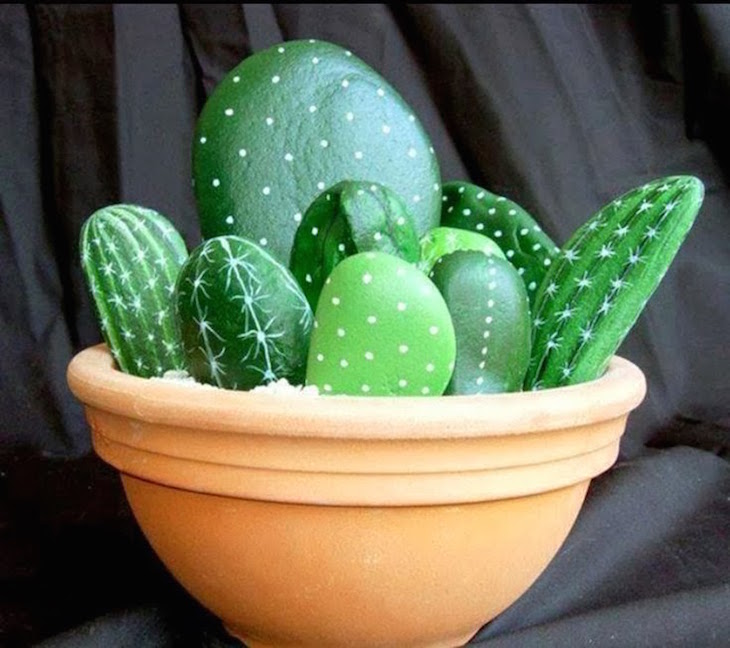 This is the ultimate idea for those with a black thumb. Fun, decorative, and it does not require any care; it will never wither. Pick some oval shape stones to paint them green with off-white motifs, and place them into a nice terracotta pot, and you will have a stone cacti pot.
7. Rock Art Picture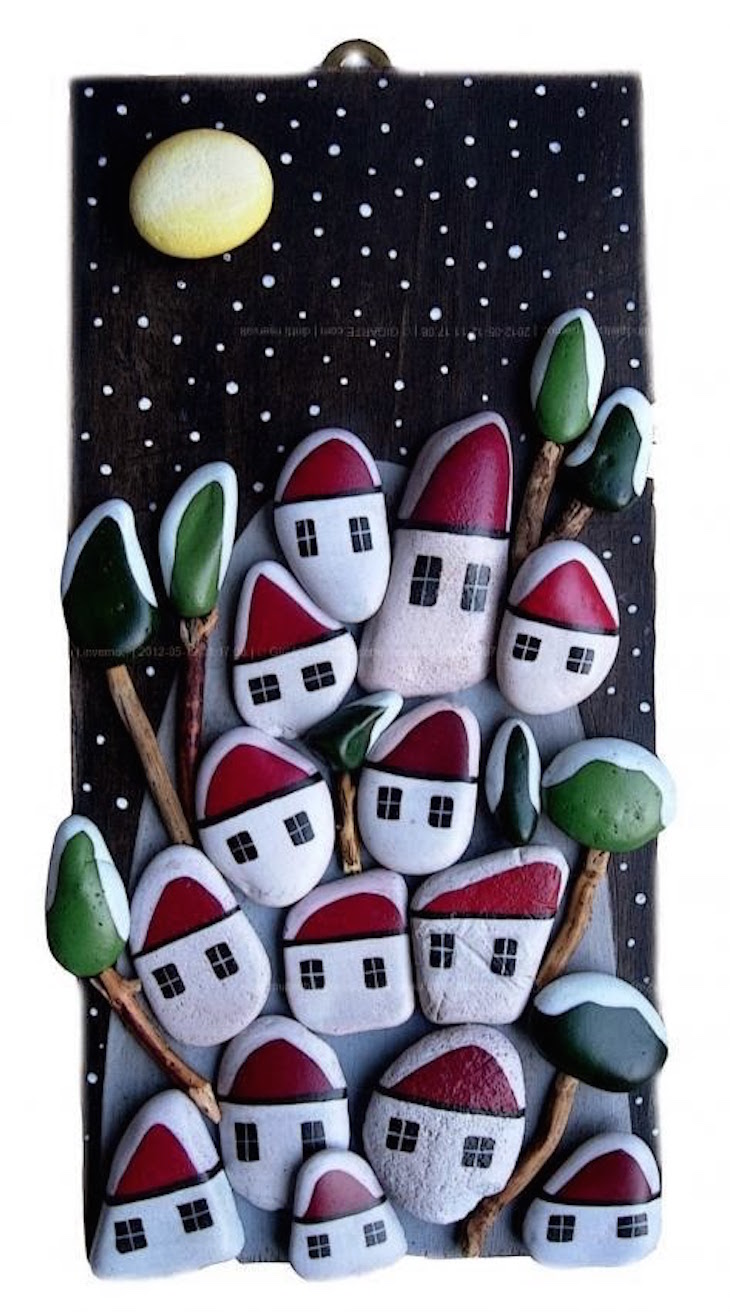 via www.rengezablog.blogspot.com.tr
You can create a unique picture by using only pebbles. Pain them so that you get a similar theme and glue them onto a wooden board. Use strong glue or a hot glue gun to make sure that the stones will stay in place. This is a great way to use the stones that the kids collected on the summer holiday.
8. Rabbit Art Stone
Find a bigger stone similar to the one here. Paint it dark grey or black, and then start with the major lines. Once you have them continue with the coloring and paint the fur with short, fine lines. Use a thin paintbrush to get fine lines. This cute rabbit stone is a larger piece, so it can be used as a doorstop.
9. Funny Monster Faces For Kids
This is a real fun project for kids. They love to make colorful stones, and grandparents love to get them. Glue some google eyes, paint funny faces, and soon you will  have a whole lot of them. Glue magnets on the back and use them as a fridge magnet.
10. Quote Stones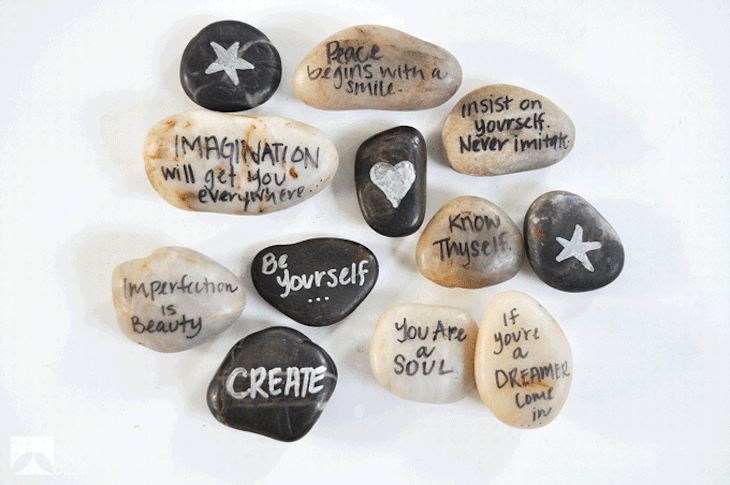 These quote stones are not only decorative, but they are also meant to inspire. You will only need smooth river rocks and fine point markers – white, black, or any other colors you like. Write your favorite quote – each word on a separate stone – and draw small icons on some of them.
Hey!
Suggest us more Rock Art Ideas in the comment box below so we can publish them in our next article.