If you are looking to add a beautiful touch to your home decor, one of the best ways to do so is to bring in more nature.
River rocks are beautifully smooth and are great natural decorating materials. They are durable so that you can use them on your balcony, patio, or in your backyard as well. With their natural color and unique shape, you can easily create a stylish design adding texture and contrast to your decor.
There are many beautiful ways to decorate with pebbles. Here are ten gorgeous DIY ideas that you will love.
1. DIY Bath Mat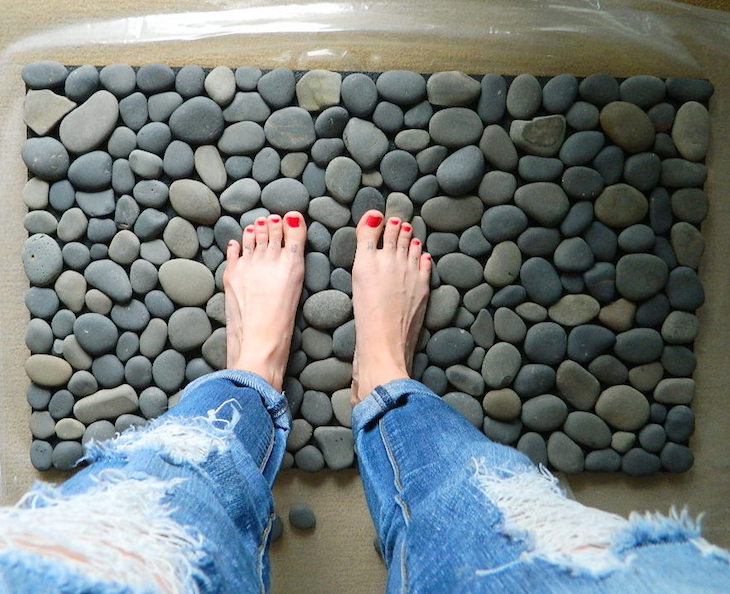 It is easy to create a spa-like bathroom design with this beautiful DIY bathroom mat made with smooth river stones. You will only need porous stones, a rubber mat, a waterproof silicone sealer in the clear, and a plastic drop cloth. Collect some stones next time you are out for a walk or buy some pebbles at your local craft store.
2. DIY Cabinet Knobs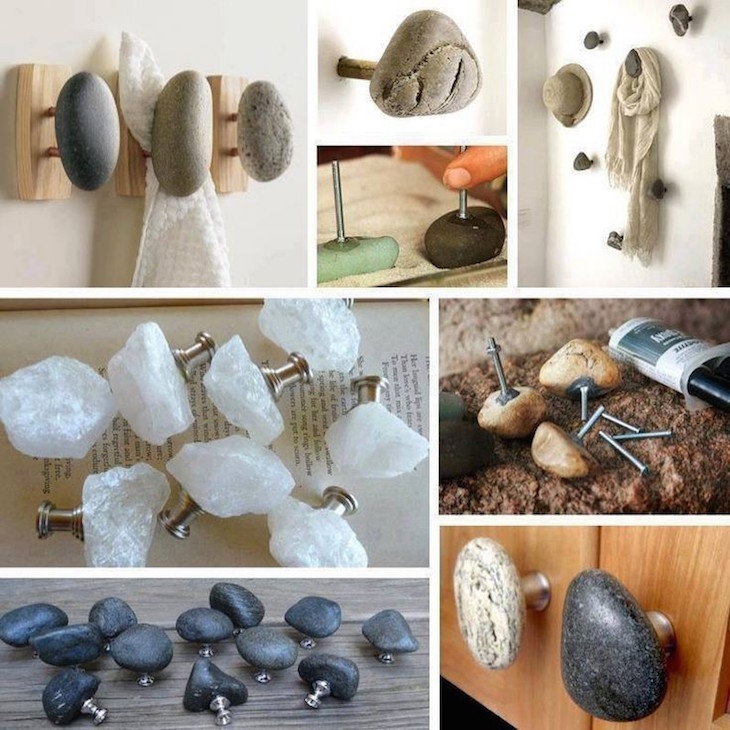 via genialgarten.tk
Rocks or pebbles make great knobs. The best ones are the ones with one flat surface and a rounded top for something to grab onto. You will need some flathead machine screws, a bowl of sand, two-part epoxy adhesive, and lock washers. Click here for a step-by-step tutorial.
3. Pebbles and Succulents Centerpiece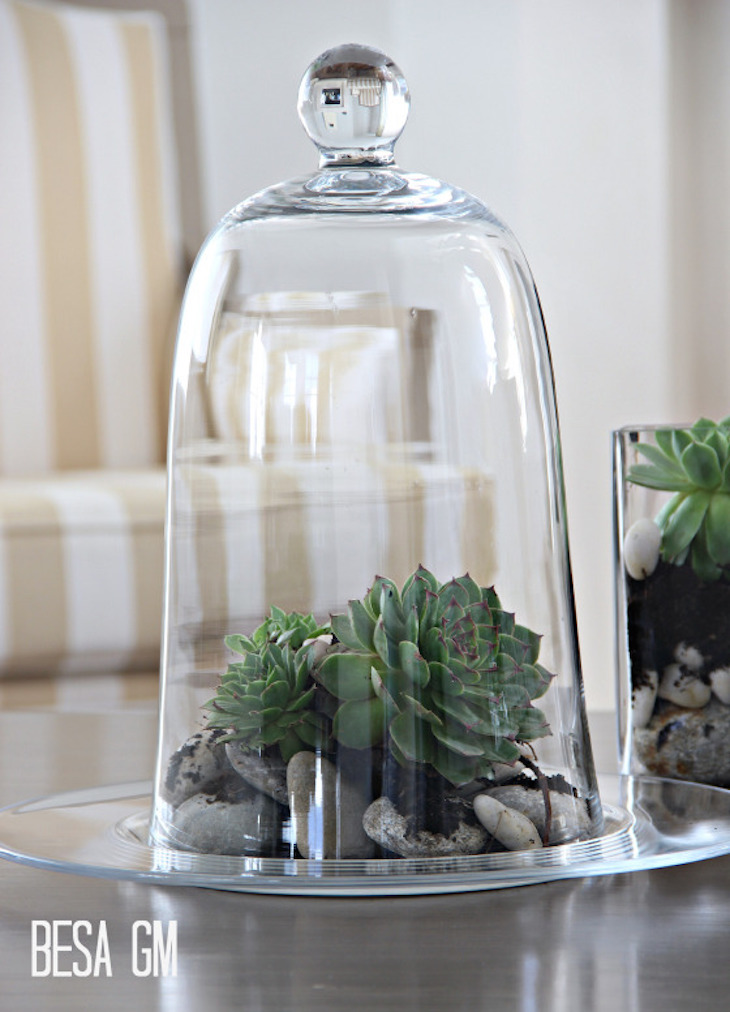 Succulents are super sturdy; they don't need any special care to live and thrive. Combined with river rocks, they make an elegant centerpiece. Select some nice glass vases or plates and fill them up with orchid planting soil, pebbles, and succulents. You can create a bed of rocks that will serve as drainage and at the same time give a very natural look to these centerpieces.
4. Floating Candles and River Rock

This romantic decoration is so easy to make, and yet it is so pretty. Grouped in odd numbers, gather some glass bowls or vases, fill them up with pebbles, and place floating candles on the top. You can place them on a tray of sand, add some faux sea stars or shells or surround them with fresh flowers.
5. DIY Flower Pot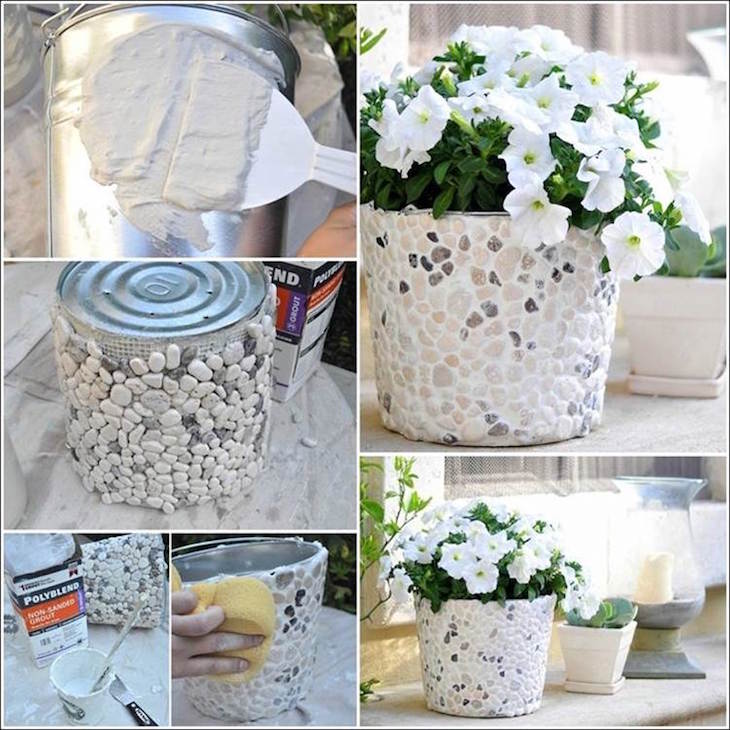 via the happy homes.co.in
Mosaic flower pots are beautiful but can be quite pricey. If you like DIY projects, why not make your own? To make this beautiful stone-mosaic flower pot, you will need grout, a metal bucket, simple river stones, and some patience. Take a look at this DIY stone flower pot tutorial!
 6. Pedestal or Rock Stacks
Rock stacking or rock balancing is an art, but you don't have to be a pro to create a pedestal of river stones. With the help of chicken wire, you can keep the rocks in place. They look very nice paired with logs that add more texture. How about making them for your balcony?
7. Planter Box with Pebbles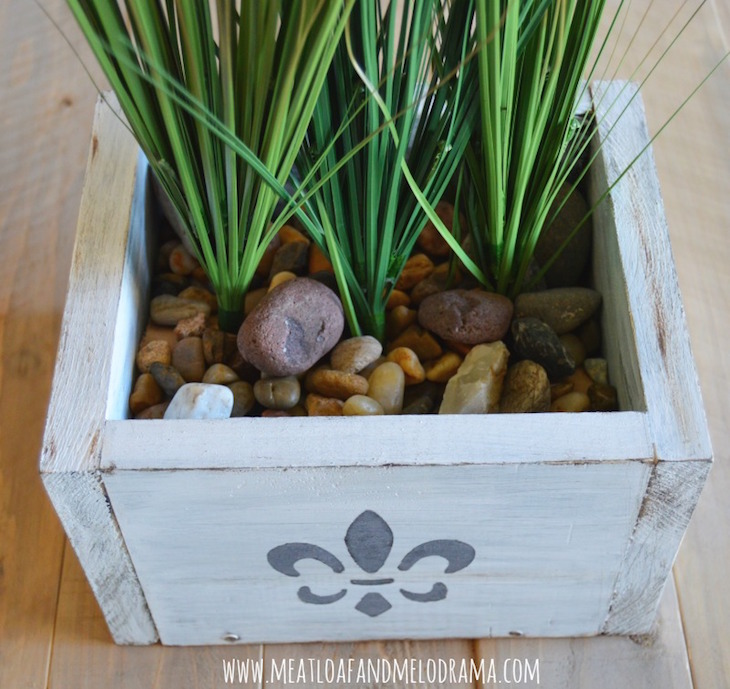 via www.meatloafandmelodrama.com
Wooden planter boxes add traditional style to any home or garden. You can buy them or build them yourself and after planting flowers or greens into them, place some pebbles on top instead of mulch. It's a simple way to add a little more green to the house for spring.
8. Shower Floor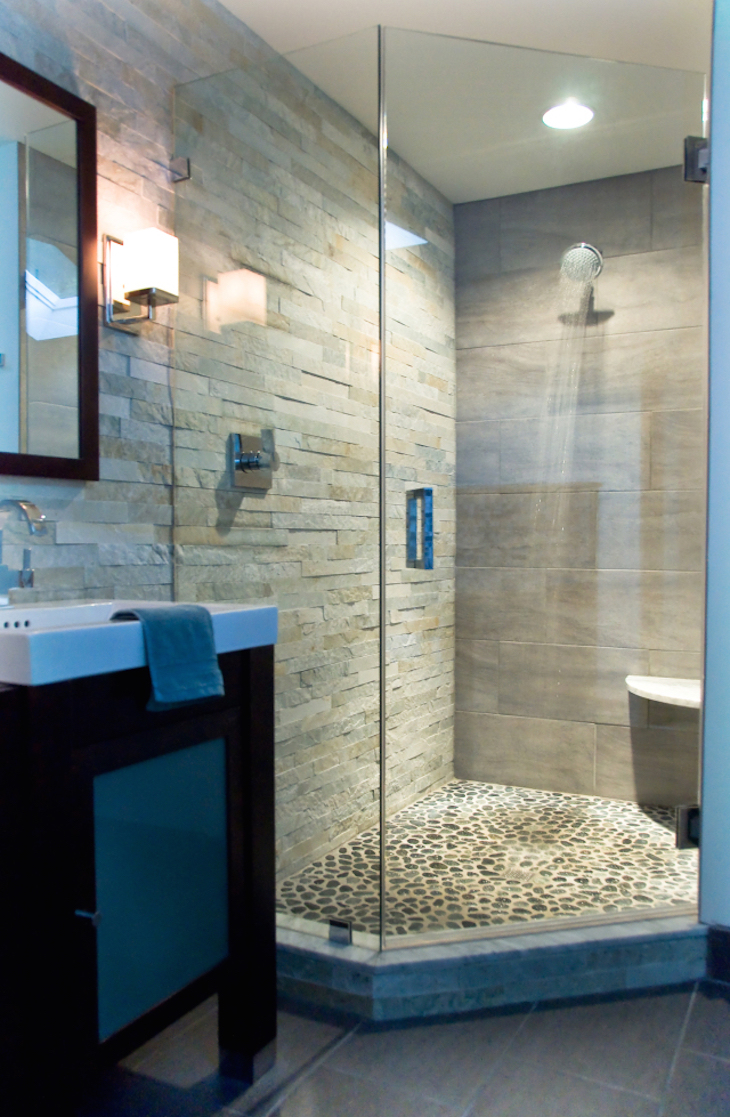 via thelittlegsp.com
The best way to create a spa-like atmosphere in your own home is to add natural stones to the interior. This is not a simple project, but if you are thinking of refurbishing your bathroom, it's a great idea. The shower floor covered in smooth black river rocks is beautiful, and the stones feel great under tired bare feet!
9. Pebble Placemat or Trivet

Similar to the pebble bath mat idea, you can make pebble placemats and trivets as well. The DIY Pebble Trivet requires only some pebbles and a couple of other household items. It will be the cutest thing in your kitchen once you have it. Click here for a detailed tutorial.
10. Rock Art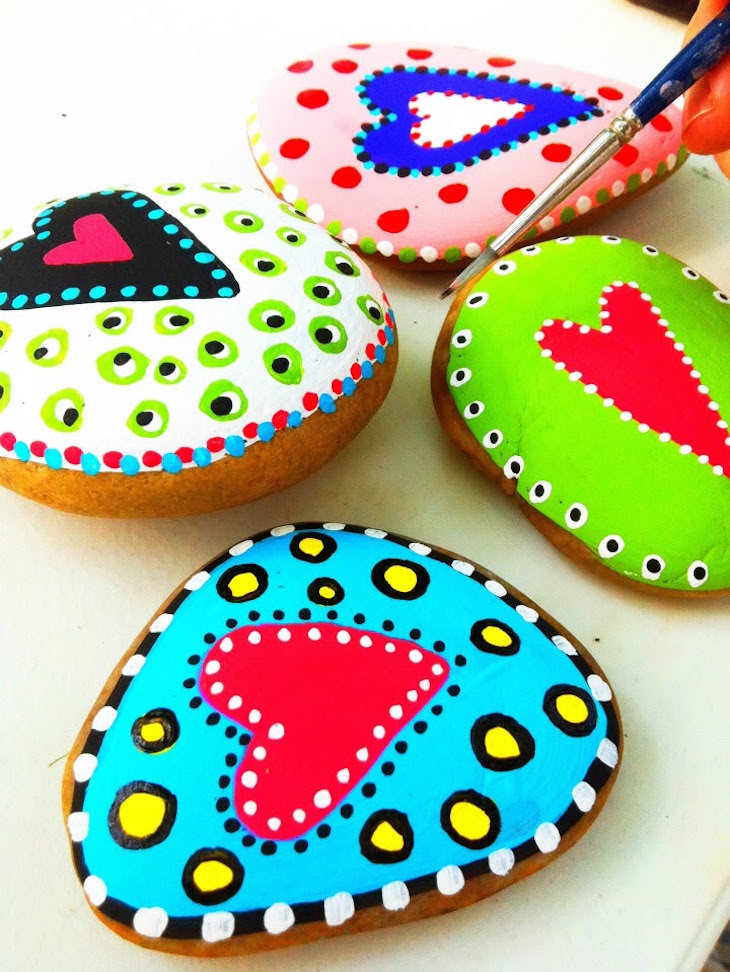 via www.bloomingonbainbridge.com
Collect some pebbles on your next walk near the river or the beach and use them as a canvas for painting. The smoother it is, the easier it will be to work with. It is an enjoyable craft that helps you to switch off your mind. And if you have kids, it can be a perfect DIY project for the chilly days.