Spinach, this nutritious, leafy green is loaded in fiber, iron, vitamins A, C, K1, calcium, and folic acid. You'll find potassium and magnesium too. It may also benefit eye health, reduce oxidative stress, help to prevent rather complicated illnesses, and reduce blood pressure.
This super leaf is hailing from central Asia! Including spinach as part of your daily eating habits is vital for a healthy lifestyle. So, Popeye up so to speak! You'll find below greats ways of incorporating spinach in superb dishes.
1. Wilted Spinach Salad with Chevre and Pecans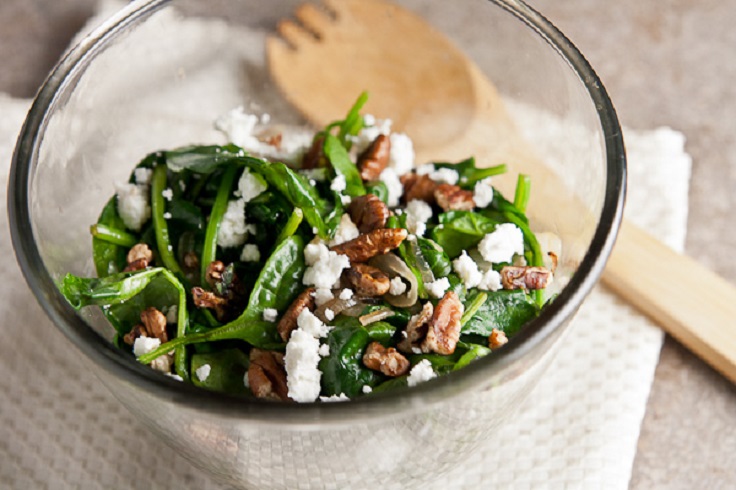 Recipe via healthy-delicious.com
Wilted spinach with goat's cheese and pecans became a bit of a classic and has a strong household name. It a simple yet pure delight. Fresh goat's cheese from the cheese market or from your favorite cheesemonger and organic spinach is a must to really make something rather extraordinary. This can be enjoyed as a side to a fish or meat dish, as a starter, or even as a main course for those wishing to lead a healthy lifestyle. Delicious with nut oil drizzled over the finished salad.
2. Seared Salmon with Sesame Bok Choy and Spinach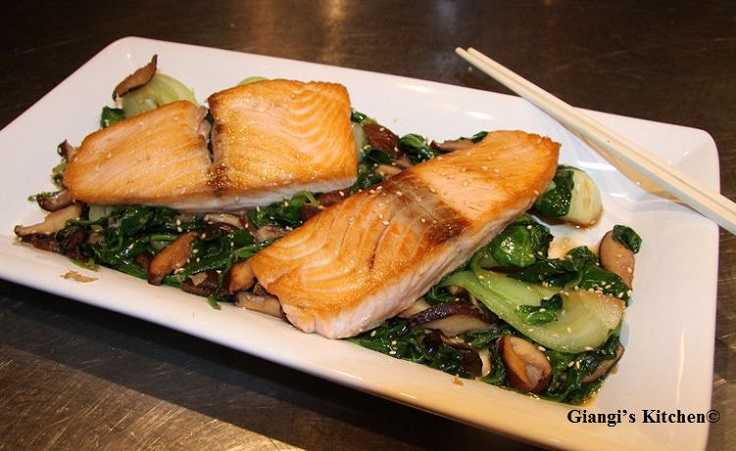 Recipe via foodista.com
A great Asian green leafy vegetable so therefore indisputably perfect served with bok choy and a fresh piece of salmon from the fish market. Takes minutes to make and from a flavor profile, this will really waken your taste buds. Children will love it too. Great as a family dinner to get everyone excited to eat their greens. Sprinkle sesame seeds white or black on top of your finished dish and drizzle in a little sesame oil. Get your chopsticks out and start your nutritious intake.
3. Egg Sandwich with Wilted Spinach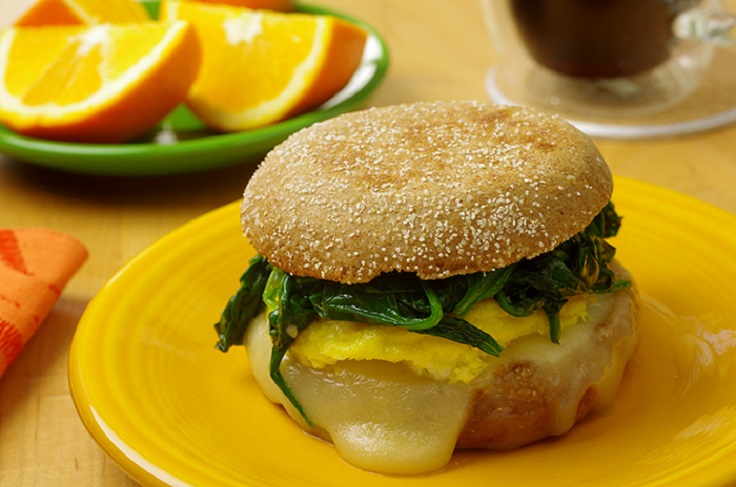 Recipe via kitchenwindow.net
Fancy morning breakfast? Wish to impress your other half by waking up 20 minutes early to make something memorable and easy to do? The famous egg sandwich just got a makeover! Wilt spinach, a little butter or olive oil (for the health-conscious), little seasoning – a minute or so, and you're literally done. Scrambled or a simple sunny side up egg and you'll be ready to fight the day.
4. Gluten-Free, Casein-Free Scallops with Bacon & Spinach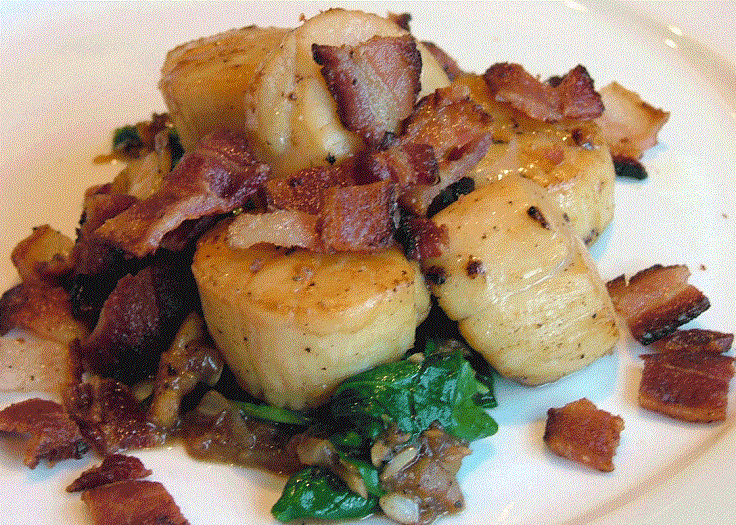 Recipe via stockpilingmoms.com
Too often we find gluten in our foods which could also contain sugar. Here's a perfectly healthy way to enjoy spinach without it. Served with one of the most delicious products – scallops. This can be enjoyed without bacon for added healthiness or simply for those trying to cut meat out. Another spinachy dish perfect both as a starter or as a main course. Tasty low carb meal for lunch or dinner is difficult to refuse.
5. Balsamic Portobellos with Wilted Spinach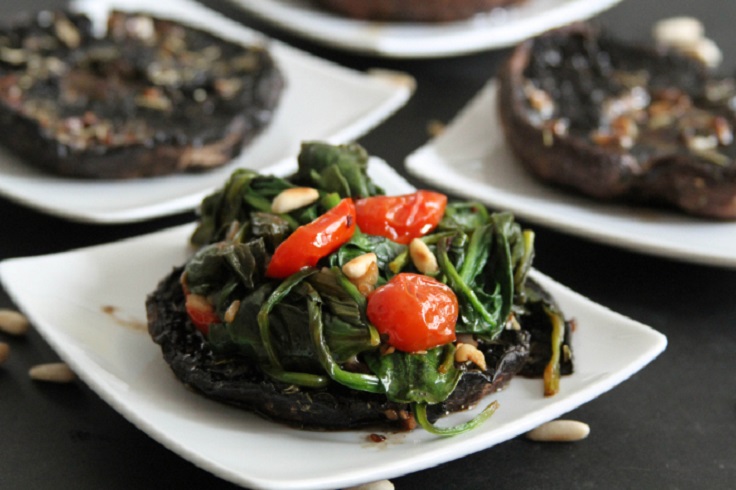 Recipe via supercook.com
Something Italian but you don't fancy pizza? A super vegetarian dish right here. Meaty big Portobello mushroom pairs spinach incredibly well. Roast pine nuts and cherry tomatoes and top it all up together. If time permits, reduce balsamic with a little sugar in a pan and create a balsamic glaze. Drizzle on your finished plate and serve.
6. Corn Spinach Recipe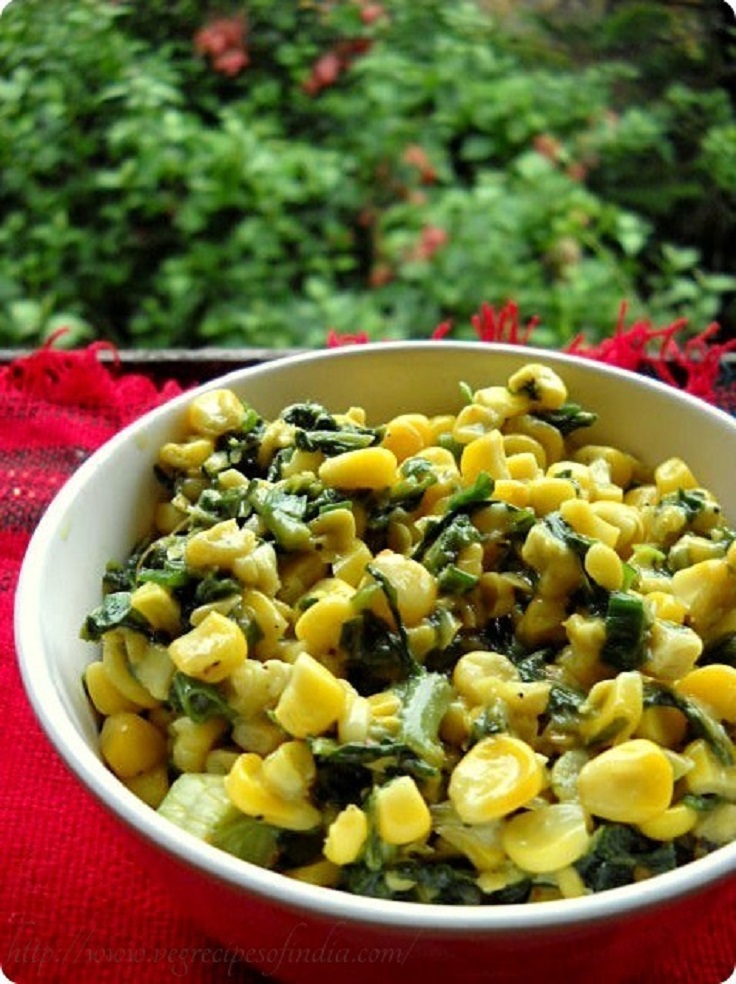 Recipe via vegrecipesofindia.com
One-pot cheesy spinach and corn warm salad ring a bell? This recipe can not only be served as a delicious entrée but also great as a filling for Mexican inspired wraps, as a side dish or even with a side veggie soup. Mixed with scallions, spices, and cream cheese it is packed with flavors. A great dish that will not take you hours in the kitchen.
7. Creamy Gnocchi, Butternut Squash, and Spinach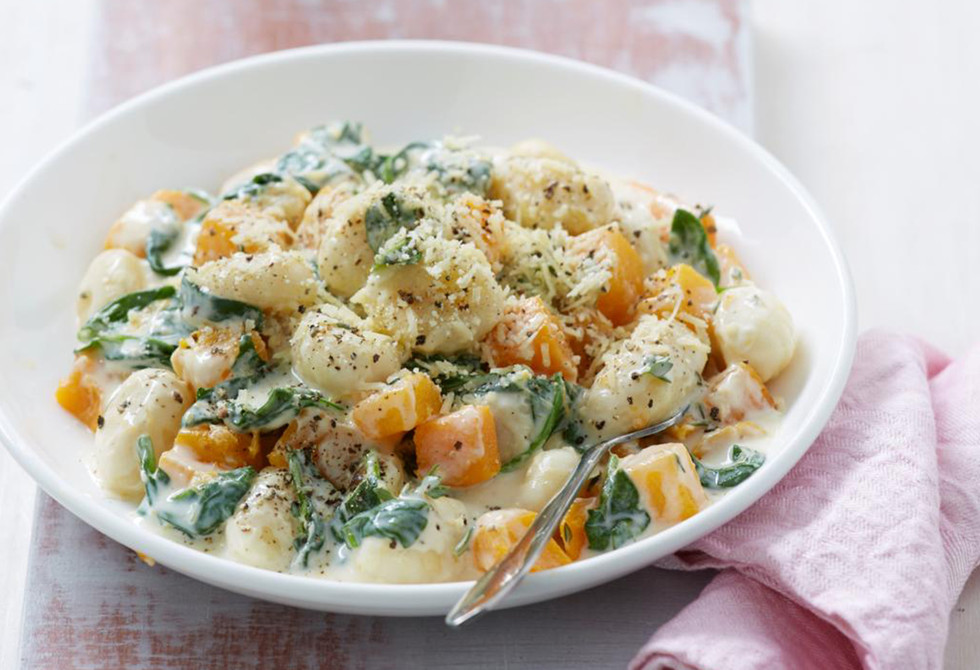 Recipe via newideafood.com.au
Pure indulgence is this gnocchi recipe. Everything beautiful nature has to offer in terms of harmonious foods complementing perfect one another. Gnocchi, sweet butternut, and spinach. A gastronomic and flavorsome dish fit for a king. If you're watching your carb intake stay away. But if you fancy a cheeky off day from the gym on a rainy day, this really is worth the extra mile on your next run!
8. Steakhouse Creamed Spinach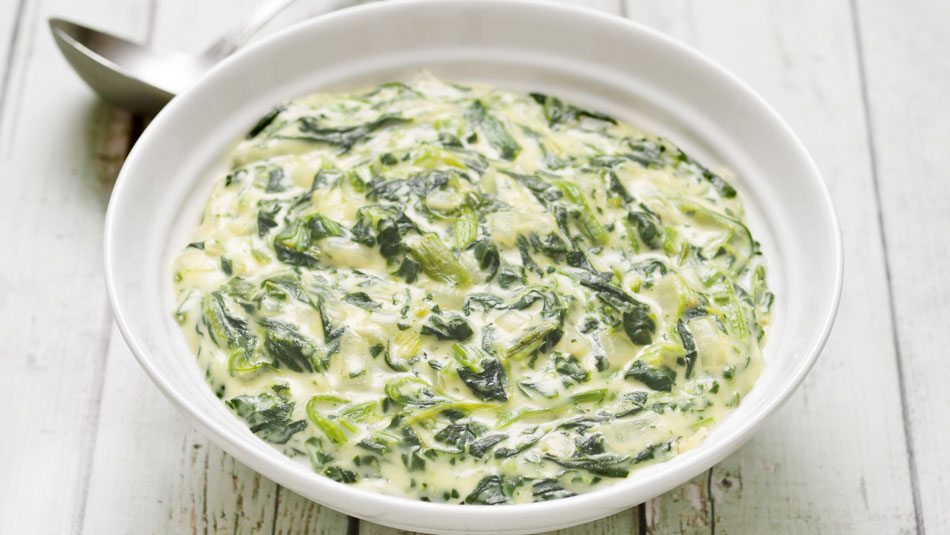 Recipe via cocinamarie.com
A classic side dish with your steak whatever cut you might want to opt for. To make creamy spinach use double cream, a bit of garlic, a bit of spinach until wilted this will make a terrific side to a meal. Can be enjoyed with a thick slice of country bread and again, a great way to make us and your children eat their greens. There are no words for how delicious this tastes!
9. Fettuccine with Chicken, Goat Cheese & Spinach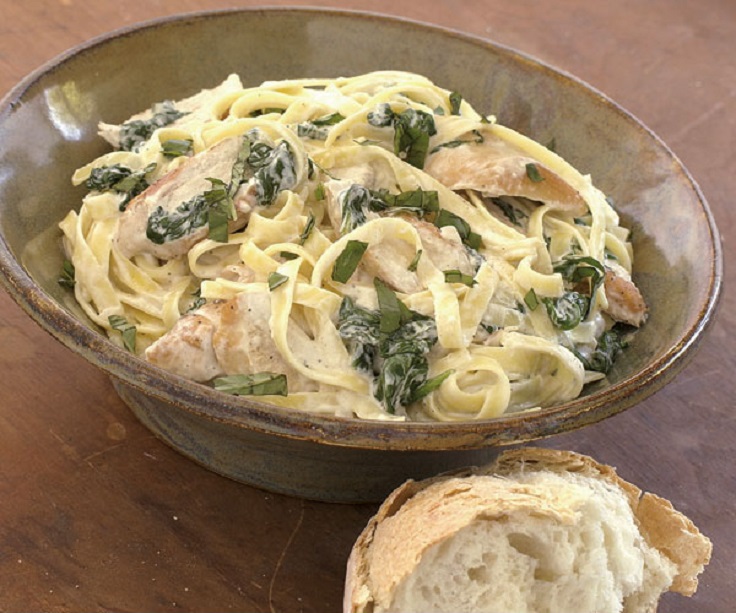 Recipe via finecooking.com
One might argue that for an Asian leafy green a lot of Italian-inspired dishes are using spinach as one of their main ingredients. It's fabulous in so many things. It's really delicious with roasted chicken and goat's cheese fettuccine. Can be turned into a vegetarian dish by leaving out the chicken. You could even replace this with broccoli for added nutrition to your dish.
10. Shrimp, Asparagus, and Spinach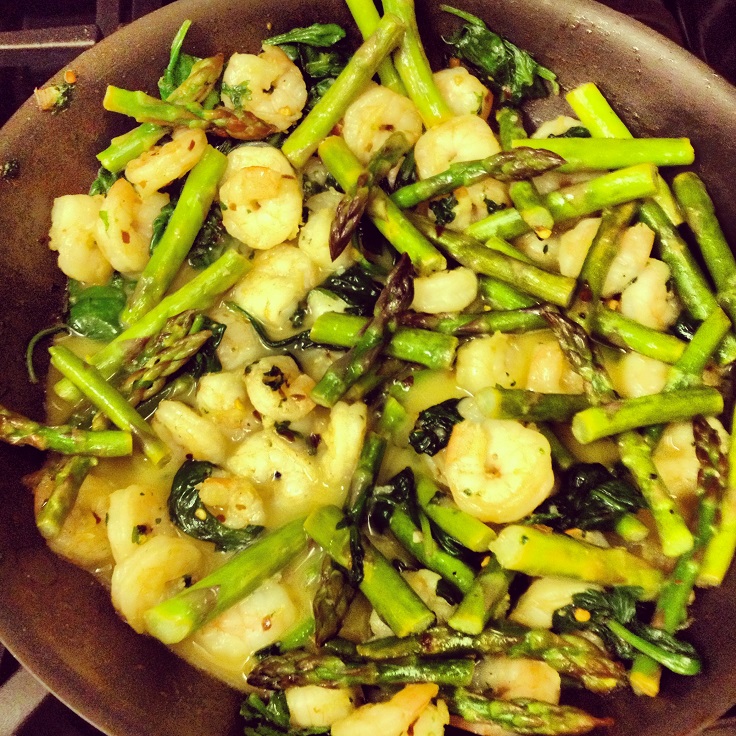 Recipe via fitgirl7.wordpress.com
Nothing beats a late-night dinner date with a healthy spinach inspired dish. Best enjoyed when the green asparagus are in season with great garlic, sautee the fresh shrimps, and a nice little drop of white wine that eventually will serve a great purpose with the meal once on the table! Fresh, simple, and easy to do.