Sweet potatoes don't take much time to prepare and cook. There are hundreds of different ways to make something delicious with these delightful potatoes rich in complex carbohydrates, dietary fiber, and beta-carotene.
From casseroles, pies, soups, baked and stuffed sweet potatoes with whatever you want to burritos and various salads. We made a list of the top 10 recipes made with sweet potatoes, and we would like to share them with you. I hope you are gonna like them. Bon appetite!
Baked Sweet Potatoes Stuffed with Feta, Olives and Sundried Tomatoes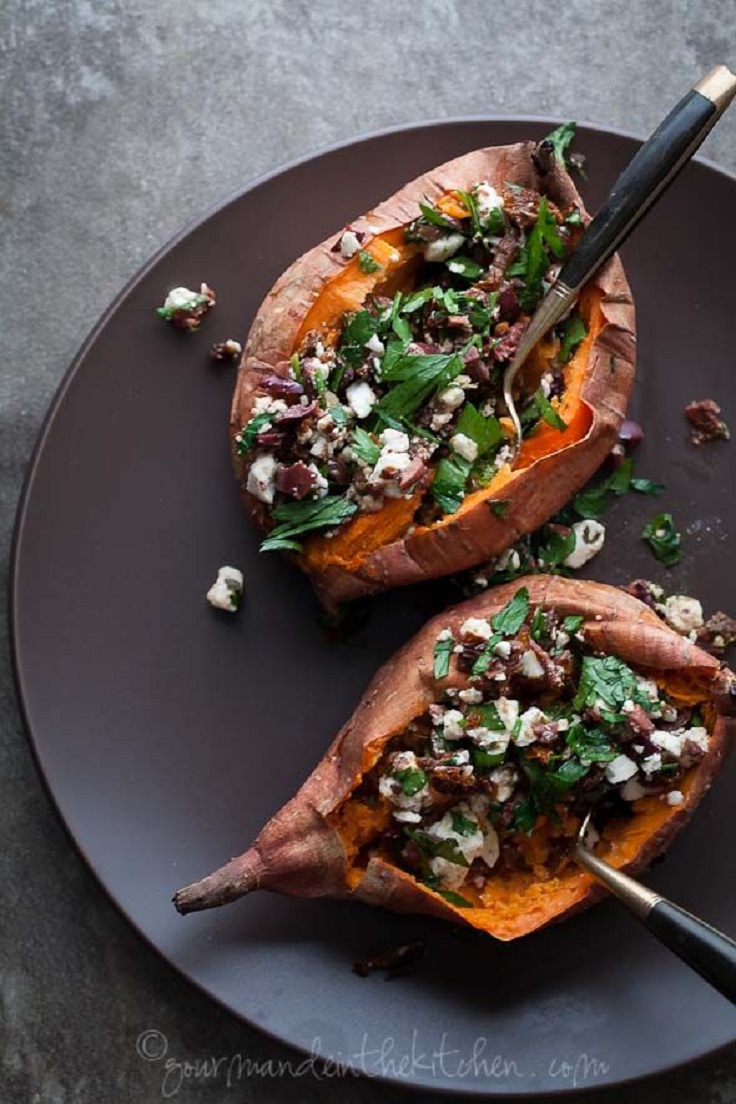 These filled baked sweet potatoes are Mediterranean style because of the ingredients they are stuffed with (feta, olives, and sun-dried tomatoes).
Sweet Potato Salad with Coriander and Lime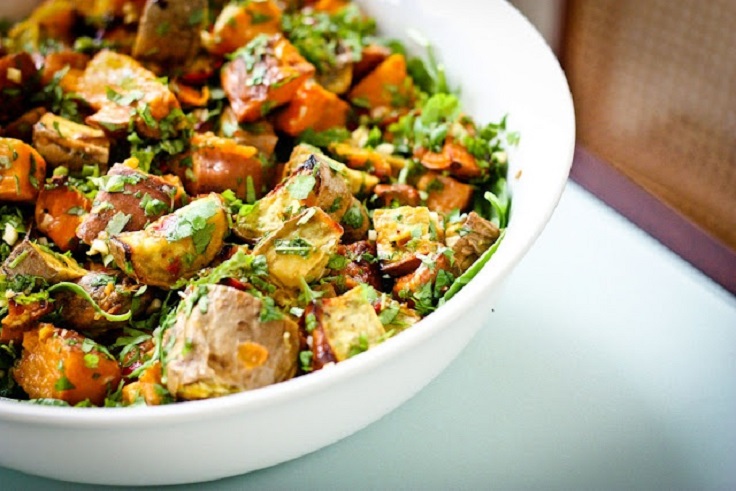 All potato salad tastes great, but this is one of our favorites. The lime dressing gives the salad a fresh taste and wrecks the sweetness from the potatoes.
Smokey Sweet Potato Fries with Cashew Aioli
Sweet potato fries are healthier than the regular ones. In 30 minutes, you'll have a plate full of soft and succulent fries you can serve with spicy cashew aioli sauce.
Sweet Potato Sriracha Noodle Soup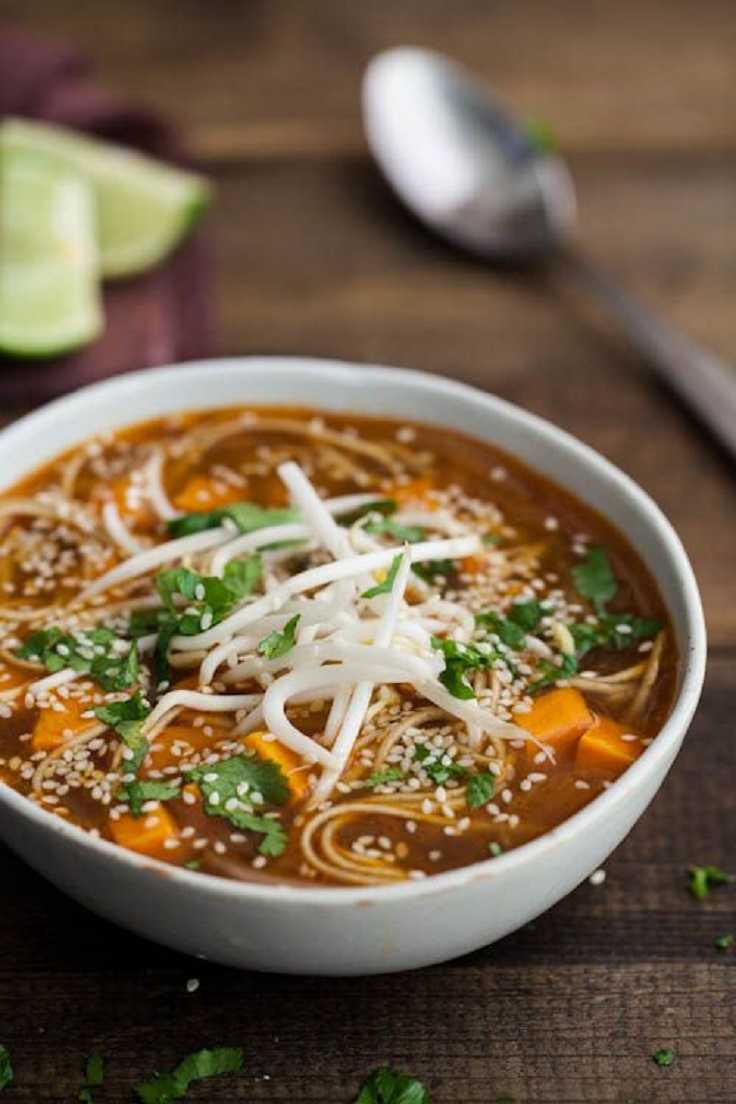 Are you a sriracha soup lover? Well, this is just another version of this divine soup. Add sweet potatoes, and you'll see how much you will enrich the taste.
Sweet Potato (vegan) Alfredo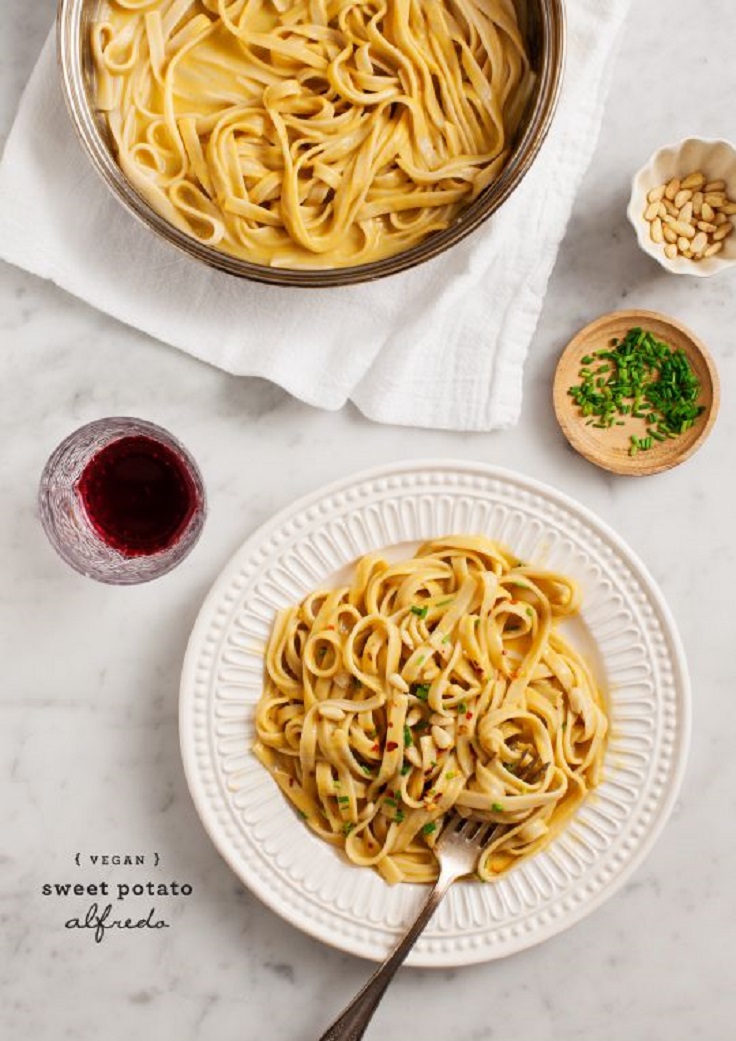 Chicken Alfredo, zucchini Alfredo, and many others more? But have you ever tried sweet potato Alfredo? There is no mistake in this one at all.
Sweet Potato Quinoa Patties
At first sight, you may think that for making these patties they'd be a fair amount of work in the kitchen, but they are so easy to whip up, and the time they take to make really lies in waiting for a sweet potato to bake and the quinoa to cook.
Sweet Potato and Black Bean Enchiladas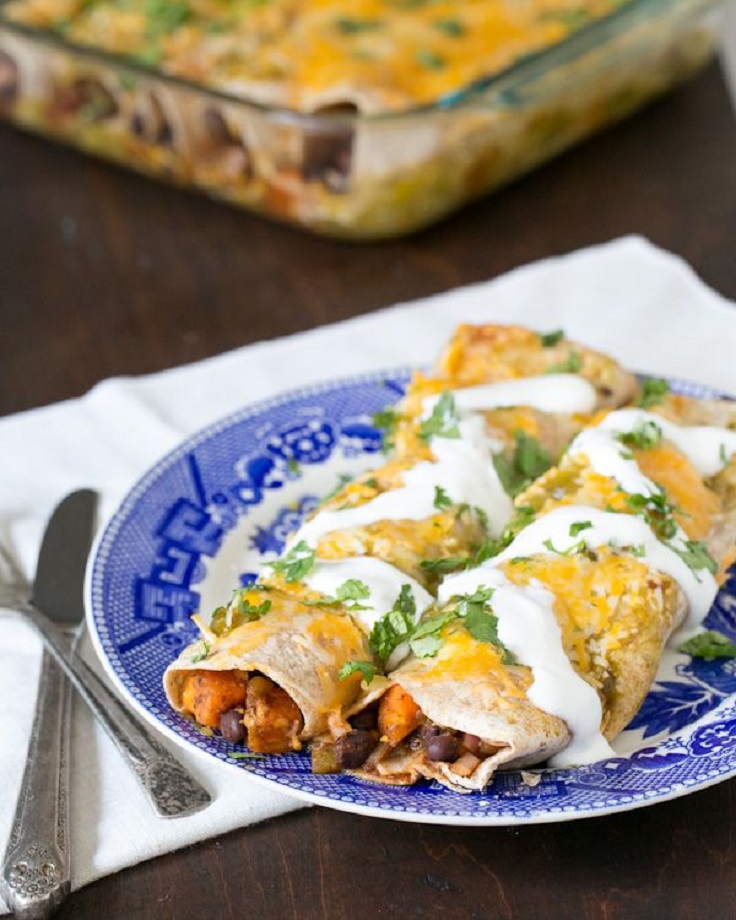 via acouplecooks.com
If we could, we would eat enchiladas every day, day, and night. These are special because they are filled with sweet potatoes, besides the black beans and the sauces we usually put in.
Sweet Potato Gnocchi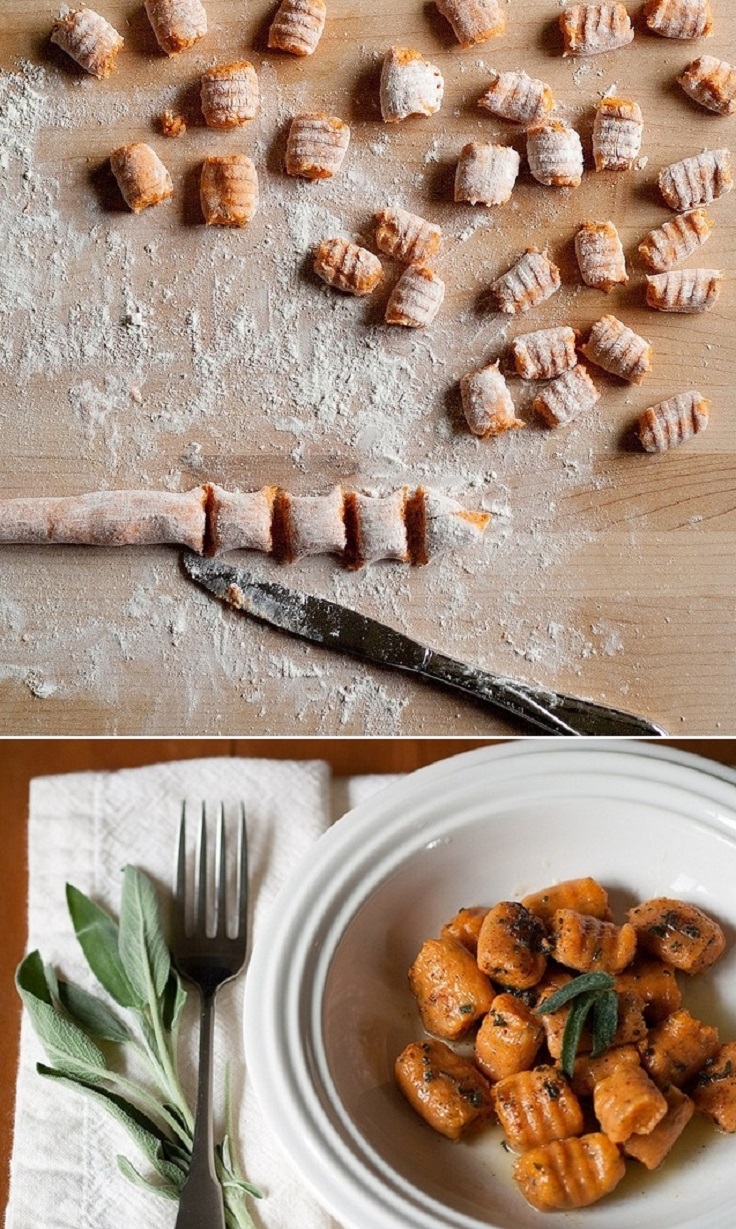 via beyondramen.net
Gnocchi? Yes, please, always! But wait a minute. These are not pasta; these are sweet potato gnocchi. And we prefer the same combination: four-cheese sauce for this delicious gnocchi.
Sweet Potato and Caramelized Onion Shells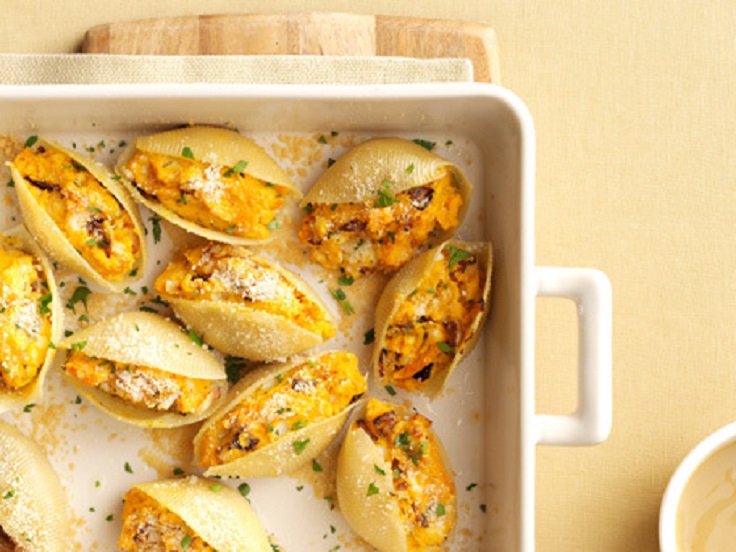 What do you say for pasta shells stuffed with sweet potato, Gorgonzola cheese, Parmesan cheese, and ground meat (optional)? We will let you try first, then share your opinion with us.
Smoky Sweet Potato Burgers with Roasted Garlic Cream and Avocado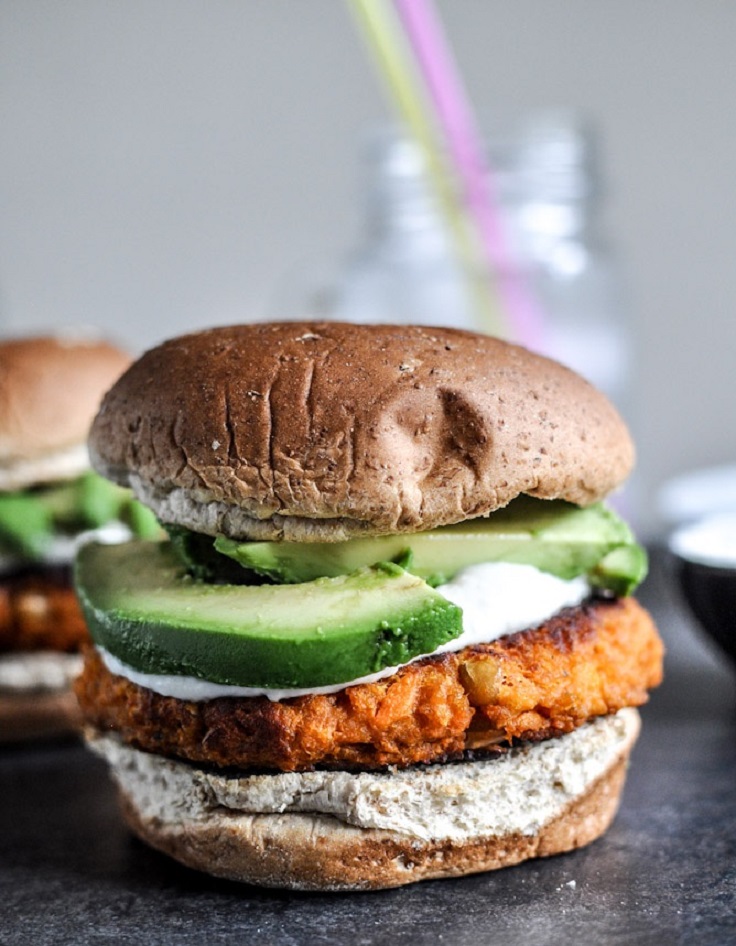 via howsweeteats.com
If you are a burger lover, this is a great alternative to all kinds of meat burgers. This is composed of sweet potato, avocado, and roasted garlic cream. Delicious!