It's a shame to throw out the orange pill when you are finished eating it because there are so many fun and interesting ways to use it for fun DIY projects. Here you can find our top 10 ideas that will blow your mind!
Did you know that you can make a candle, mosquito killer, bird feeder, and much, much more just from the orange peels?
Yes, we are amazed too! Read this article and find great inspirational ideas to bring a little orange aroma to your home and make things look a lot fresher and creative. Eat those oranges that wait for you on the table and get busy with these straightforward and cool projects. Have fun!
Orange Candle

Make this amazing orange candle in a few seconds! You need to cut the orange into two pieces and remove it (read: eat). The removal is easier if you use a sharp knife and dig out the middle, starting with the edge closest to the outside of the orange. And the last part is to fill it just above the center with any oil (vegetable or olive, for example). There you have the light!
Orange Peel Rose
via tollupol.es
Follow the easy steps of the picture above to create decorative orange peel flowers using only a knife. This way, you can make unique decorations for your table and surprise everyone with your creativity.
Jell-o Oranges
Bird Feeder
via patentpendingprojects.blogspot.com
Leave some food for the birds that like hanging out in your yard by making this cool and comfortable bird feeder. Make those little fellas happy!
Clove Orange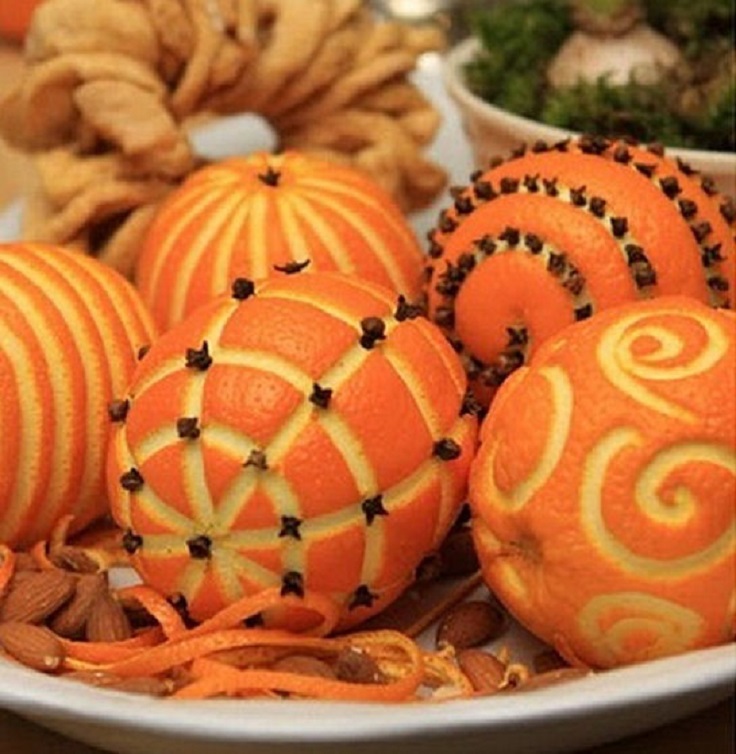 via livetpaabudsjett.blogspot.com
Great idea for your Christmas table, or every other occasion, no matter if it's family dinner, regular lunch, or leave it on your home bar. They look great and allow you to express yourself and show everyone your fantastic sculpting skills.
Cupcake in Orange
Make these delicious cupcakes that look incredibly yummy and cool in those orange peels! The link below the photo will take you to the actual recipe that will definitely leave you speechless!
Centerpiece
Another great home decorative idea that is super easy to make and looks so fancy and refined. This centerpiece is so easy to make, and you can use it for every occasion; it looks great for the wedding day, celebrations, or just for decoration in your home. All you need is a vase, orange as much as you think that you want, and water.
Mosquito Repellent

Such a great eco-friendly and non-toxic way to keep the mosquitos away from your house. With this solution, you will never need to buy refills for your mosquito plug-in ever again.  Use your old plug-in mosquito killer device to place one cut piece from the orange pill and enjoy the nights in the fresh aroma of the orange and the best – without mosquitos!
Potpourri

via iheartnaptime.net
This is a super-easy recipe to make, just put the ingredients in a pot and simmer on low for a couple of hours. All you need for it is fresh cranberries, orange and cinnamon sticks, and enjoy the beautiful smell that will be all over your house.
Whole Dried Orange
Another great way to decorate your table. This is something that everyone can do with ease, and yet it looks so good and creative. Cut lines in orange and leave them to dry in the air, and they will look amazing, just like the photo above.