The women with brown eyes are really lucky, as they can wear almost every color that is out there! Brown is a mix of all the primary colors. If you are opting for a simple and neutral look, you can use the earth colors such as brown, combined with black eyeliner and mascara.
However, if you want your gorgeous brown eyes to stand out, contrast them with hues of purple and blue making them richer and deeper. While the earthy tones like gold and green will bring out the amber in your brown eyes.
Check our top 10 makeup colors suitable for brown eyes women.
Neutral Earth Tones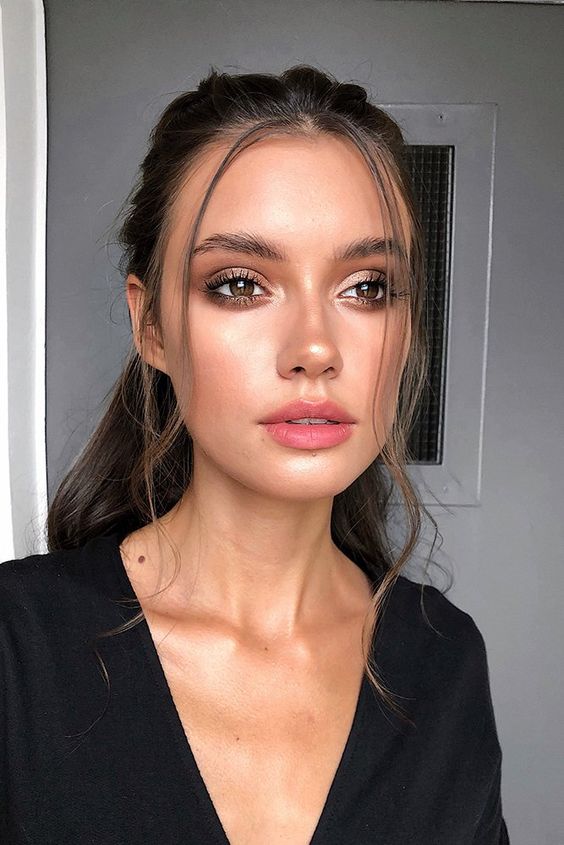 Photo credit to pinterest.com
A good old trick to enhance the brown eyes is smudging neutral tones with warm brown or even copper shadows onto your lash line for a more dramatic look. The earthy contrast will give your brown eyes flashes of green, while if combined with black eyeliner, you are opting for more depth. The other advantage of using neutral colors as makeup is the fact that they match any outfit you might choose to wear. Elegant or casual, so worry not. This one is a safe choice.
Black Eye Shadow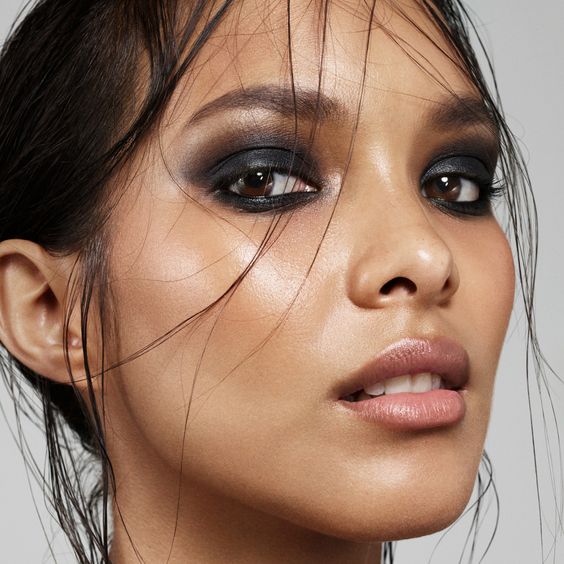 Photo credit to pinterest.com
One of the most wanted makeup looks, especially for evening outings, are the smoky eyes. And of course, for this type of makeup, a black shadow is required. Any eye color can wear this style, not only brown, however, if you mix the black with warm shades of purple or earthy tones. Thus this might be one of the best makeup looks for brown-colored eyes. Finish it by applying black eyeliner and mascara.
White Eyeliner On The Lower Waterline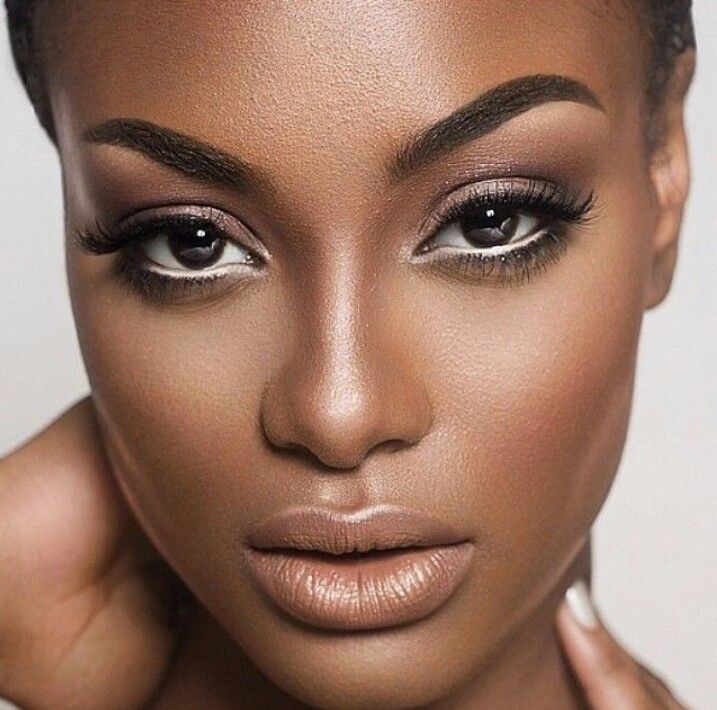 Photo credit to pinterest.com
Many women when it comes to eyeliner use the classic black that has been used for ages. A classic that never dies. The white eyeliner is its poor cousin. However, if you want to make your eyes appear bigger and brighter, use a white pencil on your lower waterline. This will instantly transform your eyes, creating a balanced and subtle eye look. Precisely recommended for women with smaller eyes.
Purple Tones
Photo credit to pinterest.com
The purple shades of eye shadows will bring out the truest color of brown from the iris. Shades from eggplant color for evening occasions, to lavender tones for daytime wear. Purple tones tend to be the best makeup color for brown eyes. Also, the whites of the eyes will appear brighter, making you look fresh, awake, and giving you great soft contrast to your skin. Purple is a winning combination to many professional makeup artists.
Brown Shadow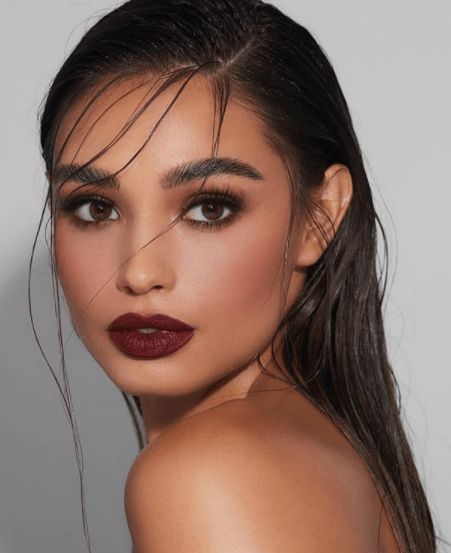 Photo credit to pinterest.com
Although they are the same color, the brown shadow will make your eyes pop and look brighter. While creating contrast is beautiful, a classic way to compliment your eyes is to match the eyes with the eyeshadow. It is a very stylish trend that suits everyone. The light or brighter tones of brown are more suitable for everyday makeup, and the dark brown will create a perfect date night look. This breathtaking combination is a definite must.
Blue Shades
Photo credit to pinterest.com
Bold, navy blue or teal are shadows that are not only reserved for the blue eyes. They perfectly suit women with brown eyes. The blue eye shadow is the trickiest to work with, as it is essential to blend. The blue and brown go well together as they both natural colors, brown being earthy and the blue tones from the sky and the deepest seas. Hazel-colored eyes suit the best with blue hues shadows.
Gold Shadow
Photo credit to pinterest.com
The gold shadow pigment will help your tiny flecks of gold that are present in your brown eyes pop up. Not only will bring warmth but will accent your brown eyes. The gold shadow will allow you to create a rich and glamorous look. It will illuminate your brown eyes for a truly luxurious finish. Makeup that is usually used for the festive seasons and often blended with glitters, or a shimmery look.
Green Shades
Photo credit to pinterest.com
Brown eyes are very neutral so in theory, most colors will suit. Compliment your eyes with green tones shadows, even green pencil will work if applied on the lower waterline. If you have very dark brown eyes and you apply eye shadow with deeper shades of greens, they can look very radiant and glowing. The green shades are very often combined with golden tones by many makeup professionals.
Silver Or Grey Eye Shadow
Photo credit to pinterest.com
Another stape color and a way to create a smoky eye look but neutral are using deeper brownish greys. One more gorgeous shade that can be worn as eyeliner is dark grey. Grey eye shadows can be very flattering and look particularly stunning on brown eyes. If you have warmer brown eyes use light grey or silver tones, as they will give you a mesmerizing metallic look.
Copper And Bronze Shadow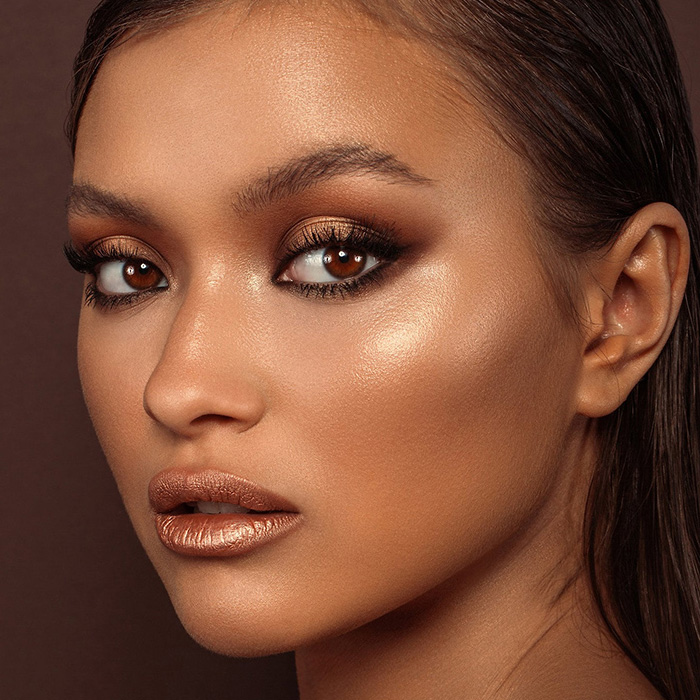 Photo credit to makeupview.co
One of the best alternatives for eye shadow is your bronzer or blush. Try applying your bronzer as an eyeshadow, you will be thrilled by the result. Warm shadows like copper and bronze bring out dimension in brown eyes. Their shimmery shades can be very complimenting. It will highlight your eye color and add texture to your look. These tones can be worn on their own or can be perfect as a base and even blend with darker colors adding depth.