After our families, our homes are our most valuable possessions. That is why we go above and beyond to make sure they're always clean and well decorated. So we usually tend to splurge a bit more on decorations in order to bring a refreshing change to the interior of our homes, but we often end up wondering if we'll be able to pay our bills next month. Hence, the budget-friendly DIY projects.
When it comes to DIY projects in our home, the kitchen is where most of them take place. Some of them revolve around making extra space for our food items and utensils, and some around making it a more homely place to live. Whichever the case is in your kitchen, there are many projects to choose from. What's great about them is that they don't require the hands of a professional, they're easy to make, and you have lots of fun along the way.
As always, to make sure you're inspired for your new DIY kitchen decoration projects, we've gathered the top 10 DIY tutorials that will completely transform the interior of your kitchen with just a few materials and easy steps.
All you need to do is take your pick and get to work!
DIY Glass Window Shelves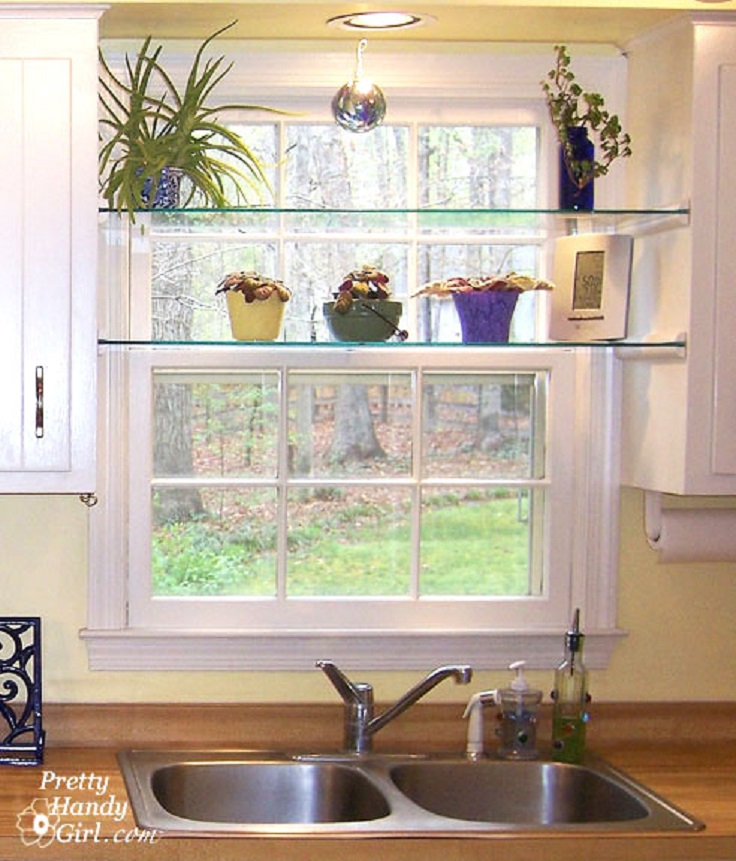 Are you slowly starting to form a garden in your own house and feel as if you've run out of storage space to put them? You can beautify your kitchen by making them a place to grow by the window, where they will receive the necessary sunlight. Simply follow the steps from this tutorial that will teach you how to make glass window shelves.
DIY Plate Rack
Have you ever been to someone's kitchen and caught yourselves admiring the rack for their fine china plates? Regardless of whether you have china plates in your own kitchen, a good rack putting your regular plates on display will make them more precious than they actually are. So, check out this tutorial and get ready for some kitchen transformation.
Functional Kitchen Island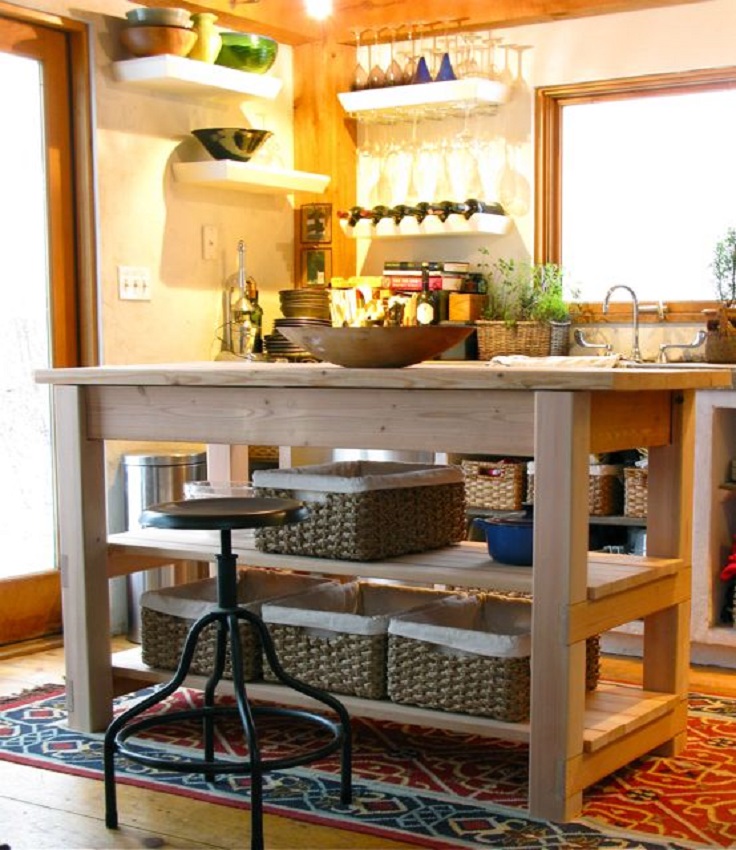 We all know that every kitchen needs an island. Whether it is to create more storage space or simply have a larger table for your magnificent dough recipes, it is very much needed. If your kitchen still lacks one, then follow the steps from this tutorial to find out how to build a wooden island like this.
Large Tile Trivet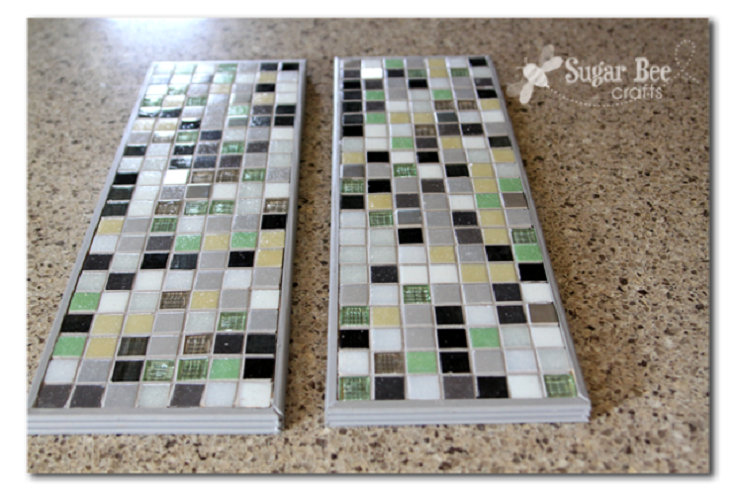 If you're looking for something fancier than your regular food trays, then this is the perfect DIY project for you. These trivets are not only beautiful to look at but they're made out of tiles, which will perfectly withstand the heat from the food.
Rustic Industrial Chalkboard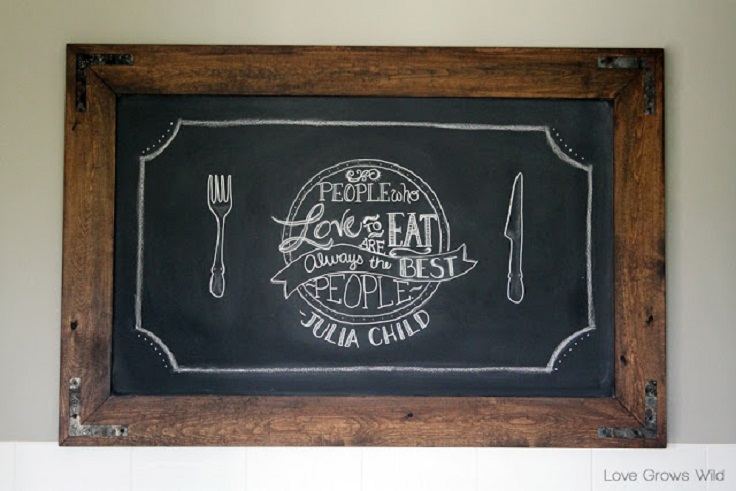 We all know the chalkboards on the walls of our favorite cafes and diners. They're filled with the day's specials, famous quotes, and funny anecdotes. They're one of the reasons why those places are our favorites. If you've wondered how it would be like if you have a little signature something hanging on your kitchen wall, then give this DIY and your craft skills a chance.
Stamped Tea Towels
So, you've made your new towel rack, but your kitchen doesn't yet have that feel of a renovated space. It takes a little to make a change in your space, so why not try to spice up those plain white kitchen towels. Simply stamp a few designs onto them and you'll have some brand new colorful towels.
Vertical Herb Garden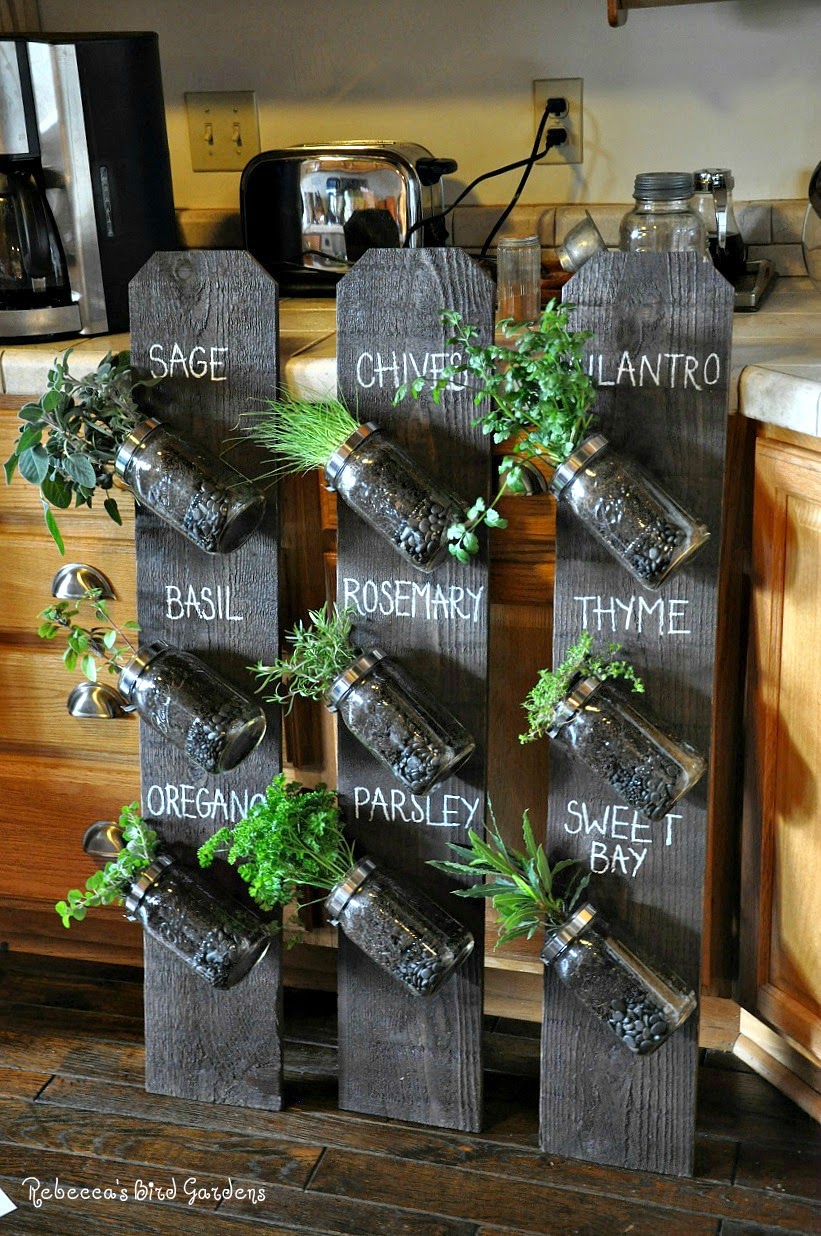 This is an interesting way to take up gardening if that's something you hadn't been interested in until now. Instead of buying herbs from the store, why not start growing some in your own kitchen? That way you'll always have some fresh ingredients for your recipes and bring a bit of nature into your home.
House Shaped Shelf
Shakespeare had a play within a play. You can have a house within a house. Make some storage space for your cups of mugs by building a house-like shelf, so they will truly feel like home.
Gold Painted Silverware Mason Jars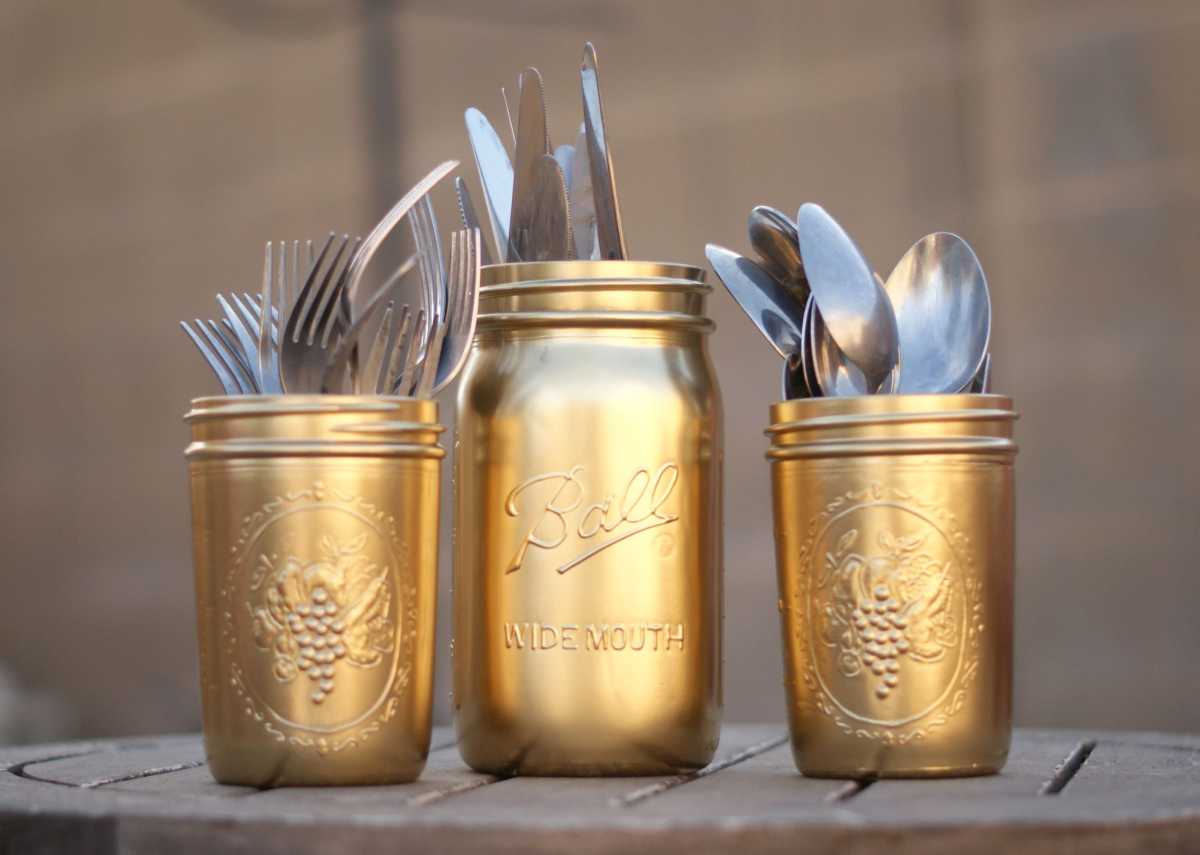 It's true when they say that you can never have too many mason jars. The more things you have in your kitchen, the more mason jars you need. Simply paint a few mason jars to give them a fresh new look and you'll solve all your storage room problems.
Mini Pinboards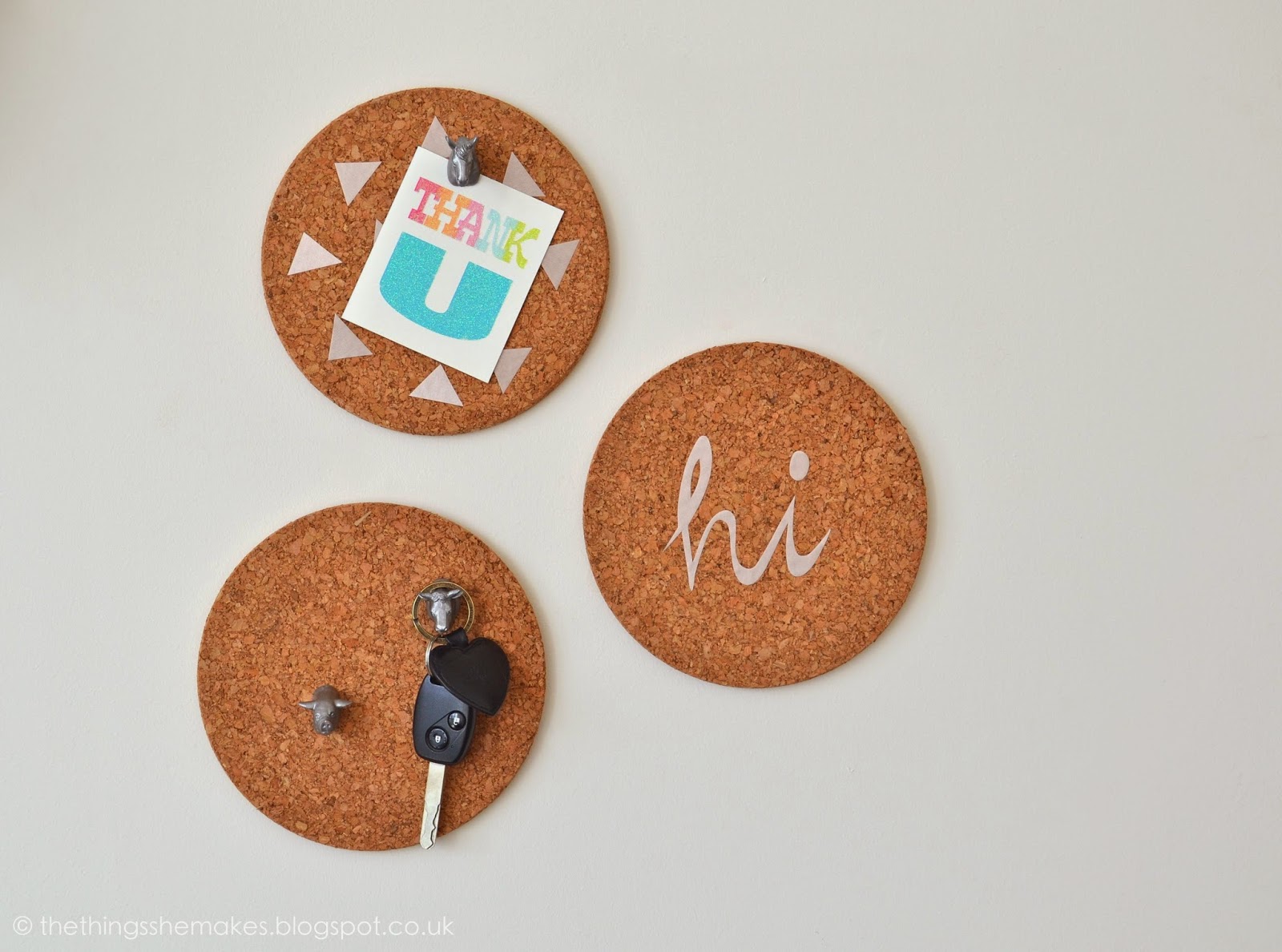 Corkboards have always been a necessity in every household. They're mostly used in the kitchen or the kids' bedrooms, but they are often big and take up a lot of space. If you agree and want to opt for multiple prettier small pinboards instead of a large one, this project is just for you.
This is is for today's article on the top 10 decorative DIY projects for your kitchen. We hope you've found what you've been looking for to transform your kitchen. If so, let us know in the comments below. Until next time, have a nice day, fellow DIYers.