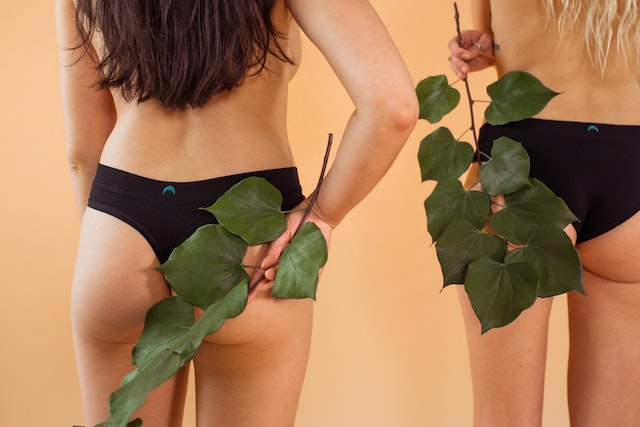 Gone are the days when women's undergarments consisted of balloon-like, puffy bloomers and chastity belts.
These days, there is an impressive variety of different styles and fits as well as a seemingly endless selection of fabrics, colors, and designs and here are the top ten different styles of women's underwear to know.
1. Thongs
First up, thongs are the 'love them' or 'hate them' styles of underwear and for some women, thongs are the only style of underwear they ever wear.
The main advantage is that any notion of a visible panty line (VPL) is never a worry with a thong.
2. G-Strings
The thong's even leaner friend, the G-string, is essentially an extremely narrow piece of fabric attached to a thin waistband.
G-strings are the smallest possible style of underwear and are often either a lace-blend or made of cotton.
3. Second Skin Briefs
Far more comfortable than the aforementioned thongs and G-strings, second skin womens briefs still eliminate the awkward potential visibility of a line showing under your trousers or dress.
Offering soft, comfortable support and full coverage, such briefs are the ideal choice to go with any outfit.

4. Boxers
Ladies' boxers are a relatively new addition to the market.
Ideal for workout sessions and gym bunnies, boxers come in a wide variety of different colors and fabrics and are ideal for women who lead a physically active lifestyle.
5. French Knickers
French knickers are an item of women's lingerie, which are most prominent in Australia and Great Britain.
Usually made from either lace or satin, French knickers cover most of the bottom and the top part of the upper thigh.
6. Cheeky Shorts
Cheeky shorts, as the name implies, are shorts in underwear form, which only cover the top half of the buttocks.
Usually from a cotton or lycra blend, cheeky shorts also often come with a slogan or logo emblazoned across the back.
7. Bikini
Bikini briefs are, as the name suggests, inspired by their swimwear counterpart.
Bikini knickers sit low across the hips and are characterized by a particularly high leg, which makes them perfect when wearing shorts or miniskirts.
8. High Waist
High waist briefs, also referred to in fashion magazines and online shopping catalogues as control underwear are centered around the simultaneous provision of comfort and confidence.
Control briefs are often the best choice to sit underneath a tight-fitting dress or bodycon skirt.
9. Hipster Briefs
Hipster, or Brazilian, briefs are currently and indeed always have been, a top underwear choice for the fashion-forward female.
Hipster briefs sit just below the waist and fit neatly along the hips, which makes them the ideal choice to wear with low-rise jeggings and jeans.
10.  Full Briefs
Finally, in the aptly exact opposite of the first style of women's underwear on the list, the last design of panties is that of the full brief.
Choosing a full brief will afford you complete coverage and the highest level of comfort, with full briefs ranging from below the waist to above the navel.