How can you not love succulents? They are cute, versatile, and oh so easy to grow. You can see succulents everywhere, as home decor, wedding arrangements, favors, etc.
Succulents come in various shapes and colors, so you will never get bored of getting new ones, arranging them, and suing them for fun DIY projects. Try making your own cute planters, unique centerpieces, pretty wedding favors, or even a living wreath for your door.
Projects involving succulents are usually easy to make and budget-friendly. To inspire you, we have selected our favorite 10 projects with succulent plants. We are sure you will find your own favorites between them or at least get inspired to think of a fun way to DIY with succulents.
DIY Succulent Pineapple Planter

via linesacross.com
This beautiful, vibrant pineapple planter is made with air dry clay. You will also need a terracotta pot, water, paper towel, yellow paint, paintbrush, potting soil, and of course – succulents. Once you gather everything, dust off the pot and start putting the air clay. Don't worry – the clay is easy to work with and very soft. Don't try to make it smooth, as a more bumpy look will resemble a pineapple even better. When done, let it dry overnight, paint it yellow, and use white paint pain draw the lines.
DIY Hexagon Succulent Planter Box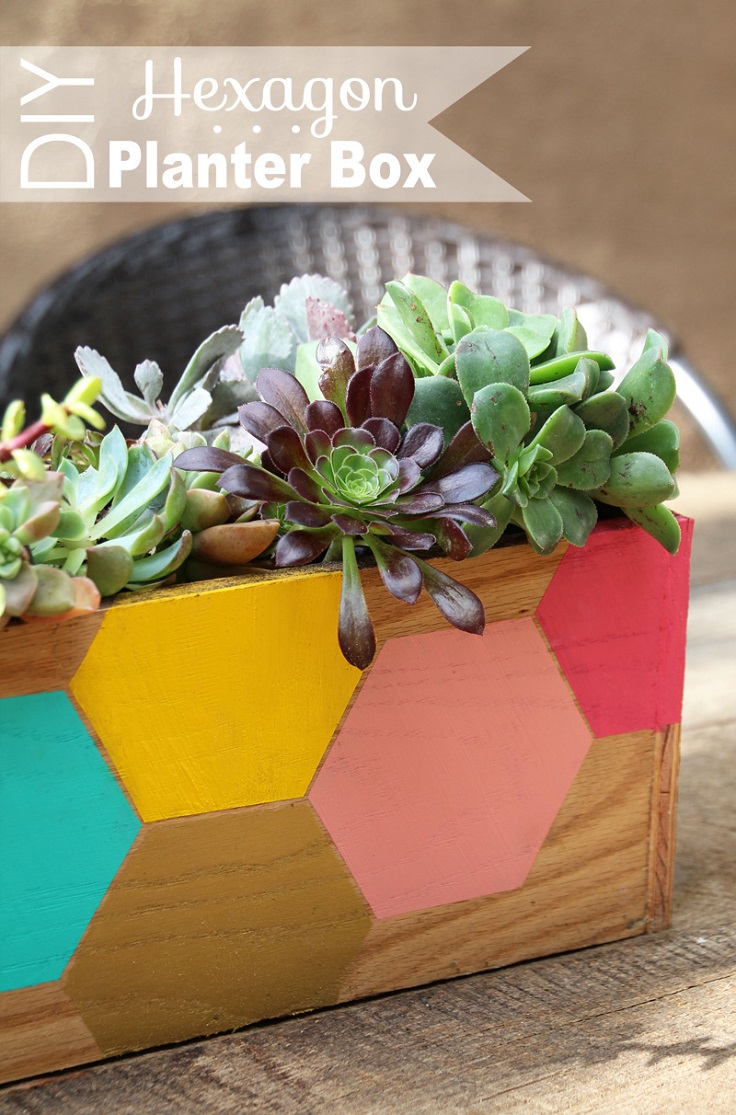 If you are looking for a new centerpiece, here is a great idea of creating one by yourself. The pop of color on this hexagon planter box is so perfect for the spring. To make it, you will need a wooden planter box you can build or buy, a basic hexagon outline on cardstock, and vibrant colors. When the planter is ready, plant some succulents and enjoy your new centerpiece.
DIY Succulent Garden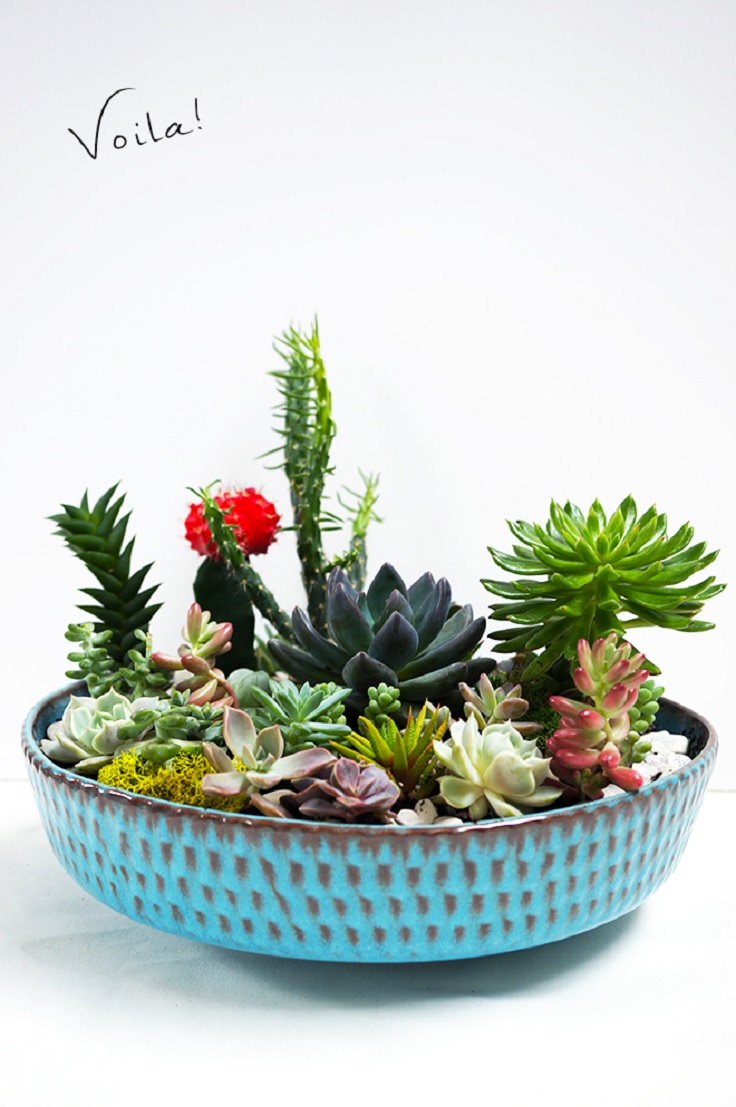 Making a succulent garden is easy. Choose your favorite succulents, a planter you like, prepare potting soil as well as some rocks, and start planting. We recommend arranging the succulents in the planter first so you can make sure you like the way they look. Don't forget to put some rocks on the bottom of the planter to ensure water drainage.
DIY Succulent Hanging Gardens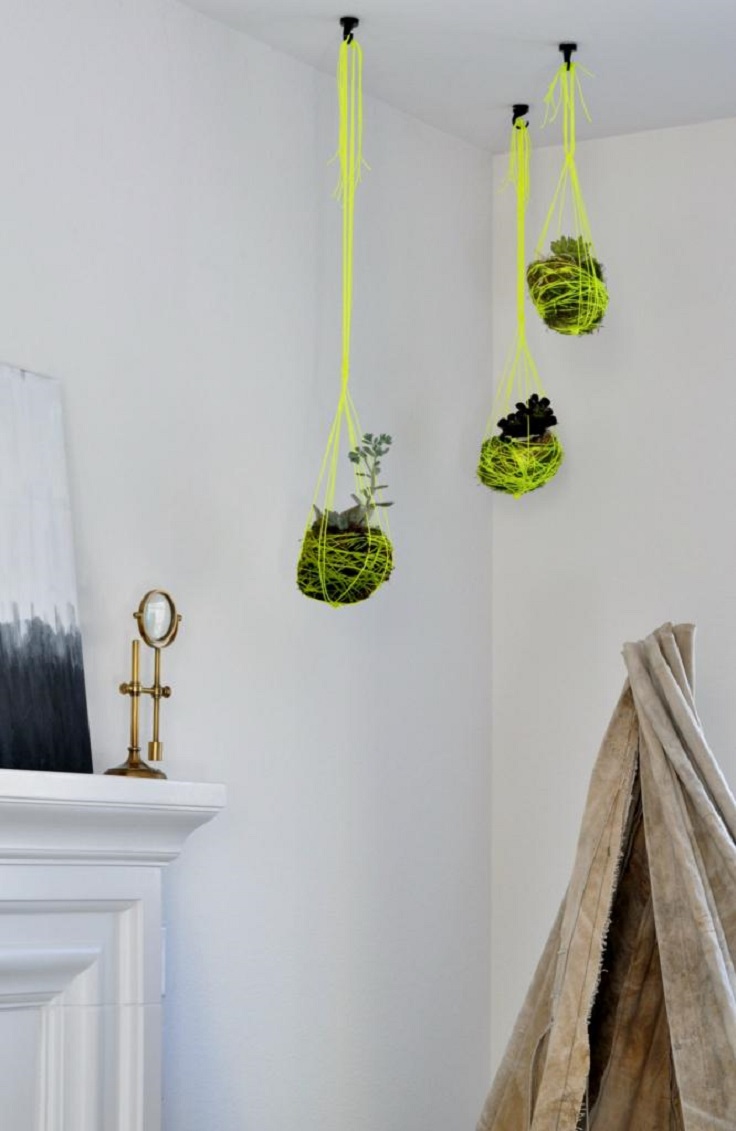 via ext.homedepot.com
Here is a unique project that will be a true challenge for all of you succulent lovers. To make these fabulous succulent hanging gardens, you will need various succulents, sheet moss, twine (plain and neon), hangers, a ahead screwdriver, a knife, and a large bowl. The moss will be used as a kind of a bowl, a planter. This is not the easiest project, and you will have to be very careful with making the hanging gardens, but the final result is stunning.
DIY Succulent Birdcage
via crookedhousewife.wordpress.com
This succulent birdcage makes a wonderful wedding decoration. Although it might look complicated to make it, it is actually an easy project. You will need a birdcage that opens from the top, succulents, potting soil, scissors, weed barrier fabric, and some rocks. Easy and effective.
DIY Succulent Wedding Favors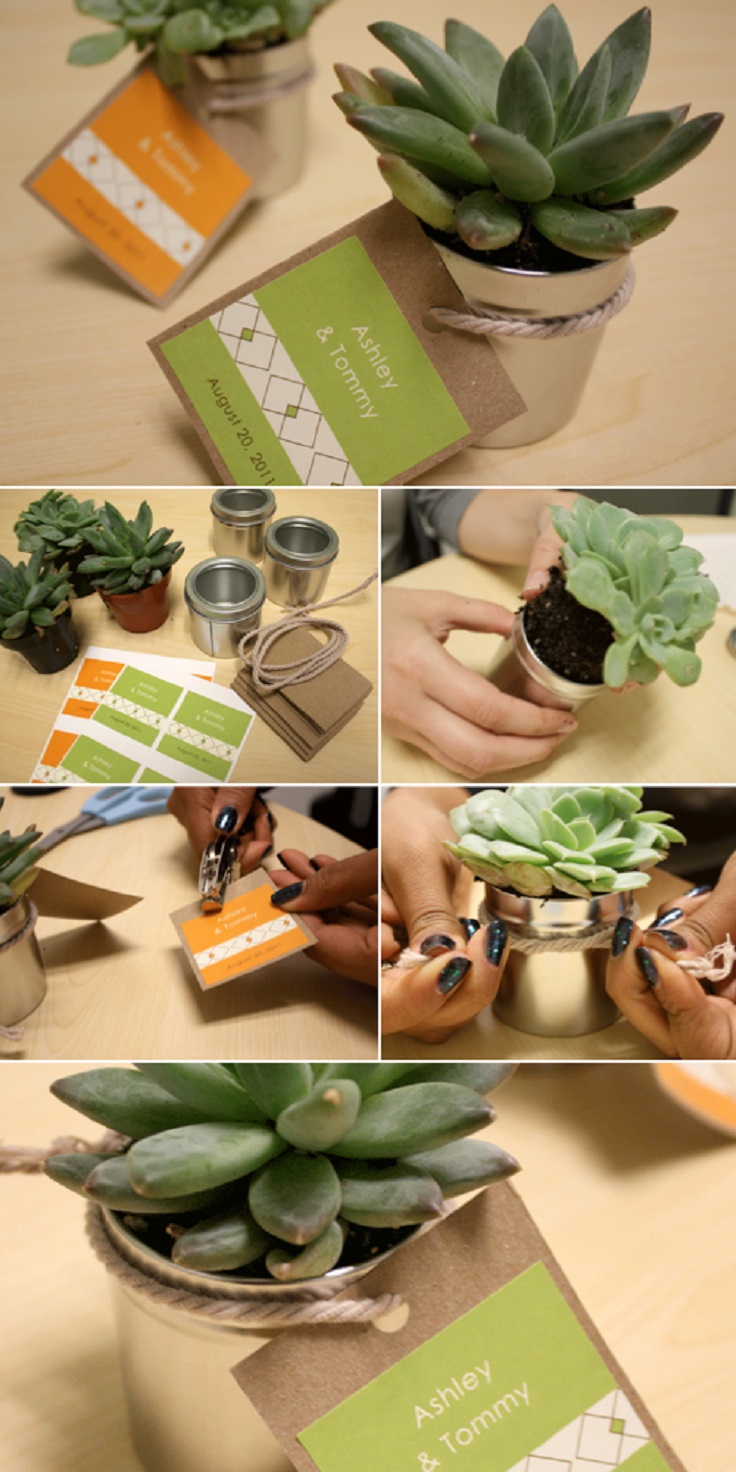 With succulents being so trendy, why not make succulent favors for your wedding or shower? You can use them as cute place card holders as well. To make them, you will need to purchase small succulents, containers based on your wedding theme, card stocks for the tags, twine, or ribbon. Now get creative!
Eco-friendly Succulents Centerpiece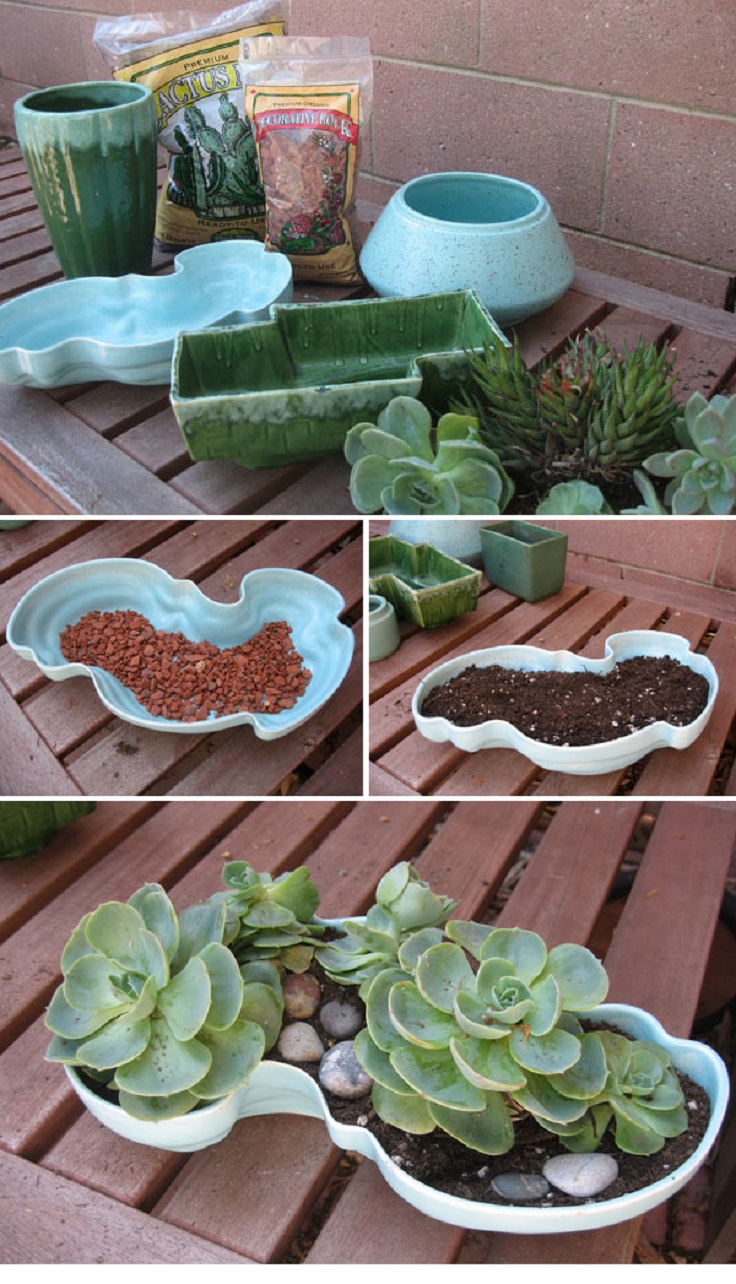 via ruffledblog.com
Make this beautiful and economic centerpiece by planting cute succulents in various thrift store planters. Choose shapes and colors you like. We recommend choosing vintage planters for a unique effect. Use gravel in the bottom, then add potting soil. Plant the succulents and add some rocks as a decor to hide in the soil. Voila!
DIY Living Succulent Wreath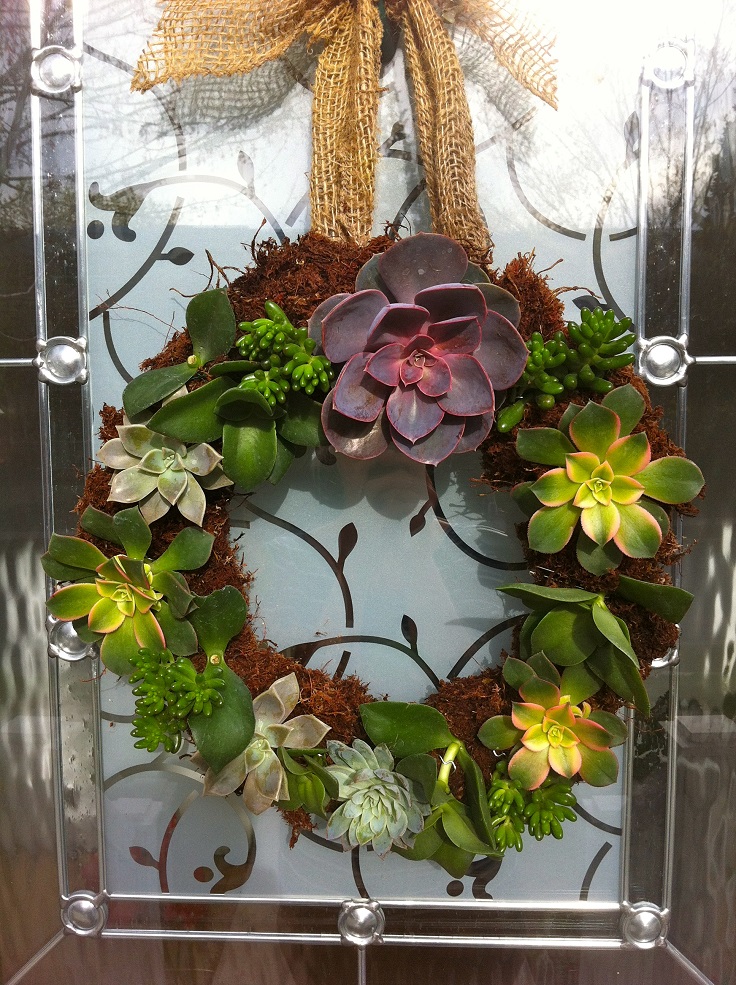 This succulent wreath is easy to make and will make a beautiful decoration on your door. To make it, you will need a wire wreath frame, sphagnum moss, floral wire, floral pins, and of course, various succulents. When you have everything prepared, just follow the step-by-step tutorial, and you will have a beautiful living succulent wreath.
DIY Stamped Clay Succulent Pots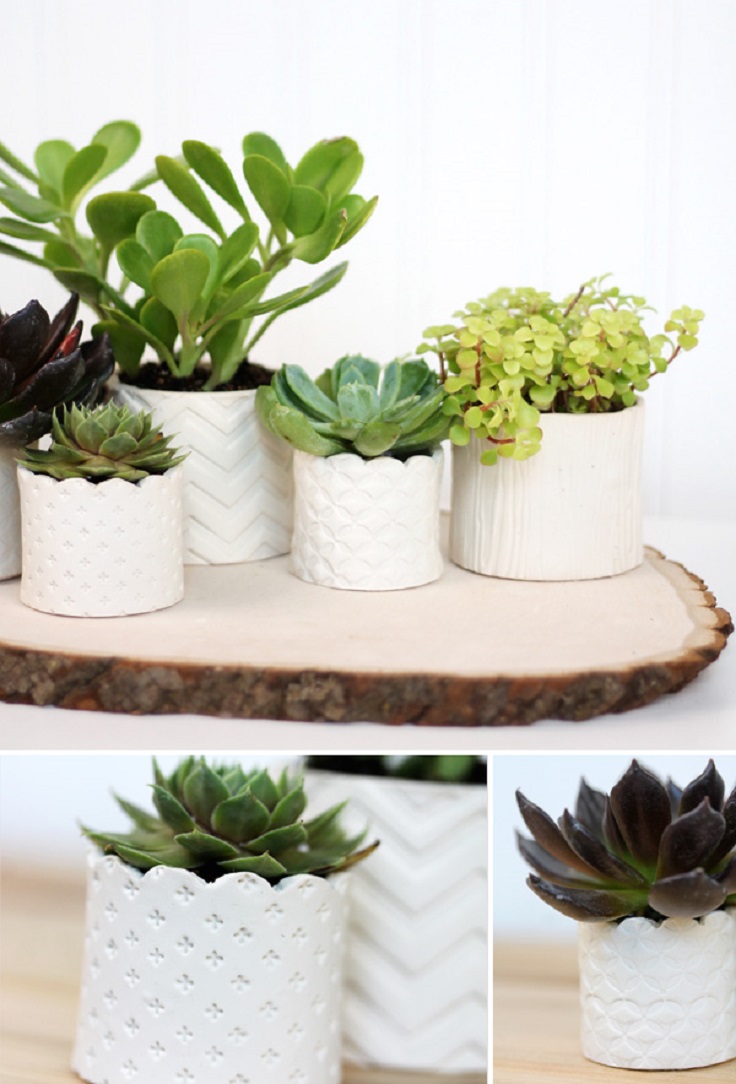 We love these stamped clay pots. They are just perfect for the lovely succulents, and they are so fun to make. You will need oven-bake clay, clay roller, scallop edge cut from chipboard, and some clay shaping tools. Start by rolling the clay, cutting a long rectangle and the scallop edge on the clay rectangle. Follow the scallop edge on the clay rectangle and smooth the scalloped edges. Press the stamp onto the clay, then gently peel it off. Make a cylinder by wrapping the rectangle around a circle but from the clay. Join the edges together with the sharping tool. Make a hole on the bottom with a straw. Bake, and you are done!
DIY Sisal Rope Planters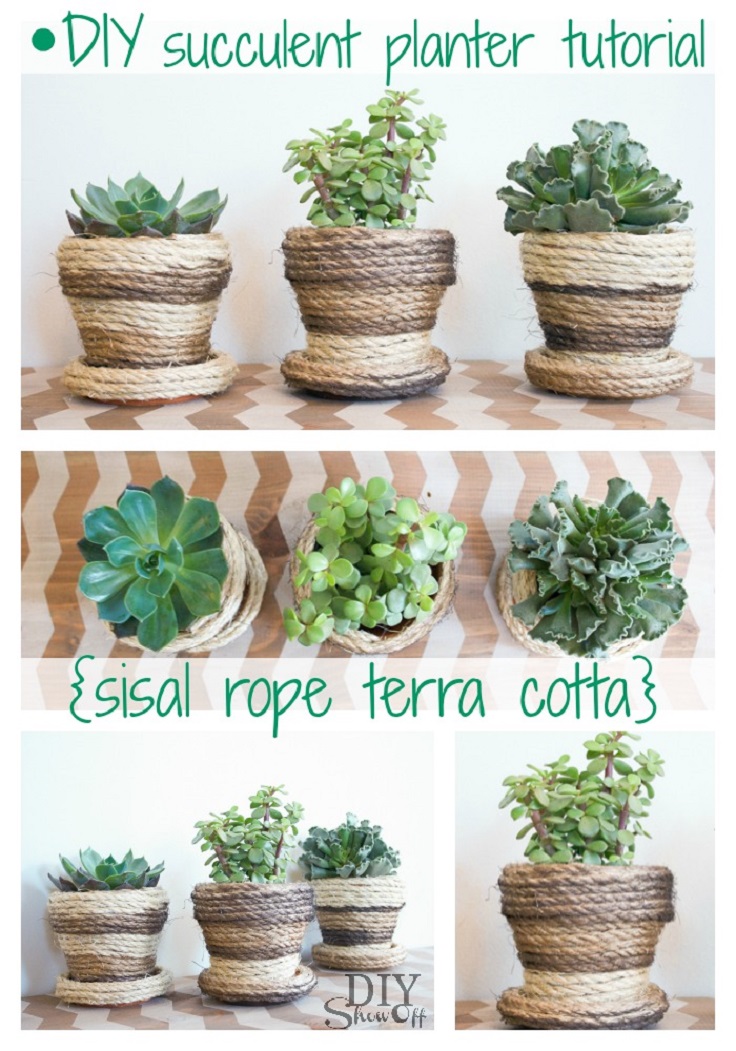 via diyshowoff.com
To make these rustic planters, you will need a twisted sisal rope, terracotta pots and saucers, metallic spray paint, paint, primer, frog tape, hot glue gun, and succulents. Now glue the rope around the pots and saucers. Use FrogTape to add decorative stripes. When all done and dried, plant the succulents. There you go –  instant texture and greenery for your decor!