Now you must be asking yourself, what on Earth is a nebula? Actually, it is nothing you can find on Earth as a nebula is an interstellar cloud of dust, hydrogen, helium, and other ionized gases.
So, yes, the nebula is totally out of space! But with the galactic trend that is so popular right now, we thought that you would love to have a piece of something so awesome in your home or into your fashion. We share 10 galactic DIY nebula projects that are cool, unique, and diverse so everyone can find something they like.
Let's make something different, something mysterious, romantic, enigmatic… Choose your favorite project, and do share your result with us in the comment section below this article!
DIY Nebula Nails

If you want to do something special with your nails that is not too girly or fussy, then this nebula inspired nails are a perfect choice. For making them, you will need black nail polish, 2 or more colors for marbling, glitter topcoat, water in a disposable cup, and some tape. When you have everything ready, just follow the tutorial, and you will have nails that are totally out of space!
How To Make Bottled Nebula
via omghow.com
Bring a bit of color out of space into your room! This bottled nebula is a perfect decoration that is easy to make and effective. To make it, you will need a transparent jar or bottle with a good lid, cotton balls, glitter, water, food coloring or fabric dye (choose pinks and blues for best results, but you can choose any color that you like), a pencil, straw, or other small stick. Voila!
Nebula Galaxy T-Shirt Tutorial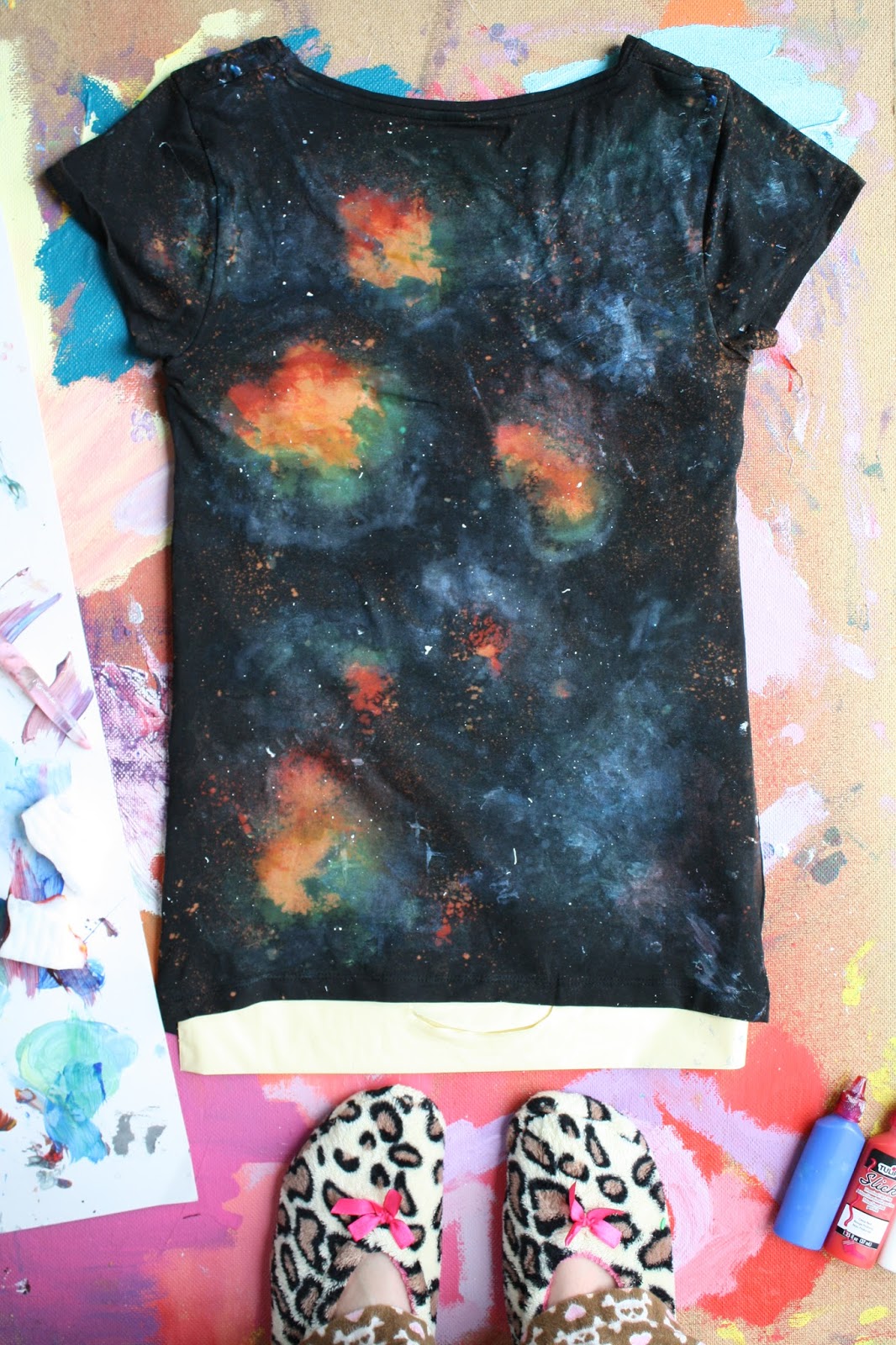 via 1hungryhippie.blogspot.com
We love how this t-shirt turned out! Such an awesome way to turn a plain shirt into something unique and original. The tutorial we share is very detailed, with step-by-step photos that will help you make this t-shirt without a problem. Make this nebula shirt and shine like the star you are!
DIY Galaxy Purse
via sylandsam.com
If you have an old leather purse that desperately needs to be refashioned, then you will love this idea! What we suggest is spacing up your old purse and make it look fabulous. What you'll need for this project is, of course – paints. Use speedball fabric inks in black, blue, red, yellow, glowing green, white & yellow. You will also need a paint palette & a fine paintbrush.
Nebula Shoe Tutorial
Get a pair of canvas shoes (choose any color you like, they don't have to be black), white chalk, transparent gesso, sandpaper, acrylic paint, paint applicator of choice, masking tape, an old toothbrush, and acrylic varnish, and create this galactic nebula shoes that are totally cool and awesome.
DIY Galaxy Cuff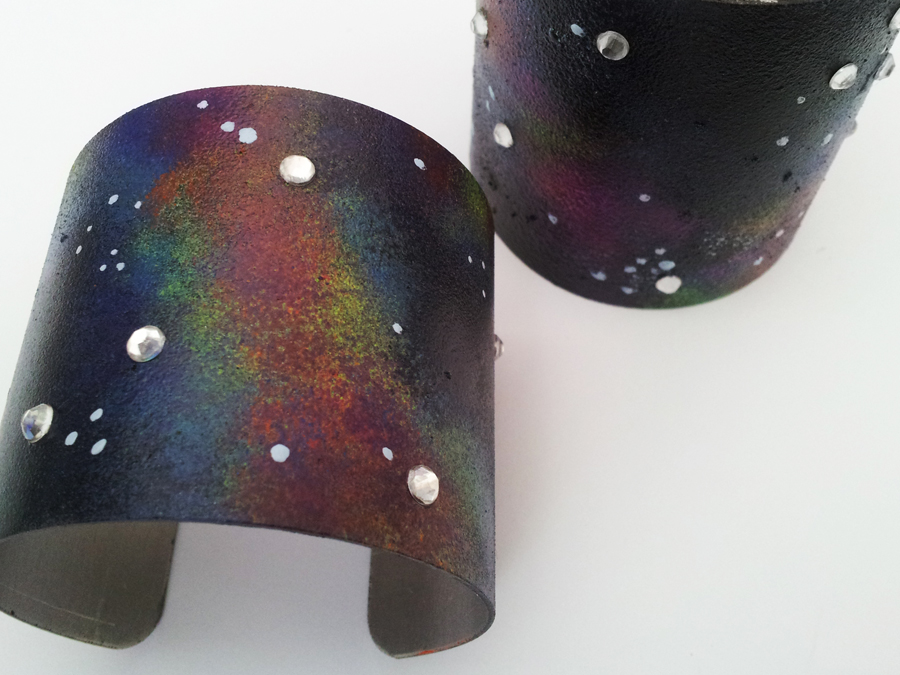 With the galaxy trend being all around us, why not make these galaxy cuffs? They look so cool! You will need a cuff base, sponge, palette, black spray paint
, and nail polish for making them. As you will need many nail polish colors to create the nebula effect, you can use acrylic paints instead.
DIY Nebula/Galaxy Shirt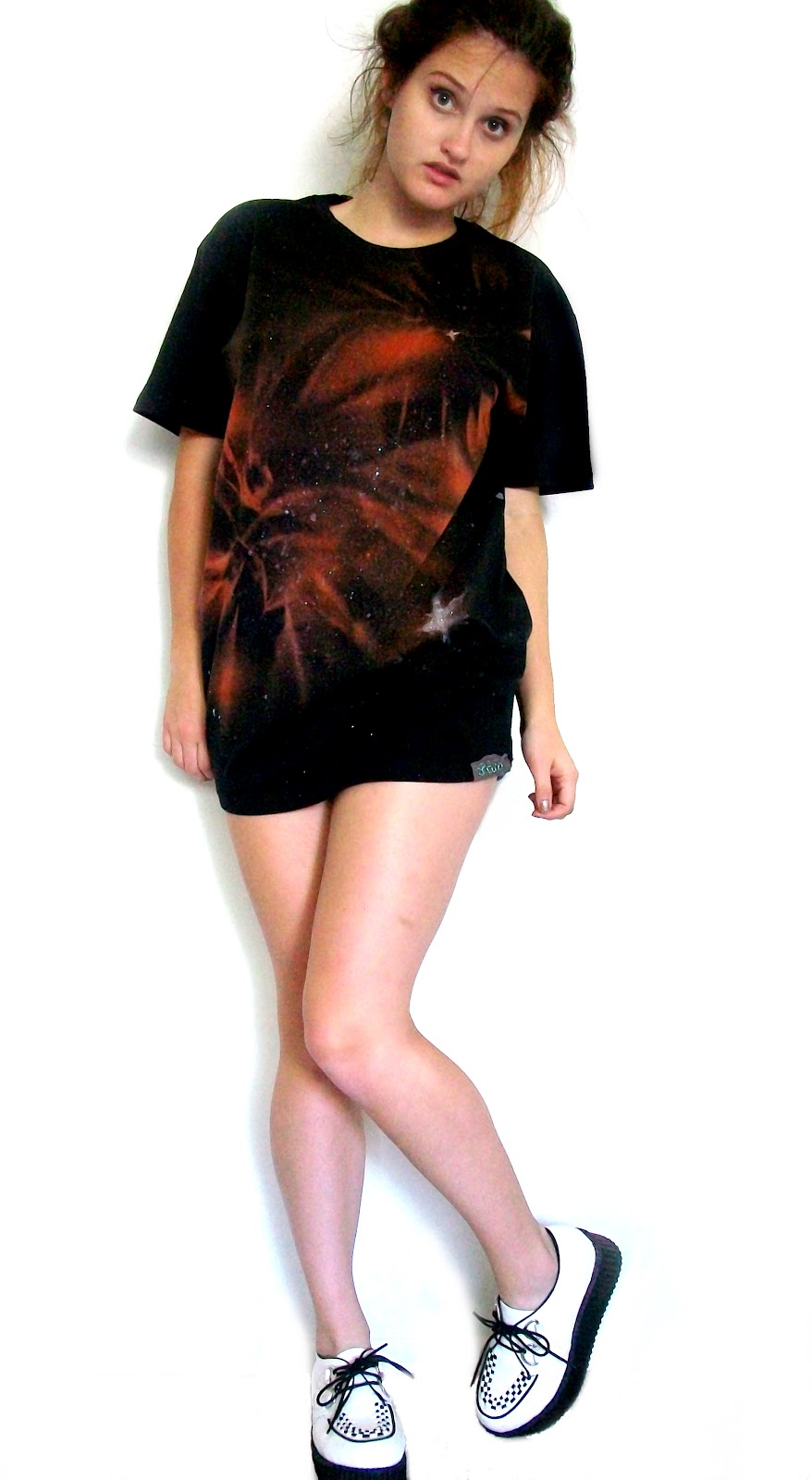 via kaleidofashion.blogspot.com
This shirt looks amazing! We love the galaxy-inspired look. To create it, you will need a plain t-shirt, bleach, acrylic paint, a toothbrush, a spray bottle, and a trash bag. You probably already have everything in your own home, so this is a very budget-friendly project. When you have everything prepared, just follow the easy, detailed tutorial on the link above.
Galaxy Dress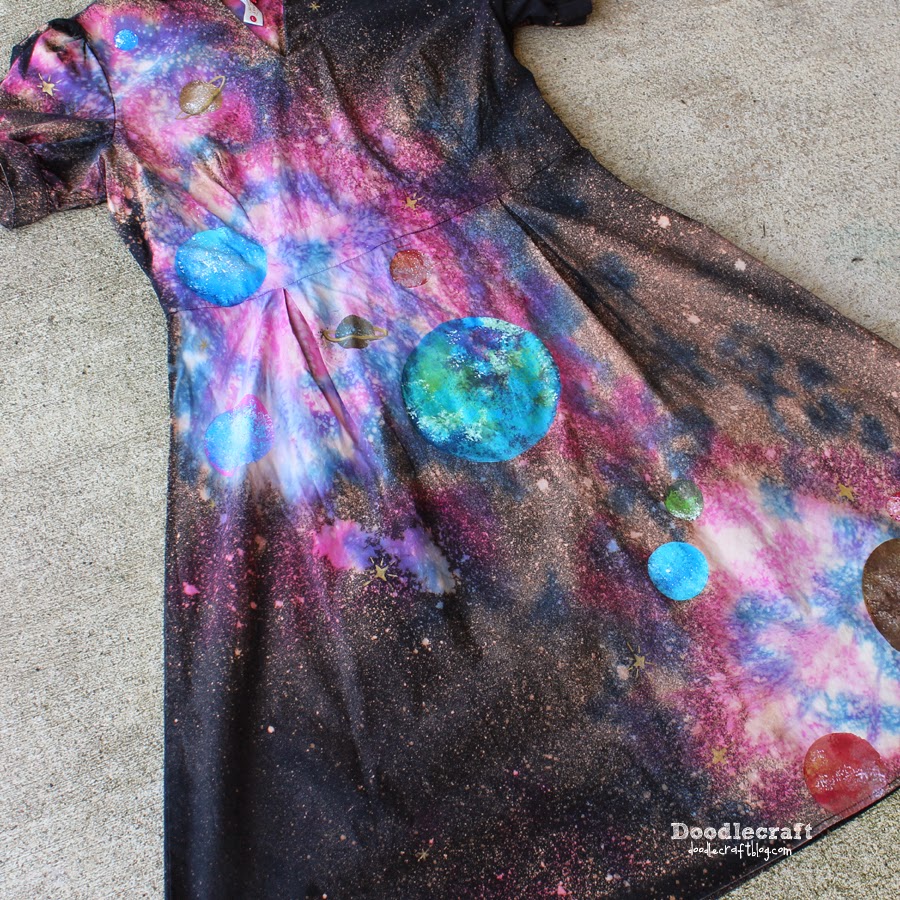 Why always wear a plain black dress when you can turn it into a fantastic galactic nebula-inspired fabulous fashion piece? This tutorial will show you how to easily do it without spending a ton of money on a new one. We love the details on this dress, the small planets that are on the front of it. So fun and unique!
DIY Nebula Nails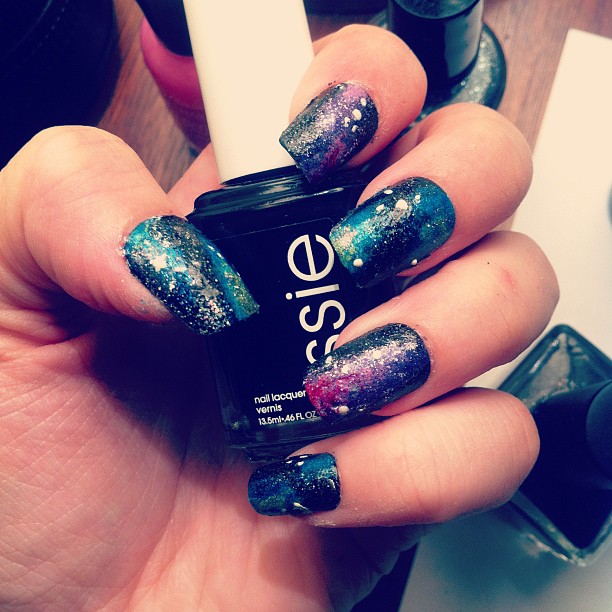 Nebula nails are so fantastic we just had to share another tutorial! You should use a black base coat, and a pallet of sparkling nebula inspired colors to create the look. Use a makeup sponge for the white patches and base colors. You will be surprised at how easy this tutorial is!
Bottle Nebula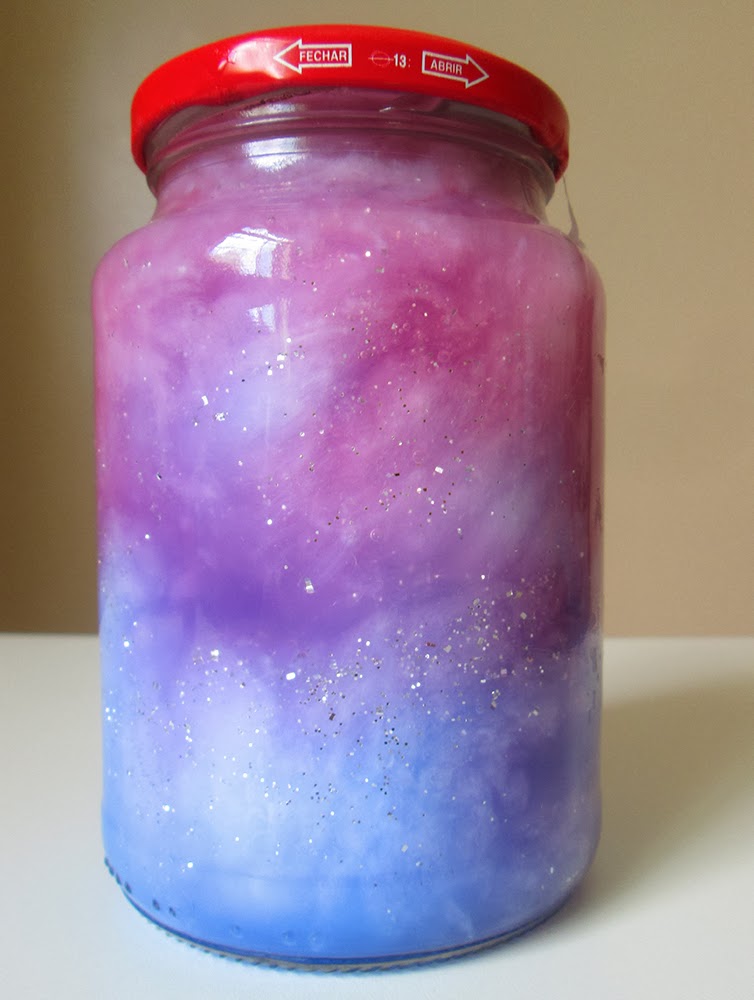 via blogsonhoselivros.blogspot.com.br
We can't help ourselves; we are totally in love with Nebula bottles! They are the ultimate galactic home decor and so easy to make. We are sharing here is actually a simple video tutorial to easily make these nebula bottles. The tutorial is in Spanish, but you have the video, and hey – you can always use Google Translate :).