If you love the watercolor and ombre trend as much as we do, then you will surely love the projects we are sharing today. Using watercolors is a fun, creative, and inexpensive way to create different things like gift cards, wall art, pillows, curtains, gift boxes, or even cookies!
All you need are some simple supplies and some creativeness, of course. You can easily alter these projects we are sharing and give them a touch of your own originality. They are all perfect for spring as they will add a pop of color to your home, your party, or your gift.
Take a look and choose your favorite projects to try this spring!
1. Wedding Watercolor Escort Cards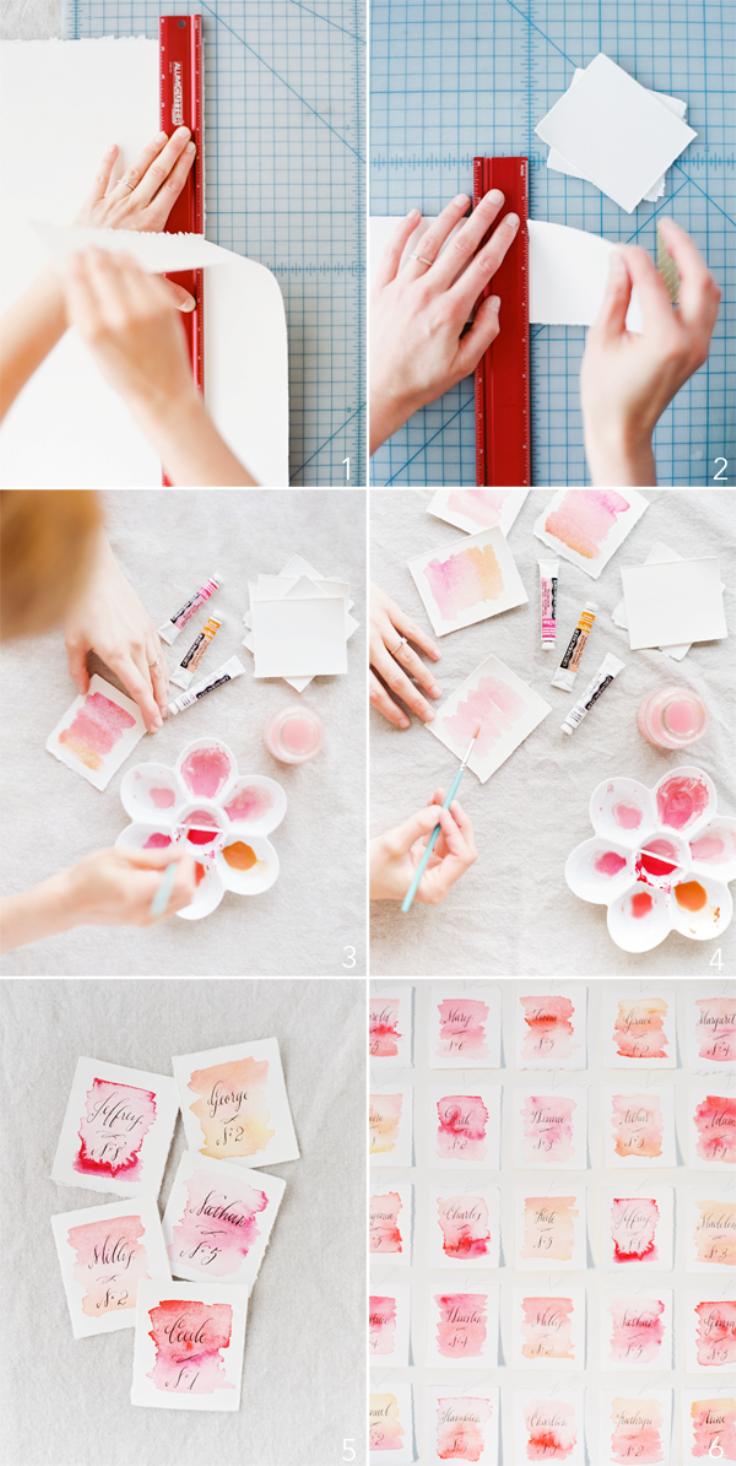 via oncewed.com
This is a simple step-by-step tutorial that will show you how to recreate a beautiful watercolor escort card at home. To make them, you will need watercolor paints, a watercolor brush, heavy professional-grade paper, a metal ruler, a glass of water, and a cutting mat. They do look stunning!
2. How to Watercolor Paint on Fabric

These pillows turned out pretty amazing and so perfect for spring. By making them, you will add a much-needed pop of color to your interior. We love how easy and beautiful this tutorial is. For this project, you will need watercolor paints, fabric medium, 2 small cups or containers for water, brushes, something to cover your surface, and some white fabric. Enjoy!
3. Watercolor 'Will You Be My Bridesmaid?' Cards
This is such a sweet way to ask your bridesmaids if they will stand by your side on your wedding day. And such an easy DIY project. There is even a downloadable custom design for you to use, but if you feel creative, you can make up your own design! Whatever you decide, you will need watercolor paper cut into rectangles, folded into cards, watercolor paints, white colored pencil or colorless blender pencil, scrapbooking or decorative paper cut into 9″x9″ squares, small pieces of leftover watercolor paper for envelope labels, medium flat paintbrush, glue, bone folder, tape, cutting mat and xacto knife, or rolling cutting board, templates from this DIY or your own designs, printed onto printer paper.
4. Coaster Making Fun with Watercolors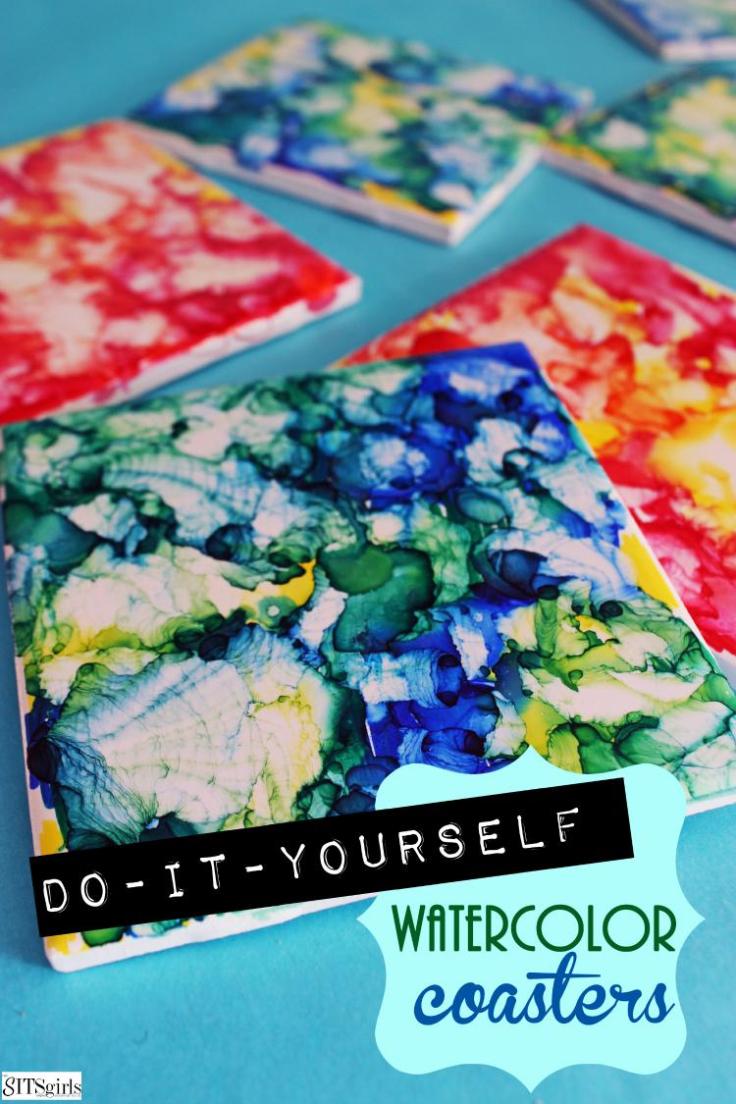 via thesitsgirls.com
This project is surely fun! Bring color into your home with these adorable coasters that you can easily make with some watercolors. They are easy to make and inexpensive. In fact, you probably already have all the supplies you'll need. Some white tiles, 91% isopropyl rubbing alcohol, sharpie markers, dropper, felt, glue gun, and a clear acrylic spray. That's it!
5. Watercolor Polymer Clay Hearts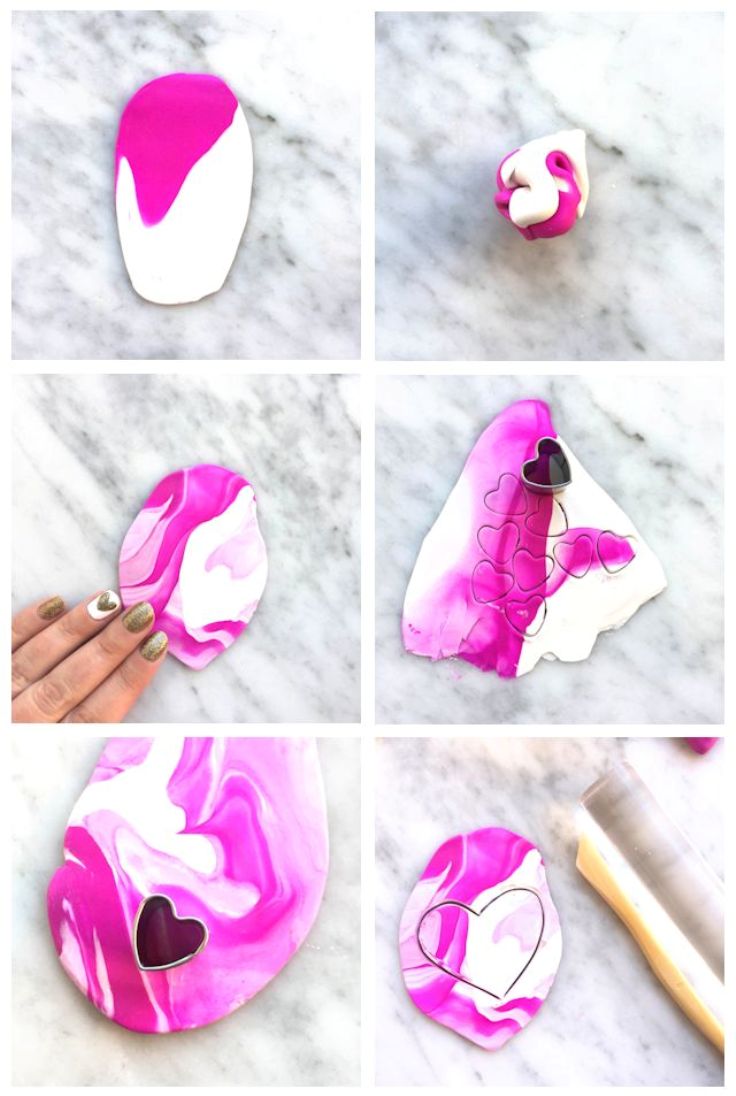 via linesacross.com
Just how cute are these polymer clay hearts? You can do this project even if you are new to polymer clay, and it requires very few tools. You need polymer clay – white and another color, acrylic clay roller, and heart-shaped clay cutters. When done, just put your hearts on a baking tray and bake according to the instructions on the type of clay you are using.
6. Marble Paper Watercolor Curtain Tutorial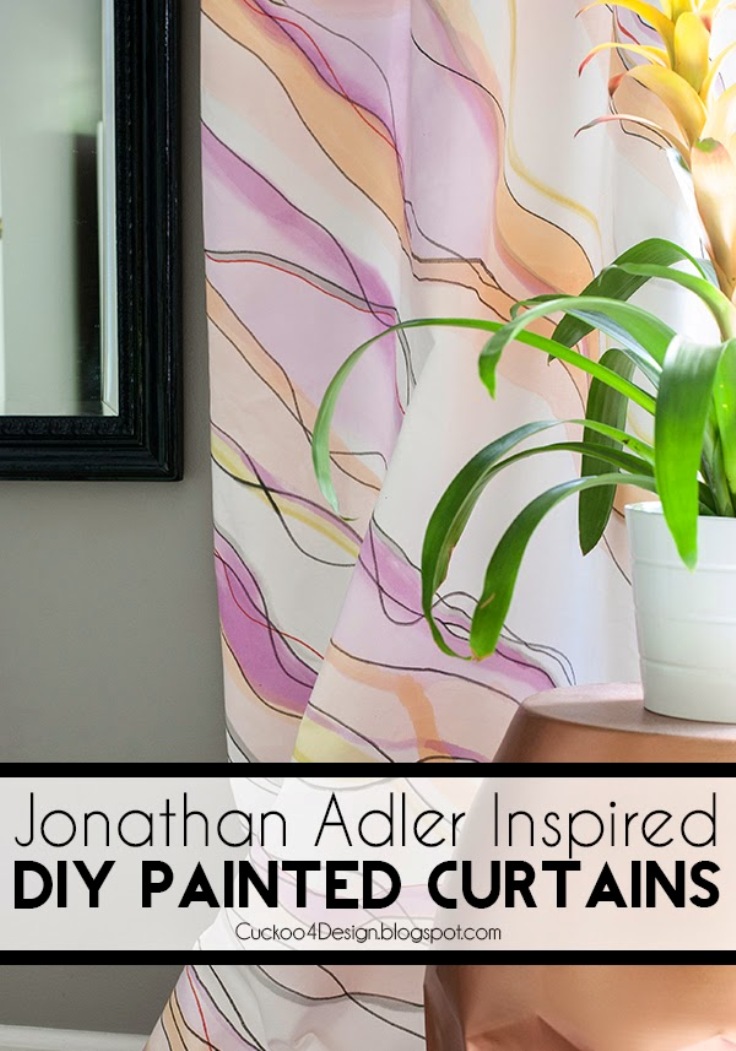 How amazing do these curtains look? With this tutorial's help, you can add color to your home, and it is easier than you think. You'll need the project valspar paint samples in just the right colors, fabric paint pens, fabric medium, and Ikea Merete curtains. Easy, fun, and creative – a perfect spring project!
7. Watercoloring Gift Boxes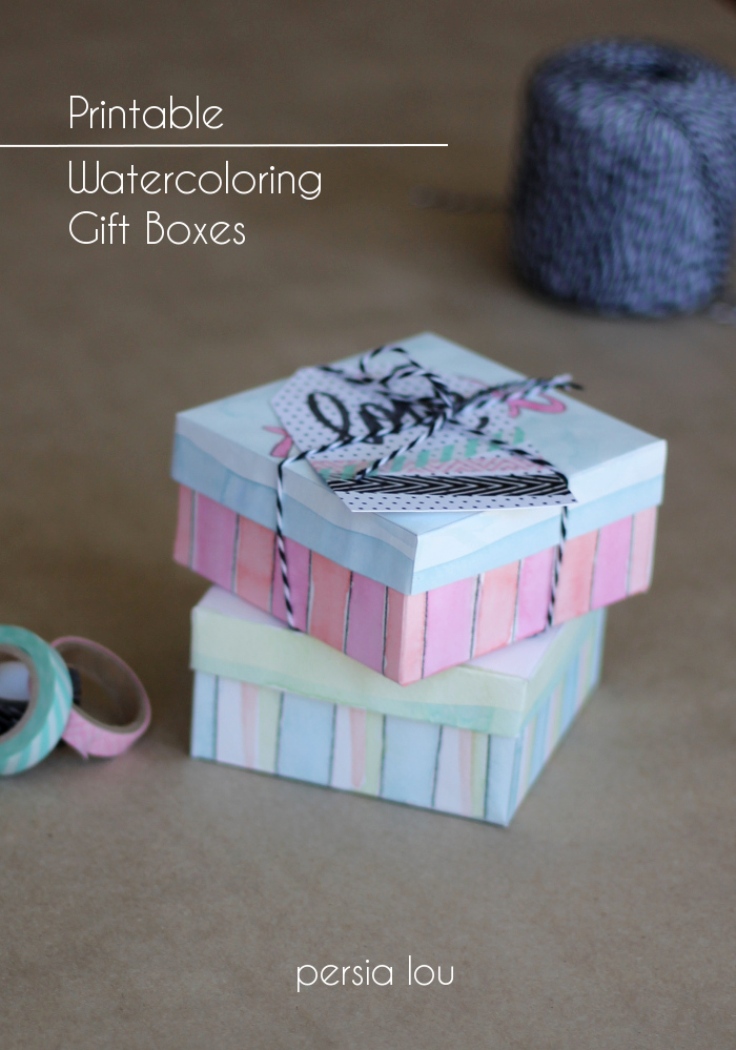 via persialou.com
This is such a simple and inexpensive gift idea. To make these beautiful watercolor gift boxes, you will need 90 lb watercolor paper, watercolor paints, brush, painter's tape, scissors, glue, patterned scrapbook paper to line the box. The box top and bottom off are free to download on the link above.
8. Dyed Baker's String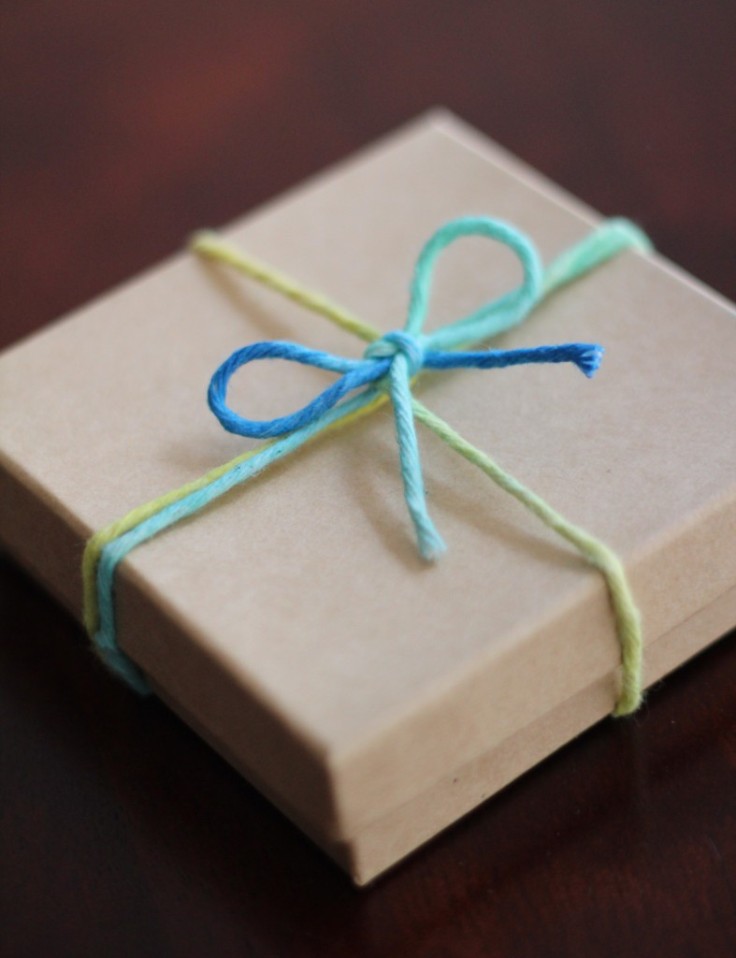 Male this adorable gift wrapping the string in only 8 minutes by using watercolors, jars, water, white baker's string. You can use your favorite color combination. The string will give a new dimension to a simple gift box. It is an inexpensive and creative way to wrap a gift.
9. Watercolor Paper Flowers
via kellimurray.com
We love the idea of florals that will never die. Of course, we are talking paper flowers with an organic, natural, and painterly feel.  You will need a pair of scissors, some paper, watercolors in your favorite colors, some rustic floral wire, and some pliers. The final result is amazing, and we are sure you will love to have these paper flowers in your home.
10. Watercolor Cookies for Mother's Day
via momtastic.com
Have you decided on a gift for Mother's Day? If not, we have a perfect idea! Prepare some watercolor cookies. They are tasty, fun, creative, and look fabulous. Just gather the supplies and start making them. You will need your favorite sugar cookie recipe and its ingredients, nested cookie cutter set, rolling pin ,parchment paper, 1/8″ and 1/4″ thick dowels, 2 each, white fondant, can of white icing, offset spatula, unused paint palette, assorted pastry brushes or unused craft paint brushes, clear vanilla extract, gel food coloring in your choice of shades, toothpicks, and paper towels. Voila!