Christmas is knocking at the door. It's everyone's favorite time of the year. The dazzling holiday with all the joy it carries. Decorating for Christmas gives you that warm feeling of home. What's even more, decorating your bedroom, besides the entire home, will give a special touch to the whole Christmas story for this year. Imagine waking up in a Christmasy-decorated room, and the first thing that strikes you is the cute little Christmas tree or the twinkling lights. The ultimate Christmas-mood bedroom is much easier to realize than one can think. Make it astonishing!
Why creating the ultimate Christmas bedroom? Let's put it simply: it's easy, magical, and an incredible way to bring the holiday spirit through your home. For the bedroom decor, everything you need is a bit of your time and a pinch of magic. Some people skip the Christmas bedroom decoration due to not having time, not paying attention, having less to clean, or running out of ideas. But with just a little imagination, you can turn your bedroom into the most enchanting corner of your home that you will later love. Try using some elements that you already have at home or "go shopping" in the yard or nearby park trying to find pinecones, evergreen branches, etc.
Don't hesitate to take Christmas into the bedroom and live it up with fancy decorations or you can just keep it simple, but magical. You don't have to be an expert, you just need a couple of things and let your fantasy flow. You would be surprised at how exciting and adventurous it can get. Moreover, you don't have to do it alone. Ask someone to land you a hand, and you might finish up with a Christmas brainstorming. Here are a few ideas to give you some pointers as to what you can use to catch the Christmas spirit.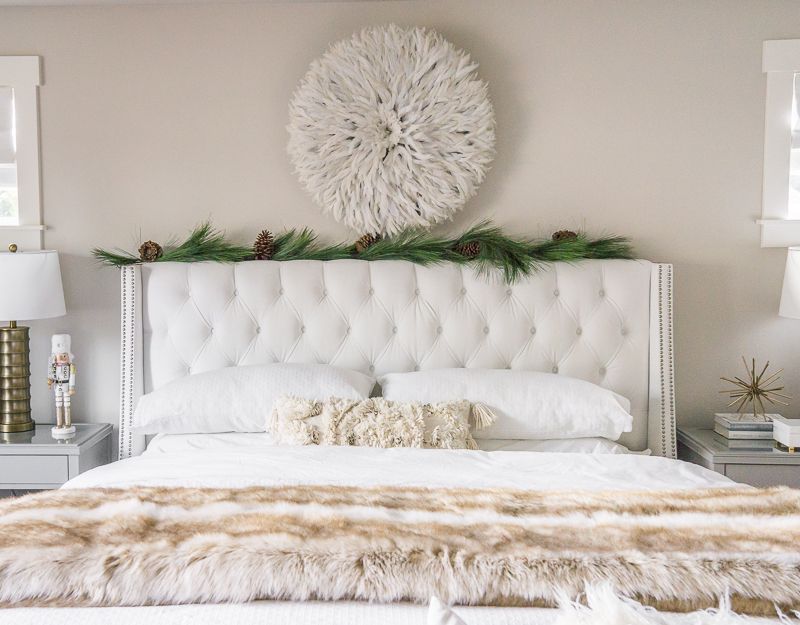 Combining a few pinecones and branches can give you a simple, but powerful Christmas garland. Put it on the bedframe and Voila! you've got yourself a perfect decoration.
Cozy Christmas Quilt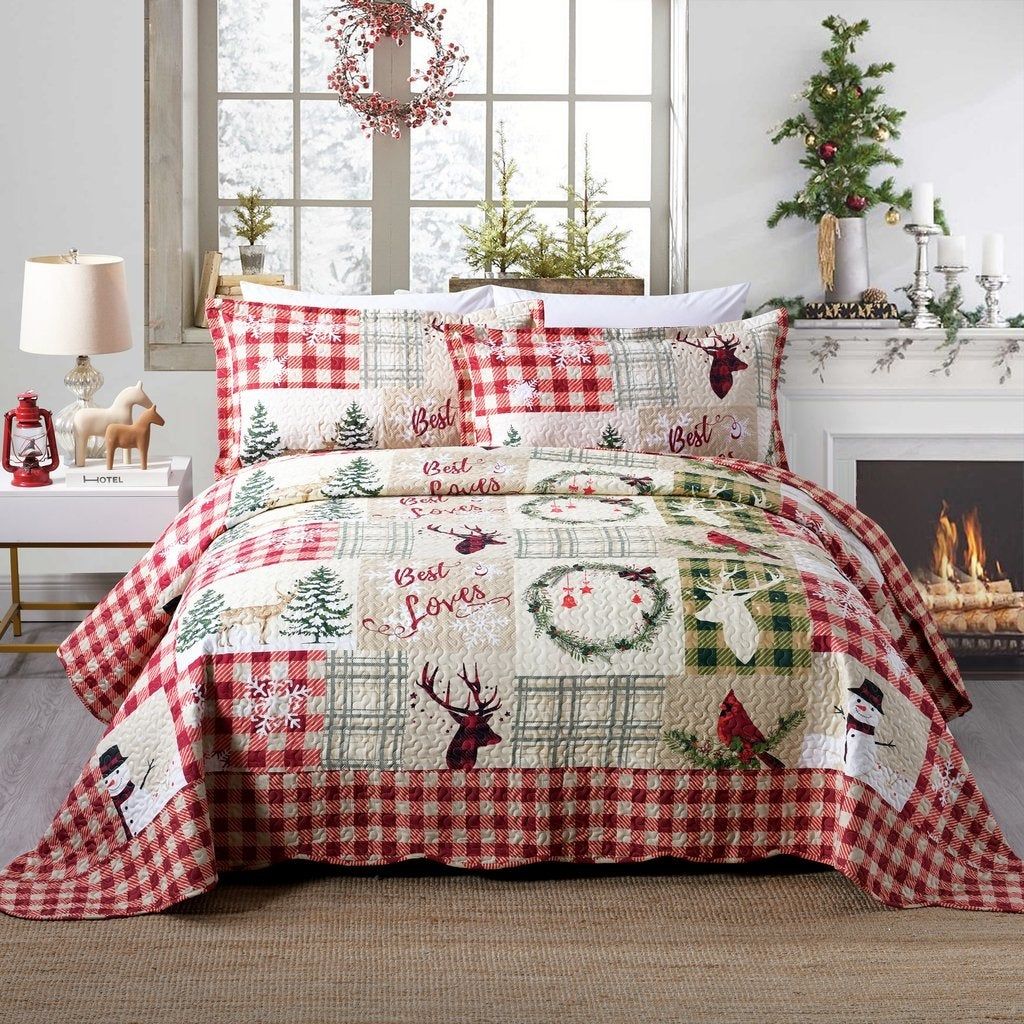 Every time you enter the bedroom the first thing that catches your eye is the bed as the central piece of furniture, but also what's on it. So, use this and place a comfy quilt over the bed and enjoy the joyful days.
Christmas Tree on the Nightstand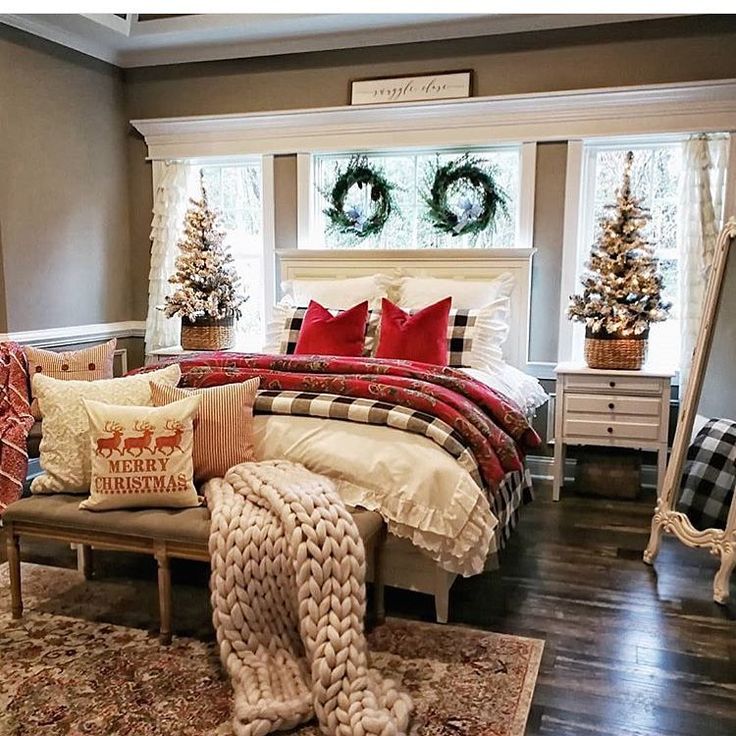 What about waking up in the morning and the first thing that you see is a small cute Christmas tree looking at you from the nightstand. It gets warm in your belly, doesn't it?
Vintage Christmas in the Bedroom
Nothing better than a Christmas with a vintage spirit. Find something from your home that will give this spirit to your bedroom.
Snowflake Garland
Snowflakes with perfect shapes hanging over your head are like you have the snow above you at any time of the day. It can't get better, can it?
Christmas Pillows
You cannot go wrong with the pillows. Any kind and shape are acceptable, whether on the bed, chair, or just scattered around.
Lights
Place the lights wherever, turn off the ceiling light or floor lamp and enjoy the enchanting moments in the mystery that this special holiday has to offer. Can't miss that!
Christmas Stockings
Were you naughty or nice? Never mind that, put a stocking in the bedroom and hope for the best Christmas present this year.
Red Stars Garland
Red stars garland is what your bedroom really needs. Enjoy the fiery stars and dream with your eyes open!
Christmas Wreath
Nothing says Christmas better than a wreath. Put it in your bedroom and start your Christmas journey.
Having Christmas in your bedroom by twinkling lights, a decorated Christmas tree, colorful pillows, or anything that says Christmas will only fill you with happiness, joy, and warmth in some special ways. Decorating the personal space in unexpected ways will give you pleasure and excitement. After all, it's Christmas we're talking about, right?
Share in the comments what are your Christmas ideas for decorating the bedroom and making it a special place to be in.