Pets bring a certain playfulness to our lives and they seem to always cheer us up, wiggling their tails and running around the house. But their corner may not always be the prettiest thing to look at in your home.
If you too have always wanted to provide them with their own little designated spot, but could never figure out how to make it look nice, we have some ideas that will satisfy the needs of both you and your pet.
Here are some creative ideas you can try and have a perfect space for your pet to rest, and at the same time make it look stylish!
Upcycled Coffee Table Dog Bed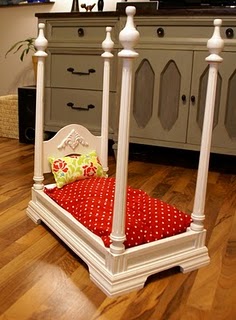 via condoblues.com
This DIY and the ability to be sustainable and recycle and upcycle as much as you can sometimes is so simple that it isn't funny. This craft could not be any easier for your four-legged friend. Turn a coffee table that you no longer have the passion for upside down, and let the imagination run wild! Make sure there aren't any sharp edges in and around the table so that the wood will not split into the skin of your dog, start padding and painting in the color that corresponds to both of you the most. An ingenious idea that your dog will love relaxing in it.
Bed Under The Stairs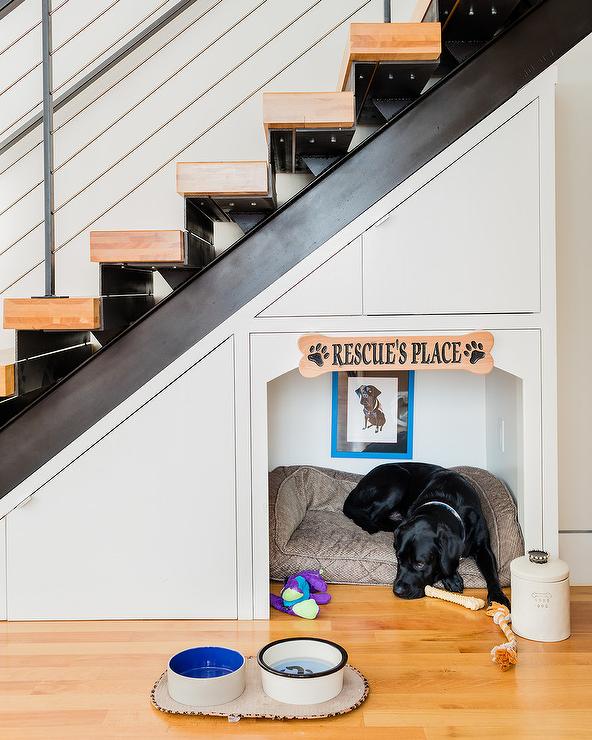 via decorpad.com
Owning your own home is a magical thing and how to best use its space is always the first question on the agenda. If you have a dog, then you will know you would want to maximize space smartly. If you have two or more floors at home, then chances are you have stairs. And beneath it lies the genius within you! Why not create a space for your best buddy of all times? On top of that, he will not feel in the way all tucked in, in his very own little part of the house. He will feel safe as he will have, literally, a roof above his head. Make it as comfy as possible and also part within the decor of your home accentuating your love for his comfort.
Curve Wall Mounted Pet Bed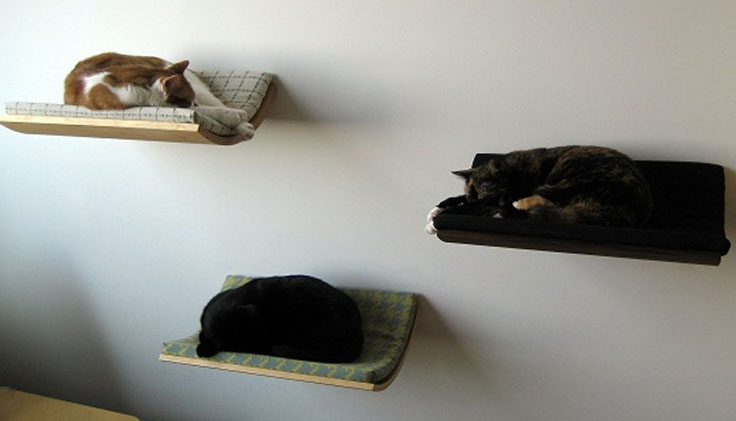 Cat lovers here's one for you. If you live in an apartment chances are you won't have that much space to sacrifice to your beautiful little furball. Once again with a little creativity, we can assist. And this idea not only gives a 3-dimensional scope to your wall and makes it more interesting, but it can serve as the resting place for your cat instead of putting cat hairs all over the sofa or indeed, your bed! On top of that, it will give the cat a little exercise in the process of accessing his or her bed, while being very much fulfilled in having a special place.
Indoor Dog Or Cat House Under The Window Sofa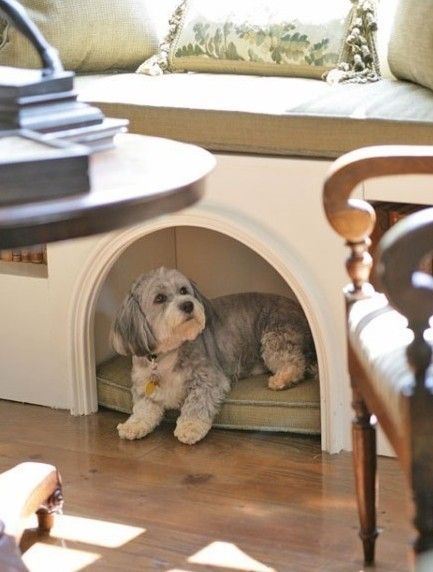 via buzzfeed.com
We love the idea of being by the window being warmed up by the natural sunlight from the sun, especially if we haven't got an outside to speak of. And if so, you might wish to do a little DIY underneath it, creating a sofa thus creating more space within your living area, and having it multi-function into a dog bed underneath it. It is a win-win situation for both of you! And a great way to not only simplify things but to look after space the better. Make a frame from the sofa to the floor, and cut out a space big and large enough to include a little something comfy for your dog. A cat will love it too.
The Cat's Trapeze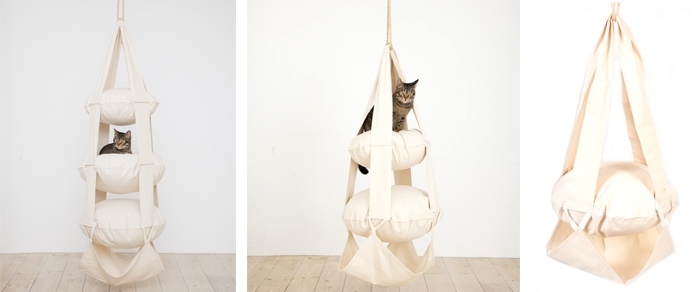 via profeline.de
Cats love to play. All day every day. And when they cannot, they eat your stuff or jump everywhere breaking half of your antics in the process! So best to reserve a little something they can call home and a play area in the process! Not only will it save space, but it will also create something a lot more involving and fun for them too. Cats are very curious and love to learn new things and new ways of having fun. Naturally, this craft does exactly the trick they require. They will love you the more for it.
Modern Pet Furniture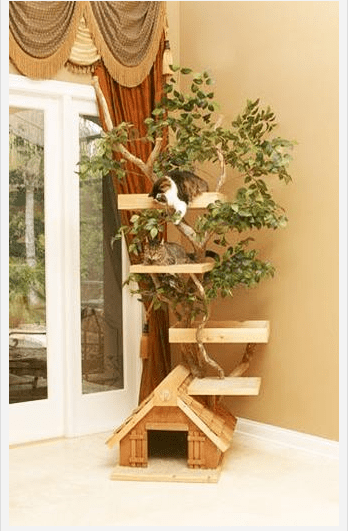 via lushome.com
We believe dogs or animals, in general, aren't overly bothered about the look of their beds, as long as they have one to themselves and that it is super mega comfy! However, let us not forget that they are within our house walls and that we wish to have a certain amount of elegance remaining even though we have animals. And what better way than to create a little something special for them that looks extraordinary and something that belongs within your garden or indeed inside your modern home. As a matter of fact, if you have a cat and a dog, why not create the cat area above it with cat grass.
Night Stand Dog Bed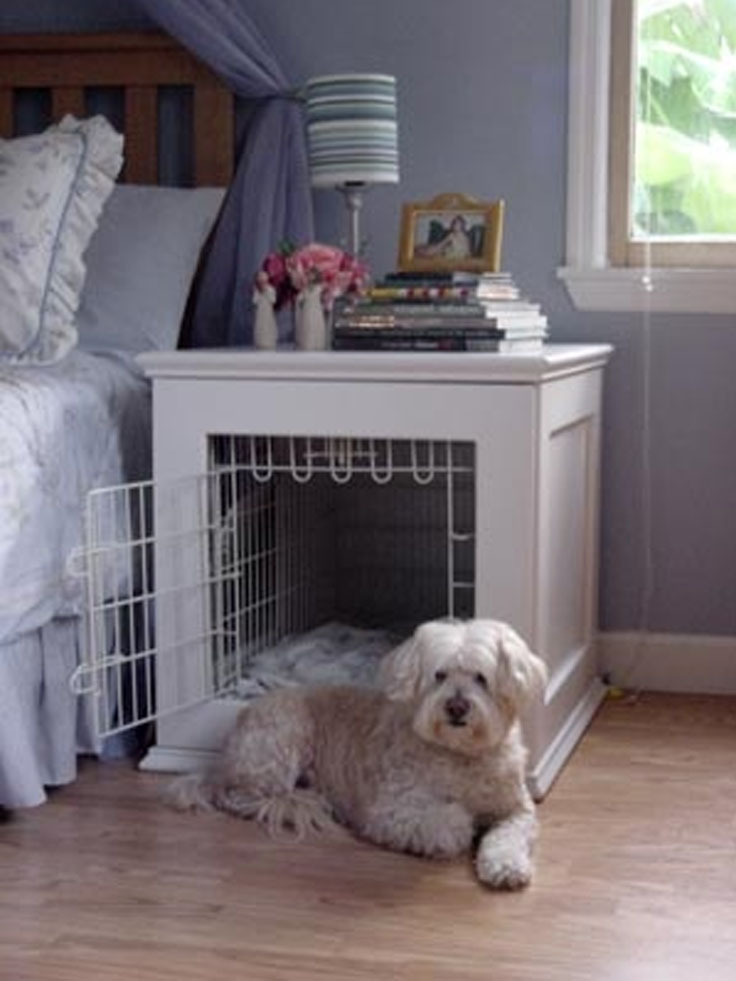 If you are living in an apartment space is a challenging issue. And nothing wrong with that, small is perfect and easier to maintain anyway… So, why not think outside of the box and convert your bedside table for a little living area for your small-sized dog? Smaller dogs would rather be with you anyway, and with that, you get a lovely companion sleeping next to you. Maximize your space. Get smart.
Play and Sleep Area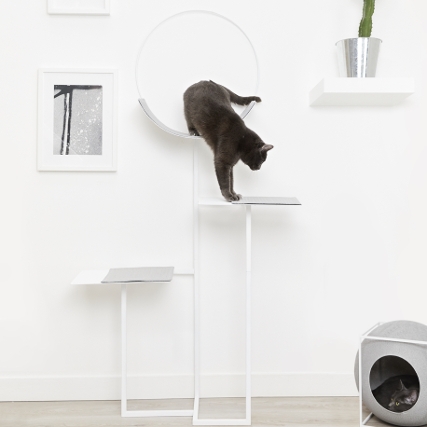 via meyou-paris.com
This link self explains what your cat is likely to want from you and how to dispose of everything for itself. Think of a cat as your boss. Cat owners will know what we mean by that. A dog will be happy to sleep pretty much anywhere on anything. However, cats are a little more little madams so to speak. Overall, they will be happy with a bed perched on top of something; an excuse to climb up having fun, and exercising in the process. His play area could be next to him, but the litter box is rather far away. After all, we do not like eating next to the bathroom I don't think. The same goes for animals.
Ottoman Dog Bed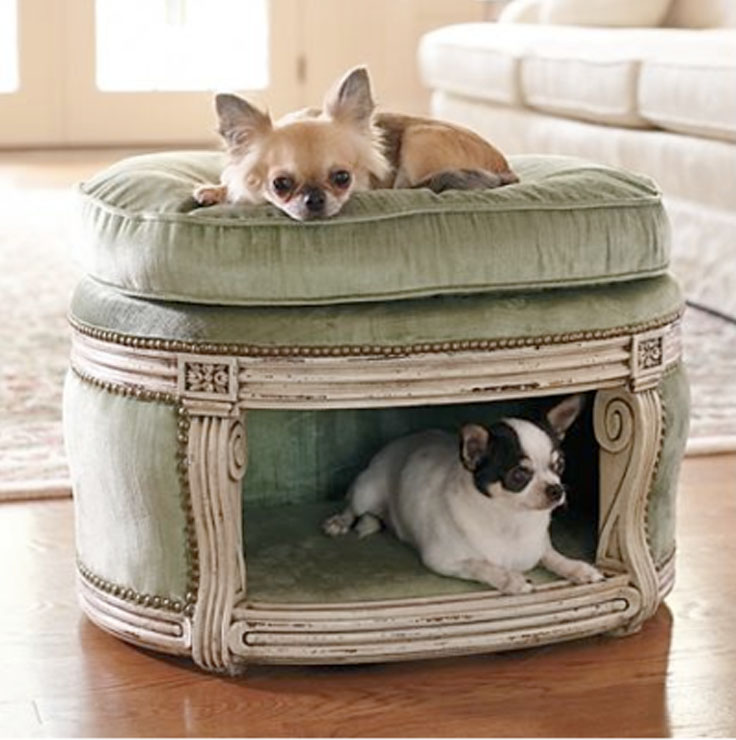 Small dogs are brilliant because they fit anywhere. And unlike cats, they tend not to jump and break everything. Some of us might not wish to decorate the home with animal items as they would wish to maintain their home looking like a home rather than an animal sanctuary. And therefore, the Ottoman or anything similar is a touch of genius! Everyone gets what they want, all disguised away in a neat package. Think of the Ottoman being like a kid's bunk bed. They are brilliant and they love it. Dogs do too.
Mudroom Dog Bed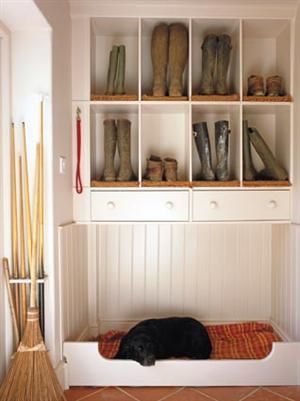 If you live in the countryside then this one's for you. And frankly very little else will do the trick; a terrifically smart idea. We love our dogs, but if you are living in the countryside you might not wish to have your dog around the house, indoors. It will get dirty in around point 2 of a second! So best to have the dog's living quarters within the mudroom. Besides, your dog will have peace and quiet the way bigger dogs tend to prefer. And when playtime is on the books, they know only too well where to go! Outside running amuck loving life!