Black and white photography is one of the most favorites among artistic souls. No matter if it is a portrait or scenery, the black and white simplicity delivers the very essence of the captured moment.
Let your artistic eye wanders through the black and white world, abstracted from the various colors that often take away the focus from the points that really matter. Here are ten amazing black and white photos that you definitely shouldn't miss seeing. Which is your favorite one?
The Eiffel Tower And The Raven
Photo by Michael Rajkovic
We have usually seen the beauty and engineering genius of the Eiffel in all its glory on a sunny, blue sky kind of day. This picture however captures the marvel structure in a different light. One that is moody, mysterious with a feeling of, Paris has just been deserted by its thousands of tourists and locals living there. It embraces the industrial days in all its glory. A tough and challenging time back then and this photograph depicts just that with the shopping trolley being abandoned alongside the crow.
Yarrow (Achillea Clypeolata)—flower
Photo by Karl Blossfeldt
It is rare nowadays to have professional photographers focusing only or mainly on black and white pictures. Yet, different emotions can be expelled through the beauty of the colorless pictures. This German-born Berliner focused all his life on black and white photography and became most famous in the 1920s. Karl Blossfeldt took stunning photos using his homemade cameras and got famous in the early '60s, 4 years prior to his death. He captured up closed shots, intimately so, and showed the world a different viewpoint to the beauty of flowers.
Silver Lining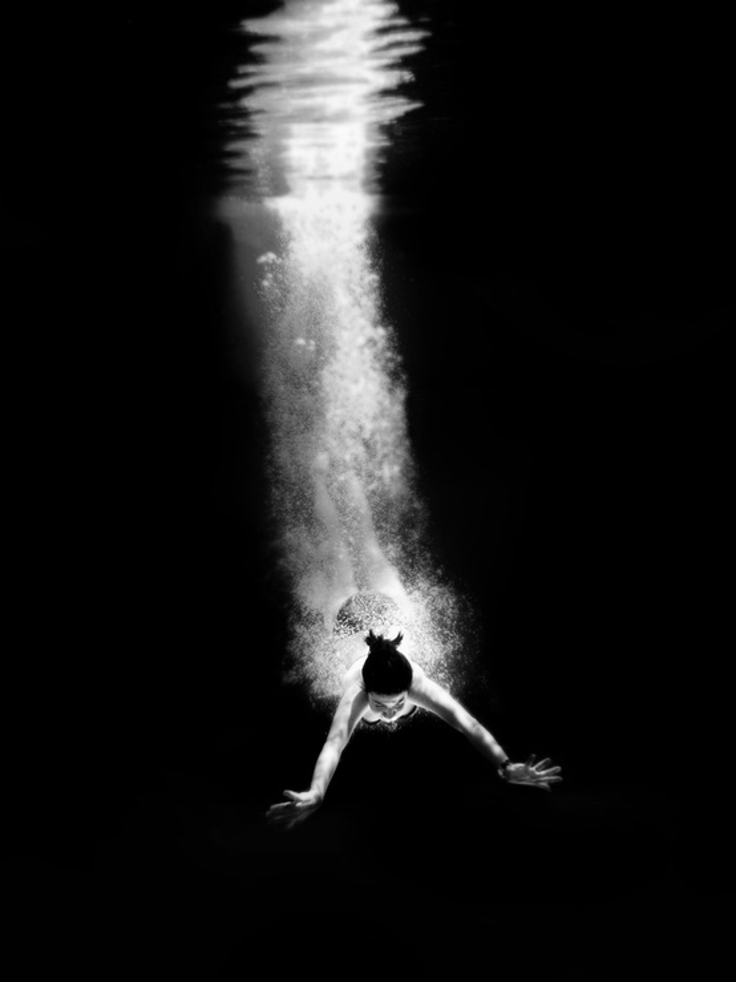 Photo by Eva Creel
Eva Creel enjoys very little publicity and prefers instead to spend her time capturing incredible moving, natural shots. The silver lining identifies a woman diving into what could be a pool from very high above due to the underwater distance she traveled. One can each feel enchanted with a sense of holding one's own breath. It's incredible to understand such power from a single shot. And that she did it just right. A total emptiness makes us also feel a sense of loneliness or, how one can feel so peaceful being alone, without the everyday busy burden around.
Gothic Quarter, Barcelona, Spain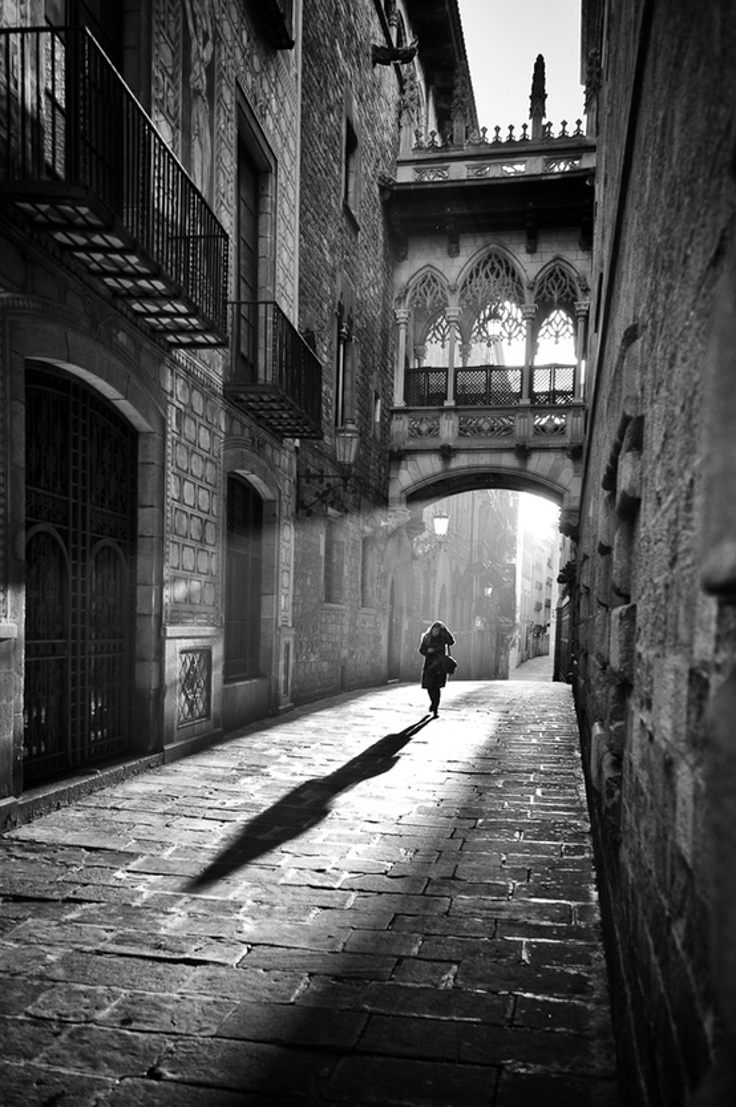 Photo by Frank van Haalen
Most of us once on a visit as tourists tend to follow the crowd and if so, we miss the true beauty of our exploration in the first place. Even as a local person living in one area all their life, one tends to walk looking straight ahead or towards the floor instead of looking up to the wonders of the landscapes and buildings. This photograph captures what most do not see. The footbridge creates a superb complexity to the photograph but also shows us how the sun fights to get through to illuminate the street for the lady walking away from it.
Hidden In The Fog
Photo by Long Bach Nguyen
To some it is indeed the beauty of the fog taking over the forest, to others, might be the meaning of fire. Optimistically, it celebrates nature but also can make us feel like our forests are disappearing through deforestation. This photograph was taken very smartly that could send our brains so many different signals. Long Bach Nguyen is a professional pilot based in Seattle although spent his early years in Vietnam where he first learned how to fly. Naturally, his desk is his flying ship and as a pastime, he rather enjoys taking breathtaking and unique photos of what he flies over.
Concentration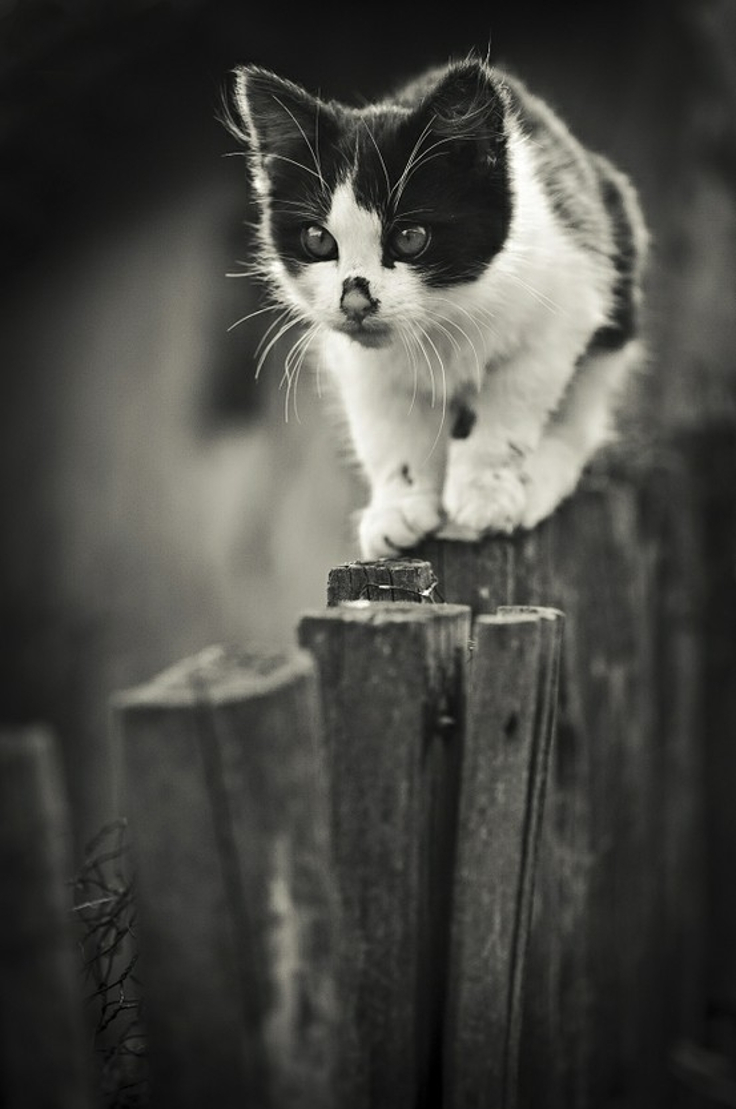 Photo by Milan Hospodka
Milan Hospodka, a young Republique Czech amateur photographer has been taking photographs of various ideologies but mainly ones he personally enjoys. There is no real theme nor any consistency in what he enjoys clicking on the camera's shutter. In this instance, one can really see the focus and concentration of the cat thinking about how to go around his obstacle and how to tackle it. His focus was on the eyes blurring everything else in his path.
The Boy
Photo by Raquel Chicheri
Intimate photography by Raquel Chicheri, a Spanish photographer from Galicia who was mainly inspired by her father when she was a young child. She takes her camera everywhere with her ever since she had children of her own which can be clearly understood and highlighted with the photos she takes. The famous boy photos demonstrate the skills behind using shadows and also taking us in their very intimate lives. These photos often portray innocence and this one fits right in celebrating the world through a young eye. What's to note is that these are rather pure and away from too much editing. Makes it all seem a better reality.
Ballerina
Photo by YoungGeun Kim
One might say that beauty comes through movement and gestures. Not a lot else can be recreated as so, rather through the harmony of ballet. The sheer strength of exercise to make a seemingly perfect dance execution is breathtakingly difficult. All choreographed to perfectly recreate and execute the photograph. The sheer beauty of simplicity hiding the enormous work impressing our eyes. One can feel mesmerized and make us feel that the ballet dancer is in fact dancing while the photo is indeed a still capture. Young Geun Kim is still very young and yet manages to take her work seriously with great maturity.
Miss You
Photo by Benoit Courti
A sad love story in all its purest form. In the picture, one can clearly see an older photograph taken to puzzle up the missing piece. The man is alone and is longing for his, one might assume, both wife and love partner due to the ring on his finger. A shot that is filled with lust, love, and dark truths whether honest or dishonest. Benoit Courti, Parisian born, fell in love with photography at a very young age. He started back in 2010 after having a fruitful career in music but left to conquer his real love.
Lovers
Photo by Christopher Etchells
Chris Etchells, a photographer based in Gainsborough, Lincolnshire, has been highly respected for his work and has been nominated for best professional within Nottinghamshire. We can see from his artwork two, very in love people. The photograph can make us feel that the couple is walking through what seems a busy part of town, but feeling like the two love birds are alone in their happiness. To focus on who's holding your hand increasing love levels rather than the non-existence that surrounds us!