The Maldives Islands is one of the most dreamland destinations in the whole world. Who wouldn't want to enjoy the exotic nature, white sand, and the cyan water of the Indian Ocean?
The Maldives is one of the most favorite places of the newlyweds as an ideal way to celebrate their eternal love. That is something, don't you agree? Below you can find 10 stunning photos of this exotic paradise that will describe it most adequately.
There is not much more to say, just pack your bags, grab the love of your life and run to this heaven on Earth!
Beach Walk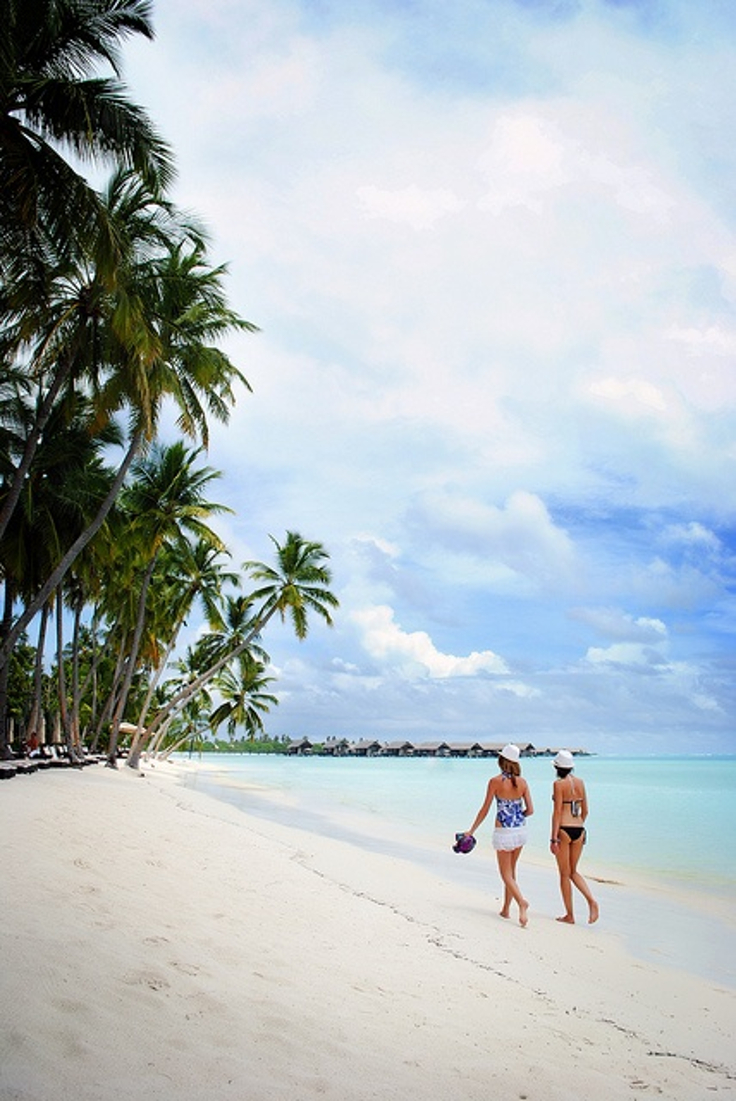 Photo by Ahmed Sinan
Imagine for just a moment you're the couple walking on the seemingly endless beach, bare feet taking in the sea breeze. The warmth of the sand between your toes, your loved one by your side or your very best friend or even a close family member, with not a worry in the world. Hours of relaxation, pure bliss bringing back all the energy consumed in the fast world we live in. The picture can stimulate our envy of escapism and liberty. We feel comfortably alone on the island and perhaps on the way back to the breakfast room to catch fresh fruits from the buffet.
Villas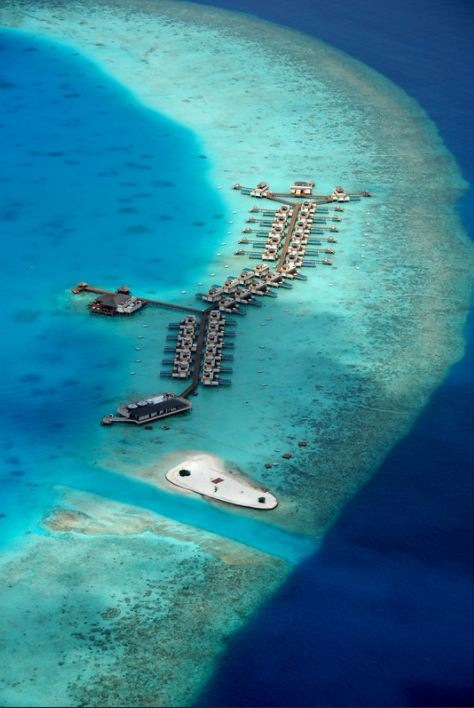 Photo by Fazeel Jaleel
One of the best ways to admire the Maldive islands is by seaplane. Once on the ground, it is one of the best places on Earth but one cannot deny the beauty from above. We can clearly see the turquoise islands surrounding the spot of the land but mainly, the superb water villas to the shape of a flower stem. Doesn't this make you wish to hop on a plane and experience this? Water Villas are ever so popular. You wake up, you open the sliding door to the villa's terrace, and you dive in the water. Pure bliss and luxury.
Time To Relax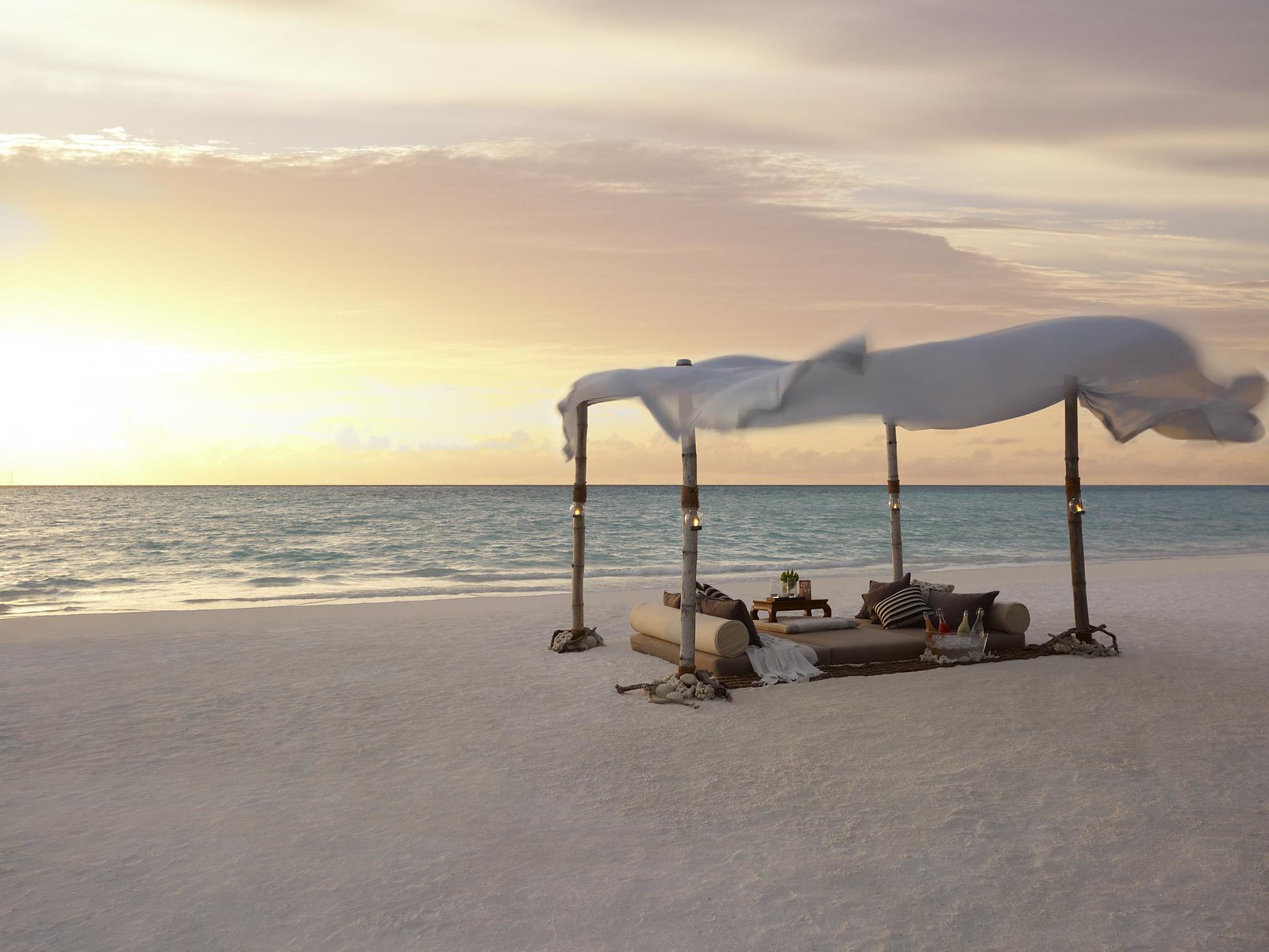 Photo credit to Sunny Maldives Pvt Ltd
Your very own cabana? As if it wasn't enough to have your own water villa with your private butler but now wish to have a moment of peace in front of one of the most fascinatingly beautiful sea views you'll ever get. A once in a lifetime opportunity, or more if you're fortunate enough but once is already an achievement. From morning to dawn watching the sunrise to the sunset with ever-changing sky colors. Drinking a cocktail or two in between.
Romantic Sunset With Your Other Half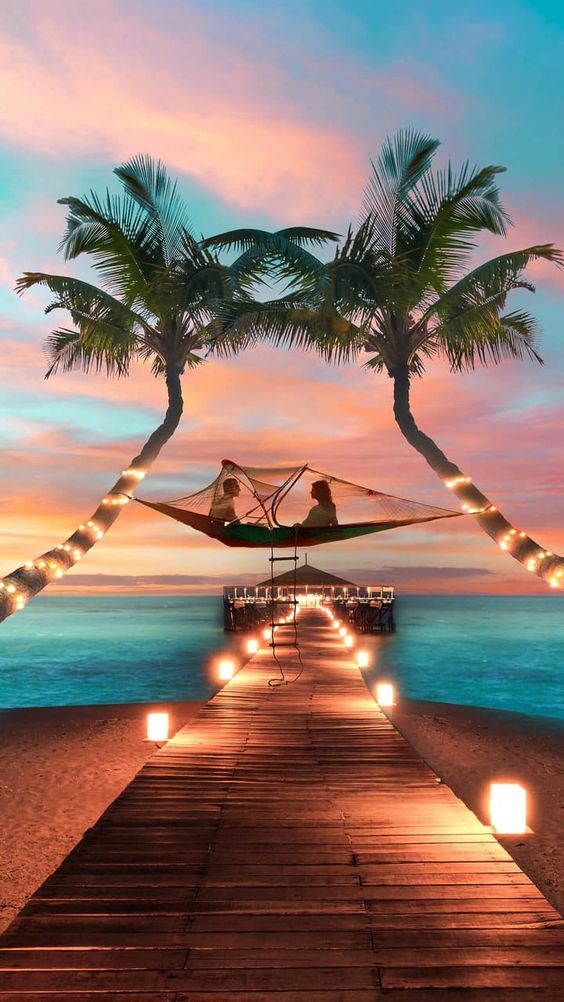 Photo credit to weheartit.com
Planning to romance like never before? Planning a trip for the famous "I do" question? Wish to celebrate an anniversary or simply wanting to celebrate love? How about being in the Maldives, on a beach hammock, in the sea itself, and telling endless stories on how happy your loved one is making you feel. All this topped up with the most incredible sunset you might have ever seen. It would be hard to think of something more perfect for two people to simultaneously experience. This photograph really inspires us all.
BBQ On The Beach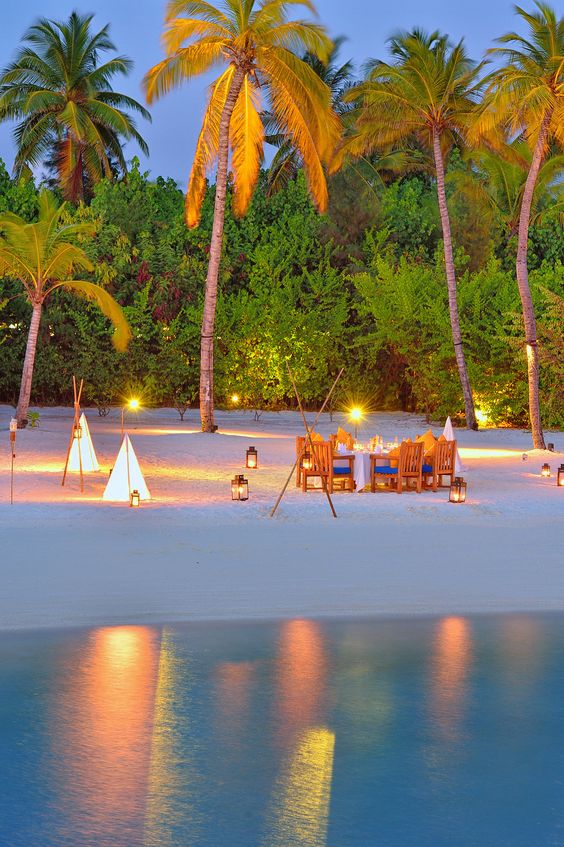 Photo credit to jumeirah.com
Gone to the Maldives with your best friends and their partners? Party of 3 couples fully in love wishing to spend their time alongside people they equally truly love and respect? Imagine the scenario when, on offer, it is possible to request and reserve a quiet space, on your own, on the white sand still warm from the afternoon's heat, right in front of the sea? Imagine also having your private chefs cooking on the barbecue the freshest of seafood available on the island. A magical moment one that will last forever we are certain.
Boat Trip
Photo credit to conradhotels3.hilton.com
Boat trips are great but often can be a little crowded due to the amount of tourism some places on Earth experience during the season. However not in the Maldives no. Islands are rarely overly busy making you feel alone at times. On some occasions, you could find yourselves alone for a couple of days and have the island all to yourself. What more would you want, rather than to have a private boat trip around the island alongside a glass of something bubbly and a light spot of lunch.
Beach Swing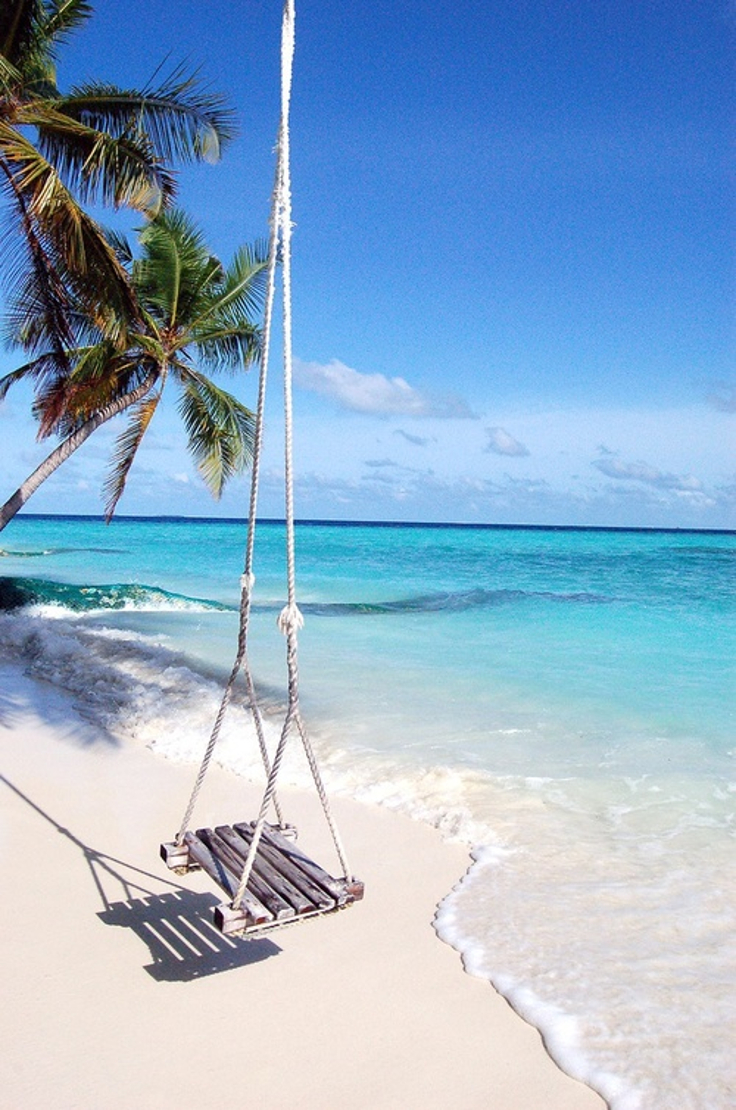 Photo credit to weheartit.com
Time for a moment's peace? A feeling of wanting to be alone away from everyone? We might remember as children being on the swing somewhere. And this felt good didn't it? Well now is the time to recreate this when once upon a time we did not have a single worry in the world. And the Maldives swings gives us a sense of re-energizing the batteries.
Ithaa Underwater Restaurant
Photo credit to yonder.fr
Ithaa is the first-ever underwater restaurant in the Maldives. Home to amazing marine life gently doing their thing above you while you admire their natural sea dance. The panorama is incredible for lovers of the turquoise emerald color of the sea 5 meters under. An absolute dream you almost feel as this is not real and surely cannot be. But it is one of the dreamiest areas you could ever be in. A perfect way to celebrate life, a perfect lunch between friends and family before returning to relaxation mode on the fine white sand.
Forest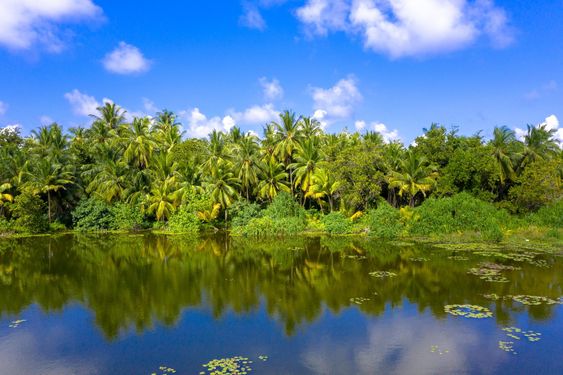 Photo credit to asad.photo
Yes, we believe we can all forget that in the Maldives, trees exist! Maybe because we are too busy looking for the emerald blue waters and the white fine sand and perhaps also our water villas or beach villas. But if you look inland, you see masses of greenery. Chances are, on any one of the islands, you will see individual little patches of forestry areas. You could have a wonder to refresh the senses and is a perfect way to get to smell uninterrupted vegetal smells. These Patches of land are incredible and could make you feel like you in the Amazon, just one surrounded by endless waters.