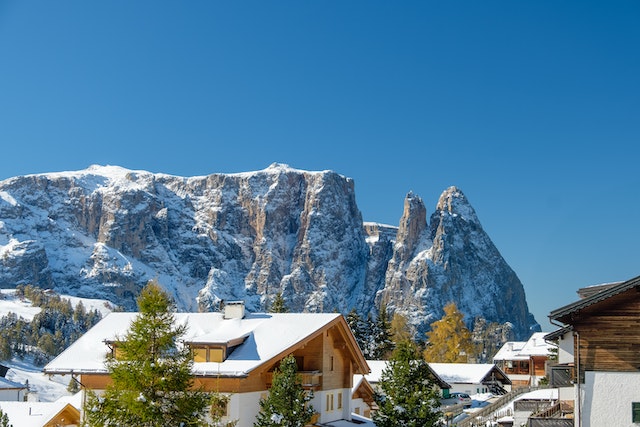 Buying a ski chalet in Saas-Fee is one of the best investments you'll ever make, especially if you're fond of ski holidays. On those days you're not vacationing in Saas-Fee, you can rent it out and generate income from the property. Therefore, any day spent outside the chalet is a day where you generate revenue. Since good snow is guaranteed all year round in Saas-Fee, there's a good chance your property will not be empty. If you need more reasons to buy a chalet in Saas-Fee, Switzerland, check these out.
1. The Skiing is Unmatched    
Perched in a stunning location and surrounded by the majestic mountains of the Swiss Alps, Saas-Fee offers some of the world's most epic ski experiences. At an elevation of 1800m, the area offers a ski range of between 2500m and 3500m, making it one of the highest ski resorts in Europe. It also boasts an impressive vertical run drop of 1700m.
Good snow is often almost guaranteed in Saas-Fee, even late in the season. The ski resort covers 100 km of piste, although you can upgrade the lift pass to include the nearby ski resorts of Saas Almagell and Saas Grund.
2. Lots of Family Activities     
Saas-Fee is the highest village in the Saas Valley and part of the Swiss Alps. Over the years, the picturesque resort town has spread out and now offers a wide range of non-skiing attractions. Although most visitors would come here to ski, it also has numerous fun activities geared towards families.
Owning a ski chalet in Saas-Fee seems like a great idea, especially if you have active kids who want to take on adventures. Aside from skiing, you can visit The Ice Pavilion, which features incredible ice sculptures, dine at a Revolving Restaurant, or try ziplining, mountain climbing, etc.
3. Plenty of Hiking Trails        
Saas-Fee is a destination for all seasons and owning a property in this resort town is a good idea. It's a superb hiking destination, especially during the summer season. Whether you are interested in easy hikes or a high-altitude adventure, Saas-Fee is a hiker's paradise.
The walking trails in the Saas Valley will take you through lush forests with incredible views of the high alpine mountains. One of the best hikes is the Gemsweg, also known as the Chamois Trail, named after the goat antelopes you can stumble upon in the area during your hike.
4. Great Weather Conditions for Winter Sport        
Saas-Fee offers excellent weather conditions for winter sports in the Swiss Alps. December is the first winter month. During this time, the area is freezing, having an average temperature between -2.5°C and -10.6°C.
Surrounded by some of the tallest mountains in the Alps, Saas-Fee gets little sun early in the winter and can be very cold, offering the perfect setting for an adventure-filled winter vacation.
5. You Can Visit Whenever You Want          
Saas-Fee is an all-year-round destination that you can visit whenever you want. If you're one of those visitors who come to the area several times a year, you would be better off investing a property here instead of wasting money renting a chalet in your every visit.
Saas-Fee offers plenty of activities regardless of the time of the year, so you are guaranteed an enjoyable visit regardless of the time of the year. The high elevation of its slopes ensures a long ski season extending well into April.
6. Incredible Food        
Saas-Fee has an incredible food scene, and owning a chalet in the area means you can enjoy great food each time you visit. Being a popular tourist destination, Saas-Fee is home to some of Europe's best restaurants, where you can indulge in delectable cuisines after a day of adventures.
Saas-Fee is also renowned for having the highest-revolving restaurant in the world. The restaurant rotates a full 360-degree, treating diners to stunning and ever-changing landscapes of the glacial scenery.
7. Interesting Wildlife  
One of the reasons why Saas-Fee has become a popular destination, especially for families, is that it offers the opportunity to see interesting wildlife. For instance, when hiking in Hannig, you could spot local wildlife, such as the chamois, grazing on the rocky outcrops just above the gondola station. At Spielboden, there's a little trail where you could stumble upon quirky marmots who will take food from your hand!
8. A Variety of Mountains
Another great thing about Saas-Fee is that it's flanked by some of the highest and most gorgeous snow-covered mountains of the Swiss Alps. If you're up for the challenge, you can climb the mountain peaks around the town, which is the best way to admire the unique beauty of this region.
Some of the best peaks for mountaineering are the Allalinhorn and Weissmies. If you're into mountain biking, the best mountains are the Rothorn and Sunnegga. You'll have plenty of time to explore these mountains if you buy a chalet in Saas-Fee, perfect for skiing most of the year.
9. The Ski Resort Caters to All Abilities       
Saas-Fee's extensive ski areas consist of three zones – Längfluh, Plattjen, and Morenia. Over a quarter of these areas are considered easy. About half is moderate, while the rest are difficult. Therefore, the resort can cater to all abilities.
Beginners will find many nursery slopes to ski on. Intermediates have the entire area to play at, while experts will find plenty of opportunities to challenge themselves. Freestyle skiing is popular here, thanks to its top-quality halfpipe in the summer and many beautiful parks to explore, not to mention the slopes suitable for all abilities.
10.You Can Enjoy Skiing in Summer without the Crowds
Once you have a chalet in Saas-Fee, you can enjoy skiing in the area anytime you want to. Understandably, it can get busier during the winter season when visitors come here for a ski holiday.
If you hate the crowd, you can come here in summer when there are few tourists. As mentioned, snow is often almost guaranteed in Saas-Fee, even outside the winter season. Being here in summer also means enjoying other non-skiing activities, such as hiking, mountain climbing, ziplining, and more.