The best holiday of the year is just around the corner and it's high time for you to start decorating. Perhaps you have no inspiration on how to decorate your home and prepare for Christmas? Then we are here to help you. Burlap is a material that almost everyone has in their house that can be used for lots of different creative decorations. For that reason, we have selected the top 10 DIY projects for decoration with a rustic note.
You dоn't need expensive decorations to make your home look fantastic. If we can choose between many Christmas decorations that are out there, it is always nice when we have done something beautiful with our own hands. What's more interesting, DIY projects are always a good idea to involve your kids in decorating.
The time we spend with our family is precious. And the time spent with them in decorating the home during the Christmas holidays creates beautiful memories and moments for us.
Okay then, let's get into action!
Burlap Bow Christmas Tree Topper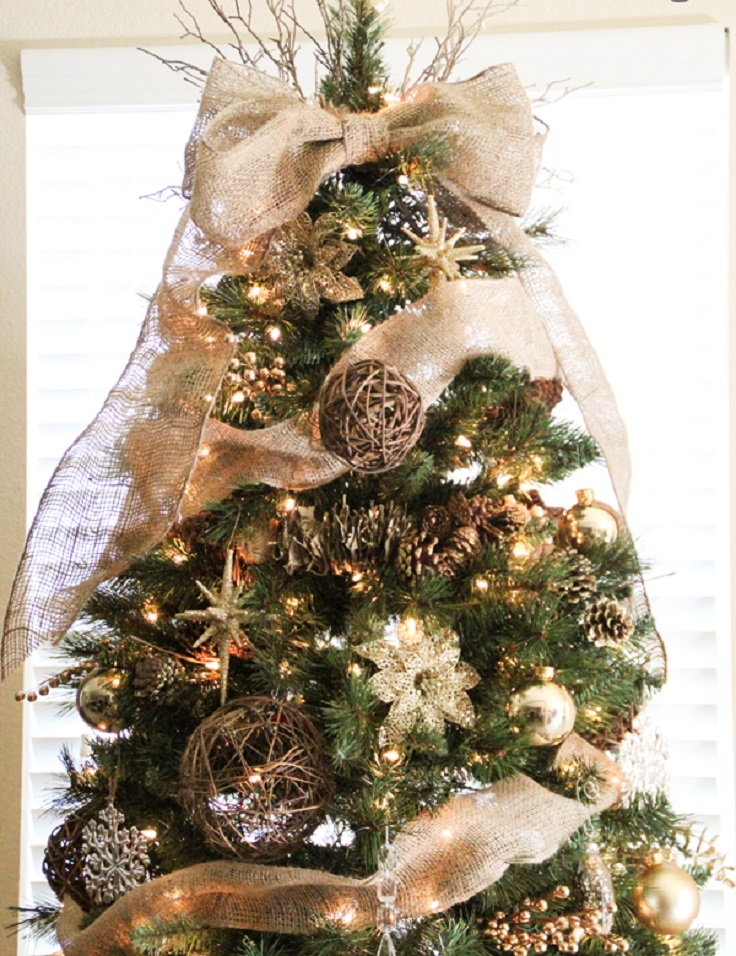 This bow is super simple to make, all you need is some burlap, scissors, and glue. Except for putting this bow on a tree topper, you can put it as an ornament anywhere else, for example on your Christmas tree or nearby your fireplace.
Weaved Burlap Christmas Stockings Tutorial
Christmas stockings are a wonderful tradition that accompanies Christmas Eve. Whether it is to give a special rustic note to your fireplace or to make the children happy, this symbolic Christmas decorative element brings a festive and friendly atmosphere to our home.
DIY: Burlap Christmas Ornament
Are you one of those who buy new and new lanterns and Christmas tree decorations every year? You never get bored of them but those shiny ornaments cost your budget dearly. Don't despair if this year you don't want to spend money on new ornaments, but get to work and do them yourself! They don't take much time to create them and your Christmas tree will be decorated in a rustic style.
DIY Burlap Christmas Garland Tree Wrap
Making your own burlap tree wrap is really a very useful and much cheaper idea for decorating your Christmas tree.
Personalized Burlap Luminaries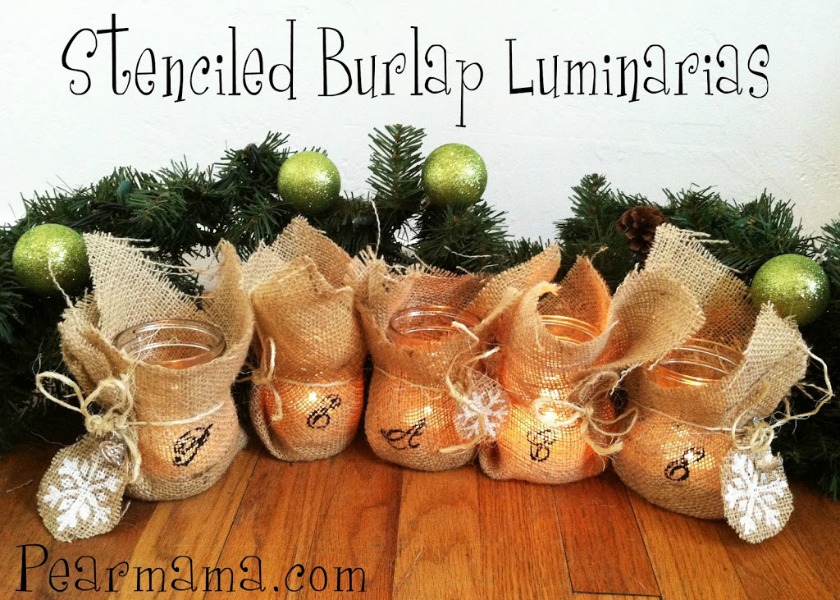 If you want to make your loved ones happy with a handmade gift, the simplest way is to make luminaires. You can decorate your home with them as well and your home will have a beautiful, more sensual Christmas atmosphere.
Burlap Christmas Garland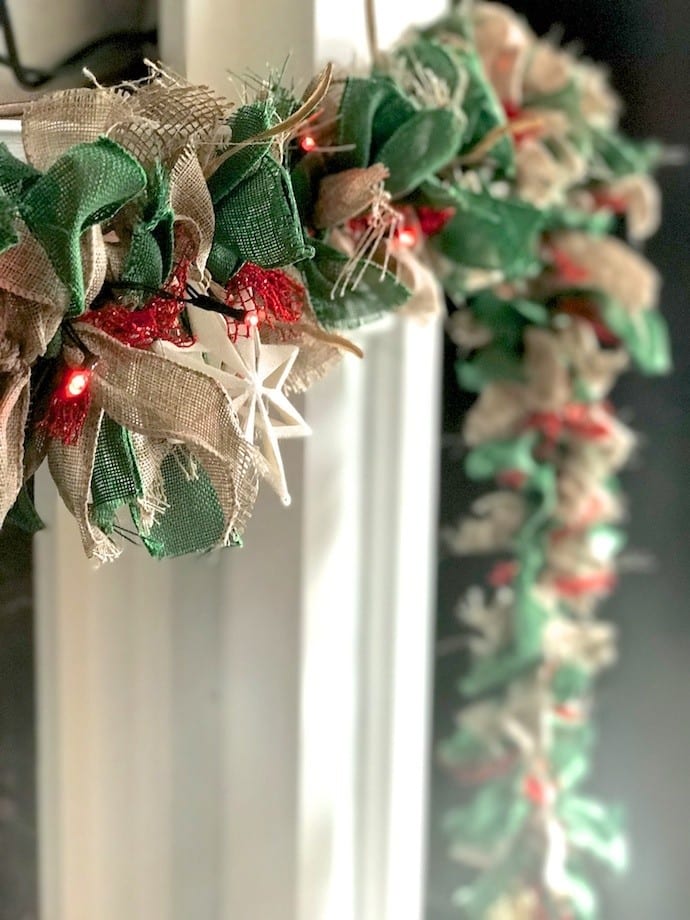 This garland decorated in Christmas colors is definitely something you should have in your home to decorate your fireplace or your stairway in your home. Due to its longevity, it may take more than 10 minutes to make it, but once you finish it and place it on your fireplace, you will see that it looks impressive and you will be completely proud of what you have done.
No-Sew Ruffle Christmas Tree Skirt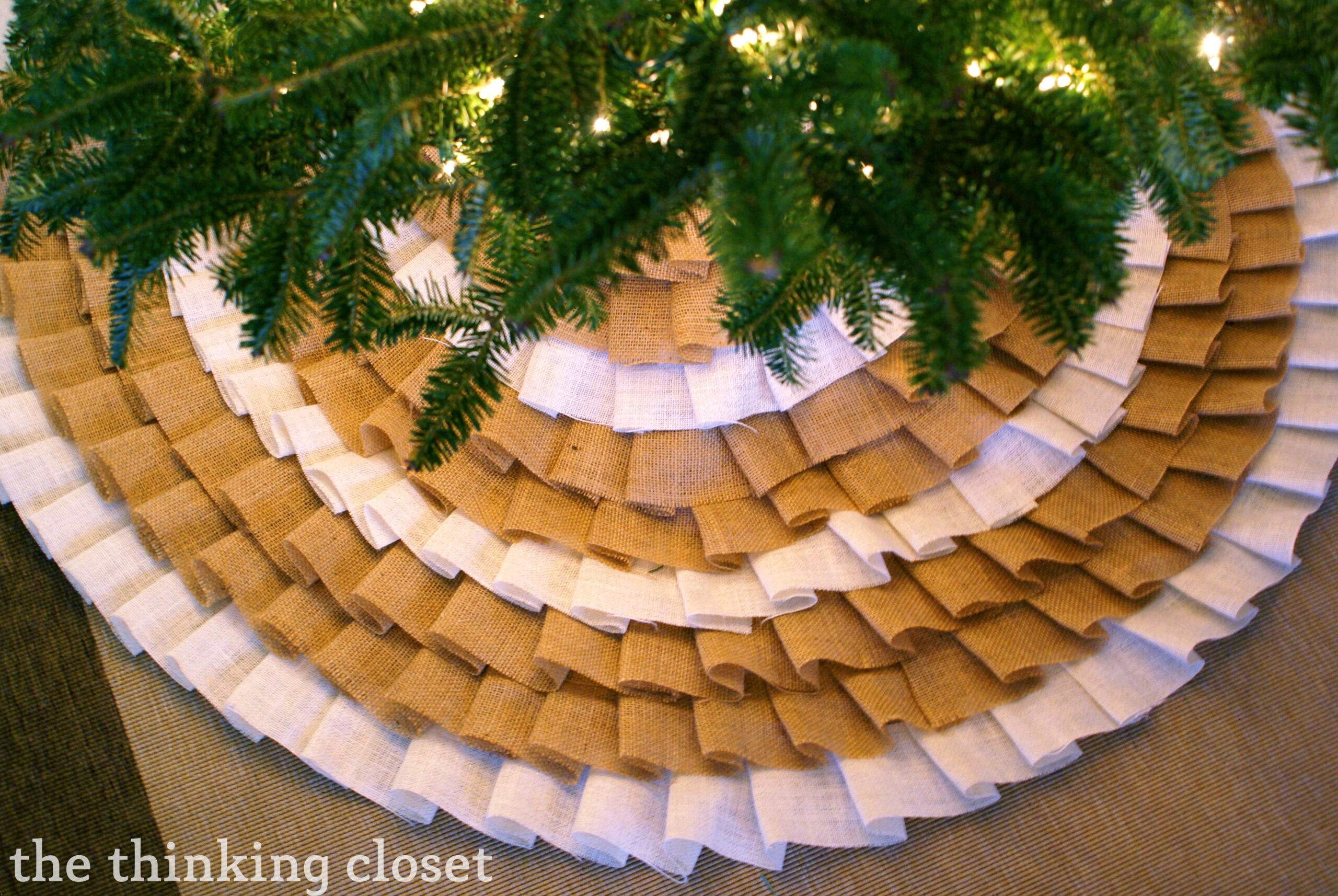 Making a Christmas tree skirt is a super-unique idea that you have to include in your Christmas decorations. It will definitely catch your Christmas guests' eye.
Giant Burlap Candy Cane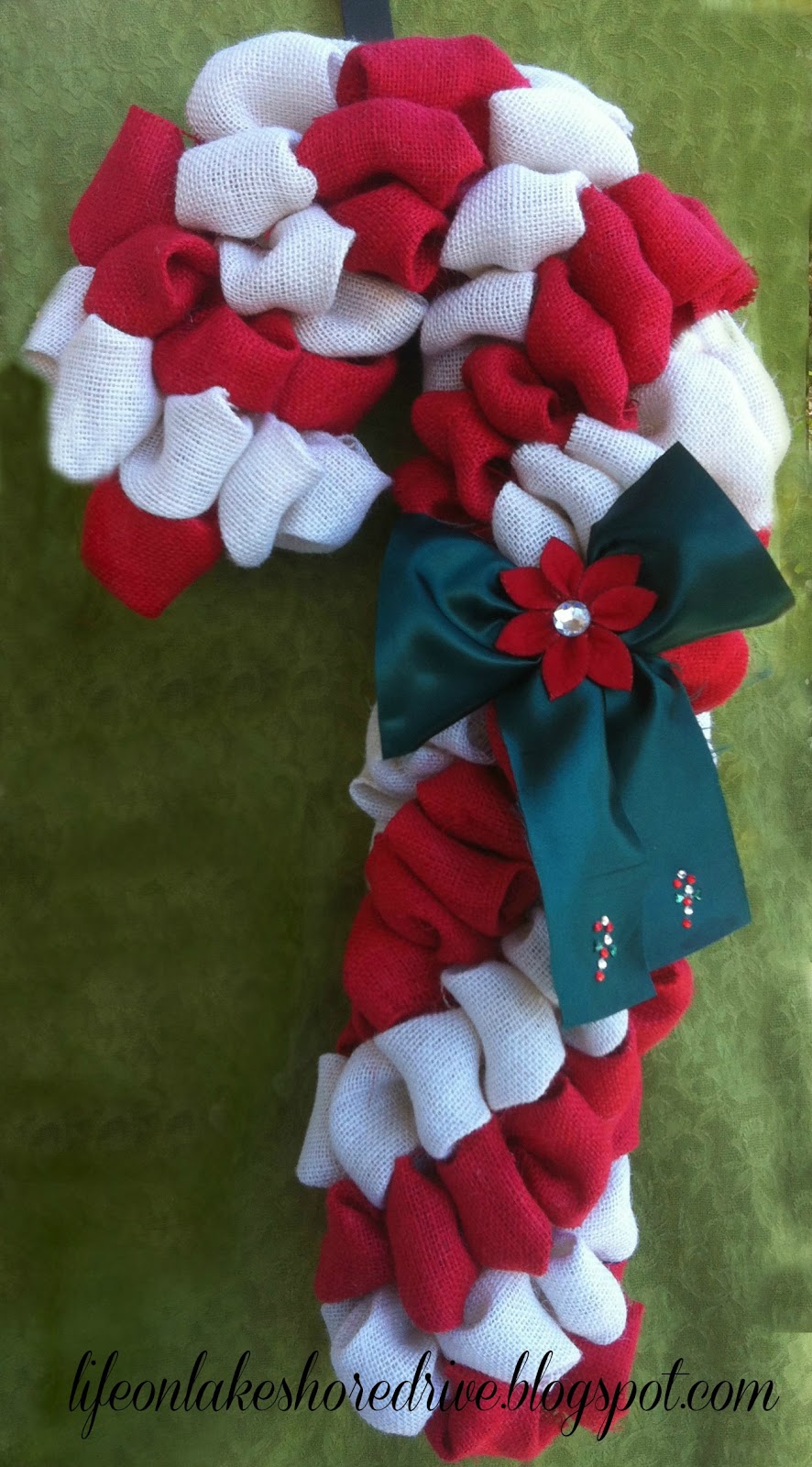 We decided to suggest to you an idea for a wreath but in the form of a candy cane. And why not do something more unique? This decoration is more suited to the decoration of your front porch.
Burlap Ribbon Wreath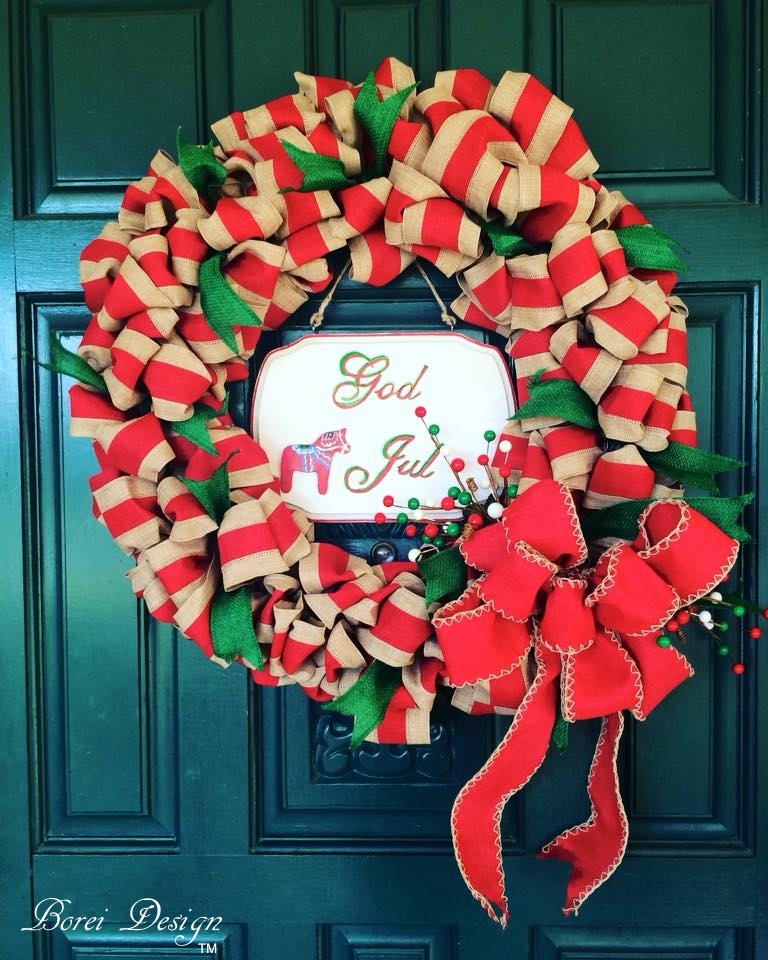 If you haven't yet decorated your home with a Christmas wreath yet, do it now! A Christmas wreath is placed on the front door of the house and it's the first decoration that your guests notice.
Burlap Christmas Trees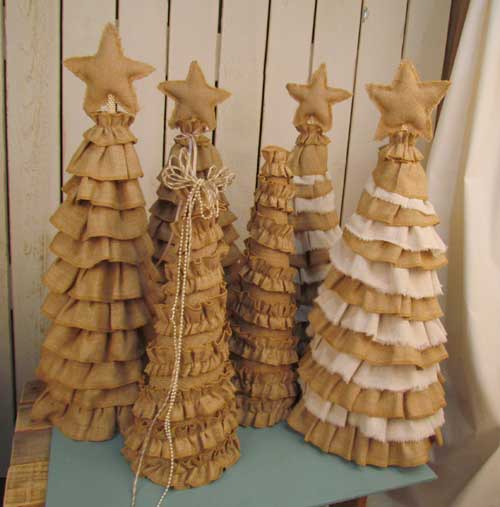 The main symbol for Christmas Eve is, of course, the Christmas tree. It gives a special, magical touch to your living room. For that reason, we offer you a unique idea to create your own Christmas tree. You will definitely surprise your loved ones with your skills in art and decoration.
We truly hope that we have helped you use your creativity and create a slightly different atmosphere in your home. Christmas decoration has always brought the most enthusiastic atmosphere to the home, and with these unique ideas you will have different, rustic-style decorations in your home and you will save money at the same time.
What are your ideas for DIY Christmas decorations? Have you decided to do any of these fun DIY projects? Don't forget to leave a comment below with all your ideas and suggestions for DIY Christmas decorations.
Happy decorating and Merry Christmas!