The great fashion designer Yves Saint Laurent once said, "Fashion fades; style is eternal."  The well-said quote still made its point because a person can buy almost every designer piece, but never a great fashion style. If you have already built fashion style, but you still hesitate about some street style outfits, this article could help you a little.
By learning from the superstars, everybody can improve their style. Miranda Kerr is a great example of a mix of fashion, elegance, beauty, casualness, minimalism, and she is worldwide known as a great street style icon. Directly from the streets of New York City, we are presenting you the top 10 lessons from Miranda so you could make amazing outfits that you will wear in your city.
1. All in Black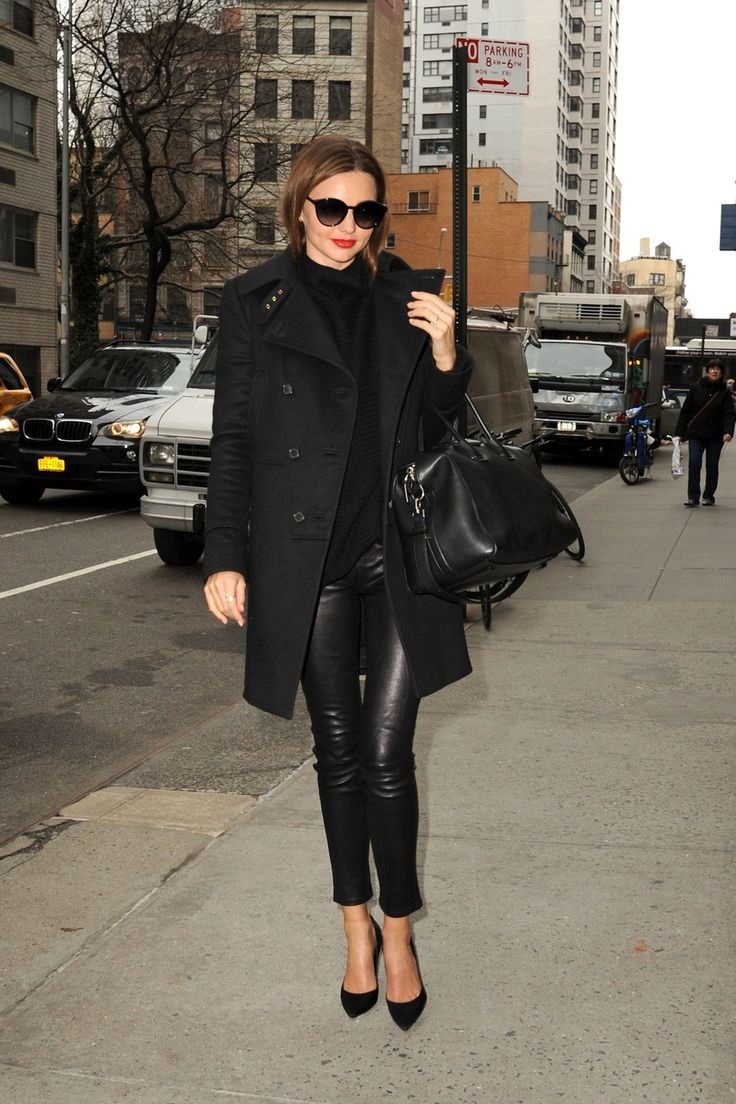 via popsugar.com
Black is such an elegant color. The iconic little black dress never fades. In the street style, the total black outfit is comparative to the black little dress. Miss Kerr uses this outfit really often. The choice of total black outfit is huge. Black pants or maybe black jeans, black flats or black high heels, black leather jacket or a black t-shirt, black handbag, and most of the time in combination with the iconic red lipstick. Miranda knows how to wear it. Starting from now, you should try it too. We would say black is such a happy color.
2. Over Knees Boots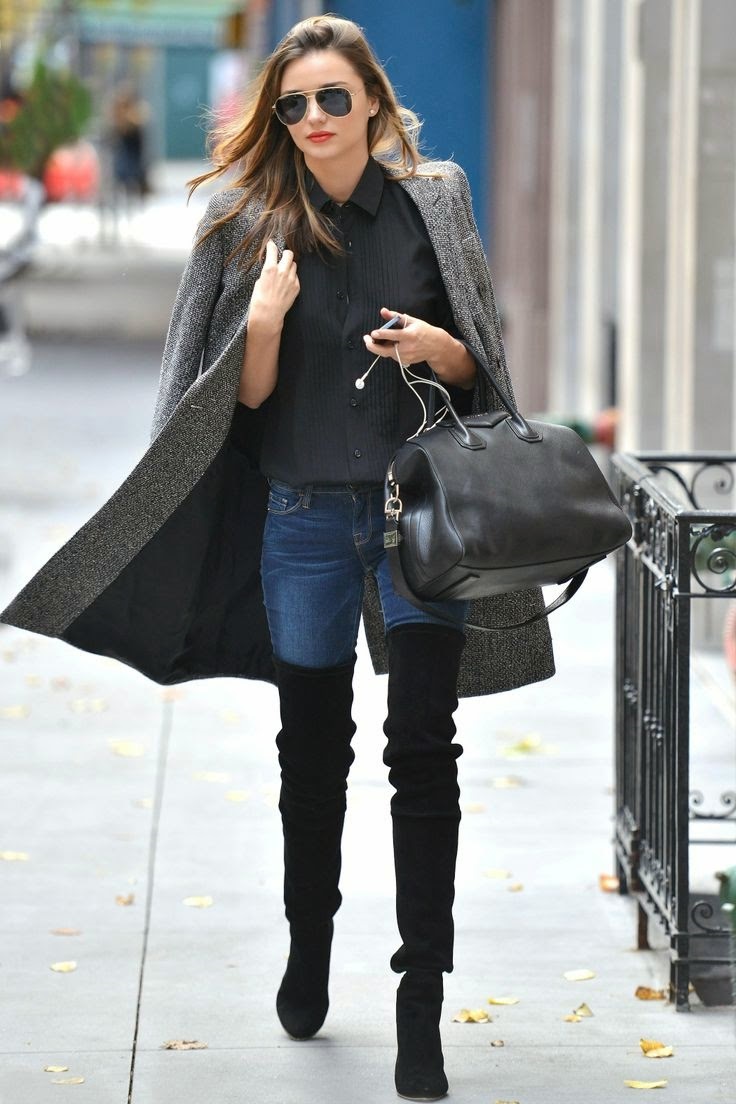 Via ornelga.com
Over the knees, boots are the newest favorite fashion thing to celebrities. This super sexy fashion piece is in almost every celebrity person's closet, and Miranda owns them in many different colors. Black, grey, or maybe beige, they are a total top fashion combination. Easy to combine them with jeans and aviator sunglasses as Miranda did in the photo or for a sexier outfit with a short dress. Many times she combined these over knees boots with shorts. If you own them already, you can start to combine them this autumn, or if you don't, then you should get them as soon as possible because this is a must-have according to Miranda Kerr's street style.
3. Neon Color Bag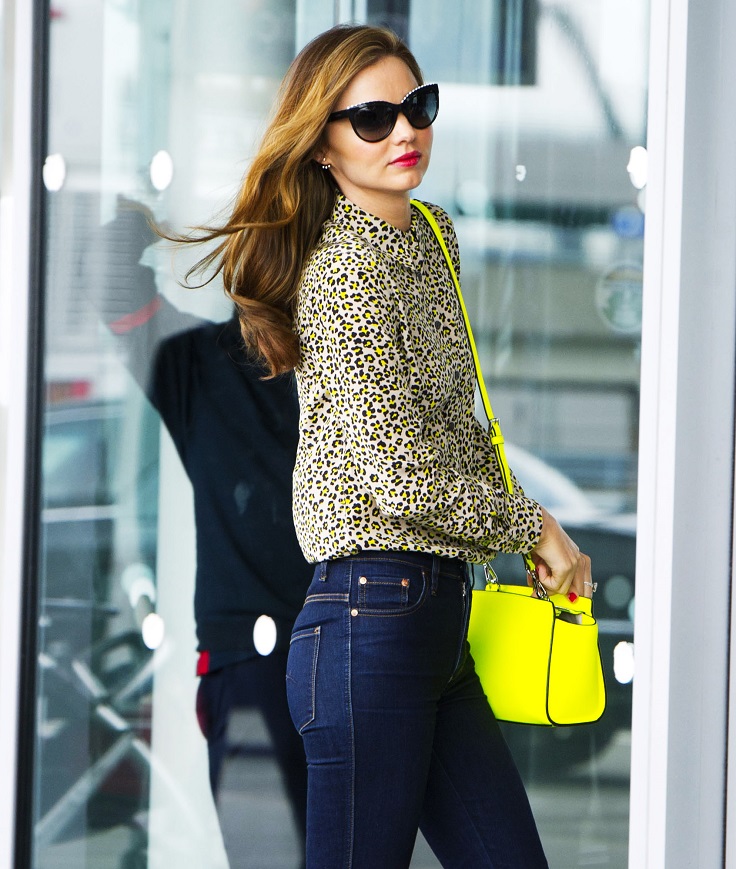 Via hollywood.com
Even if you choose a totally monotone color outfit, a neon bag could make a total turnaround to your outfit. From a monotone to a totally different colorful street style outfit. Miranda shows us how to do it perfectly. She's choice is yellow, but also you can combine orange, pink, mango, or any other neon tote bag or handbag. One bag, but many outfits will always look different.
4. Total Denim
Via newslocker.com
If you doubt how you could match your new jeans, you won't be wrong if you choose a denim shirt. Miranda teaches us how to combine a total denim outfit and to look perfect in it. If you want to be the next street-style icon in your city, this is a great idea to start with. These two denim fashion pieces should always be similar denim color so the outfit will look great in the other way; it might get close to a fashion disaster. Be careful while you are combining your total denim outfit so you could be the best street-styled.
5. Summer Maxi Dress in Light Colors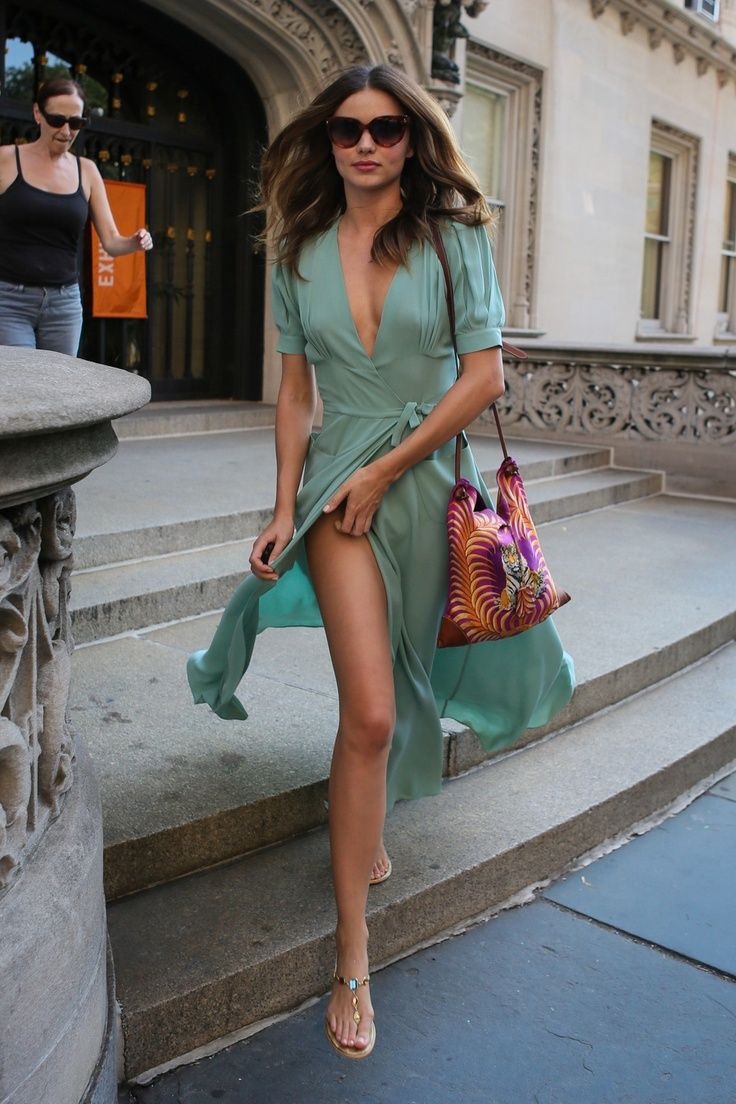 Via onlylookingupwithu.tumblr.com
Summer maxi dresses were total in the last summer, but we're pretty sure that it will be the same way this year too. Miss Kerr chose a blue mint maxi dress, but they are a total pick in every single color. Floral, light blue, dark navy blue, white, rose, neon pink, or many more, only by buying this fashion piece you already halfway to your new daily street style outfit. You only miss choosing sunglasses, bags, and flats.
6. Wearing a Cape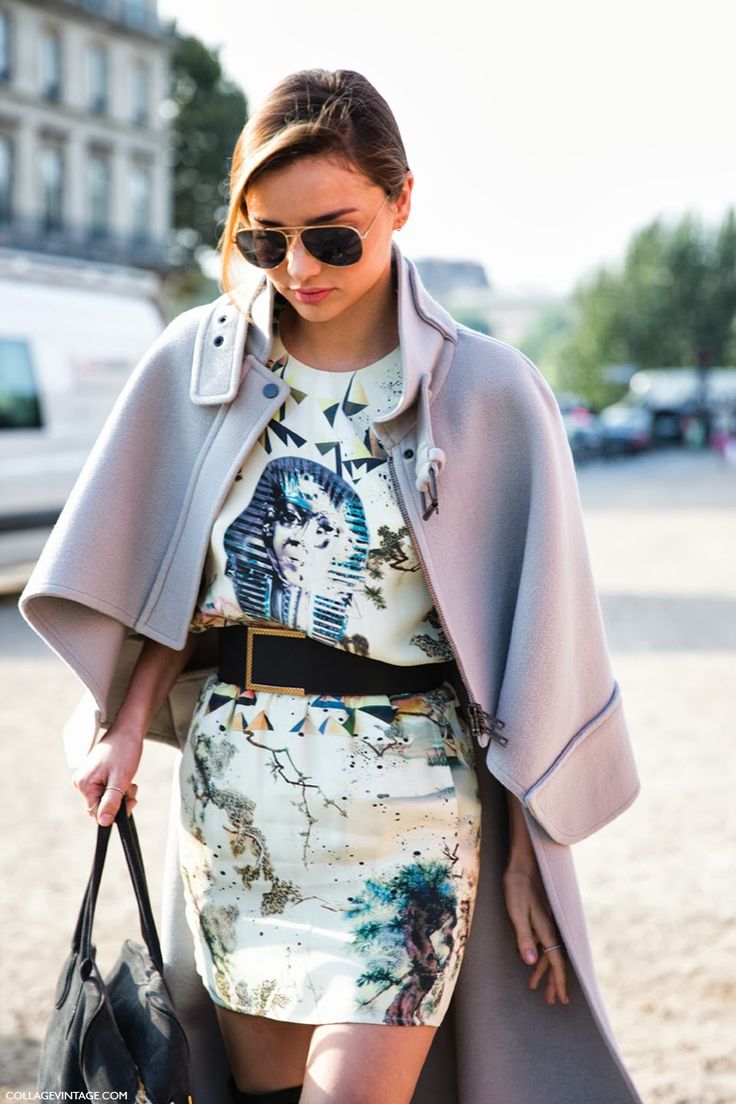 Via glamradar.com
Miranda always owns the latest trend pieces in her closet, and she successfully manages to combine them and to wear those outfits proudly into the city streets. Cape is a must for these last seasons. The best match for the lovely capes are always the jeans, but Miranda showed us that a lovely elegant pastel color cape might be combined with a dress or a skirt. She made a total match with her over the knees boots and a lovely colorful shirt and top. Of course, all of this with a finish match of aviator sunglasses. Well done, Miranda!
7. Floral Outfit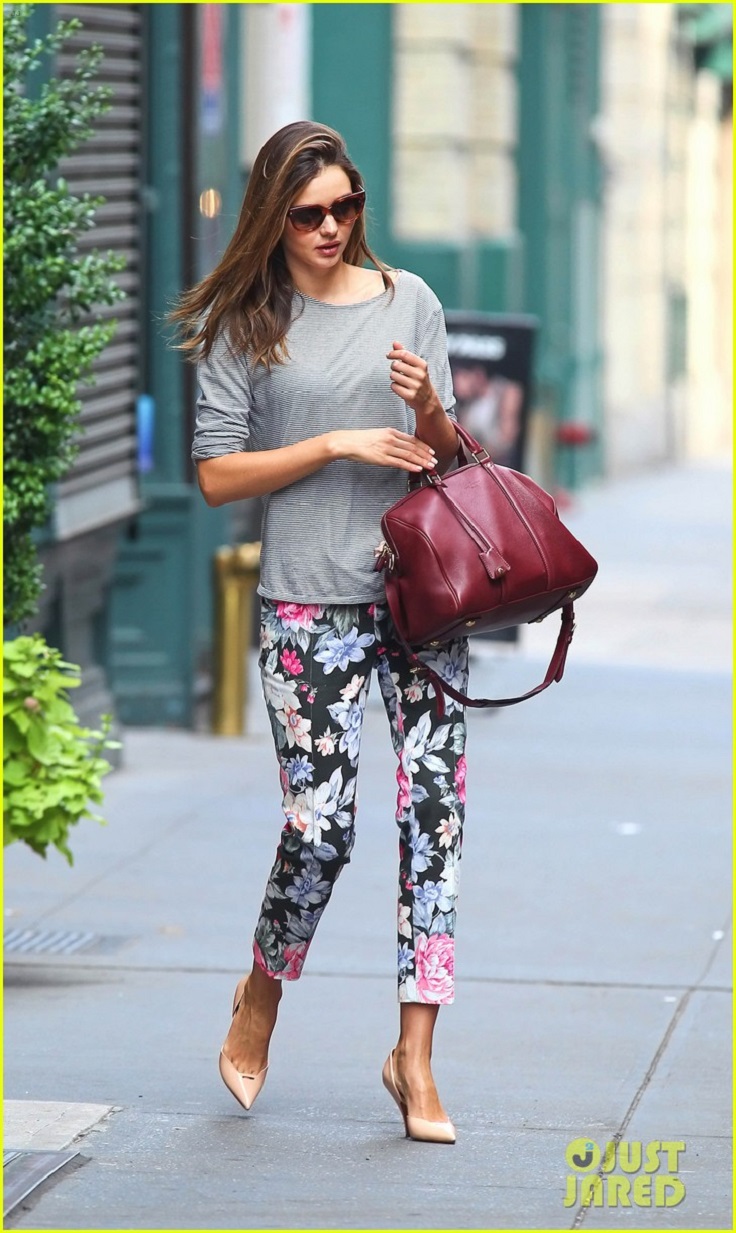 Via justjared.com
Floral things are in almost every spring and summer. This fashion design never fades. This last season, the floral pants were favorite pieces for the celebrities and Miranda's. These black pants are with rose, grey, and blue tones with a black base. Miranda combined them with a grey top. We recommend you match your floral pants with a top that is a similar color to the floral on your pants.
8. Flats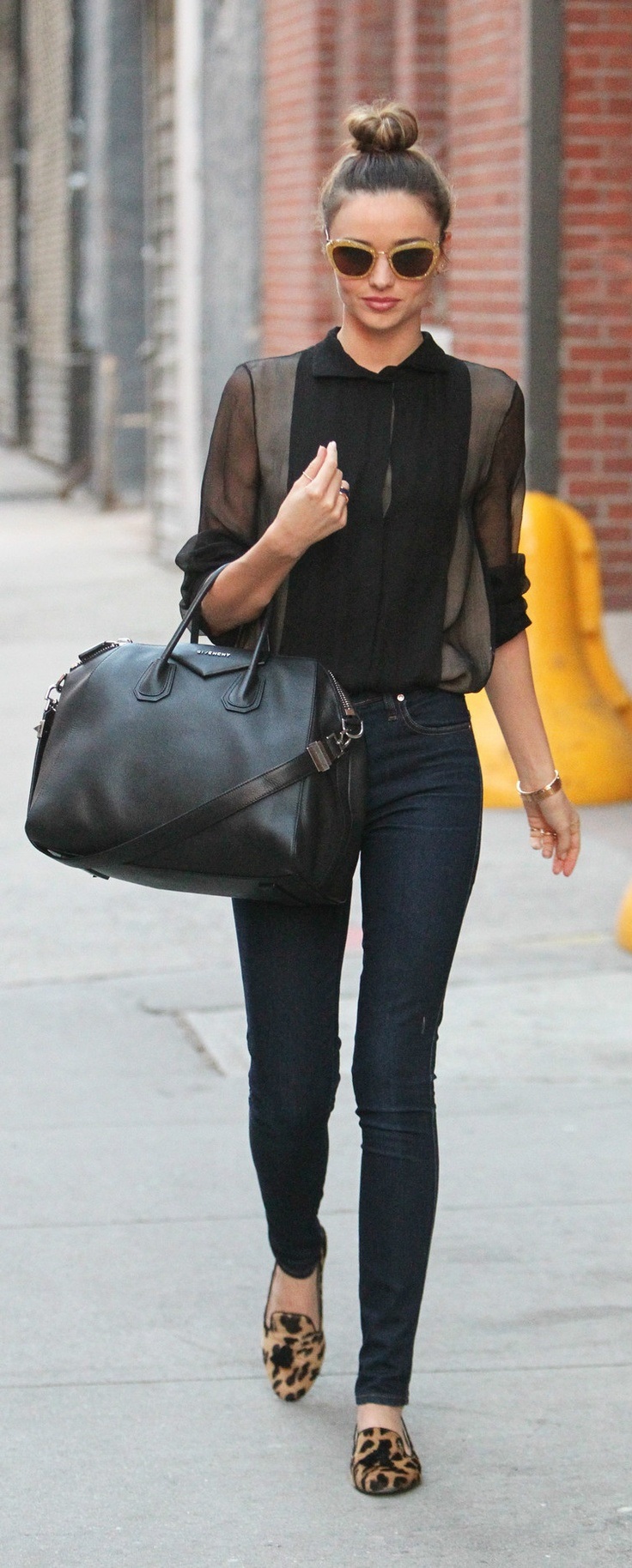 Via freez.com.au
Speaking about the streets, flats, and sneakers, they are a must if you are going to a longer destination. For her walk out in the New York Streets, Miranda often chooses flats, this time animal prints flats. She made a perfect match with the blacktop, and the skinny jeans nicely combined three tones black, beige, and jeans. This is a perfect combination for a street walk, shopping, or a daylight date—so cool and stylish way to combine elegance and street style.
9. Leather Jacket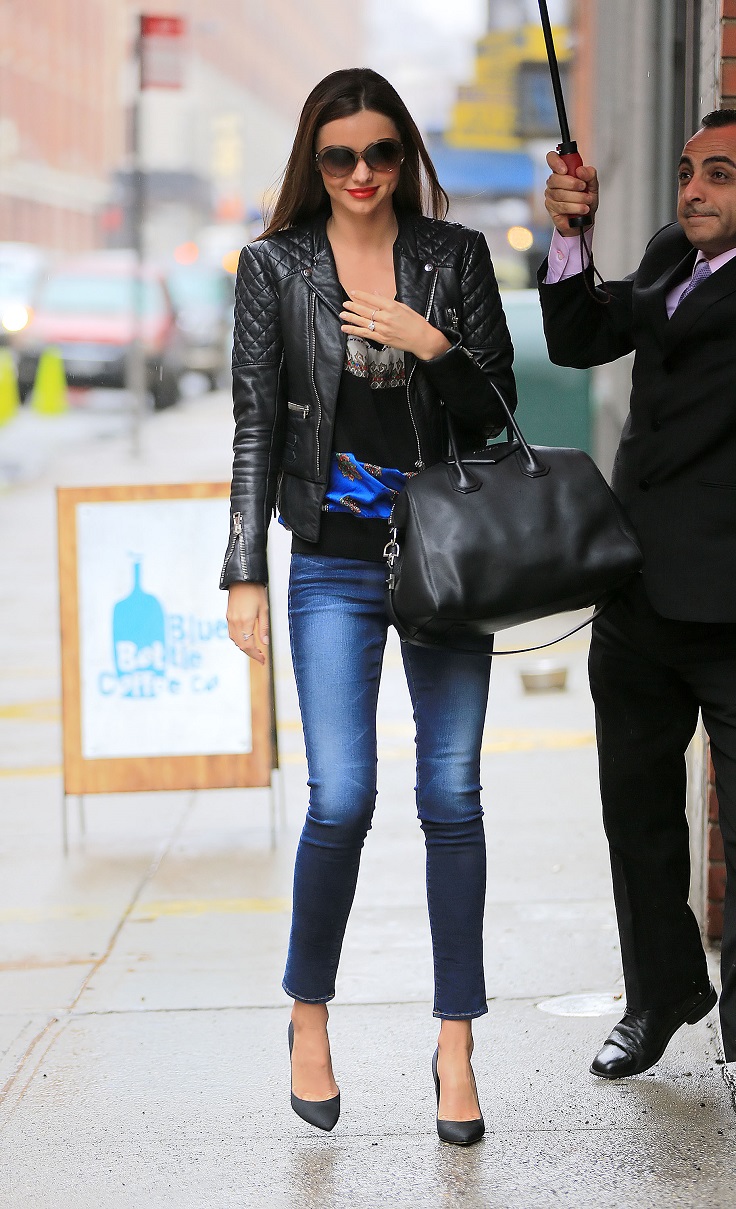 Via popsugar.com.au
The biker leather jacket never ever fades. Just the shape may change a little. This super iconic fashion piece is famous forever. You should own this kind of jacket in many colors, but black and brown are must-haves. Miss Kerr combined her leather biker jacket with jeans and black pumps, but you won't make a mistake if you combine the jacket with some nice elegant sneakers. Casualty and elegance at the same time are the best choices for the streets.
10. Pencil Dress
Via m.dhgate.com
Miranda is known for wearing her pencil one-colored dresses. Only by choosing one piece, you already have a total look, so you only miss taking care of the details. Combine this classy, stylish dress with pumps or heel sandals. You can use this stylish outfit for the business meeting during the day or maybe for a date when the occasion is a celebration of some anniversary. Stylish and sexy, this is such an elegant combination for the day.