We're used to the regular lasagna recipe – the savory one, and we love to have it for lunch or dinner (even leftovers for breakfast!). But the way this lasagna is made leaves space for experimenting with dessert ingredients that will help us create a lasagna made out of sugar.
All dessert lasagnas look super delicious, and we're sure they also taste that well too. We picked our ten favorite recipes, of which some don't require baking and others are ready in less than 15 minutes. Scroll and pick your favorite recipe!
1. Red Velvet Dessert Lasagna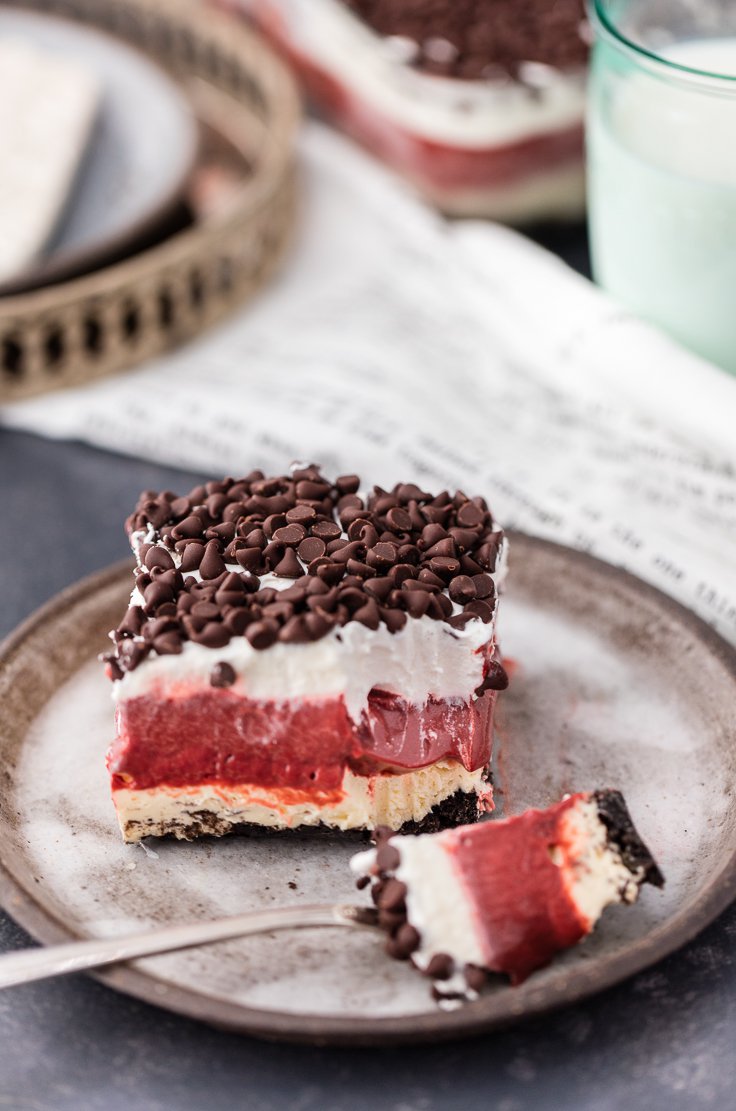 The famous red velvet dessert can be transformed into a delicious lasagna! You need to prepare four layers – crust, bottom, middle and top layer. For each, you need few ingredients, but it's nothing that would empty your budget. Being a classy dessert, preparing the red velvet lasagna for a special event and family gathering is a great idea.
2. No Bake Chocolate Lasagna
When craving a chocolate dessert, no one likes the baking part, especially if it needs more time. To save yourself from waiting, prepare yourself a no-bake chocolate lasagna. This one is one real chocolate experience, being a mix of chocolate, Oreo, chocolate chips, and cool whip. It takes less than 30 minutes to prepare it, but it's recommended to keep it in the fridge a few hours before serving.
3. White Chocolate Blueberry Lasagna
White chocolate doesn't always get the credits as milk chocolate does, but here are desserts such as this one that prove why we should always say "yes" to a white chocolate dessert. This lasagna is the perfect mixture of Oreo crust, white chocolate pudding, blueberries, and cool whip. This creamy, light dessert requires no baking, and it's really to prepare. Just make sure to place the lasagna in the fridge a few hours before serving.
4. Chocolate Pumpkin Dessert Lasagna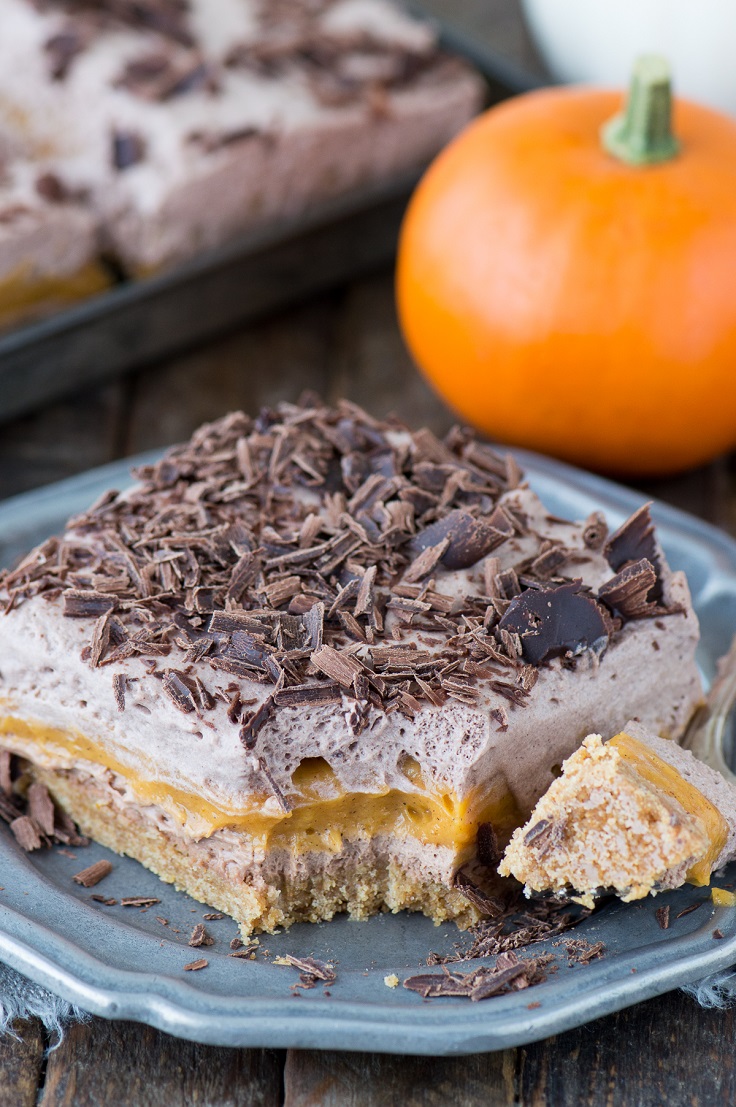 This sweet lasagna is a combination of so many delicious ingredients! It has a crust made of graham crackers, a pumpkin pudding layer, a chocolate cheesecake, and chocolate whipped cream. Those who love the combination of pumpkin and chocolate will certainly like this dessert. The chocolate pumpkin lasagna takes three hours in total to be ready.
5. Lemon Lush Lasagna
This creamy, lemon-y lasagna is the kind of dessert you want to have as soon as possible when you're craving something sweet. It takes 12 minutes to cook so that you will have your precious dessert in no time! The needed ingredients are 2 cups all-purpose flour, 1 cup unsalted butter, 2 packages of cream cheese, 2 cups powdered sugar, 2 tablespoons lemon juice, 2 packages instant lemon pudding, 3 cups cold milk, 1 1/2 cup heavy whipping cream, 1/2 cup powdered sugar and 1 teaspoon vanilla extract.
6. Nutella Lasagna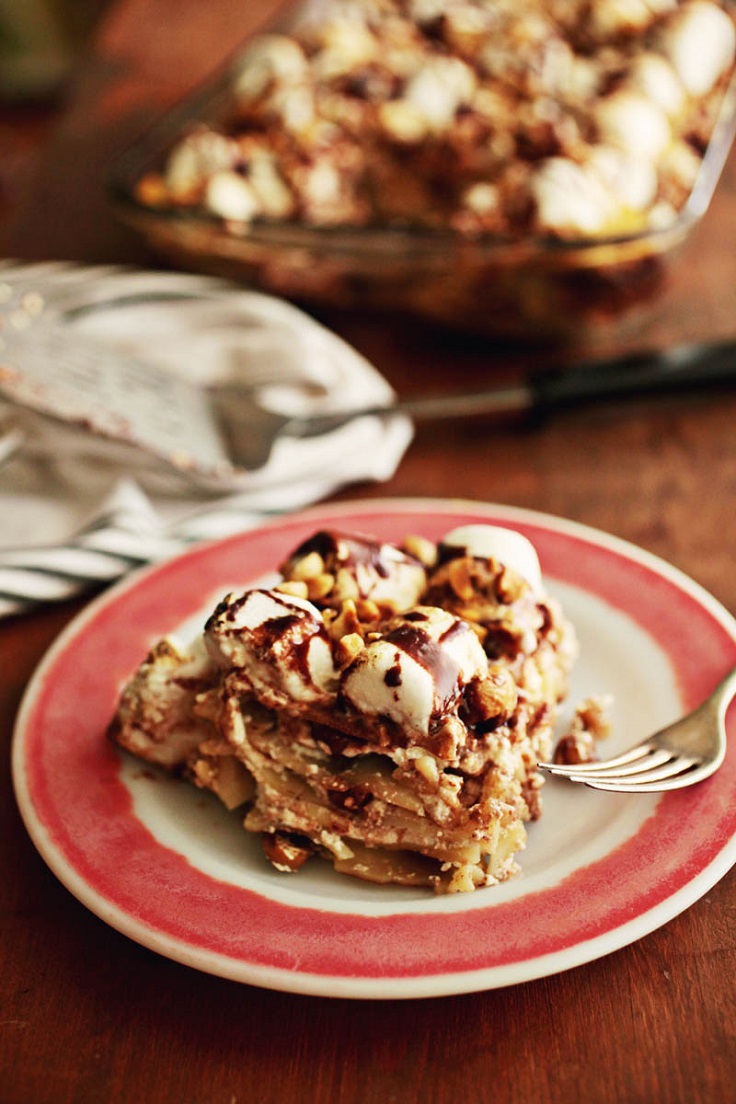 via therecipe.nandointeractive.com
When it comes to the best chocolate experience a dessert lover can have, it is often Nutella that comes up on their mind. This recipe for dessert lasagna will make you feel as if you're eating something from a luxurious restaurant when in fact, it's a homemade treat! You need 2 sticks of unsalted butter, 1 box of lasagna noodles, 2 cups toasted hazelnuts, sea salt, 2 16-ounce containers of ricotta cheese, 1/2 cup powdered sugar, 1 1/4 cups heavy cream, 1 cup Nutella, and 1 bag of marshmallows.
7. Overnight S'mores Lasagna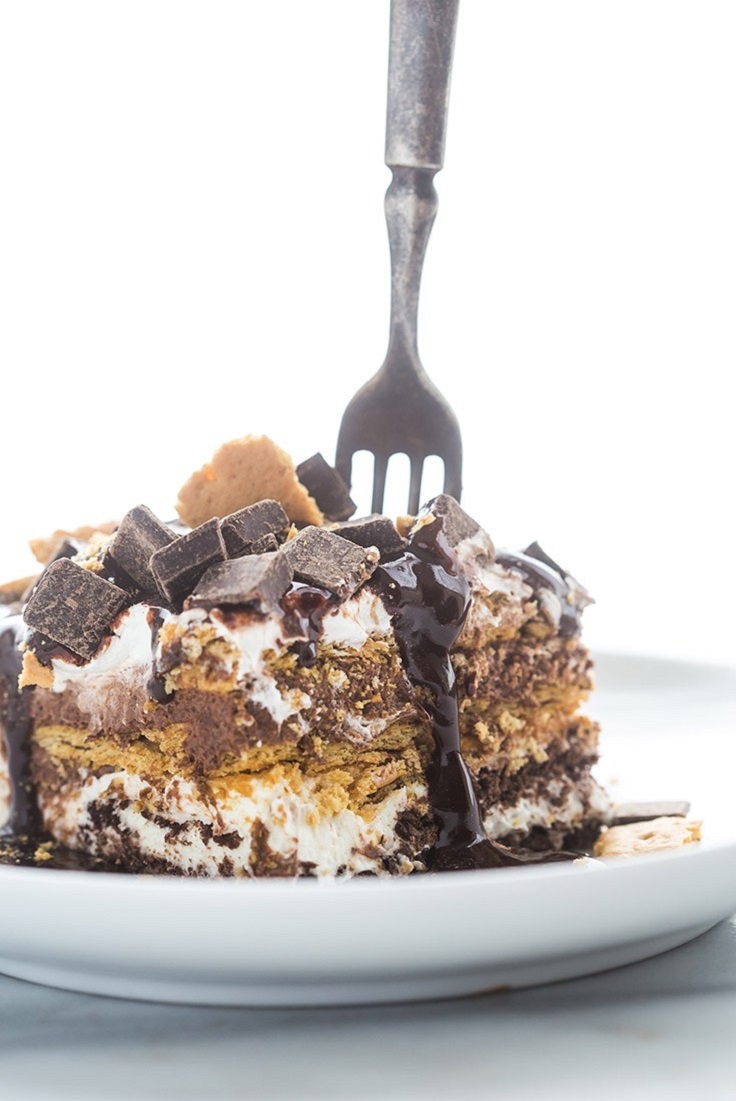 via goodcook.com
Simple and delicious, the S'mores dessert is always a good idea! Here are the ingredients you need: 3 boxes of cream cheese, 2 large containers of marshmallow fluff, a 16 oz carton of whipped topping, chocolate pudding mix, chocolate, and honey graham crackers, hot fudge, and chocolate chunks. It takes 15 minutes to prepare it, but leave it in the fridge overnight for the best results.
8. Birthday Cake Lasagna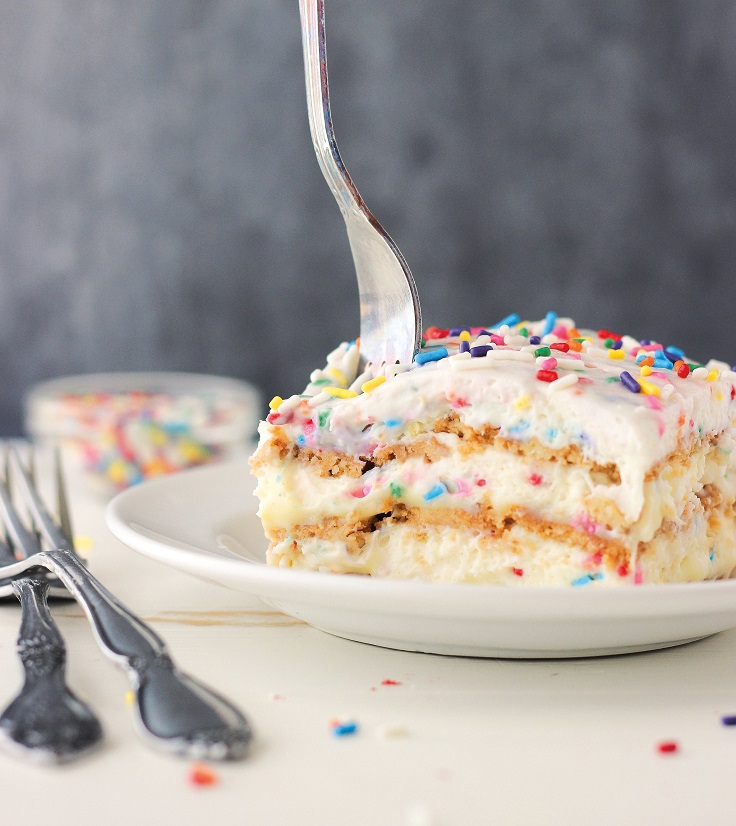 via popsugar.com
Birthdays mean preparing a special birthday cake, so instead of the usual cake mixes we use, how about preparing a dessert lasagna with sprinkles on top? This one is going to be as equally great – if not better. It is the perfect mixture of Belgian waffle crisps, vanilla cake mix, and whipping cream. It is a light and creamy dessert that everyone would like to have another piece of it!
9. Chocolate Peanut Butter Cup Lasagna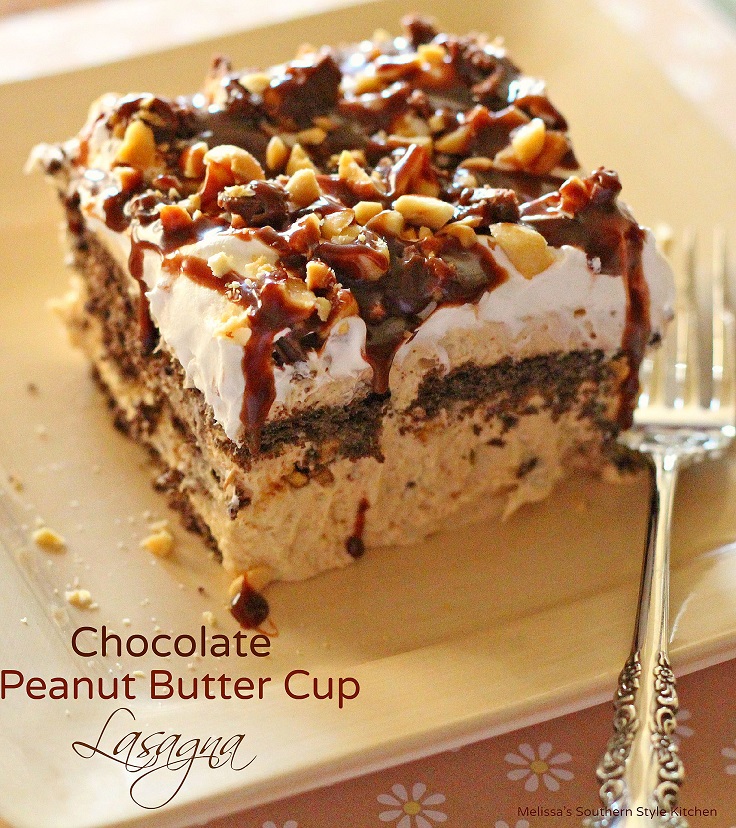 via melissassouthernstylekitchen.com
We all know how peanut butter makes great desserts, so we decided to include a dessert lasagna recipe with this creamy, rich butter. Here are the needed ingredients – 2  [8 oz] softened cream cheese, 1 1/2 cups peanut butter, 1 cup powdered sugar, 1 cup heavy cream, 1 tsp pure vanilla extract, 16 oz frozen whipped topping, 1 [14 oz] box chocolate graham crackers, 1 [12 oz] bag miniature peanut butter cups and 3/4 cup cocktail peanuts.
10. Butterfinger Dessert Lasagna
Here's another no-bake treat that you are going to love. It's a combination of Nutter Butter cookies, butterscotch pudding, peanut butter cheesecake mousse, and crushed Butterfingers. This rich, both crunchy and creamy dessert requires less than 10 ingredients. Here they are – 1 (3.4 oz) box instant butterscotch pudding, 2 cups + 3 Tablespoons milk, 8 ounces cream cheese, 1/2 cup peanut butter, 1/2 cup powdered sugar, 1 (8 oz) tub whipped topping, 24 Nutter Butter cookies, 7 fun-sized Butterfingers bars, and melted peanut butter.