Every single one of us enjoys the sight of beautiful flowers, especially if you find them in the wild nature. Given the fact that women are absolute lovers of these amazing and colorful things that nature has provided us with, flowers are the most romantic way to express feelings of love, gratefulness, and appreciation.
For example, we are all aware that red roses stand for passion and love. So, what is your favorite flower and do you know what it stands for? Leave us a comment if you do and enjoy the following photos of beautiful flowers!
Wild Flowers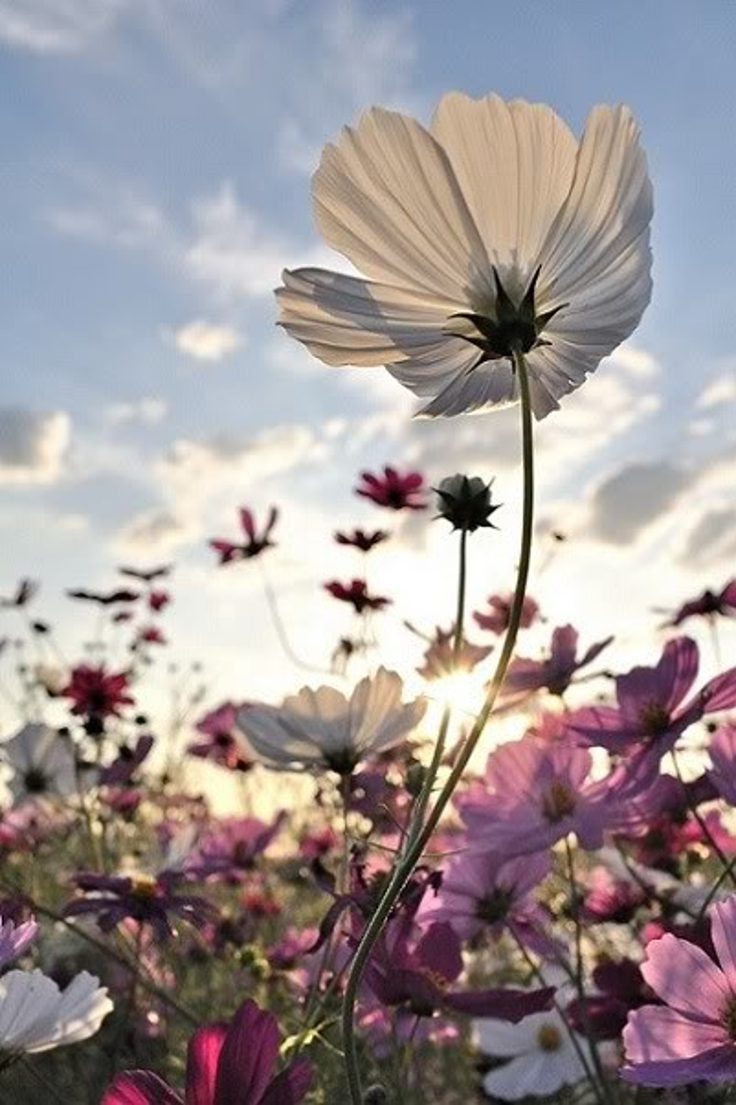 via dontcallmebetty.tumblr.com
What is more beautiful than flowers not intentionally planted by man but nature's own interpretation of art? What if nature is the very best unknown artist on planet Earth? What can be achieved by the human hand is sometimes understatedly incredible but it is true that nature does offer the ability to be without words. And what better way to start this top 10 but with this simple, mesmerizing yet simply complete photograph of the flowers in their wild and original environment? This photograph really screams out the essence of freedom – a sense of belonging without our hands-on input and interference.
Blooming Cherry Trees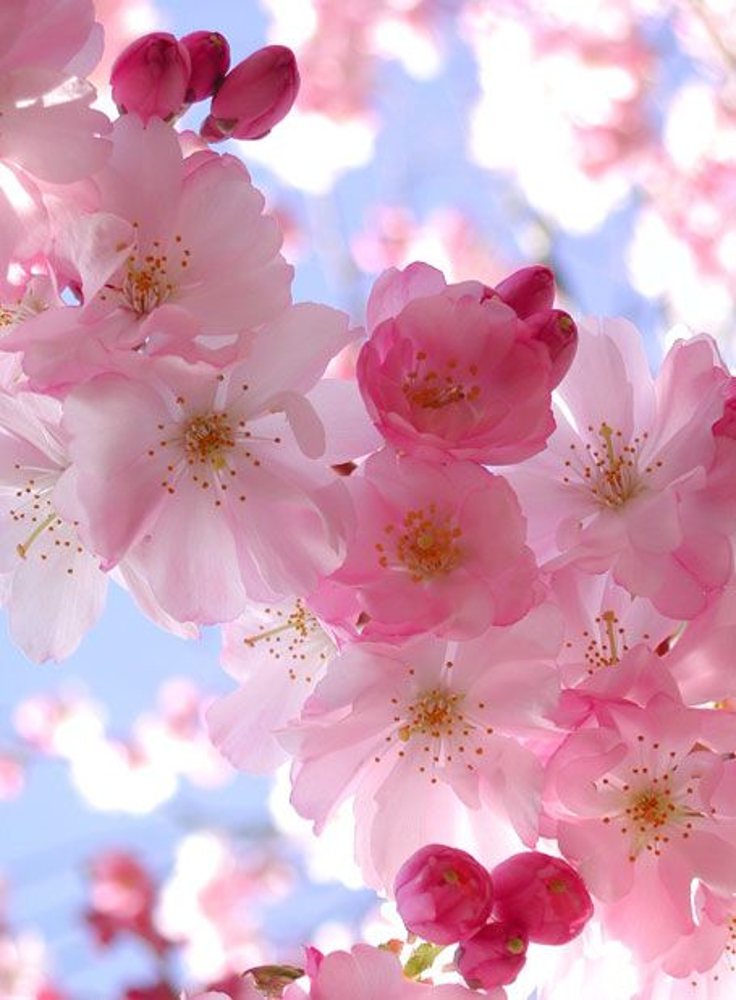 We all have an idea of what heaven will look like. We believe it could look something like this magnificent photograph. Blossomed cherry flowers in Japan are very often used as decorative, pickled flowers in desserts which are edible, but also used while baking or in teas. Across the globe, cherry trees are blooming giving use the most wonderful sense of belonging. And this picture does just that. Hours could be spent looking for the most beautiful of all flowers within the same frame. The fuchsia and thousand shades of pink is a knockout.
Blue Rain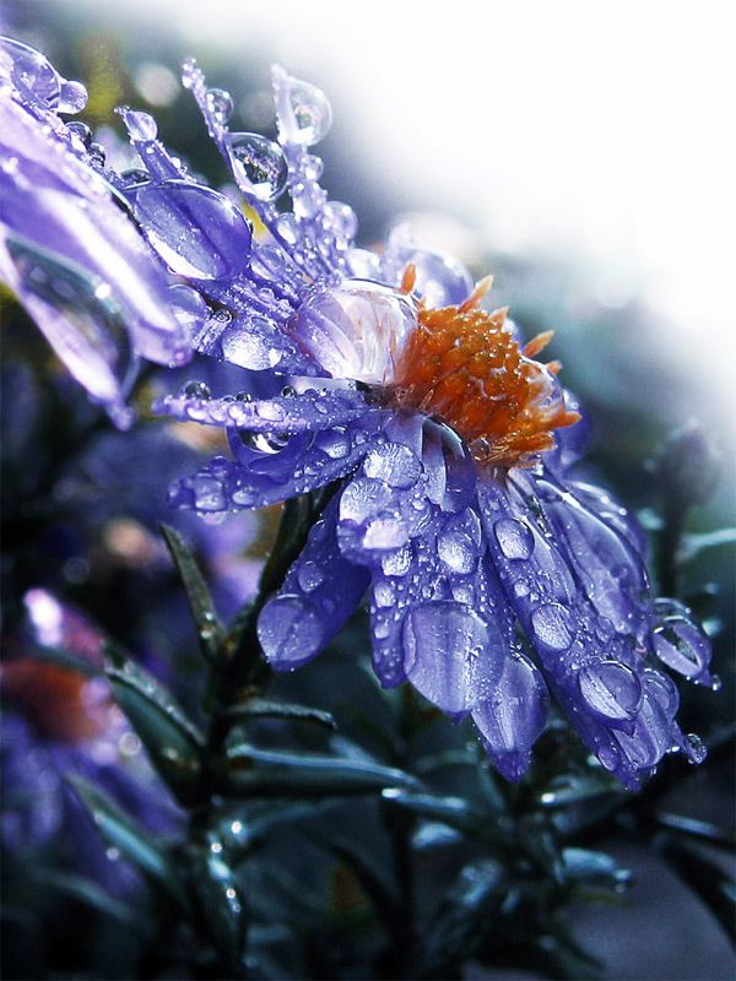 via pinterest.com
We tend to always wish to look at the bigger picture and wish to study what is beyond what we naturally see through our very own eyes. But this closes up photograph of the most incredible, gobsmackingly beautiful flower on a rainy day captures the essence of nature and Earth's element. Rain. Without rain, flowers won't be what they are and we would miss out on so much in life. Thanks to this super up-close shot, we can admire the natural beauty of this deep vivid blue almost purple like a flower with clear as daylight raindrops.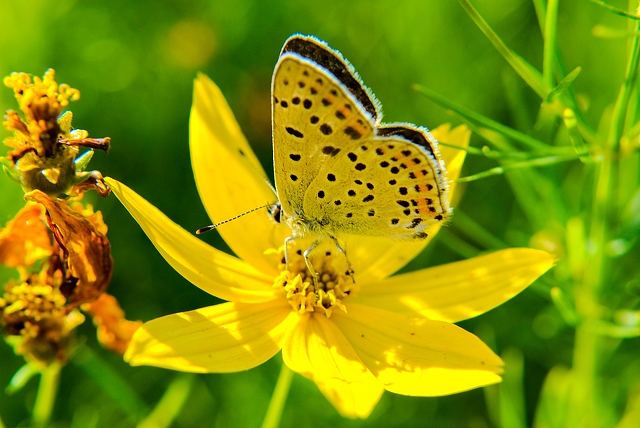 via absfreepic.com
Yellow is the most colorful color on the spectrum. It's the color of happiness and optimism. It shouts out spring came, sunshine is present, and has this incredible energy that makes most of us feel simply, great. Color has such an important factor in our lives and this photograph does not disappoint. Combining the yellow butterfly, this is really eyesight of youthfulness and grabs our attention. One of the best ways to describe nature's power is our happiness, and this yellow focused flower picture does just that.
Japanese Anemones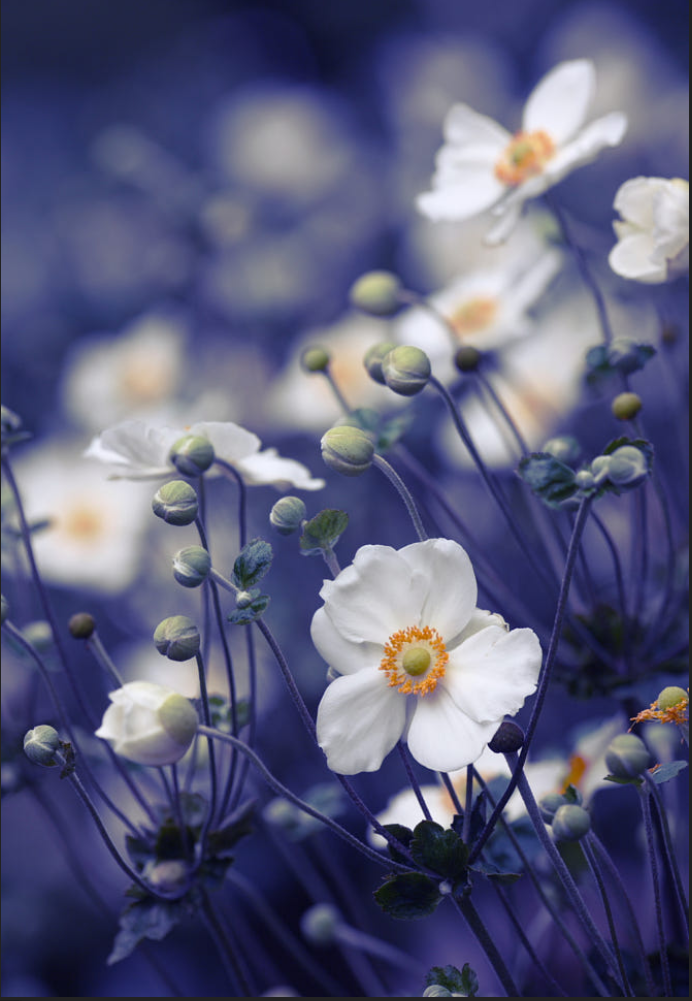 via EMIKO Ito
From the buttercup family, this Chinese flower grows best in the Hupeh Province. Perhaps this is where this photograph was taken. Between the shades of dark lilac, snow-white, and deep yellows this photo brings us to a sense of peace, harmony and yet is very powerful. We find this very peaceful indeed perhaps due to the colors within the image.
Roses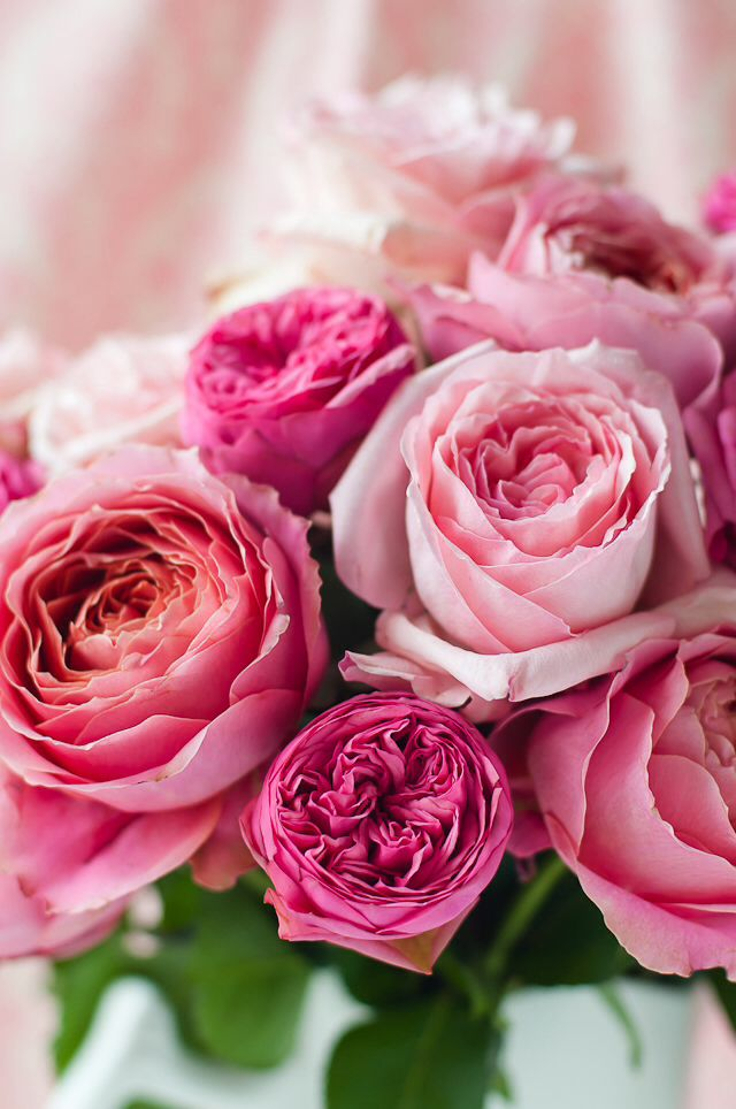 via weheartit.com
Many beautiful ancient and recent poems have been written using the rose as the star of the show. It symbolizes love and romance across many cultures. Not many other flowers say a lot more than shared love between two people. And this picture says exactly that. The hundreds of different shades ranging from Champagne pink to Persian rose to bubblegum pink, makes this picture say a thousand words. Stunningly beautiful to look at filling one another with love.
Pink Flower
via Tamas Kiss
Staying on the pink subject however with a totally different outlook of life through our eyes. We can clearly see a focus of the deep, sealike blue with a tribe of smaller-looking stamens dancing around making a perfect circle of life. This photo has been greatly captured intensive lens to the smaller things. Maybe the meaning behind this would be to enjoy the smaller things in life as sometimes we can miss out on the bigger picture?
Poppies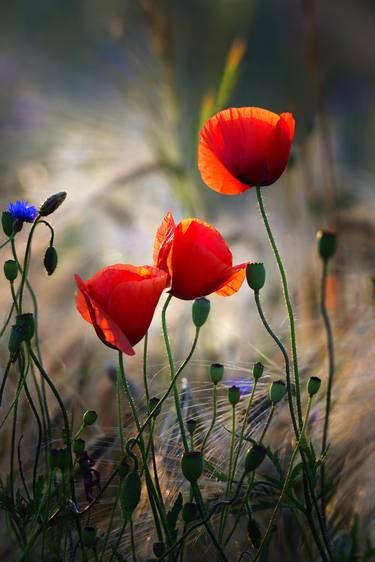 via pinterest.fr
Poppies are home to some of the most brilliant pieces of artwork in the world. Many artists subdued to this historical flower without resisting to add their own interpretation to it through painting to photographs. The red poppy is a symbol of both remembrance and hope for more peace for the future and most associated with war veterans. This photograph self explains all of this in a simple, complex shot from the deep melancholic blacks to the beauty of the deep and bloody red.
Bouquet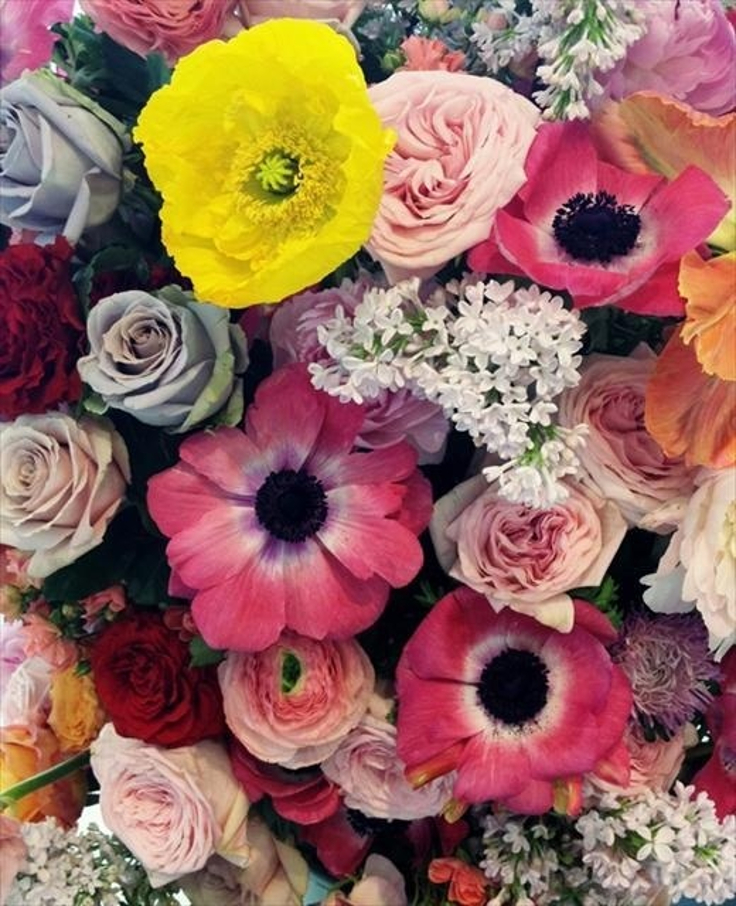 A bouquet is a symbol with possibly every spectrum differentiation attached to it. A bouquet is an arrangement of flowers within a bunch that comprises different flowers, colors, shapes, and sizes. Originally a French word that may refer to fragrance or odor associated with wine, fruits, and indeed, flowers. These are for every occasion from the not so great ones expressing sorrow, sad ones, but also for births or other special, happy ceremonies. It can say a thousand words to the recipient.
 Blue And Wild
via Bak Giseok
Some flowers experience a similar life to us humans and any other form of living Earth's organisms. And this life has a combination of hardship throughout the years mixed with happiness. We keep on learning and evolving. This photograph has taken the hardship we all go through in life with a sprinkle of joy. Almost saying, that no matter what, life is beautiful. Blue is a sensitive color that screams out trust, wisdom, and stability. So no matter what, one lands on their feet eventually. Super picture.