If you're looking for a summer vacation destination that offers an irresistible blend of culture, history, natural beauty, and culinary delights, look no further than Sicily. As the largest island in the Mediterranean Sea, Sicily is a place of unique character and charm that is sure to captivate you.
From its ancient ruins and impressive architecture to its stunning beaches and crystal-clear waters, Sicily is a treasure trove of wonders waiting to be discovered. Whether you're a history buff, a beach lover, or a foodie, this Italian island has something to offer everyone.
In this article, we will explore some of the reasons why you should visit Sicily this summer and why staying in a villa near Agrigento, a popular destination in Sicily that will provide you with a comfortable base from which to explore the local and other island's attractions.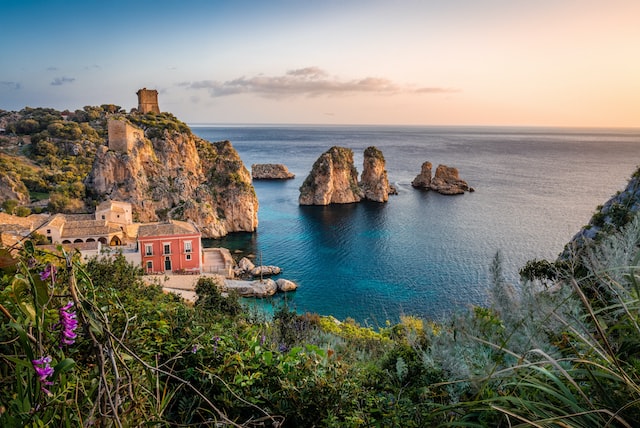 Food and Wine
One of the main reasons to visit Sicily is the food and wine. Sicilian cuisine is a fusion of Italian and Mediterranean flavours, which makes it unique and delicious. You can taste the famous Sicilian and Sicilian pasta dishes like Pasta alla Norma or Pasta con le sarde or delicious street food like Arancini, Panelle, or Crocché. Sicilian wine is also a must-try, especially the red wines from the Nero d'Avola grape or the white wines from the Catarratto grape. The island is full of wineries where you can taste and buy the best Sicilian wines. Menfi, located in the province of Agrigento, is a historic wine town producing seventeen different wines, and it hosts every year a festival dedicated to the local vineyard producers.
Beaches with golden sands
The stunning golden sandy beaches are another reason to visit Sicily this summer. The island has over 1,000 kilometres of coastline with crystal-clear waters and breathtaking views. Some of the most popular beaches are the Isola Bella Beach in Taormina, the Scopello Beach near Castellammare del Golfo, the Vendicari Beach near Noto, and the San Leone Beach near Agrigento. Whether you're looking for a relaxing day of sunbathing or an active day of water sports, Sicily's beaches have something for everyone.
Accommodations
Sicily has a wide range of accommodations, from budget-friendly hotels to luxurious villas. If you're looking for a luxury stay, staying in a villa near Agrigento is an excellent option. Villas offer privacy, comfort, and relaxation, and they are a perfect choice for families or groups of friends. Select Sicily is a travel agency that specializes in villa rentals near Agrigento. They offer a wide range of villas, from modern and chic to traditional and charming. Some villas come with private pools, gardens, and stunning views of the surrounding countryside.
Agrigento
It is a beautiful city located on the southern coast of Sicily. It is famous for its wineries, the archaeological site of Valley of Temples and San Leone Beach. The Valley of Temples is a UNESCO World Heritage Site that dates back to the 5th century BC when Sicily was ruled by Ancient Greece. It is a must-visit attraction, home to some of the best-preserved ancient Greek temples in the world. The Greeks called this area Hiera Kala, which means Sacred Land. They left behind many inscriptions that are still visible today on some of the columns at the site.
The wineries in Agrigento offer wine tastings and tours, where you can learn about the wine-making process and taste some of the best Sicilian wines. San Leone Beach is a long, sandy beach very popular among tourists and hosts several beach clubs, lidos and bars. It is the perfect spot for swimming, sunbathing, and enjoying a meal at one of the beachside restaurants.
Conclusion
Sicily is a unique and beautiful destination that should be on everyone's travel bucket list. Sicily has something for everyone, from delicious food and wine to stunning golden sandy beaches. Staying in a villa near Agrigento, especially through the travel agency Select Sicily, is an excellent option for a luxury stay, privacy, and relaxation. Don't miss the chance to visit this beautiful island and experience its beauty and charm firsthand. Start planning your Sicilian trip today and get ready to experience the vacation of a lifetime!