Caring for the skin is a natural attribute of human beings. However, with the advent of cosmetic and beauty care products, we are doing more damage than care to our skin. To avoid this, you should only use the products formulated from handpicked natural ingredients. One of the most powerful and perfect ingredients for the skin is essential oils. Essential oils are extracted from plants, fruits, leaves, seeds, etc. Their concentrated compounds can heal your skin and redefine its texture and appearance. However, you must mix them with a carrier oil to dilute their concentration. Today, we will be looking at the top 5 VedaOils essential oils for skincare purposes.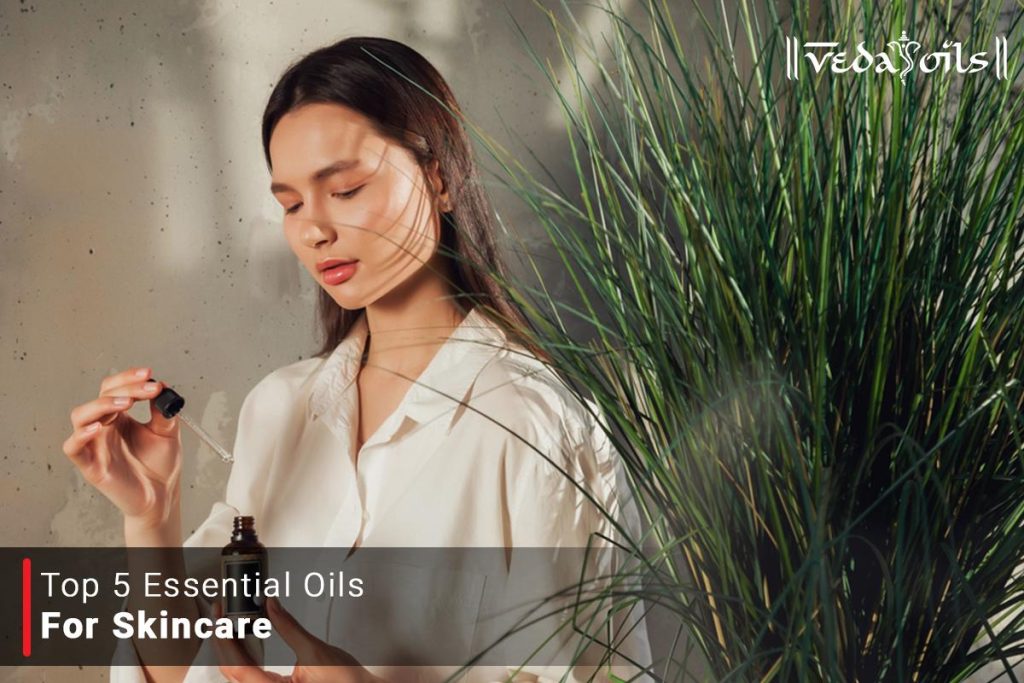 1. Patchouli Essential Oil
Extracted from the Patchouli plant's leaves, Patchouli essential oil gives your skin a vibrant complexion and smooth texture. It has been used in Ayurvedic skin treatments for a long time.
Natural Patchouli Essential Oil tightens the skin and slows the pace of ageing symptoms like fine lines, wrinkles, and dark spots. Moreover, due to its nourishing properties, it can be used for all skin types. The anti-inflammatory effects of this oil provide instant relief from acne, skin redness, and itching. Overall, it is one of the best essential oils for skincare.
2. Olive Oil
Made from Olive tree fruits, Olive Oil is rich in antioxidants and vitamin E. It hydrates the skin and speeds up the skin's recovery from damage caused by the sun. Olive Oil is used in most body and face lotions due to its moisturising effects.
It works well against hyperpigmentation and also causes skin lightening. Due to its lightweight, Olive Oil is non-comedogenic and can even be used by those with oily skin. The antioxidants in this oil prevent ageing symptoms from affecting your skin.
3. Jasmine Essential Oil
Extracted from the flowers of Jasmine, Jasmine Essential Oil is known for its soothing properties. It soothes skin inflammation and boosts blood circulation to impart a healthy glow to your face. Pure Jasmine Essential Oil is also effective for acne scars and helps eliminate dark and uneven spots from the skin. 
You can use Jasmine Essential Oil to get rid of skin dryness. It restores your skin's lost moisture and does not clog the pores due to its low comedogenic score. It also balances sebum production to prevent the formation of acne. Overall, it is one of the best essential oils for skincare.
4. Calendula Essential Oil
Calendula Essential Oil is obtained from Calendula flowers, popularly known as Marigold. Though one of the lesser-known essential oils, Calendula Essential Oil possesses fungicidal, bactericidal, and anti-inflammatory properties.
Due to its soothing properties, pure Calendula Essential Oil proves to be effective against skin irritation and itching sensation. Therefore, it can treat several skin disorders and issues like eczema and diaper rashes. It moisturises the skin and enhances the skin glow naturally. Moreover, it is also effective against dark spots and acne.
5. Lemon Essential Oil
Made from the peels of Lemons, Lemon Essential Oil is known for its skin lightening properties. It is also effective against acne scars and reduces skin pigmentation to promote an even skin tone. However, the overuse of Lemon Essential Oil is not recommended due to its acidic properties.
Organic Lemon Essential Oil can heal the skin that is damaged due to oxidation. It is also effective against ageing symptoms like wrinkles. It also protects your skin from environmental factors mainly responsible for the ageing symptoms like fine lines, pigmentation, and wrinkles.
How to use essential oils for the skin?
Follow these steps while using essential oils for skin care purposes:
Step 1: Before using essential oils for the skin, dilute them with a carrier oil like jojoba, coconut, or almond oil. After that, you can clean your skin nicely with a body scrub or body wash.
Step 2: Now, gently apply the essential oil to your skin and do not massage or rub it. Just leave it on your skin and let the skin absorb all its nutrients.
Step 3: You can continue this routine once every two days to maintain the health of your skin.
Note: Excessive use of essential oils should be avoided as they are concentrated and can cause skin inflammation. 
Conclusion
These are the top 5 essential oils recommended for daily skincare routine. You may also use them in DIY body lotions, face scrubs, face creams, and other homemade products. However, ensure that you get the essential oils from a safe and trusted platform like VedaOils. On the official website of VedaOils, you will find only pure and healthy essential oils. Also, they are available at economical rates on this website.