Outdoor kitchens became increasingly popular over the last few years. They add living space to a home, and increase a home's value. But, to make sure an outdoor kitchen will last, it needs to be made out of materials that can withstand the outdoor elements. Continue reading to learn about the best choices for outdoor kitchens.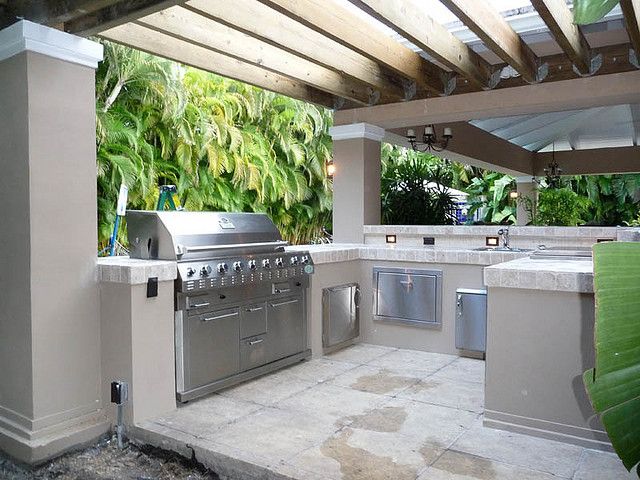 Flooring Surface
When choosing materials for an outdoor kitchen, consider the flooring first. This surface is one of the most important in the design, and also needs to be very durable. Several materials will work for outdoor use, and each has pros and cons. Brick is a durable material and looks beautiful. It is also fairly low maintenance, but it can become uneven over time and is also costly. Cement is a versatile material and reasonably priced, but the installation can be difficult, and cement has some limitations in certain geographical regions.
Stone has a lovely finish that many people love in their outdoor kitchens, but it, too, can be costly. It also absorbs oils and stains. While wood is inexpensive and easy to install, it requires significant upkeep and has a shorter lifespan. Finally, tile is very versatile and relatively inexpensive but can be slippery when wet. Choose the material that best matches the style of the home, is within the budget, and meets the needs of those who will be using the space. 
Selecting Cabinets
Selecting outdoor cabinets can be overwhelming since there are so many options. The best material options include wood, PVC, stainless steel, marine-grade aluminum, and masonry. Whichever option is chosen, make sure the cabinets are very water and moisture resistant, able to have a lot of sun exposure, and resistant to changing extreme temperatures.
Outdoor kitchen cabinets should complement the other features in the kitchen, such as the grill and countertop. The construction quality of the frame, drawers, and doors is very important. They should also have sturdy handles and drawer pulls. Also important to consider is the care and maintenance that they will require. Are spills and stains easy to clean up? Will the cabinets last a long time or need to be replaced in a few years?
Choosing Countertops
The material that countertops are made of must be able to withstand high temperatures from the grill, extreme temperature changes from the outdoor weather, and endure food stains and spills. Because of these necessities, a stone that has a non-porous surface, such as granite or bluestone, is generally the best option. Sealing the stone can add another level of protection to the stone.
Another good option for countertops is stainless steel. This material is very durable and also affordable, but sometimes it can show fingerprints and streaks. Poured Concrete is also a good option, as it can be made in the custom size and shape of the kitchen. Concrete can be colored or textured in a variety of ways to match the architecture and decor of the home and outside living space. Wood can be used as a countertop, but it needs to be hardwood, sealed with a water-resistant sealant, and rated for outdoor use.
The options for outdoor kitchens continue to grow. Keep the above tips in mind and choose quality materials that will be beautiful and last a long time.