In our rushing world every year more and more people seek yoga and meditation getaways. A holiday is always relaxing, but if you would like to try something different, something deeper, this is another sort of journey that will leave you with more than just nice photographs and memories.
Retreat is a great way to calm your mind, energize your body, pay more attention to your diet, connect with yourself and with nature and to change your life. During a week of yoga and meditation retreat we can develop and deepen our ability to find stillness of mind and gain greater awareness. Naturally the aim is to bring the same peacefulness back home with us and to incorporate yoga and meditation into our daily routine when we return home.
There are various types of retreats available around the globe today. From deluxe retreat centers where guests are pampered with massage and organic cuisine in between private guided meditation and yoga sessions, through minimalist centers, to yoga and surfing holidays there is something for everyone.
The location can be anywhere around the world – at the foot of the Himalayas in India, pristine beaches in South America or the Mediterranean or somewhere in the Rocky Mountains in the US.
You don't have to travel all the way to India to find authentic yoga and meditation teachings. It is crucial however, to find a center in a tranquil and untouched environment where you feel comfortable.
We have put together a list of retreat centers in the US to spend a week and regain your inner peace.
Kripalu Center for Yoga and Health, Stockbridge, Massachusetts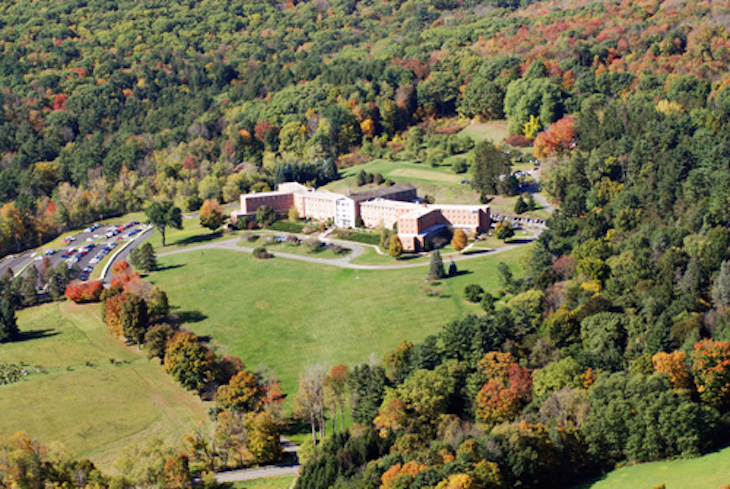 via wanderinglotus.wordpress.com
Kripalu is an ultimate wellness destination, offering classes, workshops and extended programs that suit different needs and interest levels. In the beautiful surroundings you can enjoy the mountain and the lakes, participate in daily yoga classes, have a massage, eat organic food, enjoy the spa and labyrinth. Kripalu offers personal retreats to create exactly the right experience for everyone. Choose from a variety of experiential and educational workshops, outdoor activities, and yoga and movement classes and you'll return home renewed from the inside out.
More information: Kripalu Center
Esalen Institute, Big Sur, California
Located in stunning location, in central California, the famous Esalen Institute offers various meditation practices, from Buddhist to tantric teachings and yoga retreats for spiritual seekers. The center has its own organic farms, gardens, lodging, educational facilities and art center. The guests can enjoy cliffside hot springs, ocean views, healing arts, mindfulness workshops, yoga, music and much more.
More information: Esalen Institute
Insight Meditation Society, Barre, Massachusetts
Located in central Massachusetts, the Insight Meditation Center one of the oldest and most-respected meditation retreat centers. It lays on a 200-acre property in tranquil surroundings. The experienced teachers offer guidance in Buddhist meditations, a combination of silent seated and walking meditation. Retreats range from a weekend to three months, suitable for both new and experienced meditators. There is also a possibility to work as a volunteer, for those who have sat at least a one-week retreat at IMS before.
More information: Insight Meditation Society
White Lotus Foundation Retreat Center, Santa Barbara, California
White Lotus Foundation is a beautiful retreat center in the mountains overlooking the city of Santa Barbara, the Pacific Ocean and Channel Islands. They offer daily yoga classes, instruction in asana, pranayama breathing and meditation, gourmet vegetarian meals, hikes, music, dance, ceremonies, discussions on yoga philosophy, diet, nutrition and more. There are also yoga teacher training sessions four times a year.
More information: White Lotus
Omega Institute, Rhinebeck, New York

The Omega Institute is one of the largest and most well-known retreat centers in the world. The serene and beautiful surroundings enables the visitor to relax and connect with nature in a very special way. They offer a number of yoga, meditation and wellness retreats, various workshops, talks and environmental education courses. The visitors can choose from deluxe cabins with private baths to camping sites with shared baths, to suit every budget.
More information: Omega Institute
Rolling Meadows Retreat, Brooks, Maine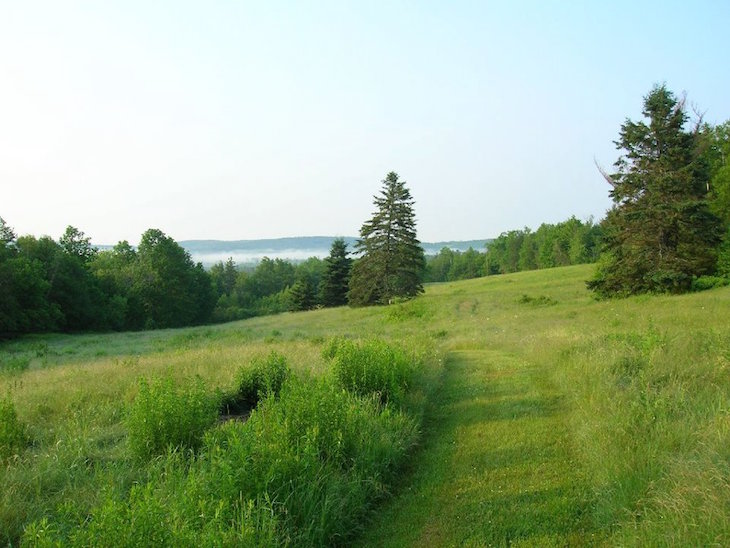 The Rolling Meadows Center offers a really unique experience due to the fact that every retreat is offered for up to 11 participants, throughout the year. The retreat is a silent meditation and yoga retreat with classical hatha yoga, yin and restorative yoga, pranayama, self inquiry and personal time between sessions for solitude, enjoying the beauty and peace of the land.
More information: Rolling Meadows
Stowe Mountain Ranch Retreats, Stowe, Vermont
Stowe Mountain Ranch is a yoga and outdoor activity retreat center located in the mountains with amazing views and great outdoor activities. The retreats are held by prominent yoga teachers, and often yoga studio owners. They are usually range from three nights to two weeks, and include Bikram Yoga and pilates.
More information: Stowe Mountain Ranch
Big Sky Yoga Retreat, Bozeman, Montana
Spend a weekend hiking, meditating, practicing yoga and enjoy the natural beauty of Montana. Big Sky offers you the wonderful opportunity to truly experience your yoga practice in the clean mountain air. Note that this is an all-women's retreat center which is great for any woman looking to discover something about herself.  There are special offers such as the "Cowgirl Yoga" retreats that combine yoga and horseback riding or if you visit in the winter, enjoy a "Winter Wonderland" retreat – yoga & nordic skiing.
More information: Big Sky Yoga Retreats 
Raj Ayurveda Health Spa, Fairfield, Iowa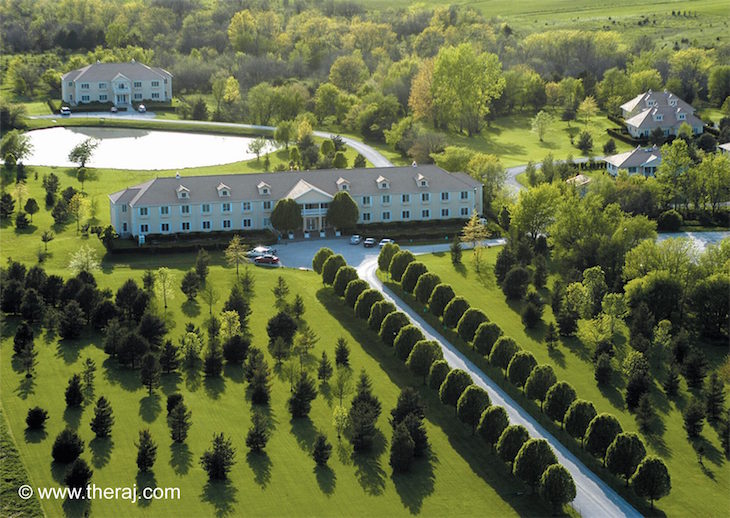 The Raj is the premier Ayurveda Health Center in America, situated on 100 acres of rolling meadows and woodlands in Iowa. The center offers authentic Ayurvedic treatments that include wellness sessions, daily cleansing spa treatments, yoga classes, lectures, organic vegetarian meals, and meditation. There is also a four-day Transcendental Meditation retreat.
More information: Raj Ayurveda Health Spa
Himalayan Institute, Honesdale, Pennsylvania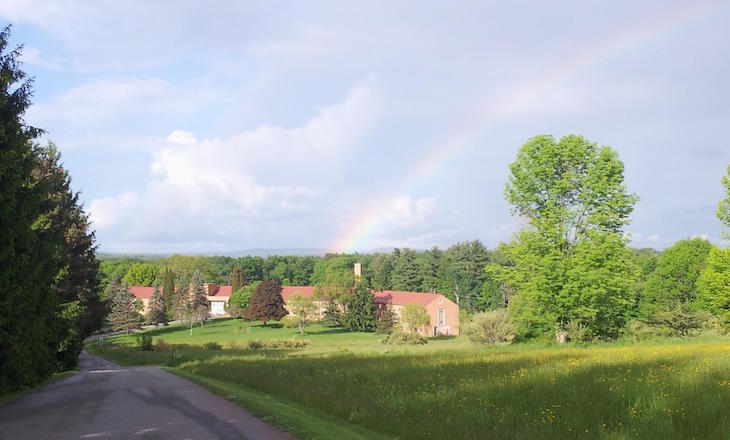 The Himalayan Institute is a 400-acre campus, located in beautiful surroundings, amongst the hills of the Pocono Mountains in Honesdale, Pennsylvania. You can experience the breathtaking views, enjoy hiking, take long walks in the nature, or participate in canoeing adventures. There is a Health Center on site offering Ayurvedic rejuvenation and cleansing programs.
More information: Himalayan Institute