Even though during the cold winter days most of us prefer to stay in our warm homes, the snowy scenery offers us breathtaking sights that can not be as nearly beautiful during the other seasons of the year.
A walk through an old snowy city with astonishing architecture, rest in a resort under the polar lights, night skiing, ice swimming… If you're still not excited enough, take a look at the list below.
We represent you the top winter places that will offer you experience as you've never imagined before. Why don't you take the winter challenge, get out of your cozy bed and enjoy in the snowy dimension?!
Snowy Night In The Swiss Alps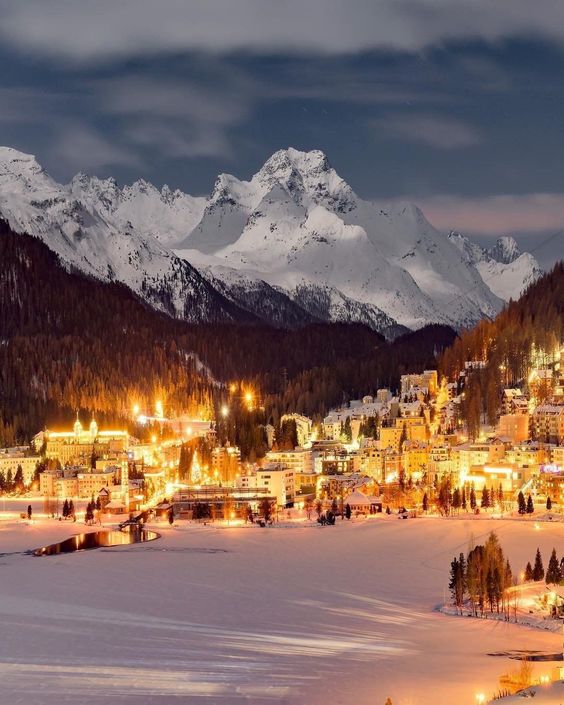 Photo credit to pinterest.fr
The Alps, what a wonderfully incredible place on Earth to be. If you ever had the opportunity of visiting one of the best ever sky areas in the world, then you would know what we are talking about. The Alps borders Switzerland, France, and Italy – all share this incredible wonder marvel fit enough for the dreamiest of fairy tale stories. Where else would you rather be in the world in the wintertime? Let us know. Oh and remember, they have the best Swiss Cheese Fondue in the world!
Budapest, Hungary
Photo credit to varosban.blog.hu
Budapest is the Capital of Hungary and boats with a super charming old town, founded 148 years ago and by no means the oldest within the country. However, what it does have is a super charming 13th century Matthias Church. It is slowly becoming one of Europe's top destinations and they feature outdoor ice rinks, a Christmas Market to fulfill all your deepest wonderland dreams, and the many hot spas and thermal baths that offer a twist on bathing.
Resort Under The Polar Lights in Saariselkä, Finland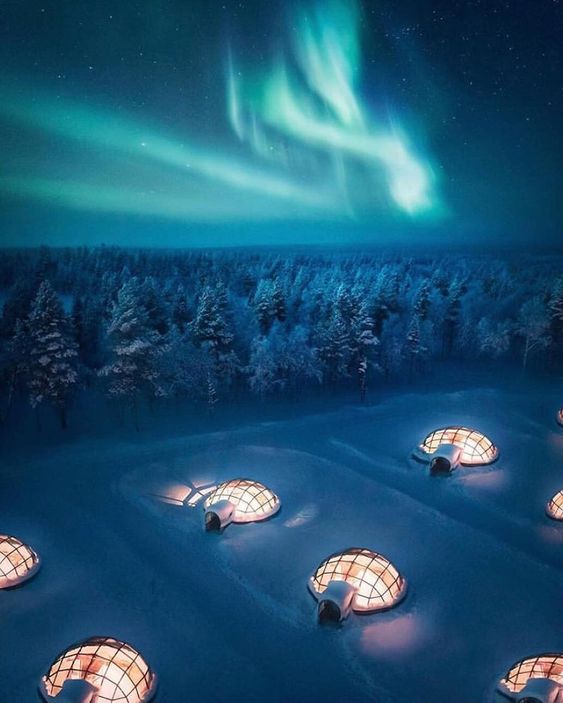 Photo credit to pinterest.fr
The Aurora Borealis, or the Northern Lights as often referred to is one natural phenomenon that possibly beats all others, hands down! If you are lucky enough to see it, you will never feel so small questions repeatedly about what is out there. It is a dream come true for the bravest of dreamers wishing to one day get close to them exploring new scenes that one has never experienced before. You are literally glued to the sky wishing the night will never end. Now due to the light pollution on our planet, these are getting trickier to see. So, use candlelight people!
Skating at Toronto City Hall
Photo credit to englishmuffinblog.blogspot.com
Even if you cannot for the life of you ice skate and barely know your left from the right while walking, doesn't matter. Get on these ice skates! There is something so magical about ice skating and even more so under a blanket of stars shining their natural lights upon you. It's sub-freezing cold yet with the warmest of garments, you'll have this warm sensation like no other. Be with your lovers, and create something really memorable you will speak of for years to come. Perfect as a family moment. Never mind the falls, you'll be fine just don't try to emulate professional figure ice-skaters.
Tallinn, Estonia
Photo by Lorenzo Bianchi
Medieval architecture, 13th-century-old church, cobblestoned streets, the capital is located in the north of the country. It always has a special place for us as it isn't a destination so to speak that we think of, however it is worth a visit. Museums are on tap, they have outdoor ice rinks, sit at a famous coffee shop and relax in the warmth, or simply visit the old town, it has so much charm you'll already be planning your next winter holiday there.
 Mont Blanc Night Skiing, France
Photo credit to fineartamerica.com
If you are a lover of fresh snow that dates a couple of days, no doubt you'd want to get on those skies of yours. The Mont Blanc is home to a unique skiing experience whereby the entire world meets at this halfway point to spend their winter holidays. It is a truly magical place on Earth and possibly one of the only areas offering you so many activities, so many walks within the forests reaching the top of the Aiguille Du Midi, and skiing down it. The view is incredible and frankly unique, anywhere. You get many options to get there at night. Warm yourself with a little mulled wine, get on top and live the moment of your life surrounded by beauty at night.
Winter in Queenstown, New Zealand
Photo credit to pinterest.fr
An absolute postcard, in front of your eyes. Something you saw when you were a child on the Disney Channel, or with your young family but never thought it'll actually be any real and was all in the cinematographic eye of the creator. New Zealand is home to an astonishingly beautiful winter Queenstown, with so much to do. It is something we wish everyone to experience seeing the amazing raw nature in all its beauty. A true winter in wonderland with its incredible lake and alpine scenery.
Snowy Rothenburg – Bavaria, Germany
Photo credit to pinterest.fr
Rothenburg during the winter period is well worth a little 2-3 day visit. Naturally, Germany as a winter destination is an absolute fairy tale if you love anything associated with Christmas. They have the biggest, and most memorable Christmas markets on the planet, where so many other countries are trying to copy. But they do take their celebration very seriously and get way, way further upfront than any other. If you are longing for a festive gateway, then please, just get there.
Ice Swimming in Finland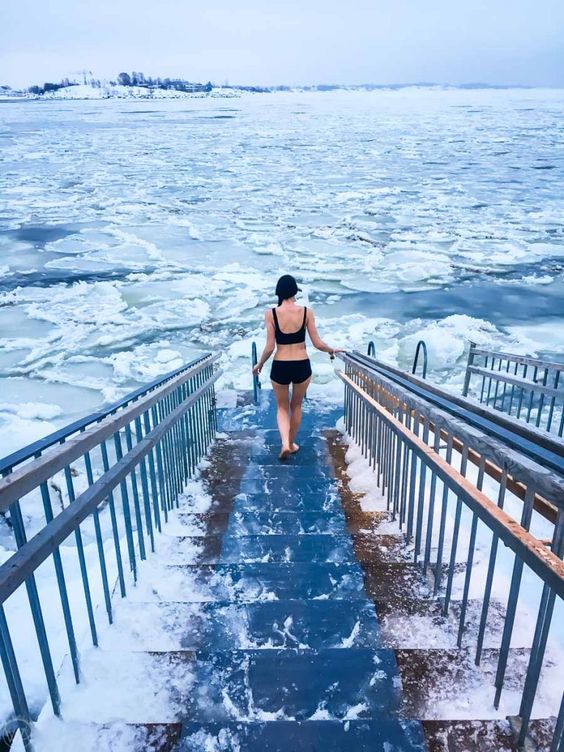 Photo credit to worlderingaround.com
If you have blue blood flowing in your veins then this comes as no surprise, and chances are you are the first in the sub-freezing water wondering what the fuss is about. It is actually really good for your entire body, and heart for a few seconds to jump in these ice-cold waters. If you are lovers of 30 something sea temperatures then read away. You'll freeze yourself reading about this let alone clicking on the link. Mentally is believed to have health benefits though, and most people in Finland come in winter and are all outside. Unlike the south part of Europe when it gets below 15 degrees celsius it's all about the wooly jumpers and snow socks! Definitely a once in a lifetime experience. And be cold for the rest of it too!
Lake Bled, Slovenia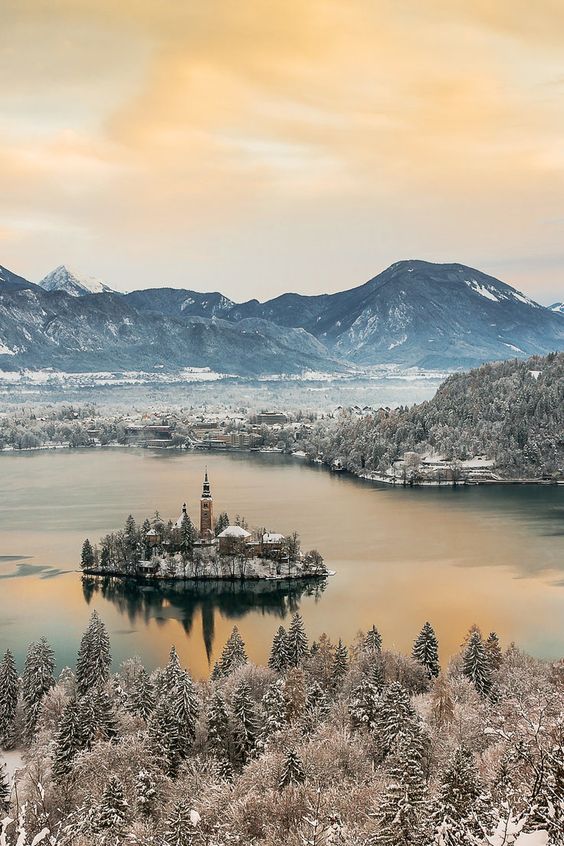 Photo credit to jetsetter.com
High above from the Bled's castle features an incredible view over the town. Especially wintertime. Snowboarding and skiing are always on the cards, having some great skiing areas with scenic views and panoramas. You even put your hiking boots on if you hate falling over every 5 seconds, and discover nature getting thousands of breaths of fresh air your body will thank you for. As the piece de resistance, if and when the lake freezes over, you'll even get to put your ice skates on. Now that is extraordinary and not to be missed.