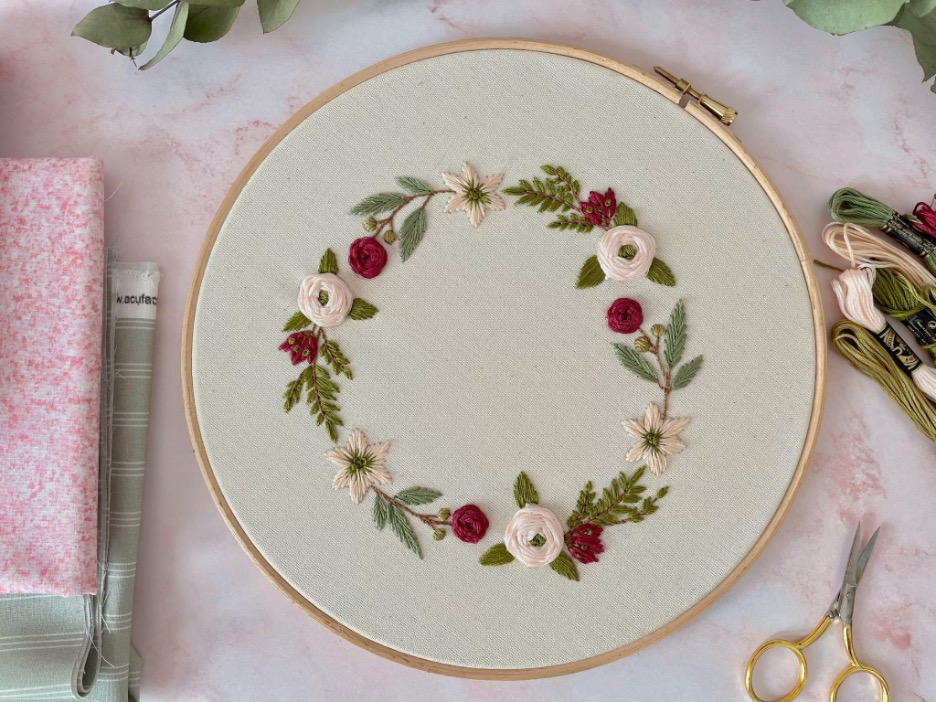 Winter is one of the most enthralling periods of the year. It's cozy, warm, and paired with the holiday season; there's nothing that beats the beauty and comfort of the winters. Since most of the winter months are filled with a festive season, including Halloween, Thanksgiving, Christmas, Hanukkah, etc., this is the perfect time to start brainstorming gift ideas.
While you can go out and buy something from the market, handmade gifts are always special. And, what's better than some embroidered gift options? You can check this engaging embroidery library for designs, inspirations, and festive ideas.
Meanwhile, we will share the top embroidery ideas for this winter to fuel your creative juices.
1. Heart Sampler
An ideal design for beginners, the embroidered heart sampler is simple, minimalistic, but very creative at the same time. The versatility of this design means that you can embroider it on any fabric or surface.
2. Holiday Santa
Christmas is one of the most popular holidays in the winter season, so indulging in an embroidery design inspired by that is an absolute must. The Holiday Santa is great to add to your stockings or even handmade gift wraps.
3. Bee Embroidery
Although it doesn't directly correlate to the winter, bee embroidery is a versatile design. It is presumably easy to make, and you can stitch multiple fabric pieces in one sitting without spending hours on them. It is an excellent addition to kitchen towels and baby clothes.
4. Floral Embroidery
Floral is a staple design that never goes out of style. It isn't seasoned restrictive and one of those standard patterns you know everyone loves in their customized gifts. So, pick up a sweet posies' embroidery pattern while at it.
5. Fall Leaf Pattern
Fall is a popular and loved season by many. It marks the initiation of the approaching winters. So, if you are trying your hands on embroidery and want an easy one to start with, a fall leaf pattern is a pretty decent one you can consider for your DIY project.
6. Drink Sleeves
Before you think it will be a challenging project, it won't. You must sort out a stunning embroidery design from the library and then stitch it along the cup sleeve. They make a great gifting option with many emotions attached to it.
7. Reverse Monogram
Monograms are hands down one of the most enticing and attractive embroidery pieces you can make. They make a fantastic gifting option and an even better choice to decorate and customize a person's room with a monogram with their name's first letter.
8. Embroidered Card
Considering sending out holiday cards to your friends and family? You can DIY them with embroidery too. They make a unique card idea, and also, they become great keepsakes for the recipient. You can customize each card for each recipient and send in a few words to share the holiday cheer.
9. Embroidered Wool Scarf
Winters are the time of the year you whip out woolly and cozy scarfs. If you want to take on a DIY embroidery project for yourself or someone else, an embroidery scarf makes a great option. You can add different designs and customize them based on the person you are making it for.
10. Embroidered Heart Ornament
Last on the list is to make some Christmas tree ornaments from scratch using embroidery. You can start this DIY project in the winter, and the best part is that the ornament is reusable, so you can save it and reuse them in the coming years.
Conclusion
And that concludes some of the best embroidery ideas for the winter season. So get in the holiday mood, pick a unique design from Creative Fabrica's embroidery library, and start your DIY project.