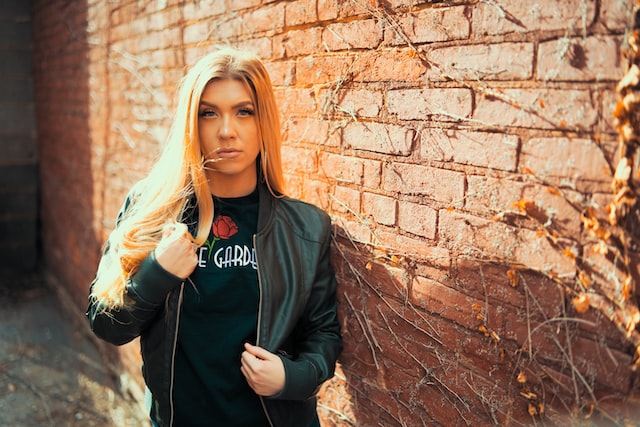 The bomber jacket, which has military roots, was originally only intended for men to wear. But as time has passed, women's leather jackets have begun to take over the world of female fashion. Fortunately, women can style the bomber jacket in a much larger variety of ways than males.
It's also one of the few items of clothing that have maintained its charm for over a century, and for a good reason. They are fashionable, practical, and quickly transform any ensemble from boring to victorious. For the transitional season between winter and spring, and subsequently between summer and autumn, bomber jackets are the ideal piece of clothing.
Not many people know this, but paying attention to what you wear underneath a leather bomber jacket for women is crucial to nailing the appearance. Discover six classic ways to wear women's bomber jackets by reading on!
The everyday style
An outfit must look excellent and be simple to put together to be considered casual and laid back. Another requirement for casual attire is its adaptability.
This chance is made possible by the bomber jacket's ability to go with anything and everything. Yes, you did read that right! Imagine yourself dressed in a pair of jeans, a single-color t-shirt, and perhaps some matching sneakers on a typical day. Your attire will make you feel like a fashion icon once you add a women's bomber jacket on top of it. It's that easy.
You may wear the following attire for a run to the gym without looking out of place. Just throw on your favorite hoodie and a bomber jacket. Contrasting hues are also acceptable in fashion; for example, a grey hoodie with a black bomber jacket looks fantastic when worn together. Put on some black runners and leggings to complete the set for an everyday athleisure style. 
The smart casual style
It takes a lot of trial and error to find the ideal balance between fashionable attire and code compliance. No longer, as the bomber jacket simultaneously addresses both of these problems.
You can look great in a standard dress or a shirt and skirt ensemble with only a simple bomber over the top. You can wear all black, black with a colorful jacket, black and white contrast looks, or perhaps the most refined look of all, all black. The printed bomber jacket is another trend you might explore. While some of the patterns might be too much for the office, most of them will fit perfectly and give your outfits a fun, playful edge.
The cute girly style
Style your bomber jacket, especially with a blouson dress, for the season's events to get that cute girly look. Blouson dresses are well recognized to be a staple in every woman's collection because they are elegant, portable, and easy to wear and style. It goes well with a women's bomber leather jacket and may be worn practically everywhere.
Why not wear a floral blouson dress with your bomber jacket? This outfit is appropriate for both a cool summer evening and a picnic. Without impairing your fashion, your bomber jacket will provide the warmth you require. At the same time, the flowery print on your blouson dress will give it a more girly feel. Additionally, you can accessorize this look as you choose. So let your hair down and adorn your ears with little studs. You can wear strappy heels if it's just an evening hangout with friends.
Bomber jackets go well with mini dresses, and adding a leather bag and heels can instantly uplift the look for a girly, stylish style.
The statement color style
Did you know that bomber jackets in vibrant colors like red and maroon can bring a summer mini-dress with flowers to a whole new level? Or that adding a brown bomber to the top, unifying the entire ensemble, makes the patterned trousers and loose, plain shirt pair even better. Let your creativity go wild and experiment with fresh wardrobe ideas is the lesson here. You never know; you might discover the next big thing.
For a girls' night out, put on that blue bomber jacket you've been holding onto. No, it won't be extra. Pick a tank top made of draped silk, slide it into a pair of mom or skinny jeans, and then cover up with that blue bomber jacket. Put on stilettos or wedges. You can either pin your hair straight or with beachy waves. Statement earrings that draw attention to themselves can dress up your ears. Glossy lips and subtle, glam makeup, are ideal. All you need to complete your look for the evening is a matching clutch.
The layered winter style
Fashion layering is a no-brainer. You may easily make a tonne of distinctive versions with only a few simple pieces of apparel. Within this grade of layer-friendly clothes, women's bomber jackets fit tastefully. For anyone who likes this style of clothing and wants to increase their collection of fantastic clothes, it has enough redeeming qualities to make it a must-have.
Layered ensembles can be best illustrated by a pair of blue jeans, a white cotton shirt layered beneath a grey hooded sweatshirt, which is layered beneath a simple black bomber jacket. When it's winter and the air is chilly, wearing a wool sweater or turtleneck as a transitional piece between a top and your bomber jacket allows you to easily engage in interesting activities.
The glamorous style
Maintaining a gorgeous appearance on a regular basis can be tiring. There are some clothes and fashion trends that look great as long as you wear them rarely. Bomber jackets are an exception. You can maintain a trendy appearance every day thanks to their straightforward design.
An easy-to-wear yet incredibly stylish ensemble might include a skin-tight black pair of pants, shining leather heels, a plain white t-shirt, and a black bomber jacket. The combination of red lipstick, a pair of aviators, and a black leather handbag create a look that is evocative of those worn by magazine cover models.
Conclusion
The styles mentioned above are our collection of classic ways to craft your bomber jacket. Not to mention there are countless customization possibilities still available. You can discover a bomber jacket with the precise style, color, and leather type that you like. Taking all of this into account makes it quite evident that the bomber jacket is a must-have for every fashion-conscious woman.