Born Amethyst Amelia Kelly, Iggy Azalea is an Australian rapper, singer, and model. She has earned quite a reputation in the past few years, as one of the more successful performers in the world. Tattoos play a big part in her style and music culture. Many artists use tattoos to express their style and personality. Iggy does the same.
Do you know how many tattoos Iggy Azalea has? Well, she has more than 20. She has removed some, changed some, and kept others. And that doesn't stop her from getting new and new inks.
For Iggy, each tattoo represents something different. And they have a story behind them. The good news is that Azalea often explains the meaning behind her ink.
With that in mind, let's take a look at her colorful body. Here are the 10 best tattoos of Iggy Azalea.
Colour me Free
Location: foot
Now, for Americans, this might look like a grammar and spelling error. But remember, Iggy comes from Australia, and they use British English. While she has never explained the meaning behind this tattoo, fans have their theories and explanations.
The words symbolize freedom and a fresh start. Many believe it symbolizes her experience with moving from Australia to the US. For many people, that is a big step forward. But Iggy wanted to chase her dreams and left everything behind.
The New Classic
Location: right hand fingers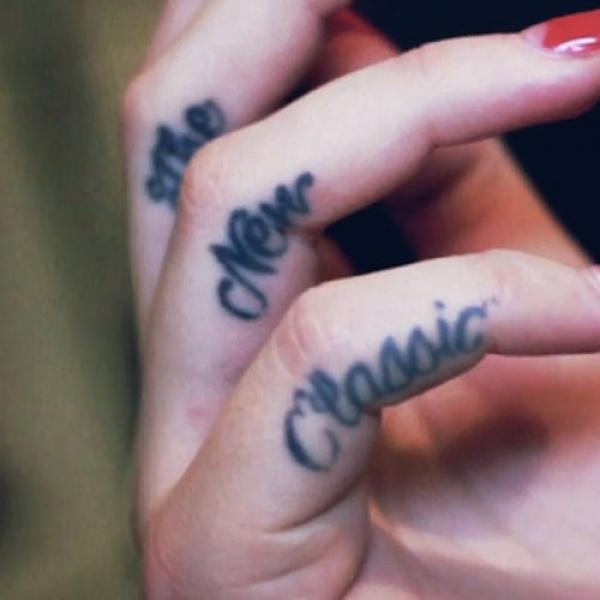 Iggy released her first album under the name The New Classic. In support of her album, she tattooed the name on her three fingers of her right hand. She has the words inked on her middle, ring, and pinkie fingers.
Speaking about the name, Iggy has said, "I think people think of classic and they think of a NAS record or a Jay-Z record or The Chronic; what makes something classic is when you hear it and have that moment that is a time capsule." For Iggy, that means, "When I say 'The New Classic,' I just want to make records that give you that moment for fans that they can remember where they were when they heard it."
Blindfolded Horse
Location: right arm
In the past several years, many people have expressed their love for horses. Celebrities and horses go hand in hand. And that applies even more for hip-hop artists. Iggy is one of those celebrities that adores horses. In 2016, in an interview with People magazine, she explained that riding horses helps her relax and serves as a therapeutic effect.
In the interview, Iggy said, "When you're going over jumps or riding a horse, there's nothing else that your brain can think about. You don't have the time to think about those other things – you just have to think about staying on the horse".
She then explained, "It helps to be able to mentally have the space where you can go for an hour or two and really switch your brain off."
And she wanted to show her love and passion for equestrians by getting ink of blindfolded horse.
7
Location: pinky finger
We have a bit of backstory here. Iggy first had the words "Live Love A$AP" tattooed on her pinky finger. She got inspired by her former boyfriend, rapper, and model, A$AP Rocky in 2011. He released an album under that name.
Yet, after the breakup, as many people do, Iggy wanted to remove the memory. First, she crossed out the A$AP part of the tattoo. And then she removed it completely in 2015. Then, she got the number 7 inked on her little finger on the left hand.
This tattoo represents her birthdate, June 7th.
Trust Your Struggle
Location: outside edge of the right forearm
Fun fact: Iggy got the idea about this tattoo by seeing the phrase "Trust Your Struggle" written on a wall. She passed by the wall while driving. Just 20 minutes later, she went into a studio to get the ink. She inked the words on the outside edge of her right forearm, just above her wrist.
Iggy has said that "I have lived the struggle for a long time". The tattoo reminds her to never give up, no matter the struggle and challenges in life. Remember, she had to go from Australia to the US and work hard to get where she is today.
Birth of Venus
Location: side of her right wrist
This tattoo is also a cover-up. Before that, she had a small pink and green flower tattoo on the side of her right wrist. But after some time, that tattoo felt "old and ugly". The tattoo represented an Azalea, the name of the street where she grew up in Australia. That is where she got her stage name from.
But after a while, she decided to cover it up with something. And she went with the masterpiece, Birth of Venus by Italian artist Botticelli.
Iggy considers the tattoo a Disney-fied version of the original work. It looks a bit like a cartoonish representation of the Birth of Venus. In one interview, she said, "It's a tattoo of Botticelli 'The Birth of Venus', Disneyfied, where Venus de Milo is born in a seashell…and it covers my old ugly tattoo".
Floral Sleeve
Location: right arm
Iggy debuted the floral sleeve at the 2016 GQ Men of the Year Awards in Sydney, Australia. She hasn't shared any explanation about the meaning of the floral piece.
But it looks like it is covering the Birth of Venus and her horse tattoos.
Digital Distortion
Location: finger
During an interview in March 2018 with Billboard, Iggy talked about her new tattoo. She has the words Digital and Distortion inked on her ring and middle finger. It pays homage to her planned sophomore album of the same name. But it got scrapped in 2017 and never saw the light of the day.
Flower tattoo
Location: backside of her right hand
As you can see, Iggy has a couple of flowers on her body. She has a flower on the wrist of her right hand. It is a Waratah. If you didn't know, that is the official state flower of New South Wales, the place she spent her childhood in.
In one interview, she said, "I'm from New South Wales in Australia, it's a state, and this is our state flower that I have tattooed on me. A little piece of home."
Two Birds
Location: right arm
The rapper revealed this tattoo as well during the 2016 GQ Men of the Year Awards in Sydney. She has a pair of birds on her right arm, just below the rose tattoo.
She has Kookaburra birds, native to Australia. It is just another way she expresses her love for her country.