Air plants are not only trendy and beautiful but also great for those with a black thumb. These little aerophytes require minimal maintenance. They are perfectly fine without soil, and they can absorb water and nutrients directly through their leaves.
Also known as Tillandsia, they only need indirect light, good airflow, and occasional misting. Make sure to give them a 20-minute bath in a bowl of water once a week. There are several ways to display them – in a terrarium, as a single plant, in a group, hanging, wall-mounted, or placed on a side table.
The variations are infinite. We have selected ten air plant decor ideas to show you how creative you can get with these mini plants. Read on and invent your own eye-catching design!
1. Hanging Glass Planters
via Amazon
Air plants placed in beautiful miniature glass balls will be unique decorative elements to your home. Hang them on the window, in front of an empty wall, or find a place so you can see them from just about every angle. A cluster of hanging glass air plants is really eye-catching, but a single one will also work perfectly.
2. Air Plant Wreath
via www.nelsonfair.com
Here is another charming design, a heart-shaped wreath of air plants combined with other natural elements. It forms a fascinating home dеcor that can always be renewed with fresh flowers and new colors any way you want.
3. Air Plant Jellyfish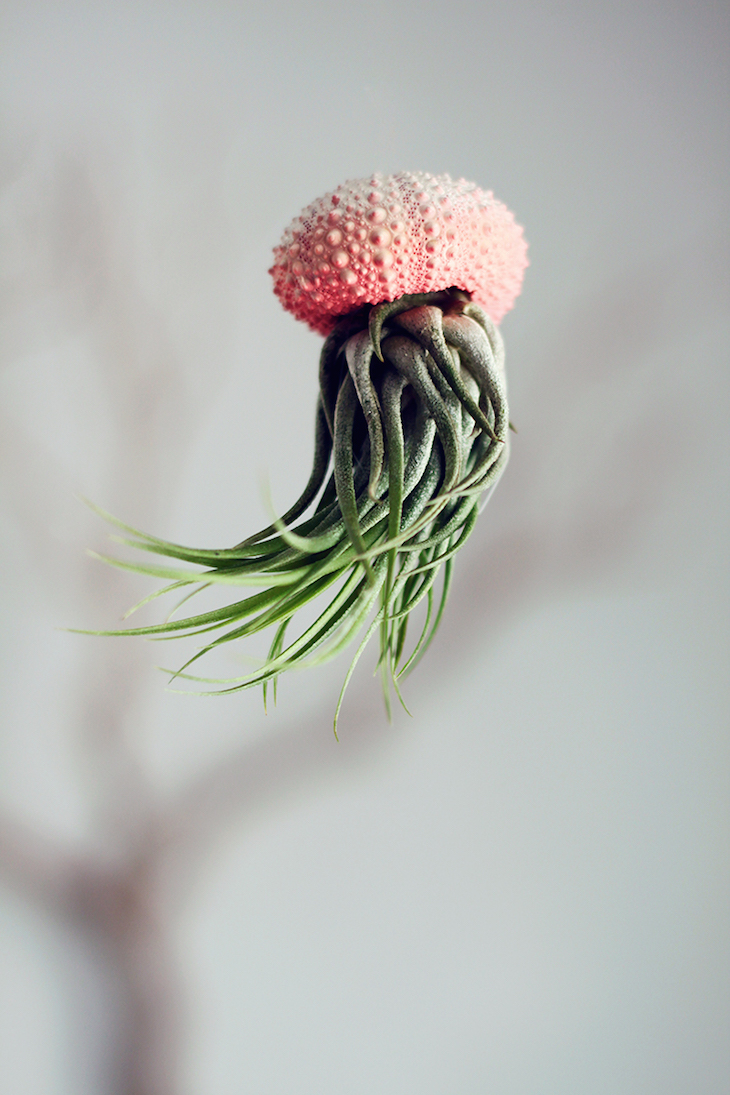 via Amazon
What happens when you turn an empty sea urchin shell into the pot, put an air plant into it, and turn it upside down? You will get a decoration that looks like a whimsical jellyfish with the air plant's arms looking like tentacles extending outward. This is a simple and fun decoration to cheer up your home.
4. Geometric Air Plant Decor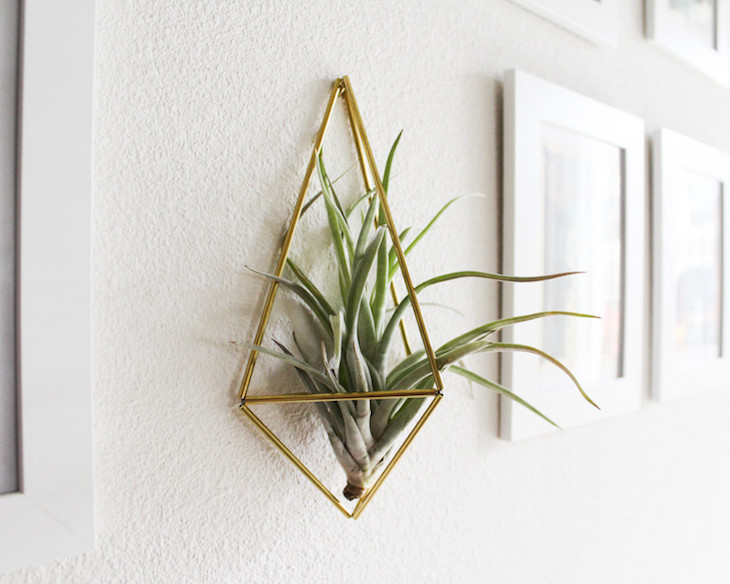 via sondermill.com
A brass geometric holder that you can either create yourself or buy online gives an interesting frame to your air plant. Place it on the wall or hang it simply; it will make a modern addition to any space from living rooms to the bedrooms.
5. Mounted On Wood
via craftorganic.com
Creating air plant decor is very easy. A piece of driftwood or any other gnarly-looking tree stump that you collect on your forest walk will do the trick. You can hang it or place it simply on your side table. If you don't find any suitable wood, check out in pet stores. They usually have them for aquariums.
6. Old Picture Frame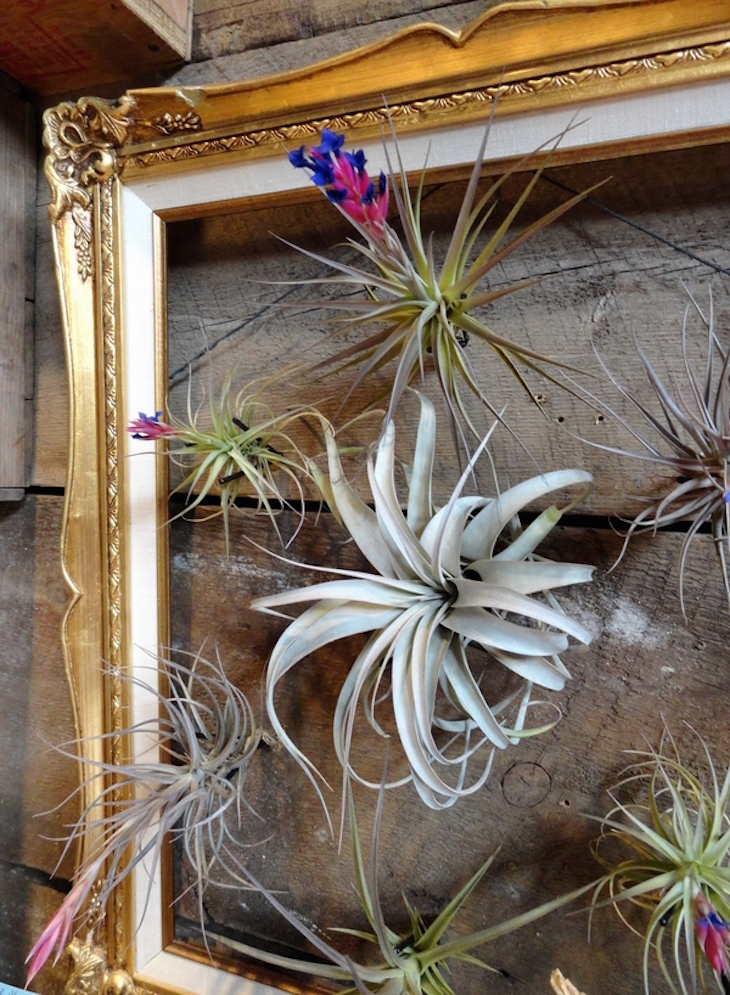 Forget about conventional pictures and paintings. Air plants placed into an empty, rustic picture frame create a unique decoration and a modern effect. You can place more plants into a large frame or pick more frames and put one plant each, creating a different wall design.
7. Wooden Background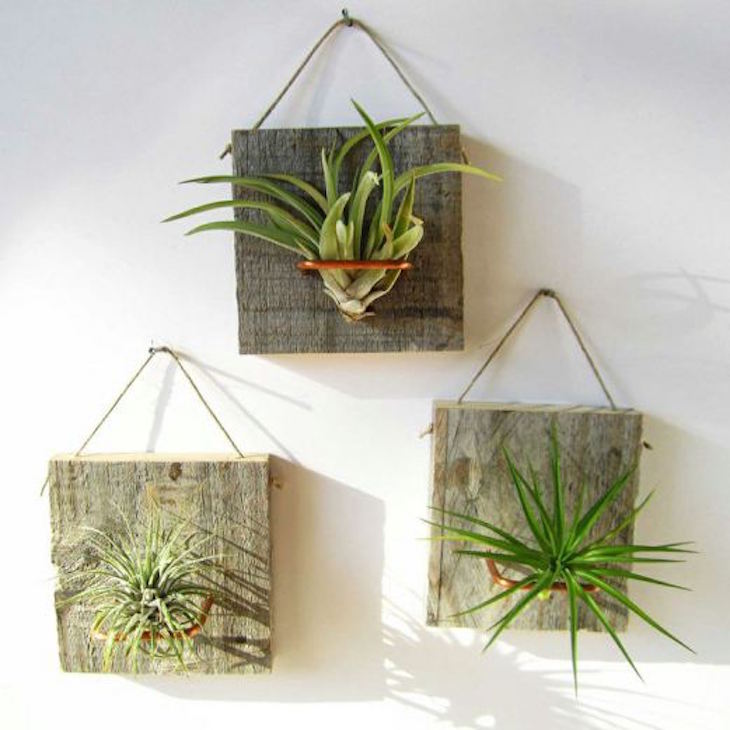 via studio87blog.com
Here is another idea for creating a cool-looking wall with air plant decor. It is easy to create your own design. Just paint or stain the wood the way you want and add a metal hook to keep the plant in place. If you want to go big, take a large wall frame or wood and cover it in these little air plants.
8. Light Bulb Terrarium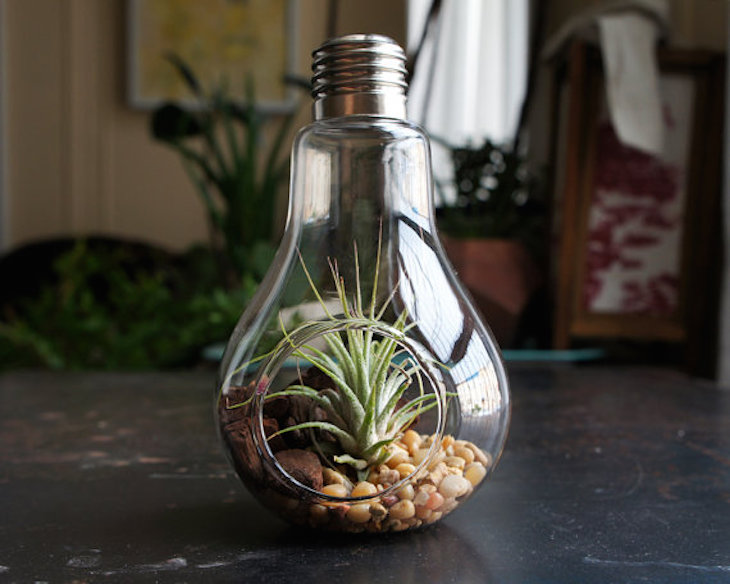 via www.etsy.com
Light bulb terrariums look cool, and with some DIY skills, you can create your very own. You will have to remove the inside parts of the light bulb, then comes the 'gardening' part. Here is how you do it.
9. Wall Garden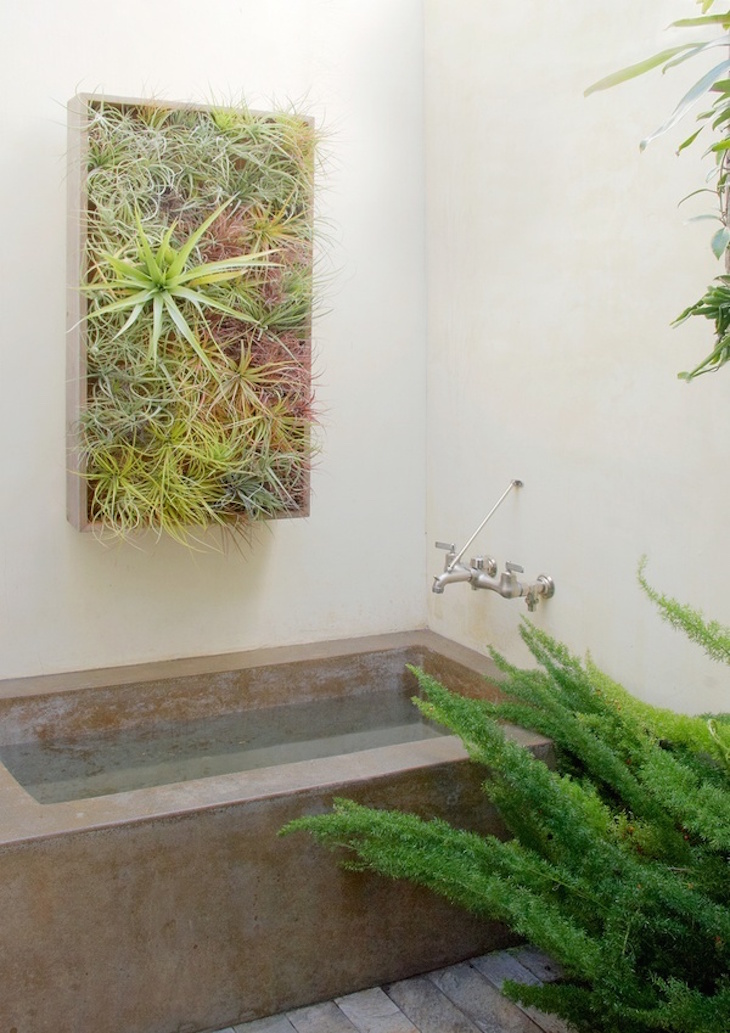 via clydeoak.com
Air plants aren't just for hanging from the ceiling. By placing different sizes and colors, you can create a vertical garden. You can really make a statement with a vertical garden full of air plant decor on your wall. How about your empty bathroom wall?
10. Beautiful Centerpiece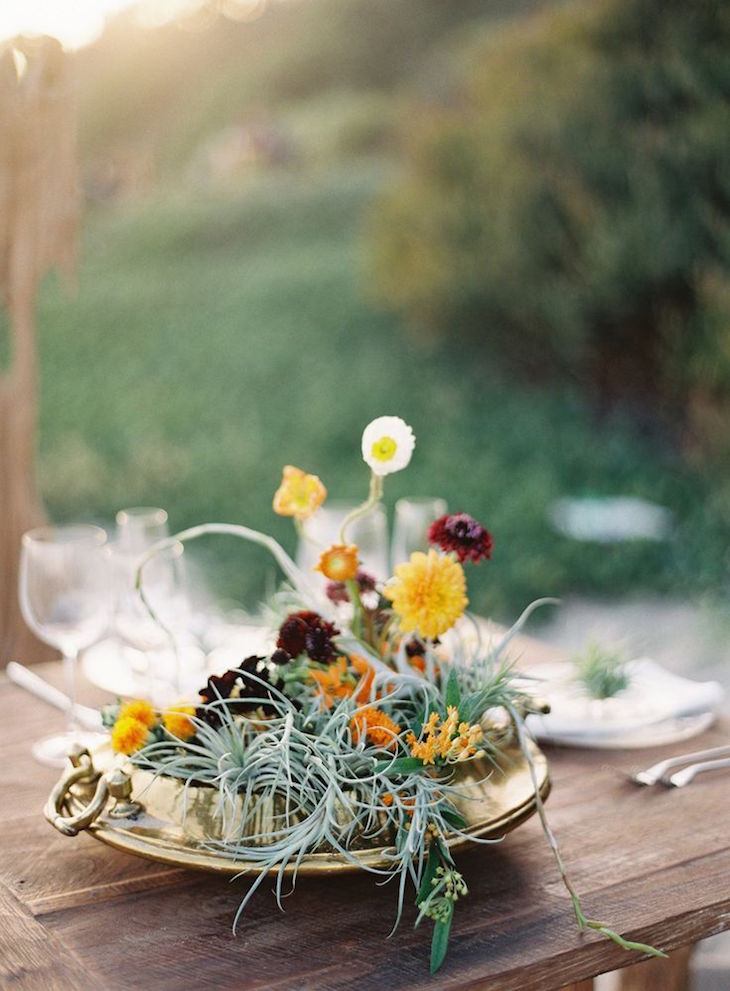 You can create a beautiful and special centerpiece for your table with a little creativity and some air plants, of course. Mixed with other fresh flowers, placed in a pretty bowl – that's usually just sitting around empty – an air plant centerpiece will lighten up your home.