The Academy Awards are one of the most-watched red carpet events in the world. Let's face it, when it comes to the Oscars, sometimes the dresses are the most interesting part of the night.
Hollywood's brightest stars are expected to hit the red carpet in their most dramatic looks since stylists often keep their best gowns for last. Although every celebrity comes in the best of her attire to woo the audience, history is only written with a few.
It's really interesting when you sit at home in front of the TV and watch who really put on their A-game. Now we will be looking back at some of the very best Oscar dresses of all time.
Audrey Hepburn, 1954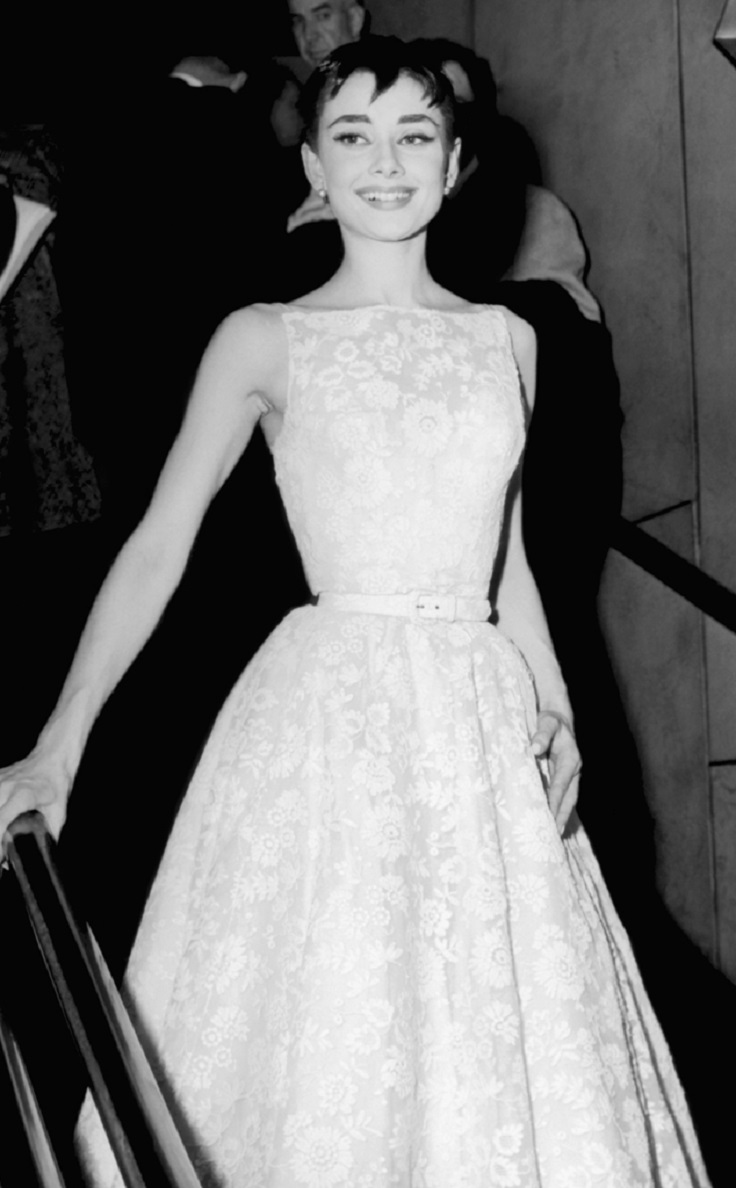 Photo credit to pinterest.co.uk
The style icons first wore the Edith Head designed piece in the final scene of Roman Holiday. When the Oscar nominations were announced that year, it was only fitting that she used a dress she already had in her closet. Hubert de Givenchy performed his magic on the original dress, transforming it into something Oscar-worthy. Audrey called it her "lucky" dress and she wore it when she accepted the award for best actress (her only Oscar) in 1954 at the Academy Awards. The dress has been sold for £84,000 to a private collector at an auction.
Grace Kelly, 1955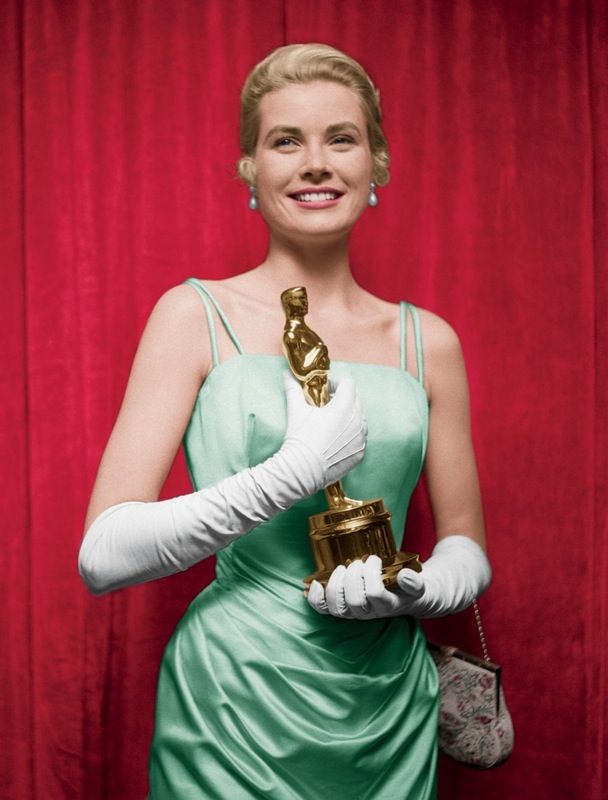 Photo credit to pinterest.co.uk
Grace Kelly's green-blue gown designed by costume designer Edith Head, is one of the most memorable Oscar gowns of all time. She won an Oscar for her performance in The Country Girl while wearing the gown, which was originally created for the movie's premiere, was cut from a bolt of $4,000 French satin and paired with a matching evening coat, a red lip, and a perfectly glamorous updo.
Uma Thurman, 1995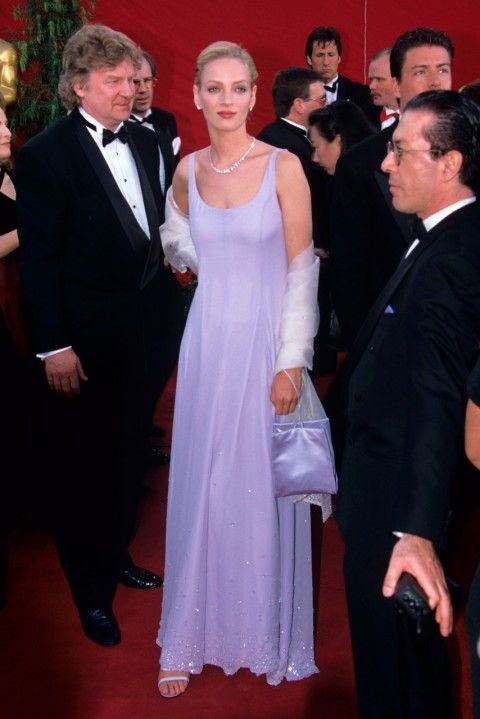 Photo credit to pinterest.com
In 1995, then relatively unknown, Thurman showed up to the Oscars styled by Barbara Tfank in a lilac Prada (at that time known mainly for its bags) gown, completing her outfit with a chiffon wrap, every bit was a hight fashion. First of all, the color is exquisite. The gentle layers of chiffon and the hand on this dress is so delicate. And to choose Uma Thurman to dress, she is basically an ethereal, unearthly beauty.
Julia Roberts, 2001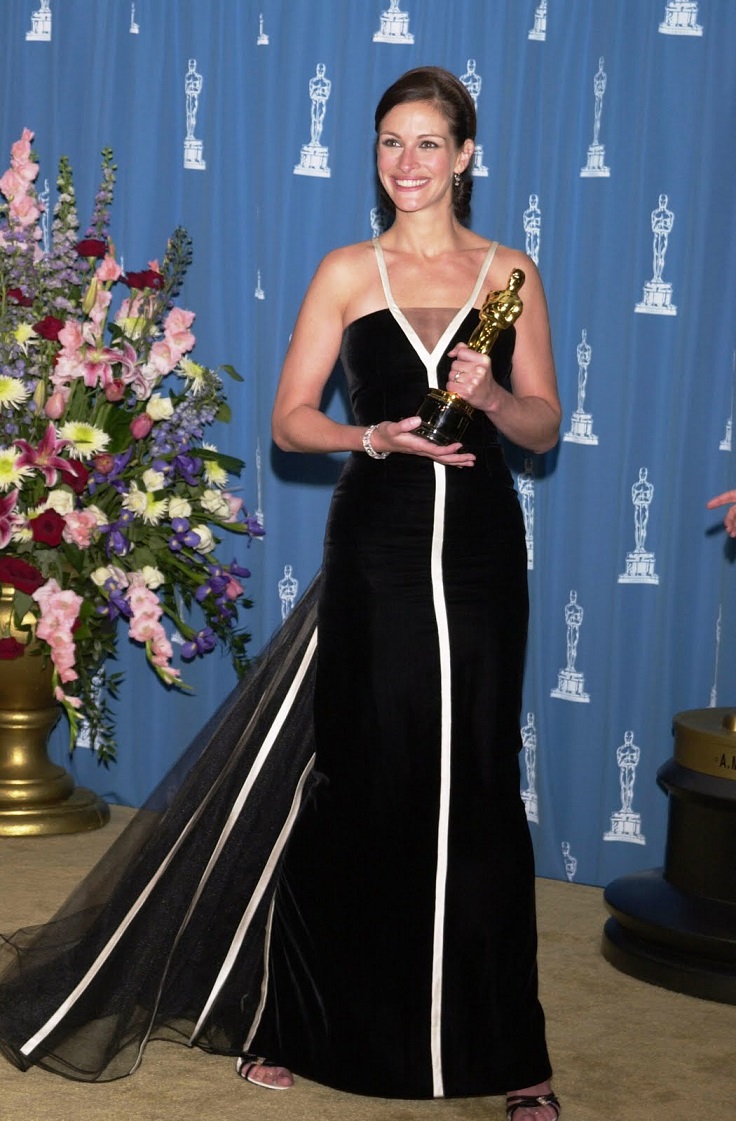 Photo credit to pinterest.com
Julia accepted her Oscar for "Erin Brockovich" in a dramatic velvet black and white vintage Valentino gown from the designer's 1982 collection dedicated to movie stars. A single white stripe ran down the front of the dress, splitting into a Y-shape at the bust to form a pair of straps. In the back, the dress fanned out into a black tulle train with several more white stripes running down it. The 3rd most iconic dress of all time.
Halle Berry, 2002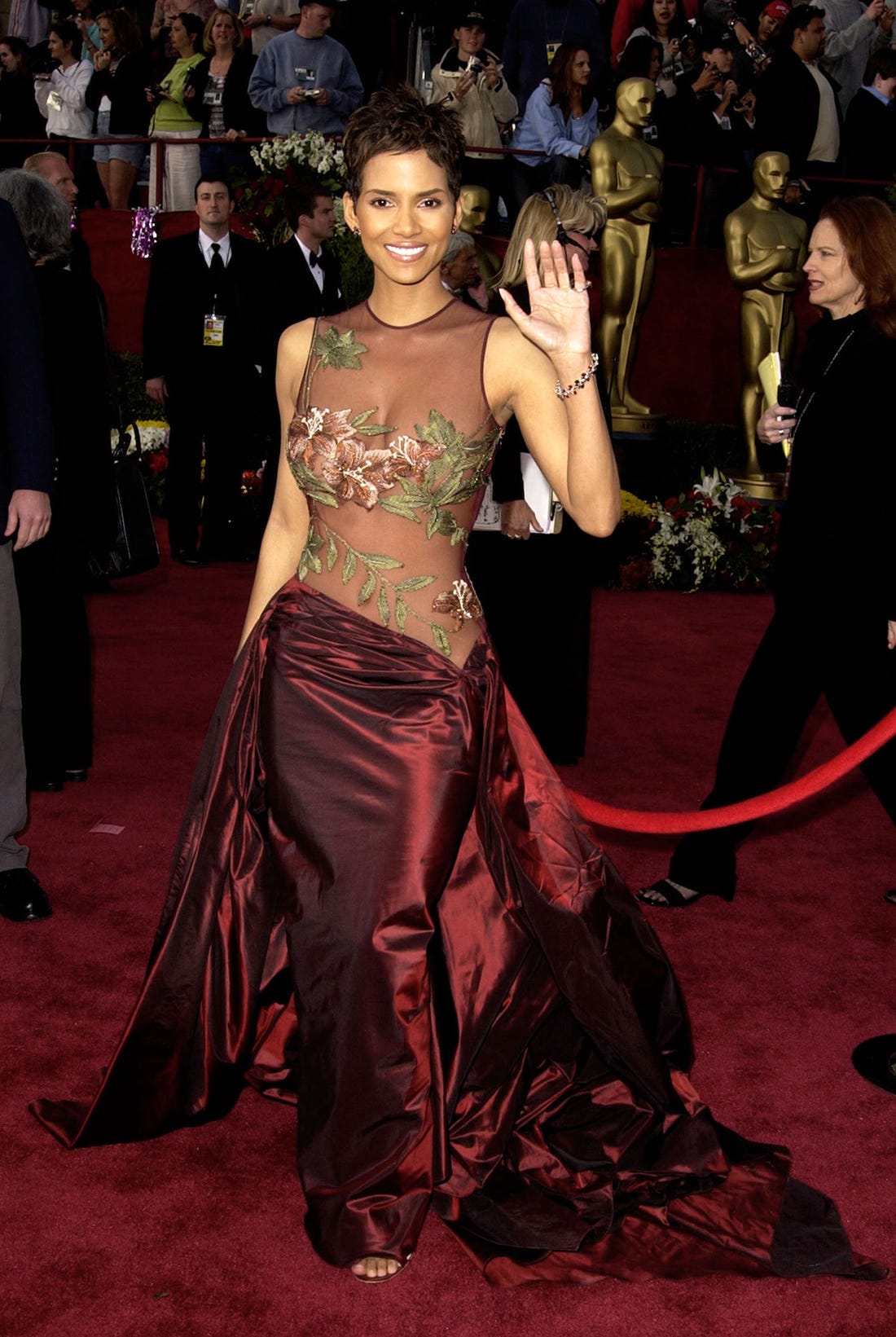 Photo credit to insider.com
At the Oscars, Berry arrived in a sweeping burgundy and sheer embellished Elie Saab gown. She was up for Best Actress for "Monster's Ball" and when she won, she made history as the first-ever black woman to win the Best Actress in a Leading Role, Oscar. The dress highlighted her amazing figure through the net, making this look iconic and powerful.
Charlize Theron, 2004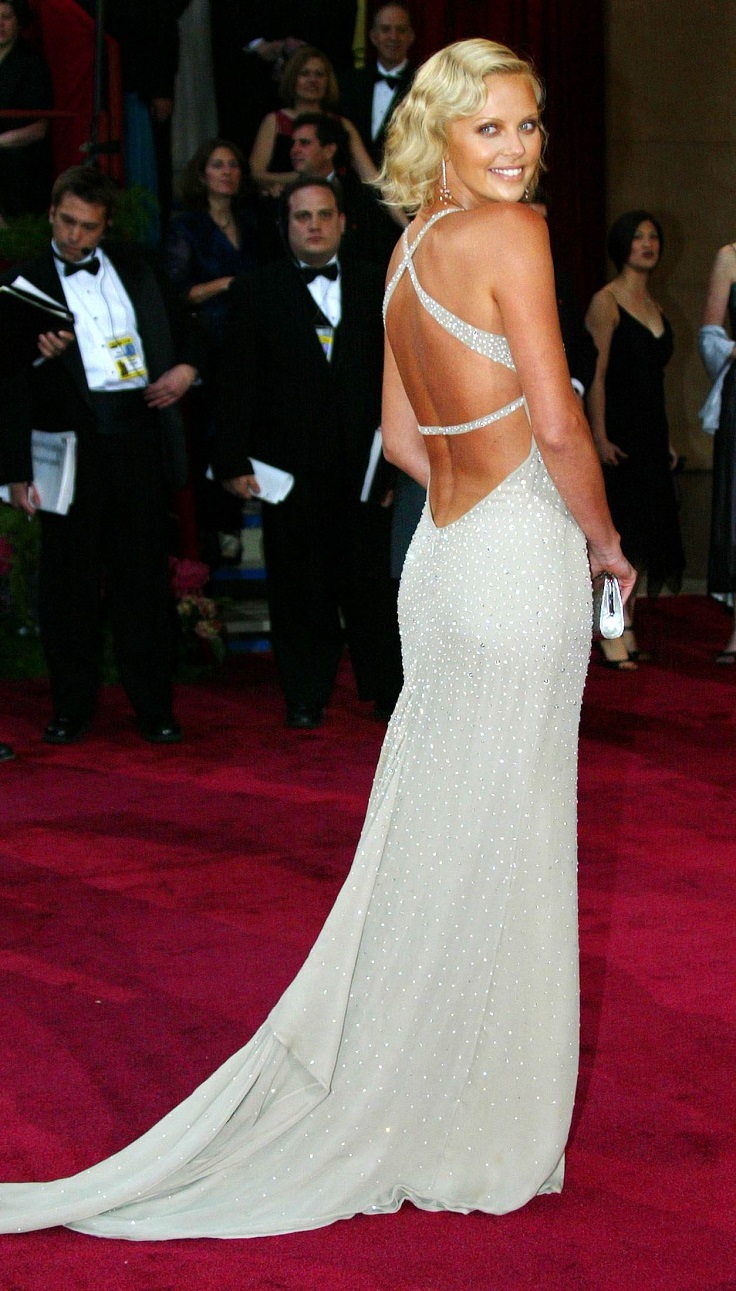 Photo credit to pinterest.com
Charlize Theron's glittering silver Gucci gown is a prime example of the red carpet. Despite its simple shape, it's one of the Oscars' most memorable dresses in history. Theron went on to collect her Best Actress trophy for Monster that year, and she definitely looked like a true Hollywood movie star. She looked divine with her hair in finger waves, keeping her makeup minimal alongside her noticeable tan.
Beyoncé, 2005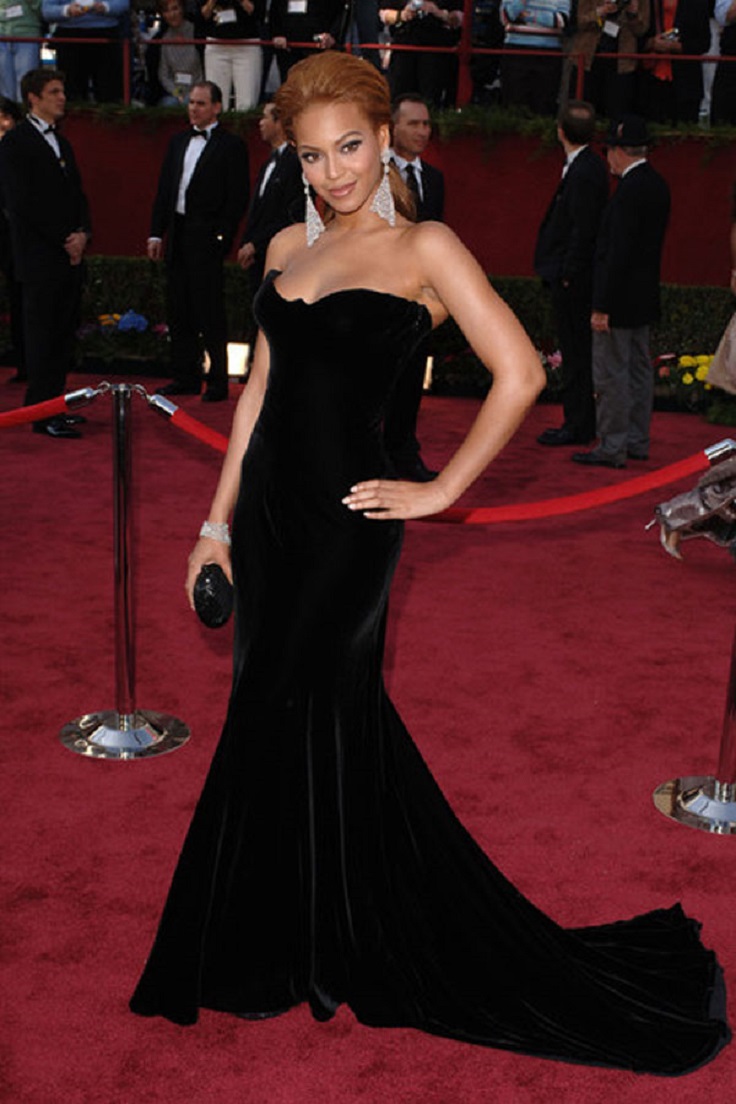 Photo credit to fashionlady.in
Beyoncé made her way down the red carpet in a luscious black velvet vintage gown from Atelier Versace. This strapless marmalade dress was a perfect fit for her body (no wonder why it is on our list). Beyoncé, that night performed not one, not two, but three of the numbers nominated for Best Original Song and it was her very first appearance at the Oscars.
Jessica Alba, 2006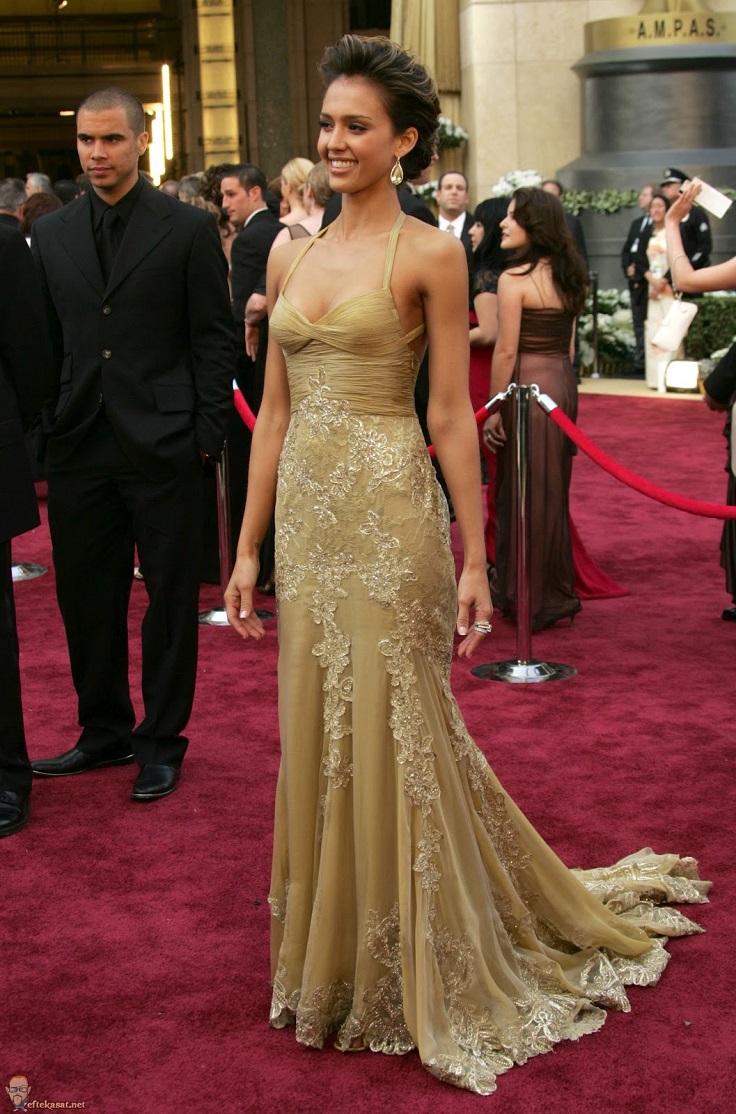 Photo credit to blognews.am
Jessica Alba flaunted her enviable figure in this glittering Versace dress at the 2006 Academy Awards. It's such a timeless dress that elegantly accentuates her figure. The details on the bottom half of the dress are subtle and beautiful. The actress paired it with minimalist jewelry and a classy updo hairstyle. The nude back and slinky halter neck design added to her appearance being memorized.
Penelope Cruz, 2007
Photo credit to pinterest.com
The pink strapless feathered Versace dress worn by Penelope Cruz at the 79th Academy Awards put a statement on the red carpet. An ethereal gown in blush pink, a hair fixed in an off the shoulder stunner, accompanied with discreet jewelry was a definite showstopper. The actress shined like a princess in a fairytale with its own right.
Anne Hathaway, 2009
Photo credit to pinterest.com
Anne Hathaway wore a glittery Armani Prive beaded column dress at the 2009 Oscars. And to add more glitter, she minimized it by Cartier's jewelry and Roger Vivier's clutch. The "Rachel Getting Married" nominee brought serious silver-screen glamour to the red carpet. This elegant body-shaped dress will be remembered surely.