Burritos are one of the most popular Mexican recipes that can often be considered part of Tex – Mex cuisine. It's hard to resist it – a tortilla filled with many different ingredients, mostly meat and veggies.
There are many reasons why you should consider the burrito as a good breakfast option – it's a simple recipe, easy to make, and you can add different ingredients as much as you like, and it will still taste amazing! Not to mention that it's also a quick recipe. Check out the ten breakfast burritos we've picked for you!
1. Scrambled Tofu Breakfast Burrito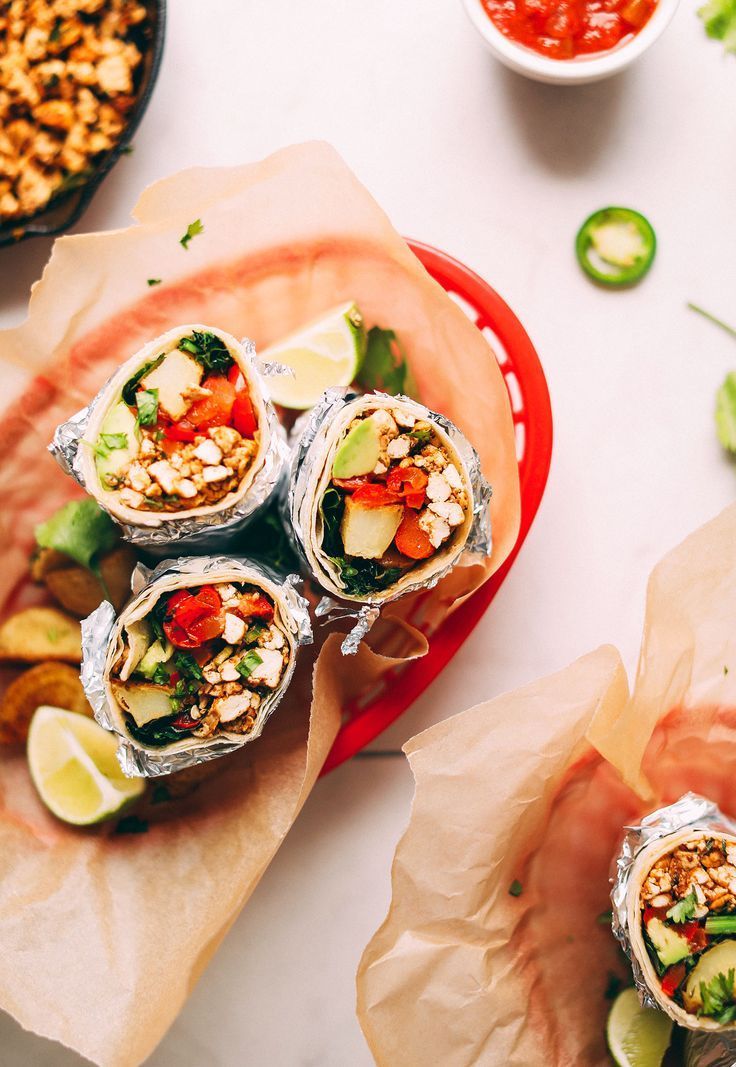 Vegan or not, if you're a fan of tofu, you're going to love this recipe for breakfast. It contains scrambled tofu, roasted vegetables such as bell peppers and baby tomatoes. All these tasty ingredients topped with avocado slices and salsa or any other sauce by your choice. If you want to remove the tofu, you can instead use pinto or black beans.
2. Avocado Breakfast Burrito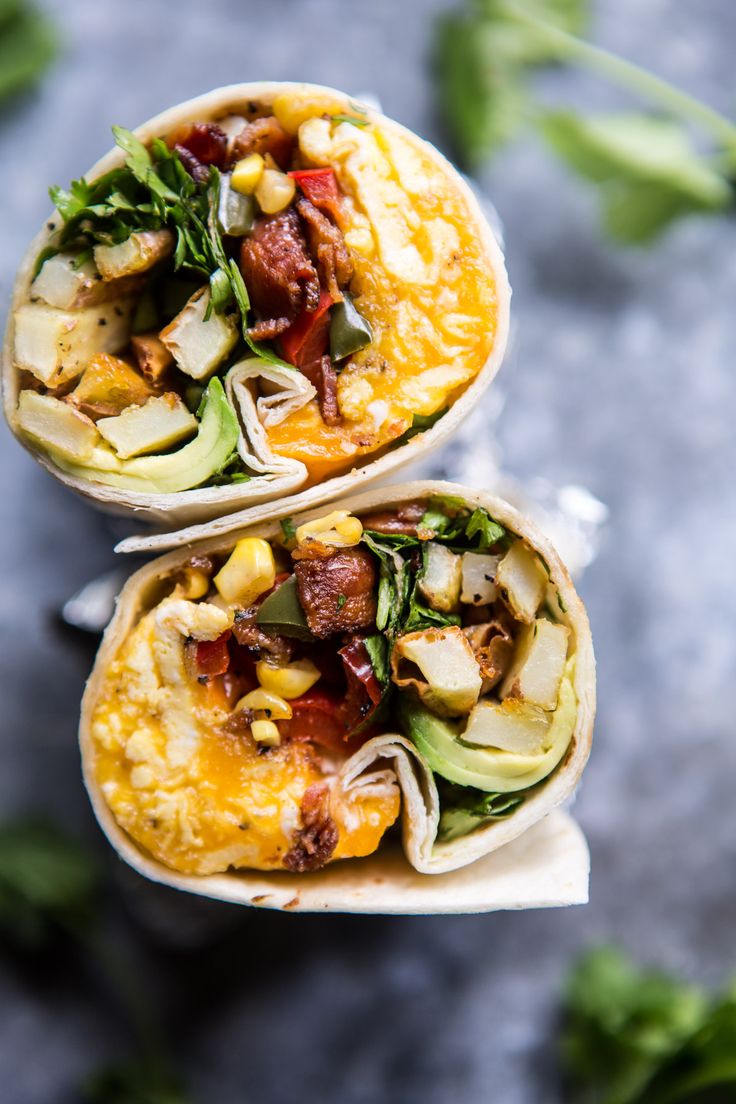 This recipe will get you four burritos in 30 minutes! This super delicious burrito recipe is ideal for the whole family, or you can prepare all four for the following days. Inside the burrito are so many ingredients that you would love to have for breakfast – bacon, eggs, corn, peppers, and so much more! You can even add french fries or roasted potatoes if you feel like preparing something for lunch as well!
3. Zucchini and Egg Breakfast Burrito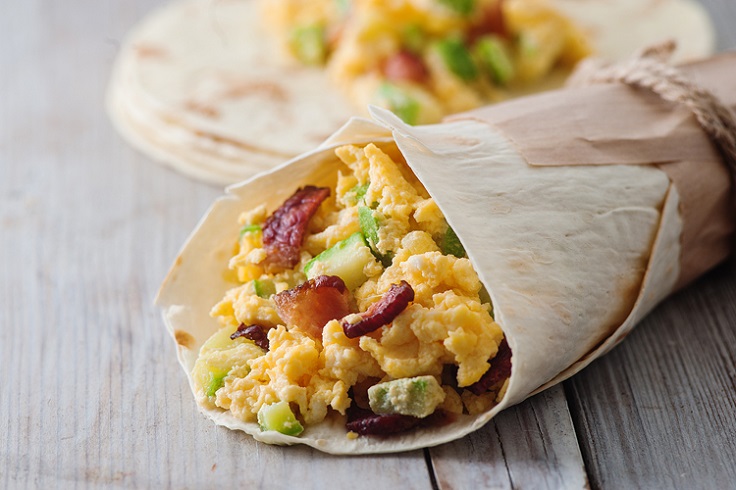 via skinnyms.com
Here's your classic breakfast recipe turned into a burrito – scrambled eggs, bacon, and zucchini. For those of you who also love cheese, feel free to add few tablespoons of shredded mozzarella. This burrito will certainly keep you full until lunch and will also satisfy your breakfast cravings! The recipe will get you one burrito, so if you want to prepare two of these, just double the ingredients.
4. Chorizo Egg Breakfast Burrito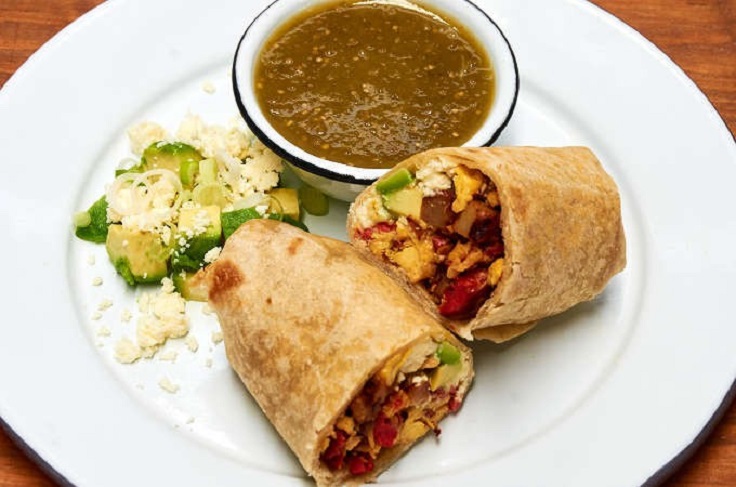 Mexican cuisine is a world – favorite, and there are many ways you can include it in your breakfast recipes. Chorizo is a popular meat ingredient in many Mexican recipes, and you can use it for breakfast burritos as well. Mix it with avocados, ranchero cheese, eggs, and potatoes, and you will have an amazing breakfast! Serve it with your favorite salsa sauce.
5. Mediterranean Breakfast Burritos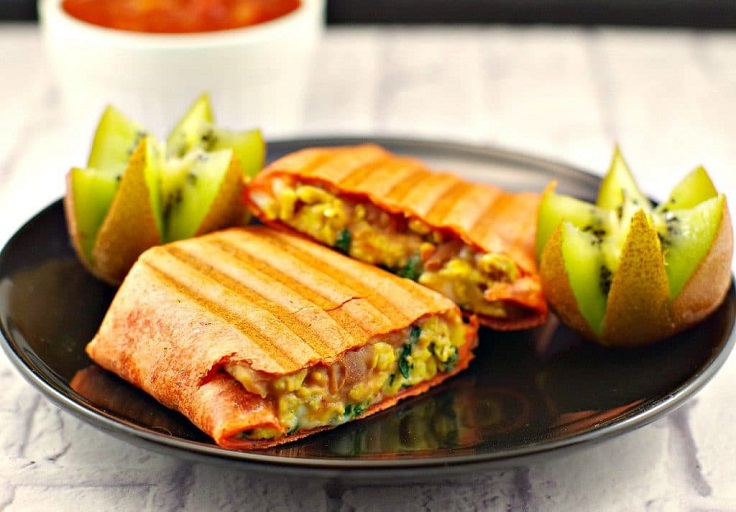 Let's switch to another widely popular cuisine – Mediterranean. It is not about pasta or pizza only; sometimes, it's all about a mixture of healthy ingredients. For these burritos, you need all ingredients Mediterranean – olives, feta cheese, sun-dried tomatoes, baby spinach, and eggs. Prepare these ingredients and toss the mixture into tortillas. Your breakfast will remind you of the warm, full of delicious Mediterranean food!
6. Vegetarian Breakfast Burritos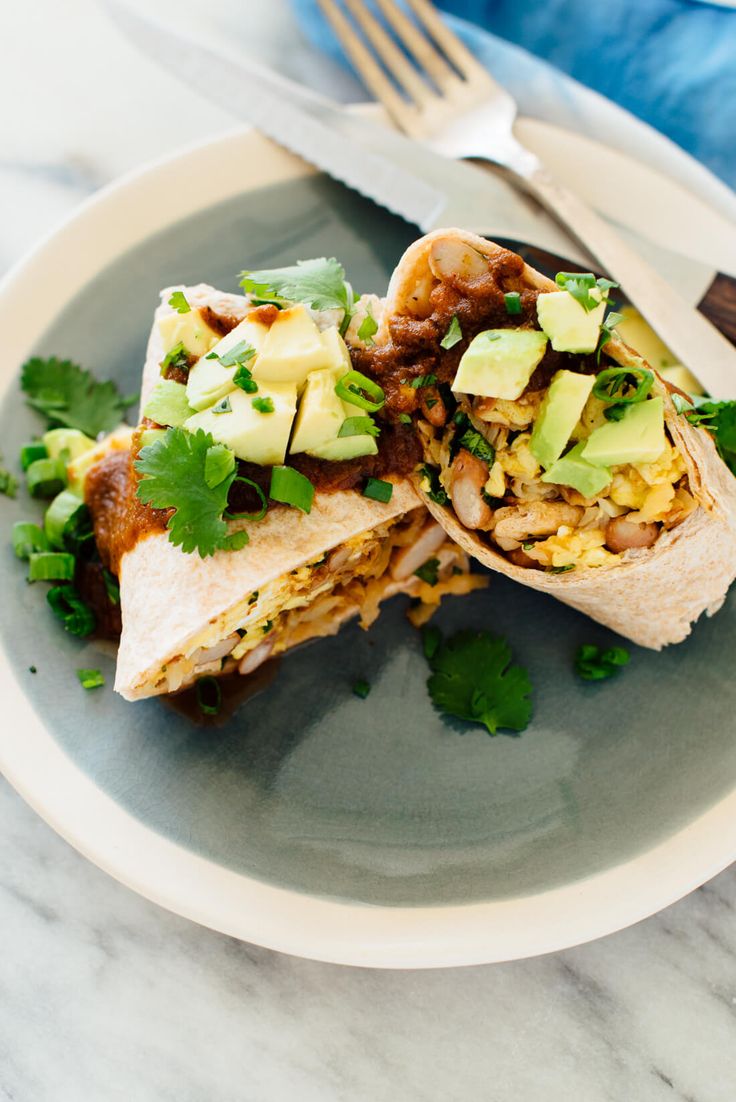 These vegetarian burritos are packed with so many healthy ingredients for us! It's important not to feed ourselves with empty calories but to choose food rich in nutrients our body needs. To make your own healthy burritos, you need beans, eggs, onions, cilantro, avocados, make things cheesier, add cheddar cheese or any other type you like.
7. Whole Wheat Breakfast Burritos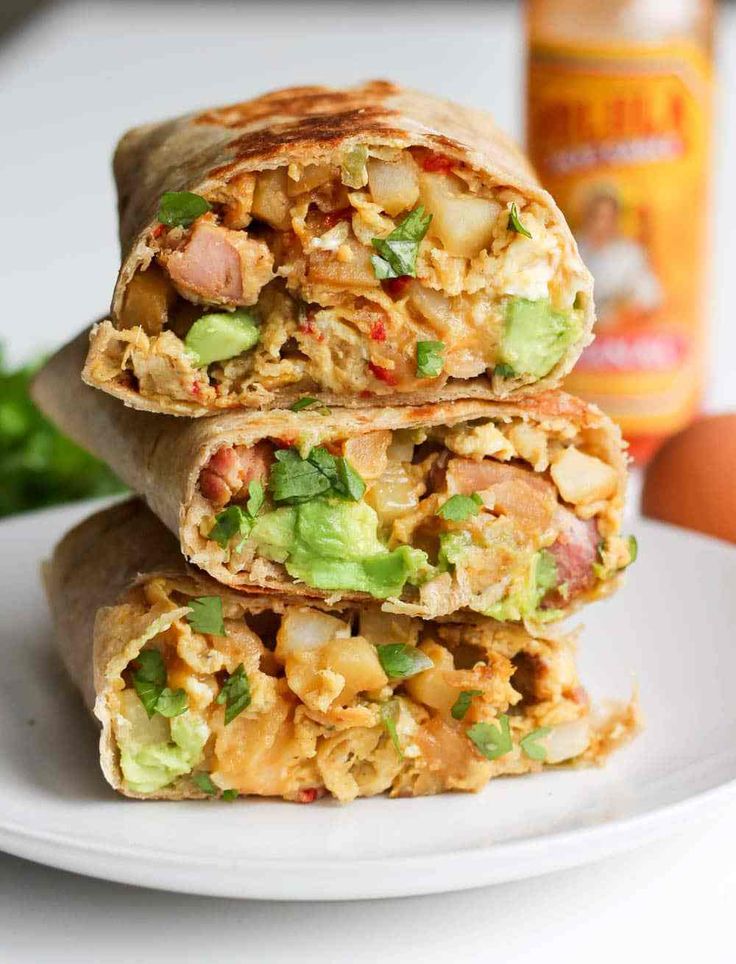 This recipe basically requires getting ingredients that you already have in your kitchen and using them to prepare your super delicious breakfast burrito! For this recipe, you can also choose between ham or sausage, or if you're vegan or vegetarian, leave the meat out. The best way to serve them is warm and topped with salsa, cilantro, hot sauce, and Greek yogurt.
8. Breakfast Burrito Omelet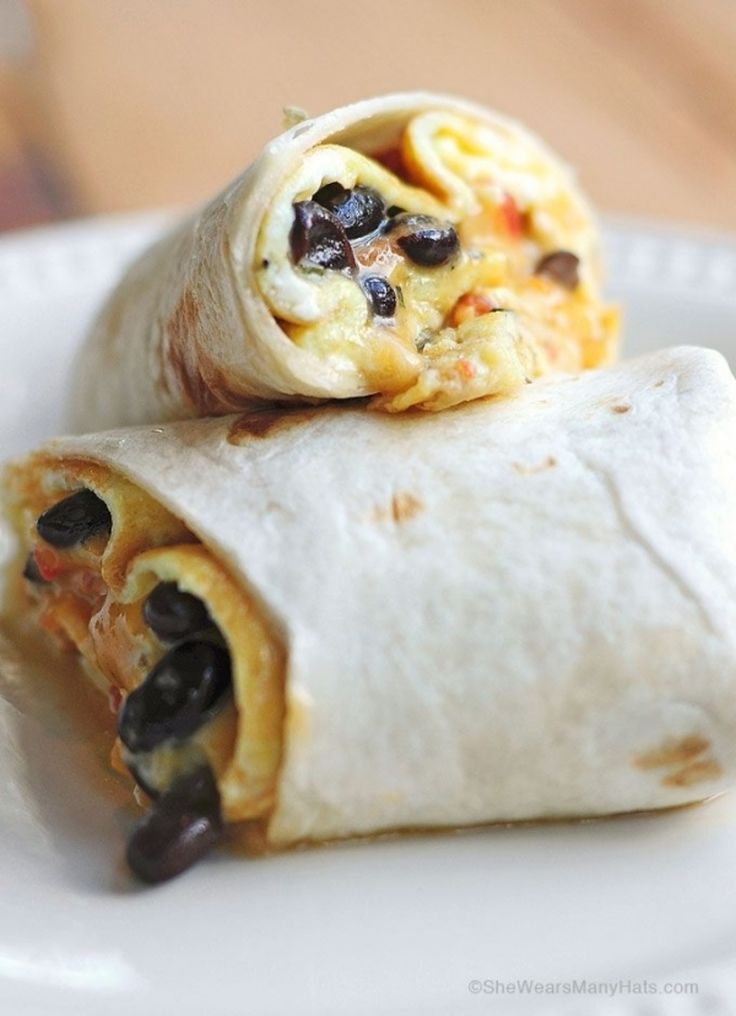 This is such a quick and easy recipe that you really want to know during those days when you're busy, in a hurry or simply feeling too lazy to spend too much time in the kitchen. As long as you know how to make an omelet, then you're good because that's what you need for this burrito. You can also add toppings by your choice if omelet isn't enough.
9. Ultimate Breakfast Burrito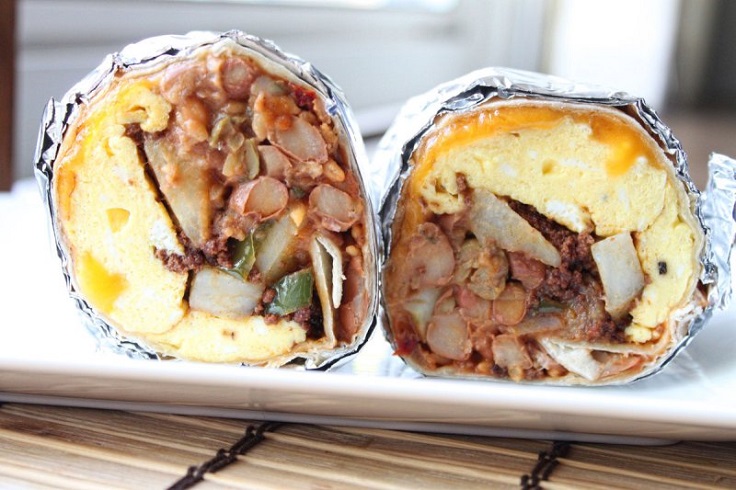 This is considered the ultimate breakfast burrito because it is loaded with so many tasty ingredients, which in return make it so delicious, but unfortunately full of calories as well. But, as long as we eat heavy meals moderately, we don't have to feel guilty about it! This burrito contains chorizo, cheddar cheese, pinto beans, Puerto Rican rice, eggs – to name just a few!
10. Crispy Sausage Egg Breakfast Burritos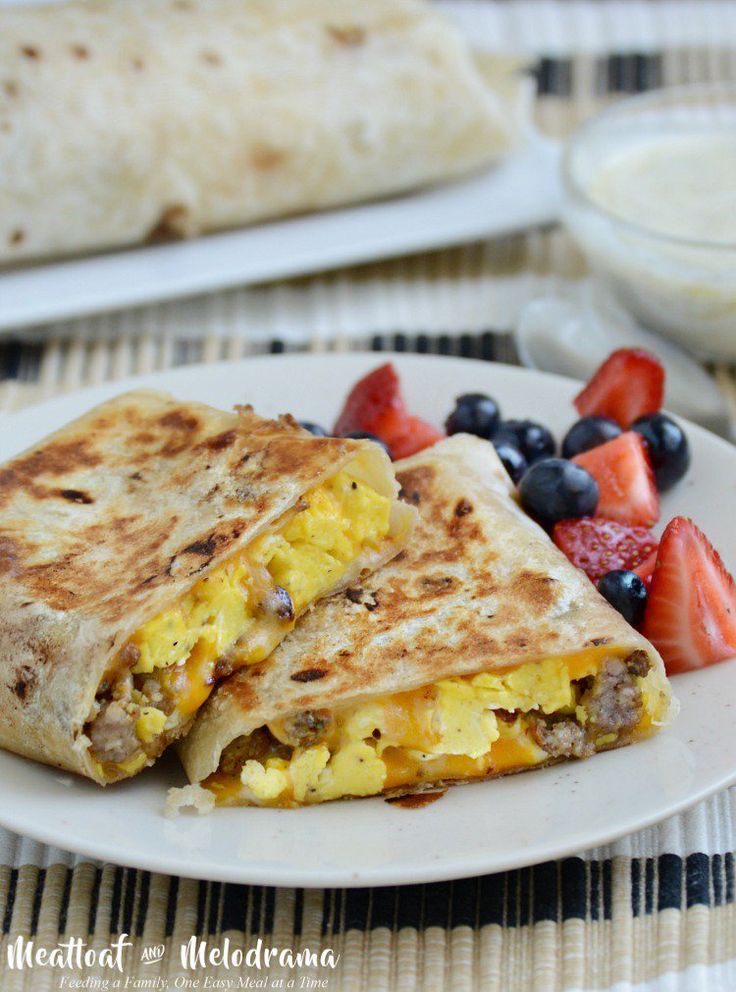 This is a very simple recipe, as it requires just a few ingredients. It's not too loaded, yet it will make you feel full! For this recipe, you need the following ingredients – 1 pound breakfast sausage, 10 eggs, 1/2 teaspoon black pepper, 1 teaspoon sea salt, 8 flour tortillas, 2 cups shredded Colby jack cheese, and 2 tablespoons butter.